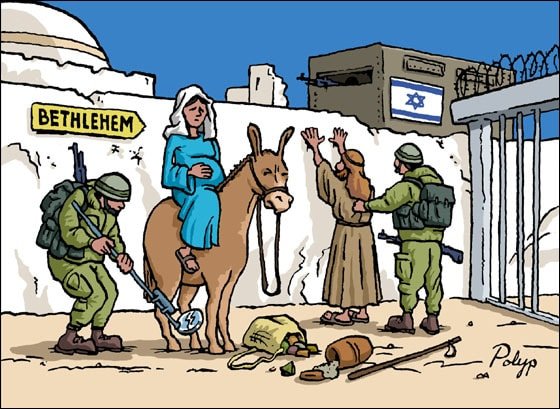 Every who down in Whoville liked Christmas a lot…
But the Zionist haters of Jesus did not!
Bethlehem, the birthplace of Jesus, is under hostile occupation. The Zionist occupiers loathe Jesus and reject his message. They regularly brutalize and kill peaceful protestors. The oppressed Christians of Bethlehem have been begging for help for more than half a century. Yet the global Christian community is hardly aware of their plight. Why not? Ask the people who control the media.
A week before Christmas, after Sunday services at the Church of the Nativity, several dozen Palestinians gathered in Manger Square outside the church. They burned pictures of Mike Pence, the so-called "Christian Zionist" (a contradiction in terms, like "Christian Satanist"). The Palestinians sent a strong message that Pence, a deluded ally of the Jesus-hating Zionist Occupation, is unwelcome in the Holy Land.
Two weeks earlier, President Trump, likely influenced by his son-in-law, the Jewish Zionist Jared Kushner, had announced US recognition of Occupied Jerusalem as Israel's capital. The move sent seismic waves of shock and outrage around the globe. The US, like the rest of the world, has always considered East Jerusalem, which Israel conquered in 1967, as Palestinian land. The official position of the US as well as every other nation on earth except Israel is that Israel must withdraw from all the land it stole in its 1967 war of aggression, including Jerusalem.
Trump just changed that—a move that is likely to provoke World War III. Some Christmas present!
Actually, it was more of a Hanukkah present. The President of the United States has seen fit to give away somebody else's land—a land that has been continuously occupied by more or less the same people for many millennia, a people who are now being exterminated and ethnically cleansed by invaders from across the seas.
The President imagines he can give away the land of the Palestinians, the Holy Land of 4.3 billion people who love and revere Jesus (2.5 billion Christians and 1.8 billion Muslims), to a settler colonial state purporting to represent a religion of a few million people that considers Jesus a bastard and his mother a whore.
How can the world's Christians allow such a thing?
Is it because Christianity has been defeated? It certainly looks that way. There is virtually no Christianity left in Western Europe, formerly the forefront of Christian civilization. Here in the United States, the most powerful Christian country on earth, where a majority of people still call themselves Christian and attend church in reasonably large numbers, the US House of Representatives closes down for three Jewish holidays (Passover, Rosh Hashanah, and Yom Kippur) and only two Christian holidays (Christmas and Easter).
More than 70% of Americans are Christians. Fewer than 1.5% are Jews. Yet Congress honors Jewish holidays more than Christian ones. Is the US, like Israel, becoming a "Jewish state"? Or is it just another Israeli-occupied territory?
Christmas is supposed to be about Jesus. It is supposed to be about giving. Jesus, like all the prophets, gave everything he had and asked for nothing in return.
Zionism is about taking. It is about mass murdering people, expelling people, moving into their houses and stealing their possessions.
Culturally, Christmas has become more and more Zionist and less and less Christian. It has become an orgy of materialism, a festival of kitsch and schmaltz. And who's behind that?
One of the greatest 20th century poets once asked:
"And what rough beast, its hour come round at last, Slouches towards Bethlehem to be born?"

The answer to Yeats' riddle is now clear. The beast's name is Zionism.
Zionism is Antichrist.
Can the creature's theft of Christmas be undone?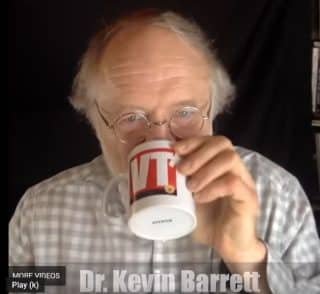 Dr. Kevin Barrett, a Ph.D. Arabist-Islamologist is one of America's best-known critics of the War on Terror.
He is the host of TRUTH JIHAD RADIO; a hard-driving weekly radio show funded by listener subscriptions at Substack and the weekly news roundup FALSE FLAG WEEKLY NEWS (FFWN).
He also has appeared many times on Fox, CNN, PBS, and other broadcast outlets, and has inspired feature stories and op-eds in the New York Times, the Christian Science Monitor, the Chicago Tribune, and other leading publications.
Dr. Barrett has taught at colleges and universities in San Francisco, Paris, and Wisconsin; where he ran for Congress in 2008. He currently works as a nonprofit organizer, author, and talk radio host.
ATTENTION READERS
We See The World From All Sides and Want YOU To Be Fully Informed
In fact, intentional disinformation is a disgraceful scourge in media today. So to assuage any possible errant incorrect information posted herein, we strongly encourage you to seek corroboration from other non-VT sources before forming an educated opinion.
About VT
-
Policies & Disclosures
-
Comment Policy
Due to the nature of uncensored content posted by VT's fully independent international writers, VT cannot guarantee absolute validity. All content is owned by the author exclusively. Expressed opinions are NOT necessarily the views of VT, other authors, affiliates, advertisers, sponsors, partners, or technicians. Some content may be satirical in nature. All images are the full responsibility of the article author and NOT VT.