by F. William Engdahl, … with New Eastern Outlook, Moscow
[ Editor's Note: Energy, and especially pipeline wars are alive and well. But the main competition now seems to be who can present the silliest "air deal", one that you would expect to find played at the casinos. Engdahl, in his usual methodical style, presents us a thorough overview below.
The biggest warrior in all this is the US, looking to cut off as much Western currency energy sales flowing back to Russia as a long term engine for its continued development. This is the usual "fake threat" the Washington is addicted to, despite its easily being debunked.
Russian energy sales to the EU were a deal made in heaven. Just before the self defeating anti-Russian Ukraine sanctions were initiated the $110 billion in gas sales to the EU was all coming back to via Russia's love of EU imports. It was a perfectly balanced trade arrangement with Germany enjoying it most.
Enter stage right, a US on a new offensive to the Russia border, which despite moving NATO and US wanting to mover pre-emptive strike weapons right up to the Russia border, and incredible provocative act, it launched a sanctions trade war on Moscow. With friends like this who need enemies?
They ignored World Trade Organization rules with the sanctions came with the violent coup they backed in Ukraine which has destroyed the country economically, when it was already a basket case.
I am not exaggerating or anti-American when I say that US foreign policy has been one drunken disaster after another, with a huge swathes of death and destruction wherever it has "interfered in the internal affairs of other countries".
We are now the snake oil salesman thinking we can sell US shale oil gas at above market prices to Europe, that that is a good thing, whereas the balanced trade in gas and EU exports with Russia is a bad thing.
People who would pitch this nonsense are the kind that would say, "Oh look, I think its starting to rain", and then start wee weeing on your shoes with a big smirk in their face. This is what happens when you let hoodlums get control of your country… Jim W. Dean ]

Jim's Editor's Notes are solely crowdfunded via PayPal
Jim's work includes research, field trips, Heritage TV Legacy archiving & more. Thanks for helping. Click to donate >>
– First published … February 10, 2018 –
Europe's energy geopolitics and the security of EU energy supplies is getting very dicey as in contentious. The latest developments revolve around who will be the major suppliers of natural gas to the EU markets going forward.
The major actors in the growing fight for marketshare in what is one of the world's largest natural gas markets, the EU, include Russia, Norway, Azerbaijan, Qatar and most recently the USA with shale gas in LNG tankers. Into this mix Holland, since the 1960's a major supplier of EU gas, has just decided to severely limit production from its largest gas field.
On January 27 during a mischievous meeting with Polish Prime Minister Morawiecki in Warsaw, Rex Tillerson, US Secretary of State and former CEO of ExxonMobil, declared openly, "Like Poland, the United States opposes the Nord Stream 2 pipeline. We see it as undermining Europe's overall energy security and stability."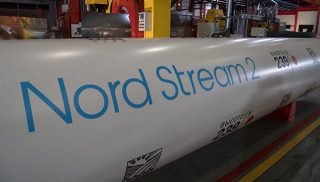 This refers to the second undersea gas pipeline being built across the Baltic Sea by Russia's Gazprom to double the existing gas capacity now flowing from Nord Stream I to northern Germany. Nord Stream II will deliver 55 billion cubic meters Russian gas via Germany at capacity.
Polish Prime Minister Mateusz Morawiecki in a press interview said he urged Tillerson to convince the US President to impose sanctions on the completion of Russia's Nord Stream II pipeline.
Morawiecki stated, "we talked about Nord Stream 2. We want the construction of the Nord Stream 2 pipeline to fall under the U.S. sanctions bill …which includes, among others, sanctions against Russia."
The two Nord Stream pipelines are deliberately intended to avoid disruption of Russian gas flows through the politically unstable and Russo-phobic Ukraine. In June, 2017 as the US President made a dramatic appearance in Warsaw to promote EU imports of US LNG from shale gas, Poland took delivery of the first tanker of US LNG, as Trump told the Poles they should rely on the far more costly US LNG.
The US is pushing Poland and other states to ask that Brussels, where the climate is strongly against Russia, to take over negotiations with Gazprom. Germany refuses, at least until now, insisting it is an internal German commercial affair.
Last November the Polish state gas company PGNiG signed a mid-term deal with Centrica LNG Co. an Anglo-American energy group, to receive nine LNG shipments in 2018-2022 from the United States, as part of their plan to cut dependence on Russian supplies.
Poland gets most of its natural gas today from Russia, but when their contract with Gazprom expires in 2022, they plan to turn to imports of LNG from Qatar and the US, as well as gas from Norway.
To block Germany's Nord Stream II in the process is a high-risk venture, further adding to tensions between Poland and Germany as well as economici insecurity across the EU.
Largest EU Gas Field Must Cut
The Polish call for US sanctions to block Nord Stream II comes at an inopportune time to put it mildly. On February 2 the Dutch gas regulator, the State Supervision of Mines, said gas production from Holland's giant Groningen field should be cut to half the present production, to a maximum of 12 Bcm/year as soon as possible to further minimize the risk of earthquakes.
Recent quakes have caused major damage to homes there. That is a mere 25% of production as recently as 2014. The government is advising that the field will no longer be able to deliver gas within four years.
Groningen is one of the world's largest natural gas fields, in production since the 1960's. It is operated jointly by Shell and Tillerson's former company, ExxonMobil, so the US Secretary of State is well aware of the reality. The sharp cut in output now exposes the gas dilemma of the EU.
A constant barrage of NATO and EU Commission propaganda has attacked EU reliance on Russian gas imports, while German and other EU industry groups strongly back Nord Stream as a stable and low-cost alternative to costly US LNG or other gas imports.
According to the official EU Eurostat, Russia's share of EU-28 imports of natural gas declined from 34.6 % to 26.8 % between 2005 and 2010.Today it is around 29% of total imports. NATO member Norway is the second largest supplier, with some 26%. Algeria and Qatar are other supply sources.
Alternative EU Gas Supplies?
Serious, stable and economical alternatives to Russian gas for the 28 member states of the EU are limited. The import of US shale gas LNG, even were the infrastructure in form of landing facilities and regasification facilities in place, is far more costly, given the cost of special LNG tanker transport, than Russian gas via pipeline.
Estimates are that Poland had to pay a premium of 50% more for delivery of US LNG last June compared with Russian gas. The Russian gas which Poland presently receives via Soviet-era gas pipelines transiting Ukraine are precarious.
The Ukraine Energy Minister Igor Nasalik admitted last summer the country will soon be unable to ensure Russian gas transit to Europe because of the deteriorating state of its gas transportation system.
Indicative of the economic chaos there Nasalik accused Naftogaz, Ukraine's state oil and gas company, of refusing to invest in the country's gas transportation system. In any case the existing Gazprom-Naftogaz contract expires December, 2019 and Russia has announced it will not renew. By then the EU energy situation will have to look different or the EU faces a supply crisis.
Aside from the limited prospect for US shale gas via LNG tanker to fill the EU gas import demand in place of Russian gas, other options being looked at in Brussels are even more risky.
One possible alternative to Russian gas, an option backed also by the EU Commission for that reason, is the Azerbaijan Southern Gas Corridor, a project also backed by Washington, to bring gas from BP'S Shah Deniz offshore Caspian gas field, via pipeline through Azerbaijan, Georgia, Turkey on to Greece, Albania and to Italy and Southern Europe.
That project entails some 2,200 miles or 3,500 kilometers of pipeline at a sobering cost of $42 billion. Nord Stream II will cost some $9.5 billion by contrast and not be dependent on politically unstable countries such as Georgia or Turkey which presently has major disputes with the EU.
For the time Gazprom's Turkish Stream gas pipeline through Turkey to the Greece border is not certain of EU approval for political reasons.
The Azeri gas platform from Shah Deniz II has been contracted to deliver 6 billion cubic meters per year by 2020 to Turkey. Shah Deniz Phase 2 is expected to reach its 16 billion cubic meters per year peak by 2024-25, when it would supply gas to EU countries including Greece, Bulgaria and Italy beginning 2020.
Azeri gas to the EU is a significant counter at this point to Gazprom's Turkish Stream project. BP, the main operator of Shah Deniz II has supply agreements with European companies totaling 10 billion cubic meters annually from 2020. The first gas to Georgia and to Turkey is due to begin late in 2018.
The Azeri gas option faces a risk that Gazprom exercises its huge market power and abundant gas reserves to wage a price war on the costly Azeri Shah Deniz II gas should Azerbaijan make a too-big tilt away from Russia.
"Gazprom could, in theory, offer large volumes of below-cost natural gas into the transit infrastructure crossing Turkey and Greece just to block Azeri gas and any other gas from accessing the European market," said Antonia Colibasanu, Russian energy analyst with US-based Geopolitical Futures.
Russia produces 500 billion cubic meters of gas per year and supplies 161 billion cubic meters or 34% of EU gas annually. It has an estimated 24 trillion cubic meters of natural gas reserves, according to Gazprom. They are holding the world's largest gas reserves by far.
And Israel Too?
In April of 2017 EU officials pursued yet another alternative to Russian gas, this in cooperation with Israel and Cyprus. Representatives of Israel's government along with Cyprus met with EU officials in Tel Aviv in April last year to discuss development of a so-called "East Med Pipeline" from Israeli and Cypriot offshore gas fields via pipeline to Greece and on to the EU markets.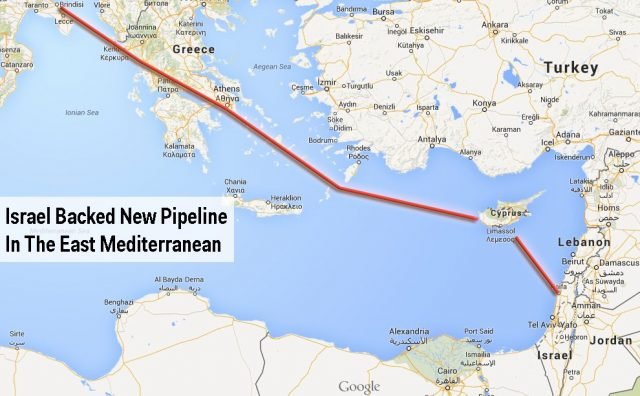 Eastern Mediterranean Natural Gas (East Med) pipeline would run 1,300 kilometers or 808 miles offshore and 600 km or 373 miles onshore, starting in Israel with exit points in Cyprus, Crete and Greece.
The EU Commission surprisingly announced it favored the Israeli East Med Pipeline as alternative to Russia's Nord Stream II, with EU Energy Commissioner Miguel Arias Cañete of Spain ecstatic about the Mediterranean alternative to Russia. Goldman Sachs and JP MorganChase from Wall Street claimed to be ready to finance construction along with the Leviathan offshore gas field operator, Texas-based Nobel Energy.
East Med plans would complete the pipeline by 2025 to deliver up to 16 billion cubic meters annually to Greece and other EU markets. It would be one of the longest underwater gas pipelines and deepest built.
There's only one problem with the Brussels dream of replacing Nord Stream II with Israeli gas. It isn't economically viable.
Leaving aside for now the fact that there is a growing rift between the EU and Israel over Palestine and over the US unilateral recognition of Jerusalem as Israeli capital, something the EU states refuse to recognize, the Israeli pipeline economics are not at all competitive in the present gas market.
Dr. Charles Ellinas, an energy expert with the NATO-tied Atlantic Council says, "With Noble expecting about $4.50/mmBTU at the platform, adding the cost of pipelines, liquefaction and transport to Europe would always take the price above the European market range. Noble cannot reduce the price at the platform.
If it does it will have to offer such a lower price to its customers in Israel."
This does not even take into account the huge political and geopolitical tensions in the Eastern Mediterranean. Israel has yet to come to a formal agreement with Cyprus defining each other's Exclusive Economic Zone, essential for such a cooperative pipeline. Turkey is vehemently opposed to the gas drilling in the Greek part of Cyprus.
Aphrodite, the Cyprus component gas field of the proposed East Med Pipeline straddles the Cyprus-Israel EEZ boundary. Without agreeing who owns what part of Aphrodite it is not possible to progress development plans.
Israel and Cyprus have failed to reach agreement in six years of talks.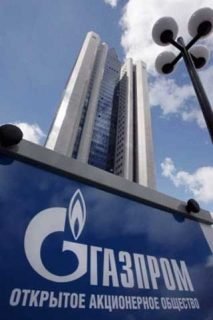 What the EU is left with is a silly political attempt to contain her one stable and economical gas supplier, Gazprom, to the detriment of her own energy security and her economy.
US LNG from shale to Poland and other EU markets such as Lithuania, as I have previously written, is an elaborate Ponzi scheme for unconventional gas which depletes far more rapidly than conventional gas and is more costly.
The Azerbaijan Shah Deniz II Southern Gas Corridor, while providing a share of non-Russian gas to southern Europe, by no means is able, at present prospects, to displace Russian gas in the EU market, not for price nor volume.
The dream of an Israel-Cyprus East Med gas pipeline advocated by EU Commissioner Cañete is financially not viable.
With Holland forced to cut gas production from its giant Groningen field, Europe's largest, adequacy of supply should be higher on the EU list of priorities than merely blocking Russian gas at all costs.
In 2009 it was the illegal action of the Ukraine state gas company that cut Russian gas to EU states, not Gazprom. That was a US-inspired geopolitical ploy to weaken ties between Russia and the EU. Even during the height of Cold War East-West tensions, not once did Gazprom interrupt gas deliveries to Europe.
F. William Engdahl is strategic risk consultant and lecturer, he holds a degree in politics from Princeton University and is a best-selling author on oil and geopolitics, exclusively for the online magazine "New Eastern Outlook."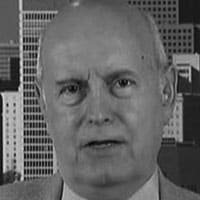 Jim W. Dean is VT Editor Emeritus.  He was an active editor on VT from 2010-2022.  He was involved in operations, development, and writing, plus an active schedule of TV and radio interviews.  He now writes and posts periodically for VT.
ATTENTION READERS
We See The World From All Sides and Want YOU To Be Fully Informed
In fact, intentional disinformation is a disgraceful scourge in media today. So to assuage any possible errant incorrect information posted herein, we strongly encourage you to seek corroboration from other non-VT sources before forming an educated opinion.
About VT
-
Policies & Disclosures
-
Comment Policy
Due to the nature of uncensored content posted by VT's fully independent international writers, VT cannot guarantee absolute validity. All content is owned by the author exclusively. Expressed opinions are NOT necessarily the views of VT, other authors, affiliates, advertisers, sponsors, partners, or technicians. Some content may be satirical in nature. All images are the full responsibility of the article author and NOT VT.