The Russians are winning the argument on Douma and no wonder – they happen to be right. There was no chemical attack at Douma, by the Syrians or anyone else. I have no doubt that someone was distributing a bit of chlorine, but that was purely for effect. You always have some chlorine handy when you're faking a chemical weapons attack. The White Helmets probably have tons of the stuff.   
Whilst the use of chlorine as a chemical weapon is banned, chlorine is a widely-available substance. You can even use it in your swimming pool. The Russian government has done an excellent demolition job on the supposed 'bomb' and I have nothing to add.
It was a pretty crude false flag. Mind you, you don't have to get up too early in the morning to fool Theresa May, the State Department or the MSM. I don't think the French were fooled for one moment. They used to run Syria, don't forget. There was even a brief period of Vichy control. (Syria was liberated in Operation Exporter in 1941, with the Australian 21st Brigade in particular doing excellent work, along with 11, 45 & 84 Squadrons RAF (Bristol Blenheims – a lovely old kite) and 70 Squadron RAF (Hawker Hurricanes.)
I am quite sure that Paris went along with the phoney claim that Assad had ordered the attack because it suited them. It certainly suited the British government, with the complete collapse of their offensive claim that Russia was responsible for the poisoning of the Skripals in Salisbury, Wiltshire.
Lord West of Spithead
Admiral West and I rarely agree on anything. He was a prosecution witness against me, is out of the loop on the DVD and recently intervened with a colleague on the Labour benches in the House of Lords to stop her supporting a Royal Pardon for me. He's opinionated and arrogant, no offense intended, doesn't always have his cap on straight and was next to useless as Chief of Defence Intelligence. However even idiots can get it right occasionally and His Lordship has got it right on Douma, publicly questioning the claim that Assad was responsible.
In fairness Lord West is not a complete idiot. Obviously he's not too bright, with respect, or they would never have made him head of defence intelligence. Under British naval tradition, BTW, only dashing admirals are permitted to wear their caps askew.
Admiral of the Fleet Earl Beatty famously wore his cap askew, but then David Beatty was a dasher, Flag Officer of the Battlecruiser Fleet at the Battle of Jutland and later First Sea Lord. He also did good work against the German-sponsored Mad Mahdi in the Sudan, who was madder than bin Laden, and the German-sponsored Boxer terrorists in China. It was a shame that the Admiralty did not persist with the plan to name the last of the mighty King George V class fast battleships HMS Beatty – she was renamed HMS Howe. I hope that the omission will be rectified when we resume capital ship construction.
Storm Shadow
I was wrong about Brimstone, BTW. Apparently the RAF used the MBDA Storm Shadow, which is a nice bit of kit, although it's a bit short-ranged and the warhead's a bit small. The idea that I don't change my opinion is a lie and rumor spread by my competitors, of course!
With the premature retirement of the lovely old Avro Vulcan the RAF was reduced to what is essentially a tactical force. It is more than ironic that the only aircraft currently in RAF service capable of delivering a heavy weapon is PA474, the Battle of Britain Memorial Flight's Avro Lancaster, which rolled off the production line in 1945. I daresay that MOD would have objected to the RAF using PA474. It might have caused renewed controversy over defence cuts and inspired pointed comparison with the USAF, which sensibly retains the Boeing B-52 Stratofortress in service.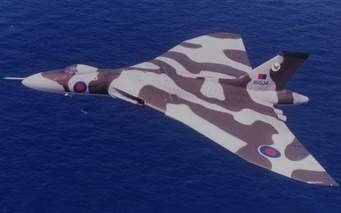 The Russian Navy
The operation did not go entirely to plan, however. Military operations often don't! There are whispers going around that the Royal Navy was tasked to attack the Him Shansar chemical weapons facility with Tomohawk cruise missiles fired from an Astute class SSN. However the Russian Navy had a sub or subs in the area, possibly one or more of their excellent Kilo class SSKs. Word is that the Astute was boxed in. If so that was pretty skillful work from the Russian Navy.
If this happened – and the intelligence is unconfirmed at this time – then praise is due to the sub skippers on both sides for not escalating the situation. The target had been evacuated anyway and whilst useful was not critical. The idea that President Assad risked a major reverse in the Syrian Civil War by using chemical weapons at Douma is strictly for morons like journalists or Cabinet Ministers. No serious intelligence officer should have had anything to do with it, indeed the overheads rule out Syrian Air Force involvement.
Since this was a pinprick attack, launched for political not military effect, there would have been no particular need for the Astute skipper to take unnecessary risks. There were enough collisions in the Cold War between Western and Soviet subs!
I'm sure that the Royal Navy have not forgotten the collision between that Oberon class sub and a Vietnam People's Navy patrol boat during the Vietnam War! That's right, folks: Britain was a covert belligerent in the Vietnam War, on the side of the Good Guys (that's the same side Gordon Duff was on!). There was at least one combat action between the British and North Vietnamese navies.
I should explain, dear readers, that the US Navy had largely got out of the SSK business by Vietnam and that nuclear boats are too large and noisy for inshore work. Enter the superb Oberon class boats of the Royal Navy and the Royal Australian Navy. Quiet SSKs, they were ideal for closing the North Vietnamese coast. BTW the aerials fitted to the Oberons for monitoring Bad Guy ground-air coms (and some other stuff) were designed by one of my late intel contacts, who featured in my trial. The Crown Prosecution Service didn't have a clue who he was of course – they just thought that he was some old geezer I met in a boozer somewhere. (Gordon Duff knows who he was.)
Salisbury Update
Hilariously, the MSM are still misreporting the nerve agent used as Novichok. As revealed on VT last week by Ian Greenhalgh and others, including myself, it was actually BZ, a Western weapon. In a panic the British Government have rolled out their chief scientific adviser, who's a global warming propagandist and so has some experience of hoaxes, no offense intended, to claim that there are nine Novichok hot-spots in Salisbury.
This has several consequences, not the least of which is that I still can't drink take-away cups of coffee from Greggs's nice coffee shop in the Maltings in the park by the River Avon. (In case you're wondering why Salisbury is nowhere near Stratford-on-Avon, Britain, confusingly, has several rivers named the Avon – I know you guys have different arrangements regarding the Mississippi.)
The people of Salisbury are being led up the garden path. Sadly the Salisbury Journal isn't doing much to enlighten them.
Theresa May
The hysterical Remoaner MP Nicky Morgan admitted on BBC's Sunday Politics show this afternoon that the pro-Brexit, pro-British rebels probably now have enough signatures to force a leadership contest. I rarely agree with her, but I suspect that on this occasion she's right.
The British government's false narrative over Douma is unravelling even faster than its false narrative over Salisbury. I really cannot see Theresa May lasting beyond the fall. A number of Tory backbenchers are now aware that the government, advised by its officials, are lying about Salisbury and then collaborated in an unlawful armed attack on a sovereign country with whom we are not in a state of war in order to distract attention from the first lie. It's not a pretty picture.
JIC reform
One of the lessons of the Salisbury and Douma fiascos is that we badly need to re-professionalize our intelligence assessments machinery. The Joint Intelligence Committee (JIC) was never as effective as British intelligence academics would have you believe, thanks to German penetration. Absurdly, the JIC still maintains, for example, that the Cambridge Spy Ring were Soviet, not German, spies. (It's difficult to believe that any current member of the JIC has ever spoken, as I have, to intelligence officers who actually knew Kim Philby – the idea that he was a communist is just silly.)
We need to get the Cabinet Office's hands off the JIC and the Assessments Staff. Politicized intelligence is of no use to anyone.
The JIC chair should be a four-star. It's not a job for civilians, frankly. They have made a mess of it, just as they have of running the Met. We also need new intelligence agencies specializing in scientific and financial intelligence, areas where the current JIC is badly under-informed.
This Week's Movie Review: We Joined The Navy (1962,
dir. Daniel Angel)
Recently given an airing on cable in the UK by Talking Pictures, this is a charming naval comedy starring that fine actor Kenneth More, with a very strong supporting cast led by Lloyd Nolan as the American admiral. The movie was one of Derek Fowld's first appearances – he later played loyal civil servant Bernard Woolley to excellent effect in Yes Minister and Yes, Prime Minister. John Le Mesurier, Dirk Bogarde, Laurence Naismith, Warren Mitchell and Andrew Cruickshank make cameo appearances.
It's a gentle British comedy. You won't roar with laughter, but it'll raise a smile or two. American audiences and naval historians will enjoy the movie's real star, the Cleveland class light cruiser USS Springfield (CL-66), and pick up on the joke about an American admiral having a cruiser, not a carrier, as a flagship. By 1962 of course the Springfield had been refitted as a fleet flagship and was in fact the Sixth Fleet flagship.
Springfield had also been refitted with the excellent Convair SAM-N-7 (later RIM-2) Terrier SAM system. There are some fine shots of the missile launcher, which back in '62 was state of the art. The Terrier was a great credit to Convair and the US Navy.
The plot revolves around a naval officer (More) who is too truthful for his own good, and three hapless midshipmen, who are clearly destined to be appointed chief of defence intelligence. They all end up on an exchange visit to the Springfield, where much of the movie was shot. The producers enjoyed splendid cooperation from the Admiralty and the US Navy.
It's well worth downloading. Enjoy!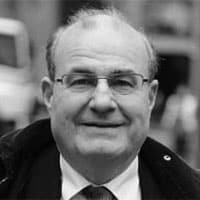 Michael Shrimpton was a barrister from his call to the Bar in London in 1983 until being disbarred in 2019 over a fraudulently obtained conviction. He is a specialist in National Security and Constitutional Law, Strategic Intelligence and Counter-terrorism. He is a former Adjunct Professor of Intelligence Studies at the American Military University.
Read Articles from Michael Shrimpton;
ATTENTION READERS
We See The World From All Sides and Want YOU To Be Fully Informed
In fact, intentional disinformation is a disgraceful scourge in media today. So to assuage any possible errant incorrect information posted herein, we strongly encourage you to seek corroboration from other non-VT sources before forming an educated opinion.
About VT
-
Policies & Disclosures
-
Comment Policy
Due to the nature of uncensored content posted by VT's fully independent international writers, VT cannot guarantee absolute validity. All content is owned by the author exclusively. Expressed opinions are NOT necessarily the views of VT, other authors, affiliates, advertisers, sponsors, partners, or technicians. Some content may be satirical in nature. All images are the full responsibility of the article author and NOT VT.