All boys and girls, sooner or later,  grow up.  Everyday loving parents send their beloved children out into the world to become adults.  Without proper support systems, it can be a hard life.
These young people will have their own families, become the money-earners, and will be responsible not only for themselves but also for their future children.  The military life can be a great structured place for a young person to climb the ladder towards adulthood.
Some young people choose the U.S. Army because it make sense for them.  Since the moment when the postman brings the invitation to the military enlistment office, the carefree youth ends.
Parents are faced with accepting that their sons or daughters are not kids anymore.  They must let them go and encourage them to embrace the future so that the possibilities and challenges the future brings will be met with pro-active action and determination to get the job done making their adult journey a positive experience; not just for the individual but for society in general.
Does serving in the army bring benefit?
Since the childhood, all kids know that they should respect their home country and learn how to protect it if necessary. But, despite this, few of them realize that carefree life where parents provide comfort and protect the teenager from all life's adversities has to come to an end.
They face a new adult life where where there are no old friends and no youthful carefree entertainment and fun pastimes awaiting them at the responsibility table. Therefore, very often, a young person is morally not prepared for adulthood and responsible service.  They try to avoid it by any means.  That is fairly normal.
The U.S. Army can be that structure needed for those younger people are struggling to climb the adult ladder.  It's a benefit.
Moving on the next adventure opens new opportunities.  It allows young adults to find true friends and acquaintances, to learn discipline and self-control. The army teaches one to be persistent and courageous, responsible and tolerant, independent and responsive. As a rule, the young men and women are sent to serve far from their birthplace and this is a great opportunity to see other cities and meet new people.  It changes lives!
Hard discipline allows to turn young people with a lot of unnecessary trifles in their heads into real strong adults who are able to take responsibility for the deeds done and ready to serve the home country at any time.
During service, they have the opportunity to improve their physical shape, to mature and train muscles, and to master a new specialties.
Long cross-country races, physical activities, balanced healthy nutrition and strict observance of a daily regime lead to body strengthening.
As a result, the army service is finished not by a young undeveloped teens but by a strong person in tip top shape and a new worldview.
In the army, most of the service men and women reconsider their views on life, change their consciousness and grow up. They develop their own value system, in which, as a rule, there is no more room for youthful amusements and entertainment.
Service in the army offers great opportunities. It can be an excellent starting point for building a career as a military, fireman or lifesaver.  It can lead to many opportunities later in civilian life.  Young people can enter state educational institutions on preferential terms (for certain specialties related to service in law enforcement agencies in public positions).
Is it possible to prepare for the army?
Of course, the first days and even months of military service can be quite difficult, especially for an unprepared person.
They perform physical exercises, work in the kitchen, clean a residential block and the adjacent territory, and take care of their uniforms. In addition, service people must observe the rules of discipline and the regime of the day; neglecting of which is fraught with punishment raising the cost for poor behavior within the group.
In order to adapt to the new conditions as easily as possible, experts recommend special preparation for the army which must be carried out in advance.
Get in shape!  Go on hikes, get involved in sports.  Another good way is to visit a military-patriotic club and get info from old-timers. Learn as much as you can.
One of the most important aspects to joining the U.S. Army is learning to master weapons. Guns are not plastic toys.  They are weapons. The recruit is forced to take weapons of war very seriously.
Within half a year, the new serviceman will have to perform military tasks where they will risk their life.  This is no time for kids playing with plastic pistols.
It is important for young people to understand the need for service and what it can bring to their lives. As a rule, the formation of such an opinion depends on the attitude of the recruit's parents to military service. Most often, the desire to serve arises among the children who were brought up in the spirit of patriotism, visited sections with a military bias or want to follow in the footsteps of relatives-soldiers.
What helps to cope with the difficulties arising in the course of the service?
Faith in God, patience, and sense of humor. Of course, all kinds of things may happen, but this does not mean that you always need to throw your fists into the defense. It is necessary to endure, wait.
At the same time, there are situations when a young man has to prove his authority. This skill will be very useful in the civil life. In the army, you must try to be a decent person, not to betray peers, to sacrifice your own interests for the sake of the greater good. Such behavior is always appreciated.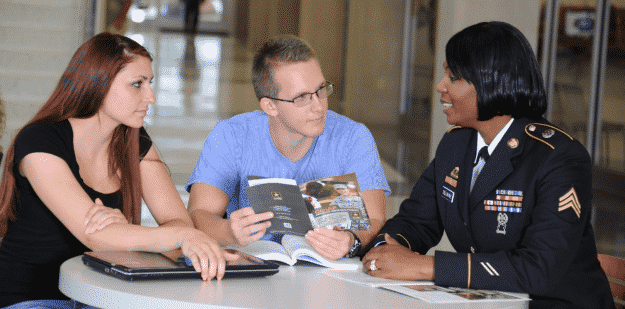 Do not praise yourself, no matter how old you are, what your education is, how much money you have. All this is left at home. In the Army, everyone is equal. Therefore, you must calmly fulfill all your duties and gradually go forward. Of course, this is not easy. But as it was mentioned above, you will get quite weighty bonuses.
So, if you agree that the army is the source of numerous advantages, it is time to prepare for the nearest enrollment. To get into a good military department, you have to compile a self-presentation and highlight the best qualities of your character.
It is recommended to contact the professional military resume writers. We hope that your path of maturing and internal development will be successful. Good luck!
Resources
ATTENTION READERS
We See The World From All Sides and Want YOU To Be Fully Informed
In fact, intentional disinformation is a disgraceful scourge in media today. So to assuage any possible errant incorrect information posted herein, we strongly encourage you to seek corroboration from other non-VT sources before forming an educated opinion.
About VT
-
Policies & Disclosures
-
Comment Policy
Due to the nature of uncensored content posted by VT's fully independent international writers, VT cannot guarantee absolute validity. All content is owned by the author exclusively. Expressed opinions are NOT necessarily the views of VT, other authors, affiliates, advertisers, sponsors, partners, or technicians. Some content may be satirical in nature. All images are the full responsibility of the article author and NOT VT.