September 20, 2018
The Honorable Michael Adler
Deputy Special Representative for Afghanistan and Pakistan
U.S. Department of State
Washington D.C.
Dear Special Representative Adler:
As I informed the U.S. Department of State numerous times, Mr. Zalmay Khalilzad is an obstacle to peace. He is corrupt war profiteer and needs to be investigated and prosecuted. Right now he is in Dubai wining and dining and meeting with "so-called "representatives of the Afghan freedom fighters/villagers. These people he is meeting are not the Afghan freedom fighters nor do they represent them. He is just meeting with anyone who has a beard. Khalilzad just wants the United States to believe he is meeting with Afghan freedom fighters and working for peace, but in reality he is just looking to keep the war going so he can continue to profit from it. Khalilzad is looking out for his own pocket at the expense of the Afghans and the U.S. It is just a farcical show.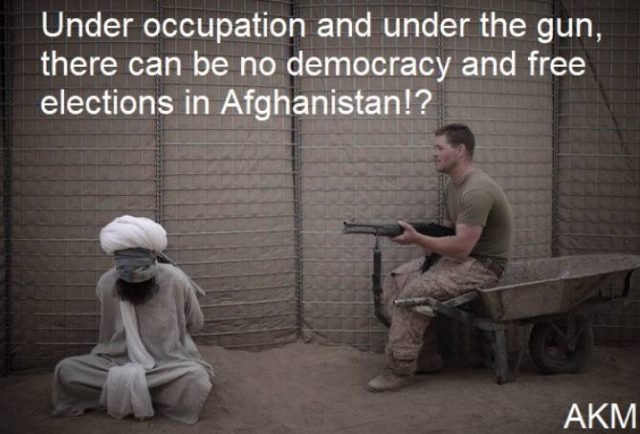 It is not wise to put a hungry fox like greedy, billionaire war profiteer, Khalilzad, in the cage with the peace bird. Secretary of State Pompeo needs to remove Mr. Zalmay Khalilzad from his position if the United States is really seeking peace.
Please stop wasting U.S. tax dollars on Afghan election (U.S. selection of the Afghan administration), as there can be no true free elections when Afghanistan is still under the occupation of the United States and NATO. Stop the elections or more accurately the U.S. selection" of Afghan administrations. There can be no democracy when a country is occupied by and under the gun of a foreign invader. The U.S. government needs to focus and spend the money in the United States on its election/voting processes and equipment as our democracy is in question and under attack by Russia and others.
In 2015, pursuant to the freedom of information act, I had requested public records regarding Khalilzad and a lot of other topics related to the war in Afghanistan. I never received a response as required under the freedom of information act law and implementing regulations and policies. If the Department of State is still following the rule of law then it needs to properly respond to FOIA requests and have transparency. Otherwise, it is obvious the U.S. government is only looking out for the war profiteers and corporations. It is not concerned about transparency or the people. I am still waiting for a response. Please see the attached letter.
Sincerely,
Kadir A. Mohmand
6147 Old Log Trail
Kalamazoo, MI 49009
___

U.S. Department of State FOIA case F-2015-05803
March 11, 2015
Mr. David H. Rank
Deputy Special Representative for Afghanistan and Pakistan
U.S. Department of State
Room 12A40-A
2201 C. Street, N.W.
Washington, D.C. 20520
RE: Freedom of Information Act Request
Dear Mr. Rank:
After speaking with you on Monday, March 9, 2015 I am highly discouraged about the prospect for peace in Afghanistan. I realize that my government does not want to end its covert war in Afghanistan and seek peace. Based on my information, I believe it is all about the genocide of the Afghan/Pashtun tribe because they stand in the way of my government's control of the Afghan/Pashtun's REEs and permanent military occupation. I believe that is why my government's divide and conquer strategy and covert war with its mercenaries/contractors and Afghan puppets/war profiteers continues. Again, I contacted you for guidance and because my government serves me as a U.S. citizen. As I told you numerous times, I know I am not an employee of any branch of my government nor have I ever requested to become an agent or employee. I simply want an end to war, blood shed, and an end to the genocide occurring in my native land. I believe the genocide, ethnic cleansing, massacring, torturing, raping, disappearing, slaughtering of several hundred thousand innocent Afghan/Pashtun villagers are war crimes and human rights violations. I believe the United States, NATO, the puppet Ghani and their governments and others have committed war crimes in Afghanistan during these past fifteen years. Sadly, I believe the U.S. government is responsible for the John Kerry ISIS daesh project in Afghanistan for the purposes of spreading propaganda and dividing and conquering the Afghan/Pashtun Tribe, who are the largest tribe in the world.
Pursuant to the Freedom of Information Act, I am requesting copies of any and all public records or documents, pertaining to or in any way related to the following:
1. bilateral security agreements signed between the U.S. government and the Afghan government
since the U.S. invasion of Afghanistan in 2001;
2. the deposits and mining of Rare Earth Elements (REEs) in Afghanistan;
3. the U.S. employment records of Ashraf Ghani when he worked as an interpreter for James Dobbins including but not limited to any notes, letters, memoranda, papers which Ashraf Ghani wrote while he was spying on Afghans at the Bonn Conference in 2001;
4. Department of State policies, memoranda or statements etc. regarding dual citizenship of the former and current president of Afghanistan and other former and current members of the executive branch;
5. the number and names of U.S. citizens, who hold or held positions or are or were part of the executive, legislative and /or judicial branches of the government of Afghanistan since 2001;
6. the money expended to pay the Afghan warlords and communist war criminals including but not limited to Rashid Dostum, Abdullah Abdullah, Abdul Rab Rasul Sayyaf, and Mohammad Mohaqiq;
7. the number of private contractors and mercenaries presently in Afghanistan and how much the U.S. has expended for these contractors and mercenaries in 2013, 2014, and 2015;
8. the number of Afghan civilians killed in Afghanistan since the U.S. invasion in 2001;
9. the number of Afghans/Pashtuns killed in Afghanistan since 2001;
10. the number of Afghans/Pashtuns detained since 2001 in prisons in Afghanistan;
11. the number of detention centers, prisons, black sites etc. the U.S. government has, operates, jointly operates, shares, oversees, or uses in Afghanistan;
12 the John Kerry, ISIS Daesh project of divide and conquer to create and bring new terrorist groups into Afghanistan such as ISIS (daesh, Arbakai, ISIL) including how much money he gave to Abdullah Abdullah and the name(s) of the commander(s);
13. the number of hazardous waste sites, landfills, dumps, contaminated areas etc. and the locations and coordinates of these sites;
14. the number of Afghans/Pashtuns who have been tortured by the U.S., its private contractors/mercenaries and its other agents such as the Afghan Puppet government since 2001.
15. policies, procedures, rules, regulations regarding Department of State employees, officials, and/or agents and /or their relatives or close friends and or their business(es) or company(ies) obtaining or being involved in business contracts with the U.S. government or U.S. AID to the self-serving war profiteer Zalmay Khalilzad was he working for the Department of State;
I may be reached at (269) 353-7044. My address is: 6147 Old Log Trail, Kalamazoo, MI 49009. Thank you.
Sincerely,
Abdul Kadir Mohmand
Abdul Kadir Mohmand was born in Kabul, Afghanistan. He currently resides at Kalamazoo, Michigan. He graduated from Kabul High School. On an UNESCO scholarship, Mr. Mohmand studied at Sofia University, Bulgaria from 1976 until 1978 when his studies were interrupted by the Communist seizure of power in Afghanistan. The new Afghan Communist government ordered the Bulgarian government to return him to Afghanistan because he was anti-communist. Mr. Mohmand requested political asylum. With the help of the United Nations and the U.S. Embassy, he arrived to Italy and then the United States in 1979.
Mr. Mohmand returned to his studies and earned his B.S. in 1983 from Western Michigan University. He found employment in various positions in the engineering business. For many years, he worked for BFI and was country operations manager for BFI Italia. Currently, Mr. Mohmand owns a shopping center and develops commercial properties.
During the 1980s, Mr. Mohmand was the Representative of the Afghan Mujahideen for North America. During the 1980s, Mr. Mohmand returned to Afghanistan to fight as a freedom fighter against the Soviets and Afghan communists. Through an arrangement with Borgess Hospital in Kalamazoo, Michigan, Mr. Mohmand would bring back wounded Afghan children and Mujahideen for medical treatment at Borgess and recuperation in his home in Kalamazoo. He formed and was president of a nonprofit, Aid for Afghanistan.
In the 1980s, Mr. Mohmand also worked with the Committee for a Free Afghanistan in Washington D.C to bring wounded Afghans to the United States for medical treatment.
For the past four decades Mr. Mohmand has dedicated his life to working to achieve true peace and stability in Afghanistan.
A few years ago, Mr. Mohmand organized educated Afghans intellectuals across the world who drafted a comprehensive plan for peace. Presently, he has united many different Afghan peace organizations under one umbrella. The goal of this network is to unite Afghans to bring true peace in and the independence of Afghanistan. This network wants to be the bridge between the Afghan freedom fighters and the silent Afghan majority, and the Western World in any peace negotiations.
Mr. Mohmand wants true peace and stability in Afghanistan. As a veteran of war, Mr. Mohmand hates war.
ATTENTION READERS
We See The World From All Sides and Want YOU To Be Fully Informed
In fact, intentional disinformation is a disgraceful scourge in media today. So to assuage any possible errant incorrect information posted herein, we strongly encourage you to seek corroboration from other non-VT sources before forming an educated opinion.
About VT
-
Policies & Disclosures
-
Comment Policy
Due to the nature of uncensored content posted by VT's fully independent international writers, VT cannot guarantee absolute validity. All content is owned by the author exclusively. Expressed opinions are NOT necessarily the views of VT, other authors, affiliates, advertisers, sponsors, partners, or technicians. Some content may be satirical in nature. All images are the full responsibility of the article author and NOT VT.