This isn't a detailed review, but I thought I'd round off the year by mentioning some of the highlights, and a few of the lowlights. Overall, it's not been a bad year for the Good Guys. Not all the Bad Guys will be seeing in 2019 tonight.
For us Brits the highlight of course has been the failure of the UK/EU negotiations. They haven't failed completely, but they're close! May's deal is great for the EU, which is why it's a lousy deal for us.
The toings and froings over Brexit have made for absorbing watching. You never know what's going to happen next! It all flows from Theresa May's unwillingness to accept the result of the 2016 referendum, along of course with that of the Cabinet Office.
The welcome news of the death of the Cabinet Secretary, Lord 'von' Heywood, no offense intended, came in November. Although it was a huge relief, it did not augur a dramatic change in British policy.
It's still not clear if Jeremy 'von' Heywood's cancer was induced. It might have been, since he was a German asset.
The Russian Nonsense
Rumors are flying around London that 'von' Heywood and Theresa May may have had a hand in the crude attempt by the FBI, CIA and MI6 to smear Donald Trump. May is not a conservative in any meaningful sense of the world (she's a CINO, or Conservative In Name Only) and it stands to reason that she would have backed Hillary Clinton in the 2016 election which brought the great Donald Trump to power.
British involvement in the 'Dodgy Dossier' is a matter of record. The rumor mill has it that both 'von' Heywood and Theresa May signed off on it. It has not gone un-noticed in London that Donald Trump has cooled noticeably towards Mrs May as of late.
The proposed Anglo-American free trade deal will have to await the new Prime Minister. Thankfully, May has already been forced into announcing her retirement. Hopefully she'll be leaving Number 10 early next year.
Robert 'von' Mueller's investigation into the President is based on two lies – that the meeting in Trump Tower was with 'the Russians' (as opposed to a Russian, with no known connection with the Kremlin) and that someone hacked into the Democratic Party's servers. As we now know, the speed of the download rules out hacking and the servers were accessed in the Eastern Time Zone. Put another way, it was an inside job.
The year has been dominated by anti-Russian hysteria in the West. No accusation against Russia has been deemed too silly to ventilate. Perhaps the silliest of all was the idea that those very nice and very professional people the GRU sent two clowns to Salisbury, Wiltshire, on a train, armed with enough Novichok to wipe out the entire city, to assassinate Colonel Skripal and his daughter. They then proceeded to leave some Novichok behind, as you would, which two innocent passers-by happened to pick up.
Theresa May and the Cabinet Office solemnly blamed poor old President Putin for the three murders. They would have been better off looking closer to home.
As revealed on this site, the nerve agent used at Salisbury wasn't Novichok at all, but BX, a non-lethal Anglo-American agent. Whoops. The murders of course were arranged by the German operation in London, GO2, who were blackmailing the then Cabinet Secretary (our old friend 'von' Heywood). There are faux pas and there are faux pas. This pas was very faux.
Not content with blaming dear old Pooters for three murders he never sanctioned the MSM and assorted idiot MPs, if that is not a tautology, used the Salisbury killings as an excuse to recycle the discredited allegations that President Putin had sanctioned the 'assassination' of Lt-Col. Litvinenko in London, the assassination of Anna Politkovskaya in Moscow and the shooting down of Malaysia Airlines Flight MH17.
In fact Lt-Col. Litvinenko was killed by the antidote, Prussian Blue, which he had swallowed himself, having knowingly ingested Polonium. Poor old Anna was done in on the orders of the DVD and MH17 was shot down by the Ukrainians and the Chinese, acting in concert.
High Energy Weapons
2018 has seen the repeated deployment of high energy weapons, causing earthquakes and boosting storms. The ignorance of Western political establishments and the MSM has been astonishing even by their own low standards. Nobody outside the Intelligence Community seems able to connect the dots. They never will. They're not smart enough.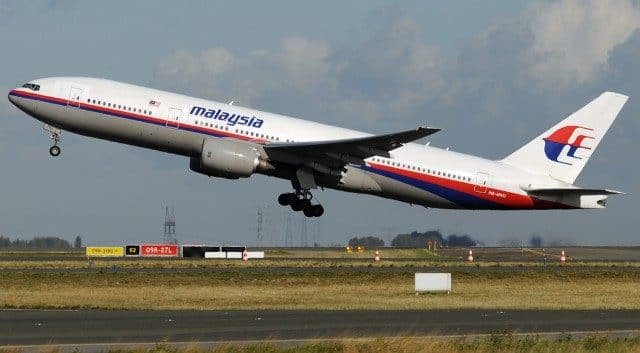 MH370
MH17 wasn't the only Malaysian 777 shot down by the Chinese. They also shot down MH370. 2018 saw further pathetic efforts to search for the downed airliner in the Indian Ocean. I tried to warn off one company, which was searching the Indian Ocean using shareholder funds. I was roundly abused for my pains, but the company pulled out a few months later. No fee for Michael, of course, although I may have saved them millions!
As I have observed before, if you're searching for a missing airliner it helps to look in the right ocean. MH370 never went anywhere near the Indian Ocean. The Chinese blew it out of the sky over the South China Sea.
It's about time the Pentagon released the radar 'tapes' (digital these days, of course) from the USS Pinckney, the DDG whose excellent work saw the Chinese Kilo which brought down MH370 sunk. Few sailors have deserved their journey to Davy Jones' Locker more than the PLA Navy crew aboard that sub. They had just murdered over 200 innocent men, women and children.
There is no point running away from the truth. Yes the Chinese are powerful, but they have no moral authority. States which shoot down unarmed airliners proceeding upon their lawful occasions in international airspace need to be brought to book.
Global Cooling
2018 saw further outbreaks of mass hysteria over global warming. Since, as I pointed out in a recent contribution to British Mensa's newsletter, the planet is actually in a cooling phase, this hysteria seems strange.
I keep planning on doing a further detailed article on the global warming hoax, and things keep happening! I'll be doing one in 2019, you may be sure.
Basically the world is cooling, the climate is cyclical and will turn in about 15 years or so, unless we have entered a Maunder Minimum, and you guys ain't warming the planet by driving SUVs. Driving a tiny Japanese or European SUV isn't going to help the planet. Since CO2 is not a pollutant and is in fact plant food, driving a proper sized all-American SUV is actually going to make the world a tinier bit greener. You're also less likely to be injured if a truck runs into you.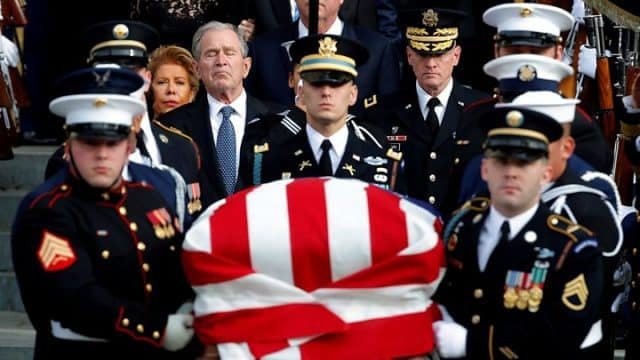 41
It was amusing hearing the MSM express amazement that President Bush's State Funeral was organised so quickly! I rather suspect that it was planned well in advance.
The precise date of Bush 41's death will be debated for many years to come. I'm still not buying June, as my distinguished colleague Ben Fulford has suggested, but it clearly wasn't the official date.
The Year Ahead
It is traditional on these occasions to make predictions for the year ahead, so here goes. I  predict that the UK will leave the EU on WTO terms on March 29th. I also predict that the Treasury and Bank of England's predictions of doom and disaster will be wrong (they usually are).
I think that the President is going to have a good year and that 'von' Mueller will be fired, assuming that the poor man doesn't come down with a touch of cancer.
I also think that President Putin will have a good year. I'm not sure that the truth about Salisbury will come out officially, although I wouldn't bet against it.
I also predict that Theresa May will leave office in 2019 and that her successor will be that nice man Jacob Rees-Mogg. I know it's being said that he looks and sounds like a Tory, but that's because he is a Tory! We're tired of having centrist machine politicians lead the Tory Party. Why shouldn't the Tory Party Leader be a Tory, for heaven's sake?
Lord Home of the Hirsel, the former Tory Prime Minister, once agreed with me that it had been a mistake for him to cave in to pressure from party suits to stand down from the House of Lords and pretend to be a commoner. There was nothing common about Alec. He was a belted Earl and I suspect that he would have won the 1964 General Election had he campaigned as the Earl of Home. He was a gent, of the old school.
He never liked Hitler, btw. I gather that they didn't quite get along at the Munich Conference. (He was the only participant at the Munich Conference that I ever met, in fact I suspect he was the last survivor.)
Happy New Year
I could write a great deal more about 2018, but it's New Year's Eve and I have a rule about not staying sober! I think it's bad form.
In the dim and distant I did once join the crowds in Trafalgar Square, but it was a bit rowdy and someone near me was stabbed, not by me of course! My strangest New Year was probably in the days of VCRs with dates which included the year. Remember those? They had big slots at the front and you put things called tapes into them. I was at a party and we all crowded round the VCR as it registered the changing year. It's actually quite rare to have a clock which gives you the year as well as the hour, the day and the month.
It only remains for me to wish all my readers and valued colleagues at VeteransToday.com a Happy and Prosperous New Year! All y'all take care now!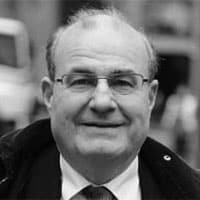 Michael Shrimpton was a barrister from his call to the Bar in London in 1983 until being disbarred in 2019 over a fraudulently obtained conviction. He is a specialist in National Security and Constitutional Law, Strategic Intelligence and Counter-terrorism. He is a former Adjunct Professor of Intelligence Studies at the American Military University.
Read Articles from Michael Shrimpton;
ATTENTION READERS
We See The World From All Sides and Want YOU To Be Fully Informed
In fact, intentional disinformation is a disgraceful scourge in media today. So to assuage any possible errant incorrect information posted herein, we strongly encourage you to seek corroboration from other non-VT sources before forming an educated opinion.
About VT
-
Policies & Disclosures
-
Comment Policy
Due to the nature of uncensored content posted by VT's fully independent international writers, VT cannot guarantee absolute validity. All content is owned by the author exclusively. Expressed opinions are NOT necessarily the views of VT, other authors, affiliates, advertisers, sponsors, partners, or technicians. Some content may be satirical in nature. All images are the full responsibility of the article author and NOT VT.