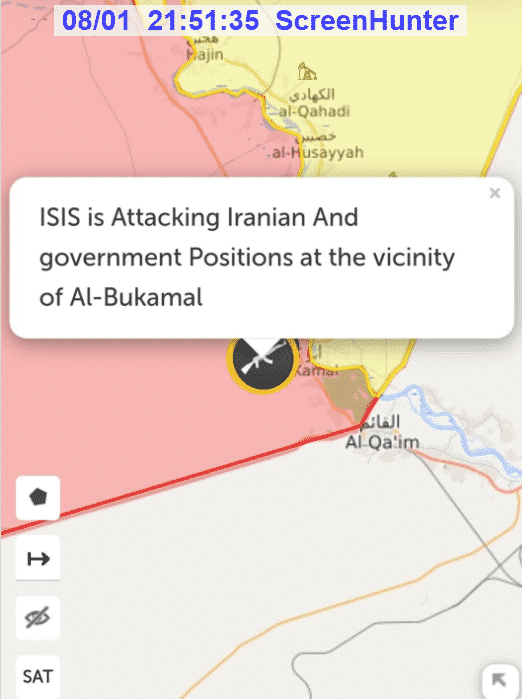 VT Exclusive Nahed Al Husaini 
Our sources also say that Erdogan who is playing like a clown by shuffling between the US and Russia must pay a heavy price, and his unstable position inside his Party will make out himself in jeopardy, and dragged into a trap framed by the Americans.
Erdogan is spreading now rumors that he has concluded a deal with the US on a safe zone, but our Moscow sources say this is untrue.
Tom Duggan, British journalist and strategists told VT that People in the YPG have told me the following that Turkey offensive stopped during the deal with Russia for s 400s for almost 6 month .but they are expecting a new offensive anytime now .
Ex British Ambassador to Syria Peter Ford said "it looks like ISIS
and its cubs taking advantage of the situation in Idlib to attack Syrian army units stationed in Deir-Ezzor "
"SAA forces elsewhere must have been thinned out to provide reinforcements for Idlib, "he added
Andrew Ashdown from the Church of England says"No surprise here. And no concern for the interests of people and nations.   Deeply worrying developments in Syria with two major attacks by ISIS on the Syrian army in Deir Ezzor in the last 24 hours, and reports of attacks in Quneitra province in the south today.  Meanwhile, the jihadists in Idleb are constantly being resupplied from Turkey, while US supports Kurdish separatists, and controls an area of SE Syria close to an area where there is an ISIS resurgence. (Strange that!)  Add to that the brutal application of sanctions which causes suffering to millions. To what extent is the international community colluding with these multiple factors to force the further weakening of the Syrian State?  Were they to succeed, we would see yet another failed State, extremist ideologues in power, and the destruction of the country's cultural and religious plurality. What a wonderful achievement!  But that is precisely what our government's policies could lead to.  The faith leaders in Syria are voices of wisdom and moderation.  But no-one is listening, not even our own faith leaders.  Just another day in a cruel, twisted world.  Lord, have mercy."
 Eldar Khalil stressed that Erdogan is serious about his threats in the north and east of Syria, and stressed the need for the public to recognize the seriousness of these threats, he said: "General alarm must be announced at various levels of media and organizational, protection, diplomatic and economic in the face of threats launched by Erdogan.
A member of the Executive Body of the Democratic Society Movement (TEV_DEM), Eldar explained in an interview with our agency, Hawar news agency (ANHA) that the Turkish President Erdogan launched direct threats against the children of north and east of Syria, and said through the media that he will put the children of the north and east under the soil, Khalil said: "These threats are a crime under the laws and international norms ".
During his meeting with the heads of the ruling Justice and Development Party (AKP) branches on July 26, Turkish President Erdogan launched threats in north and east of Syria, saying: "They will either be buried under soil or accept humiliation."
Eldar Khalil pointed out that Erdogan's actions in Afrin were clear, Erdogan's threats were illegitimate and Erdogan did not want to create a democratic regime in north and east of Syria, nor a democratic one. He said: "Turkey has worked in all areas to hit the democratic project in the region, and fought the people of the region in various ways since the beginning of the revolution, from the diplomatic, organizational, economic, media, military … etc."
Khalil pointed out that after defeating Daesh mercenaries in the north and east of Syria, geographically, the regions of north and east of Syria have become reality and the international community sees for AA positively and is headed towards recognition. The file of prosecuting Daesh mercenaries is increasingly being discussed in the region and the world. There is connection and diplomatic relations between AA and the international community. "These facts do not admire Turkey and they do not bear them, so Erdogan launches his threats," he said.
Khalil said that Erdogan is serious in his threats, and when he says I will bury you under the soil, it is not unlikely to agree with the regime and Russia so that Idlib handed over to the regime provided that allowed to launch attacks on areas of north and east of Syria, He said: "Everyone knows that the regime and Russia did not make any advance in Idlib as a result of Turkey's support for mercenaries there."
Khalil said that even if there was an agreement between the regime and Russia on the one hand and Turkey on the one hand in the area of attacks on areas in northeastern Syria, nothing will change and said: "Because our regions are not under the tutelage of the regime and Russia."
"The people must be aware of the seriousness of the threats that Erdogan is launching against north and east parts of Syria, which had been liberated by bloods of martyrs' thousands," he said. "General alarm must be announced at various levels of information and organizational, protection, diplomatic and economic in the face of threats launched by Erdogan."
Nahed is VT Damascus Bureau Chief. She is a member of the American Institute for Middle East Strategic Studies (USA) and serves as Assistant Director of the Arab-American and Muslim Congress (Detroit, USA). She has a Diploma in English Literature from Damascus University (1987).
She's also been a reporter for Turkish newspaper Aydinlik, Special Coordinator for Arab-Armenian International Law Assembly, Correspondent for Qatari News Agency, Al Ayam news Paper in Bahrain, Al Liwaa in Lebanon, Correspondent for Petra News Agency in Jordan, correspondent for the Associated Press in USA, and worked as a freelance journalist for CBS, ABS and CNN in Syria. She is fluent in both English and Arabic.
ATTENTION READERS
We See The World From All Sides and Want YOU To Be Fully Informed
In fact, intentional disinformation is a disgraceful scourge in media today. So to assuage any possible errant incorrect information posted herein, we strongly encourage you to seek corroboration from other non-VT sources before forming an educated opinion.
About VT
-
Policies & Disclosures
-
Comment Policy
Due to the nature of uncensored content posted by VT's fully independent international writers, VT cannot guarantee absolute validity. All content is owned by the author exclusively. Expressed opinions are NOT necessarily the views of VT, other authors, affiliates, advertisers, sponsors, partners, or technicians. Some content may be satirical in nature. All images are the full responsibility of the article author and NOT VT.