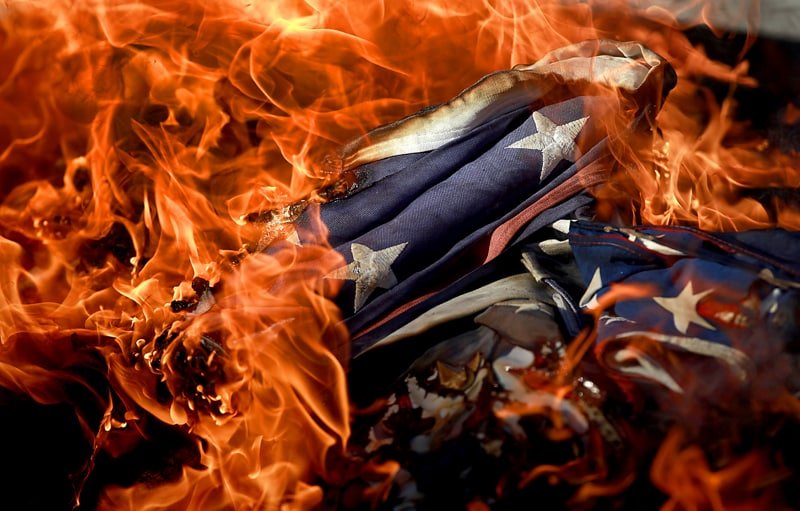 And if the 2nd Amendment dies, it will have been killed by President Donald Trump and his bewitched toadies across the country that sat back and did NOTHING to save it.

– Pastor Chuck Baldwin
I recently interviewed Pastor Chuck Baldwin about his awakening to the knowledge that Christians are very different from the Christian Zionists now populating the Evangelical Churches of America. Mr. Baldwin and I spoke about the infiltration and so-far successful efforts of Zionists and Orthodox Jewry to enlist the help of former Christians (Now Christian Zionists) in the creation of a New World Order, the reconstruction of the Jewish Third Temple, and the end of Christianity. If this topic interests you please listen to the interview here.
Today, I read Pastor Chuck Baldwin's latest article called Are These The Last Few Days In The Life Of The Second Amendment?
In the article he indicates that he understands deeply what is happening to this nation and that the Constitutional system of government has been usurped and is now de-facto; no longer does this government respect the Law or the will of the majority of the people.
The Bill of Rights was created to explicitly remind government that in addition to all other rights, not enshrined but still protected by the Constitution, these enshrined rights must be clearly delineated and declared immutable and sacrosanct. Of these rights, the right to speak freely and to "keep and bear arms" were not to be infringed.
The first and second amendment are being dismantled deviously and feverishly using color of law and weaponized language. The creation of unconstitutional, and therefore invalid law, which pretends to redefine some free speech as 'anti-Semitism' is color of law, which will be used to circumvent the Constitutionally protected right to free speech. Anti-Semitism color of law is a measure taken by Zionists to prevent criticism or exposure of their control of the government and much of the super structure of American civilization.
The same situation is happening with the second amendment: new color of law, which is also invalid, defines criteria to be met before the second amendment is applicable to certain classes of individuals. By creating restrictions on gun ownership based on weaponize political psychiatry (mental health exams) and dependent on the opinions of third parties (Red Flag 'law') the second amendment has been effectively cancelled for citizens that are deemed 'unfit' by an arbitrary and subjective process;  a process that is not due process under the law of the Constitution.
Now that congress is back in session, the first order of business will be to address 'gun violence' and to construct new law to satisfy the clamoring of the captured and controlled propaganda media, the cries of the Jewish gun lobbies, and the demands of Zionist operatives serving in Congress.
However, most Trump supporters still actually believe Trump will not support more "gun control" laws. According to Pastor Baldwin.
And worst of all, most conservatives are sound asleep, believing that Trump would never sign any of these communistic gun control measures into law. These people are totally bewitched by Donald Trump.

But Donald Trump has been threatening to enact major gun control measures for months. At one time or another, he has endorsed everything from "red flag" gun confiscation laws to universal background checks to raising the age of gun possession to 21, etc. He has even said that he is in favor of creating a national "social credit" score, similar to a financial credit score, where major social media sites would monitor people's speech and issue a grade accordingly. A low grade would precipitate gun confiscation by government police agencies.
But it does get worse, remember when Trump said after one of those suspicious 'shootings' which was the primary focus of the propaganda "media" for many weeks:
"Take the guns first, go through due process second." and in the same conversation about the alleged shooter in Parkland Florida School shooting

"The police saw that he was a problem, they didn't take any guns away. Now, that could've been policing. They should've taken them away anyway, whether they had the right or not."

and ..

"I like taking the guns early, like in this crazy man's case that just took place in Florida … to go to court would have taken a long time,"
Pastor Baldwin continues:
Trump's Department of Justice has already demanded that Apple and Google hand over the names, phone numbers and other personal data on thousands of people who have purchased the Obsidian 4 rifle scope app. The app is simply an electronic method by which hunters and target shooters can calibrate or "zero in" their scopes. Now these people are about to find themselves on a government "watch" list and, perhaps, a gun confiscation list.

DONALD TRUMP IS DOING THIS. 

While Christians, Republicans and conservatives are living in an extended state of hibernation, thinking they have nothing to fear because Donald Trump is in the White House, Trump is quietly going about the business of turning the United States into a gargantuan surveillance/police state.

People who are paying attention know that Donald Trump is a major supporter of establishing a national police state around the concept of "pre-crime" law enforcement. Does anyone remember the movie Minority Report? Well, it's here! 

Donald Trump is up to his orange hair in secretive "pre-crime" technologies that are already in the advanced stages of development. Major players in this high-tech Orwellian scheme include the late (((Jeffrey Epstein))), former Israel Prime Minister (((Ehud Barak))), Silicon Valley venture capitalist and prominent Trump backer Peter Thiel, current Israel Prime Minister (((Benjamin Netanyahu))), Trump's Zionist son-in-law (((Jared Kushner))) and wife Ivanka, the Israeli Mossad and one of its many front companies, Israel-based Carbyne911, along with Israel's elite military intelligence division Unit 8200. (That's a short list, of course.) 

Trump's ultimate plan is to create a new government department to implement advanced technology that can identify "neurobehavioral signs" of "someone headed toward a violent explosive act" using data collected by consumer electronic devices. The goal of Trump and his high-tech police state pals is total government surveillance and control over the U.S. population.

These high-tech wizards are neck-deep in the manipulation and exploitation of mass shootings, not only in America but around the world. They have determined that mass shootings are requisite in order to put the population in a state of panic, fear and anger, which will move them to accept Orwellian police state measures that promise to "protect" public safety. 

I realize that most conservatives—especially most Christian conservatives—are so in love (and intoxicated) with all things Israel that they are completely close-minded to the wicked machinations of the Israeli government (working in concert with the U.S. government, of course), so most of them will not even bother to investigate the facts. Nor will they listen to anyone who knows the facts. But for those who have a heart for truth, it is absolutely obligatory that they begin educating themselves in the dark world of high-tech Israeli intelligence/surveillance operations, because THAT IS OUR FUTURE.
The truth is Trump is a cut-out – a stand-in for a US President – He is the outward face of a dark-inside foreign occupation that has controlled the United States secretly, but without total control, since 1913. However, recently it has begun revealing itself as in full control, indicating the USA is now an occupied Zionist state the purpose of which is the destruction of Western Civilization and the creation of a world government, headquartered in Jerusalem and based on Orthodox Judaism.
There exists a shadowy government with its own Air Force, its own Navy, its own fundraising mechanism, and the ability to pursue its own ideas of the national interest, free from all checks and balances, and free from the law itself – Senator Daniel Inouye
Clearly the European constituency of the population of the United States  "are living in an extended state of hibernation," as they do nothing about Zionist occupation of the United States Government and continue to allow ever growing numbers of false flag shootings which scream out for a real investigation but get none; the sheeple are not even allowed to see the bodies, or the CCTV camera footage, or even examine autopsies (Connecticut passed a law after the fake Sandy Hook Shootings that the public could not request autopsy reports or even death certificates.)  These shootings are being used to disarm Americans, a precursor to violence and genocide in the future.
In the meantime, the mesmerized and apparently stunned, or in a stupor, conservatives speak about Trump's clear concern for Israel first and his failure to produce on promises as 3-D chess or they see it as an example of Trump's extreme behind the scenes brilliance working to eventually "reveal the warrants and begin the arrests" of "bad guys." Or worse, they see it as "God's will" and have resigned themselves to let what will happen – happen.
Elections are fictions, nothing will or even CAN be done at the level of a single man in office – that ship has long ago sailed.
Wasting time fictionalizing about Trump's 3-D chess moves and waiting for signals from Q'Anon that Trump's now making his move is destroying precious time we still have remaining before they go to the next level. That level will involve the collapse of the currency, the massive loss of dollar purchasing power followed by the take down of power systems, while blaming terrorists, and then the hunger and pain begins.  This is not hyperbole -THIS IS REAL.
Pastor Baldwin insightfully concludes:
Whatever obvious form of gun control Trump finally embraces will depend on whether the global elites for whom Trump works intend that he be president in 2021 or not. It is very possible that Trump was never intended to serve two terms in office. He may have been placed in the Oval Office (presidents are selected, not elected) for the express purpose of enacting major gun control—even gun confiscation—because the power elite knew that the American people would never accept gun control from a Democrat president, but they WILL accept it (at least many of them will) from the Republican, Donald Trump. If that's the case, the gun control laws forthcoming will be BAD.

If another major mass shooting takes place soon, you will KNOW that the power elite is manipulating Washington, D.C., to enact the worst kind of gun control laws NOW. I dealt with this subject in an August 21 Facebook post. And in that case, Trump will lose a significant number of his base—those conservatives that cherish the 2nd Amendment—and he will lose re-election. But, again, if that happens, it was doubtless PLANNED that he lose the election. [Author added  bold]
Without hands on work, this nation and its rule by Constitutional Law is lost.
ATTENTION READERS
We See The World From All Sides and Want YOU To Be Fully Informed
In fact, intentional disinformation is a disgraceful scourge in media today. So to assuage any possible errant incorrect information posted herein, we strongly encourage you to seek corroboration from other non-VT sources before forming an educated opinion.
About VT
-
Policies & Disclosures
-
Comment Policy
Due to the nature of uncensored content posted by VT's fully independent international writers, VT cannot guarantee absolute validity. All content is owned by the author exclusively. Expressed opinions are NOT necessarily the views of VT, other authors, affiliates, advertisers, sponsors, partners, or technicians. Some content may be satirical in nature. All images are the full responsibility of the article author and NOT VT.