By Gordon Duff, Senior Editor
On 9/12, 2001, at the orders of President Bush, a Boeing 747 flew out of an American airport, no one knows which, carrying 82 members of the bin Laden family to safety in Saudi Arabia.
It was announced that they were no longer safe here and had to be flown out in the only non-military aircraft (almost) that flew in the entire Western Hemisphere that day.
Problem is, no such plane ever flew to Saudi Arabia.
There weren't 82 bin Laden family members in the US, perhaps only 1, being treated at Bethesda Naval Media Center for a kidney problem, a CIA operative named "Osman."
He was also called "Usama" or "Osama" by others.
There is no list of passengers, no one ever met any bin Laden family members, no one collected them from around the country.
You see, to do that would require civilian aircraft which were grounded.  They would have had to travel from Ontario, California or Las Vegas, if they existed, by bus or Uber, to get to Washington or Newark, to fly on a plane that didn't exist with other members of their family that didn't exist, a plane flown by pilots that didn't exist either.
No plane landed in Saudi Arabia.
There is no record of bin Laden family members being transited by anyone from anywhere to any American city to be flown out of the country.
No pilot exists or has ever come forward to tell of this most mysterious flight.
Then, there was a second flight.  We were also informed that a second plane left for Tel  Aviv carrying Israeli security personnel, several dozen, who had to get back to Israel in case attacks would happen there.  The 250,000 security personnel inside Israel who don't normally work as traveling artists, driving moving vans or planting radio jammers had to get home and take on their real tasks.
Arrests were made on the GWB on the New Jersey side
and from CNN, their video has been destroyed but this is from their records:
CNN LIVE EVENT/SPECIAL
A Number Of Men Arrested With Explosives On Jersey Turnpike
Aired September 11, 2001 – 23:28   ET
THIS IS A RUSH TRANSCRIPT. THIS COPY MAY NOT BE IN ITS FINAL FORM AND MAY BE UPDATED.

THIS IS A RUSH TRANSCRIPT. THIS COPY MAY NOT BE IN ITS FINAL FORM AND MAY BE UPDATED.
WOLF BLITZER, CNN ANCHOR: Bill Hemmer is back in Atlanta.

BILL HEMMER, CNN CORRESPONDENT: Thank you. Again, our apologies to our viewers about five minutes ago, but we do have an established connection now with CNN's Deborah Feverick. The reports we're getting now, two or three men arrested on the New Jersey Parkway. Deborah, can you hear me now?

DEBORAH FEVERICK, CNN CORRESPONDENT: Yes, I can. That is the information that I am getting from two sources, that there was a van either on the New Jersey Turnpike or the Garden State Parkway, and that it was near the George Washington Bridge.

There were two or three men who were in the van that was pulled over. It is not clear why the van was pulled over, but when it was, law enforcers found tons of explosives inside of the van.

That is, right now, all I am hearing. But again, two to three people in custody, and we are trying to get more information on that right now.

HEMMER: Deborah, I don't mean to put you on the spot here. Do you know where on the Jersey Turnpike this was? How far from New York City?

FEVERICK: We do not know that. We are looking into that. There is one report that it was on the New Jersey Turnpike. There is another report that it was very close to the bridge, if not on the bridge. So again, these details are emerging. We're trying to piece them together. But that's what we have so far, two to three people in custody, found with a van filled with explosives.

HEMMER: Where are you tonight?

FEVERICK: Right now we are at the police academy. There's going to be a press briefing here. We just arrived down here. Just looking around here, they have called in a lot of recruits. Everybody is standing by. They are wearing police vests. They are being mobilized to do their duty throughout the city.

When I was on my way to the office, I can tell you that there was a police detail outside of the Empire State Building. There was also heavy security around the United Nations, and the streets of the city just very quiet right now. I saw a couple of people on cell phones. One woman was just crying. It's become very clear that many, many people in this city either knew somebody who was in that World Trade Center or knew somebody who knew somebody who was there. So that's the magnitude of this tragedy.

HEMMER: And Deborah, quickly here, you're waiting for a briefing, I gather based on your previous statement?

FEVERICK: Yes, we are hoping to get some more details right now. I can tell you that every couple of minutes were hear sirens, and it's either police cars or fire trucks. They're the only cars truly that are on the streets.

HEMMER: All right, Deborah, I apologize for the interruption. New York's mayor, Rudy Giuliani, now speaking again.

TO ORDER A VIDEO OF THIS TRANSCRIPT, PLEASE CALL 800-CNN-NEWS OR USE OUR SECURE ONLINE ORDER FORM LOCATED AT www.fdch.com
Followed by some archival reading here….but we have so much more confirmation now:
https://archive.org/stream/9-11CopBreaksSilence-IsraeliMossadInvolvementInAttacks/9-11CopBreaksSilence-IsraeliMossadInvolvementInAttacks_djvu.txt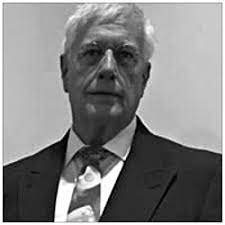 Gordon Duff posted articles on VT from 2008 to 2022. He is a Marine combat veteran of the Vietnam War. A disabled veteran, he worked on veterans and POW issues for decades.
Gordon is an accredited diplomat and is generally accepted as one of the top global intelligence specialists. He manages the world's largest private intelligence organization and regularly consults with governments challenged by security issues.
Duff has traveled extensively, is published around the world, and is a regular guest on TV and radio in more than "several" countries. He is also a trained chef, wine enthusiast, avid motorcyclist, and gunsmith specializing in historical weapons and restoration. Business experience and interests are in energy and defense technology.
ATTENTION READERS
We See The World From All Sides and Want YOU To Be Fully Informed
In fact, intentional disinformation is a disgraceful scourge in media today. So to assuage any possible errant incorrect information posted herein, we strongly encourage you to seek corroboration from other non-VT sources before forming an educated opinion.
About VT
-
Policies & Disclosures
-
Comment Policy
Due to the nature of uncensored content posted by VT's fully independent international writers, VT cannot guarantee absolute validity. All content is owned by the author exclusively. Expressed opinions are NOT necessarily the views of VT, other authors, affiliates, advertisers, sponsors, partners, or technicians. Some content may be satirical in nature. All images are the full responsibility of the article author and NOT VT.