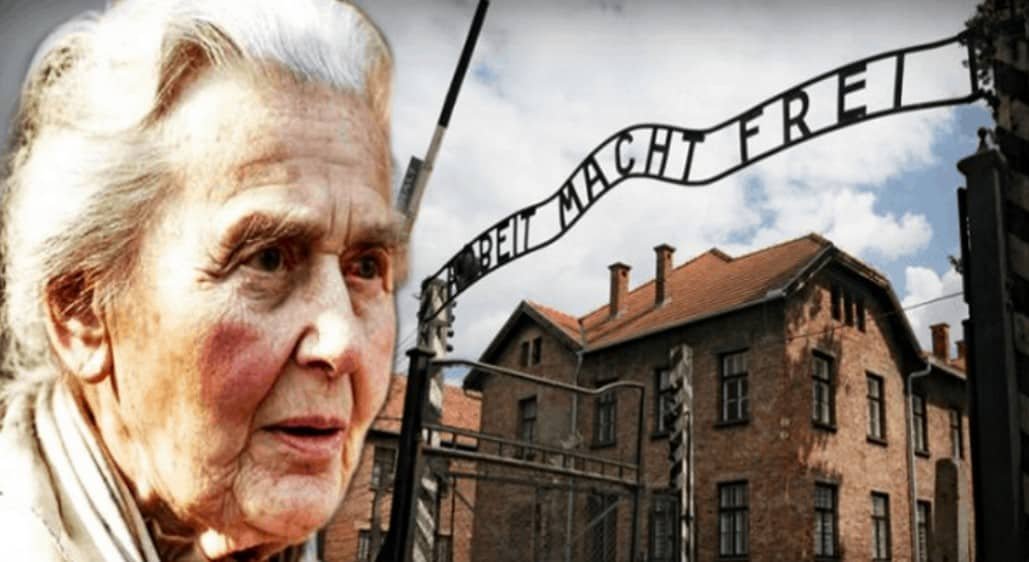 Introduction:
The assertion made by many historians, the number would astound you, is that stories of the gas chambers at Germany's concentration camps are false.As someone who has spent years in Germany, it is easy to see that Jews were removed and did not return.  Cities like Frankfurt, towns like Wittlich and so many others, have no Jewish populations though the evidence they were once there is overwhelming.The assertion is this, that late in the war hundreds of thousands of Jews, men, women and children, who were rounded up and put in labor camps, died of disease and starvation.
Evidence, and if you see all of it it may well seem overwhelming and convincing, that no gas chambers existed is there but those who speak of it go to prison in Europe or are even murdered.
The accusation is this, that that part of what Hitler is accused of is false and that what is taught today was made up so that Israel could extort the world and itself murder hundreds of thousands of innocent Arab men, women and children.
The question then is whether open discussion should be criminalized?  Should Jewish children be taught, if it is incorrect, that Jews were hated so much that Germans, normally a relatively civil people, simply wiped them out?
On the other side, even if one were to give credit to research from those who investigate the holocaust, how does one explain how Europe was "de-Jewed?"
I know this, living in Germany, I would rather have a Jewish population, in reality a German population that includes those of the Jewish faith than what is there today.
This is simply how I feel, growing up in Detroit with Germans, Hungarians, Russians, Poles, with some of them Jewish, accepted as simply Americans of European origin.  This is how things were, all we did then was hate African Americans and Catholics.
We had clear divisions in America.  There were those who opposed racism, a broad coalition of skilled industrial workers, Jews, educated professionals and people of conscience.  They were called "Democrats."
There were others that supported Hitler, who was broadly popular in America and with "elites" throughout the war, a mix of the ignorant, the wealthy and the racist south.  These were the "Republicans."  (and some "Dixiecrats" who later became Republicans)
Little has changed.
What I suggest for some, Jews in particular, is to look at the work of the Zundels.
What concerns me personally is that history has been distorted in so many ways, including both world wars, in more ways than just this.  The idea of a child being arrested because of lineage, and we know this happened, then dying in a filthy work camp, whether gassed or starved to death, is inexcusable.
If lies have been told tied to an agenda, then that is important also.  If history has been ficitonalized, and many point to the Soviet Union as the culprit, then we need to know why and make sure that "never again" includes more than protection for one race but for children everywhere.
If Jews don't believe locking up a 91 year old woman brings rise to anti-Semitism across Europe and that those who locked her up did so to foster hatred of Jews, then it is time some people went back to school.
The real agenda is to get people to distrust each other so that Deep State oligarchy can imprison us all, just my opinion.
The read below is for informational purposes only:
The Ethnic European REAL HISTORY survives on book royalties donated by author Michael Walsh and supporters. OUR AIMS: To replace victor's spin with real history, to enlighten, inspire and to educate, with your help to share our features as widely as possible.
UN Universal Declaration of Human Rights: Everyone has the right to freedom of opinion and expression; this right includes the right to hold opinions without interference and to seek, receive and impart informational and ideas through any media and regardless of frontiers.
ON NOVEMBER 9 a woman who has led a blameless life will spend her 91st birthday in a German prison. Frau Ursula Haverbeck is the conscience of the self-styled free world. The unassuming grandmother was last year again gaoled for expressing her opinion.
Only in the grotesque European Union is it possible for ordinary people who have led blameless lives to be fed into the cruellest of prison regimes for periods up to five years for speaking out against perceived injustice.
The aged lady was gaoled for defending her nation's honour. She described the official holocaust narrative as a fraud and a blood libel. Yet, those who admit or been found guilty of holocaust fraud have not been imprisoned.
Frau Ursula Haverbeck is one of growing millions who today question the victors' version of the so-called holocaust; Germany is still an occupied country. To their credit, many prominent Jews also pour scorn on the cash chamber myths.
Free inquiry requires that we tolerate diversity of opinion and that we respect the right of individuals to express their beliefs, however unpopular they may be, without social or legal prohibition or fear of success. ~ Paul Kurtz Source: A Secular Humanist Declaration, in On the Barricades, 1989.
WRITE TO URSULA AND CHEER HER UP: Frau Ursula Haverbeck, JVA Bielefeld-Brackwede, Umlostrasse 100, D-33649, Germany.
Richard Lynn the Professor Emeritus University of Ulster writes: 'I have checked out Winston Churchill's Second World War and the statement is quite correct.
There is not a single mention of Nazi gas chambers, genocide of the Jews, or of six million Jewish victims of the war. Eisenhower's Crusade in Europe is a book of 559 pages; the six volumes of Churchill's Second World War total 4,448 pages; and de Gaulle's three-volume Mémoires de Guerre is 2,054 pages.
In this mass of writing, which altogether totals 7,061 pages (not including the introductory parts), published from 1948 to 1959, one will find no mention either of Nazi gas chambers, a genocide of the Jews, or of six million Jewish victims of the war.'
Perhaps these three warlords should be charged with holocaust denial as with hundreds of historians, researchers, journalists, people who simply want holocaust exaggeration and fraud investigated.
An often overlooked question that is relevant to the holocaust debate.  Should exposure and lack of credibility in the myth of the six million become overwhelming ~ and we are close to the tipping point, could journalists and palace historians be charged with complicity in abetting fraud?
Here's freedom to him who would speak; here's freedom to him who would write; for there's none ever feared that the truth should be heard; save he who the truth would indict! ~ ROBERT BURNS.
Do not allow yourself to be diverted and distracted by the 'did it happen or not happen' smokescreen.  Instead, ask yourself, should Europe back-pedal to an age in which innocent women were burned at the stake or drowned for heresy.
By what right do the political elite incarcerate people for their sincerely held beliefs? The mind-set of the judiciary and their abhorrent cheer-leading media is reminiscent of medieval times when harsh punishment was inflicted on those who dared challenge the official narrative.
Frau Ursula Haverbeck is persecuted as were great thinkers like Alexander Solzhenitsyn, Knut Hamsun, journalist Julian Assange and whistle-blowers like Edward Snowden.
PROTEST FOR URSULA HAVERBECK
A nation that is afraid to let its people judge the truth and falsehood is a nation afraid of its people.' ~ President J. F. Kennedy.
The Jewish community challenges the right of a 'Martyrs for justice' protest in support of Frau Haverbeck in Bielefeld on November 9 where the elderly martyr is caged. To support justice and free speech it is not necessary for you to travel to Bielefeld as Bielefeld is your laptop's keyboard.
Wherever you are in the world, use this news story to inspire letters to the press. The more spirited and active might organise protests outside German embassies and consulates. Five or six people are enough. A press release setting out the reason for your protest will be seen by tens of thousands.
Exposure is what persecutors of Frau Haverbeck fear. As a bonus, the massive publicity will inspire people to see what all the fuss is about. Thanks to the freer internet, millions will see for themselves how they have been fooled by what has been described as the most successful hoax in history.
CHEER URSULA UP WITH A NICE LETTER: Frau Ursula Haverbeck, JVA Bielefeld-Brackwede, Umlostrasse 100, D-33649, Germany.
IMPORTANT FOOTNOTE: following the reunification of Germany, Willy Stoph, Former Prime Minister of Communist Germany, was spared prison due to medical reasons. Under Stoph's regime, people were shot dead at the Berlin Wall and the Iron Curtain border line, just because they wished to leave East Germany. Hundreds of others were tortured, put into prison or killed merely for being critical of the Moscow ruled the German Democratic Republic. (GDR).
Compare Stoph's ghastly crimes to the innocent, civilised questioning of a historical event by Frau Ursula Haverbeck and you see the hypocrisy of the leadership of today's Germany.
Many former Stasi-agents of Communist Germany enjoy a good life in today's Germany, while their victims received scant compensation or recognition. Today, a former Stasi stooge is in charge of today's Germany. And so you have to understand the case of Ursula Haverbeck.
CLICK 'CONTACT US' LINK
Michael Walsh Was awarded Euro Weekly News 'Writer of the Year 2011'. With 60 books bearing his name, thousands of news stories and columns, Michael is arguably Britain and Europe's most prolific author of multi-topic books.
MICHAEL WALSH is an Irish British-born journalist. His 60 books include best-selling historical books  THE ALL LIES INVASION, WITNESS TO HISTORY, TESTIGO DE LA HISTORIA: HISTORIA SIN CENSURA (SPANISH EDITION),  REICH AND WRONG,  HEROES OF THE REICH, HEROES HANG WHEN TRAITORS TRIUMPH , THE FUHRER'S PROCLAMATION TO THE GERMAN PEOPLE , ODYSSEY ADOLF HITLER, and UNCENSORED ADOLF HITLER.
MICHAEL WALSH BOOK CLUB: Set up a Standing Order minimum of €25 (£25) to my UK bank account each month to receive every 3-months a FREE SIGNED copy of any book from our BUY FROM AUTHOR LINK.
THE BARNES REVIEW is considered by historians as the world's most prestigious source of bona fide essays and information. Michael Walsh is a key member of the periodical's Board of Contributing Editors. See www.BarnesReview.com https://barnesreview.org/
THE LIVERPOOL  TETRALOGY
Latest Killer-Thriller From Michael Walsh the City Vigilante Supremo
A powerful thought-provoking paranormal romance
The Soul Meets
The dissident author's books available for purchase by visiting his website BOOKSTORE, BUY FROM AUTHOR and POETRY  links.
We are in debt to our donors (click ESPRIT DE CORP) who finance the distribution of spin-free real news and fearlessly expressed views.
KEEP REAL NEWS OPEN: Donate by using Western Union, MoneyGram, Ria, registered mail or contact Michael Walsh: keyboardcosmetics@gmail.com or euroman_uk@yahoo.co.uk 2) Follow our blog. 3) Share our stories and 4) buy our author-signed books. 5) Receive free newsletters by writing subscribe to euroman_uk@yahoo.co.uk
Michael Walsh currently has eight books listed under BUY DIRECT. Royalties will be ploughed into adding further popular titles declared taboo by the treacherous troika; Amazon, Facebook, and Mainstream Media. When ordering the book contact Michael Walsh by email keyboardcosmetics@gmail.com to receive your signed copy.
www.mikewalshwritingservices.wordpress.com
ATTENTION READERS
We See The World From All Sides and Want YOU To Be Fully Informed
In fact, intentional disinformation is a disgraceful scourge in media today. So to assuage any possible errant incorrect information posted herein, we strongly encourage you to seek corroboration from other non-VT sources before forming an educated opinion.
About VT
-
Policies & Disclosures
-
Comment Policy
Due to the nature of uncensored content posted by VT's fully independent international writers, VT cannot guarantee absolute validity. All content is owned by the author exclusively. Expressed opinions are NOT necessarily the views of VT, other authors, affiliates, advertisers, sponsors, partners, or technicians. Some content may be satirical in nature. All images are the full responsibility of the article author and NOT VT.