Mike Pence is a very rare person. He is one of the few people in the US who would make a worse president than Donald Trump. For those who don't know, Mike Pence was raised in a devout Roman Catholic family but left that church because they did not have enough rules or felt enough shame. My friends who were raised Catholic tell me that it is hard to believe that such a church exists.
He believes in a literal interpretation of Revelations and feels that we are currently in the period prophesized as "the end of times,"  though even a cursory reading of Revelations tells us that man cannot know when this will occur.
To hasten this goal he wants to help create "Greater Israel" and works to accomplish this entity. To fulfill the fiery finish prophesized, nuclear weapons are the obvious choice to create a "radioactive rapture."
I always felt that Donald Trump had two reasons for selecting him as his running mate. First, he is a very good toady who will blindly agree with anything his "boss" says. Second, I believe, that Trump views him as a sort of life insurance policy. Who would want to kill Trump and end up with Pence as president?
In his role as a toady, Mike Pence is pushing this absurd theory that no one has ever offered before. Being an MSM article from the New York Times, this article has the requisite evil accusations against General Suleimani but even the NYT can see that he had nothing to do with 911.
Michael Chester, VT Writer
---
Pence Links Suleimani to 9/11. The Public Record Doesn't Back Him
By Zach Montague – The New York Times
In a series of tweets on Friday defending President Trump's decision to authorize the drone strike that killed Iran's top intelligence commander, Maj. Gen. Qassim Suleimani, Vice President Mike Pence reeled off a list of some of General Suleimani's most notorious attacks and machinations. Mr. Pence described "an evil man" who had threatened American national security interests for decades.
In one of his tweets, Mr. Pence claimed that General Suleimani helped 10 of the men who would go on to carry out Sept. 11, 2001, attacks cross through Iran and enter Afghanistan. That does not match established historical accounts of General Suleimani or public United States intelligence about the hijackers.
What was said
Mr. Pence said on Twitter that General Suleimani "assisted in the clandestine travel to Afghanistan of 10 of the 12 terrorists who carried out the September 11 terrorist attacks in the United States."
This lacks evidence. How Mr. Pence arrived at this number and this account is unclear.
From what is commonly known about General Suleimani and the group of men who carried out the Sept. 11 attacks, their paths did not cross.
To start, many observers were quick to point out that 19 terrorists, not 12, were involved in the attacks. Katie Waldman, a spokeswoman for Mr. Pence, clarified that he was referring to a subset of 12 of the attackers who are known to have traveled through Afghanistan. She did not provide any evidence supporting the claim that General Suleimani chose to assist only 10 of them. The notion that General Suleimani abetted the attackers at all also appears dubious.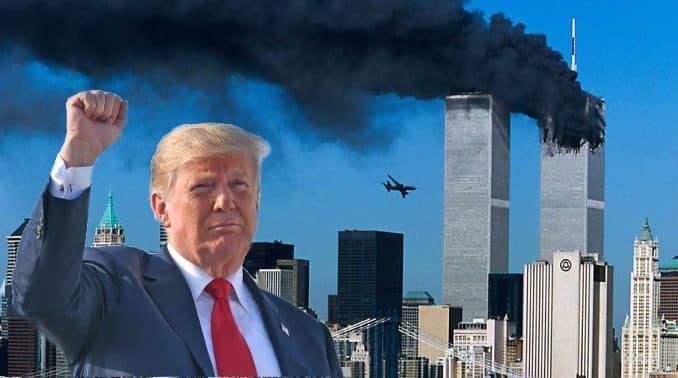 By 2001, General Suleimani had already been named the head of the Quds Force, the powerful security branch that often coordinates with other terrorist groups worldwide. Yet General Suleimani was not named at any point in the "9/11 Commission Report."
In fact, the report states in no uncertain terms that neither the Iranian government nor Hezbollah, a group that General Suleimani worked closely with, ever knew anything about the attacks or helped facilitate them.
We have found no evidence that Iran or Hezbollah was aware of the planning for what later became the 9/11 attack. At the time of their travel through Iran, the AI Qaeda operatives themselves were probably not aware of the specific details of their future operations.
Why General Suleimani, the leader of a hard-line Shiite Muslim military apparatus, would have come to the aid of members of AI Qaeda, a Sunni extremist group with strong ties to Saudi Arabia, is also unclear.
General Suleimani spent much of his career undermining Saudi Arabia, and once even plotted to have the Saudi ambassador to the United States assassinated. At various points, he was also said to have helped facilitate the capture of Qaeda militants on behalf of the United States.

Michael Chester is retired from his career in industrial technology. After graduating from college, he taught this subject until deciding that he preferred doing the job himself more than teaching it. At various times during his career, he has designed, built, installed, and repaired industrial manufacturing machinery. His specialty was in electrical and electronic controls.
After retiring, he concentrated more on his hobby of cooking and attended one of the top culinary schools in the US. Mike competed in bass fishing tournaments for several years but had to leave the sport due to an injury. As a certified barbecue judge, he gets to taste some of the best BBQs in the country and help select the winner. It is a tough job, but someone has to do it. He lives with his wife of over 30 years, and has 3 adult children and 2 grandchildren.
ATTENTION READERS
We See The World From All Sides and Want YOU To Be Fully Informed
In fact, intentional disinformation is a disgraceful scourge in media today. So to assuage any possible errant incorrect information posted herein, we strongly encourage you to seek corroboration from other non-VT sources before forming an educated opinion.
About VT
-
Policies & Disclosures
-
Comment Policy
Due to the nature of uncensored content posted by VT's fully independent international writers, VT cannot guarantee absolute validity. All content is owned by the author exclusively. Expressed opinions are NOT necessarily the views of VT, other authors, affiliates, advertisers, sponsors, partners, or technicians. Some content may be satirical in nature. All images are the full responsibility of the article author and NOT VT.