How many are FBI informants?  For those who are still allowed by America's fascist dictatorship to still buy weapons legally, VT offers:
---
from Gordon Duff and Mike Chester, we present;
Chet's Firearms
The VT Custom Firearms Shop is open for business and is ready to take your orders. We took a short break to give Mike a rest but he is back building custom firearms which we are proud to offer.
Recent events have seriously increased the demand for firearms and many dealers are experiencing shortages. We have plenty of in-stock complete rifles and pistols as well as parts for custom builds.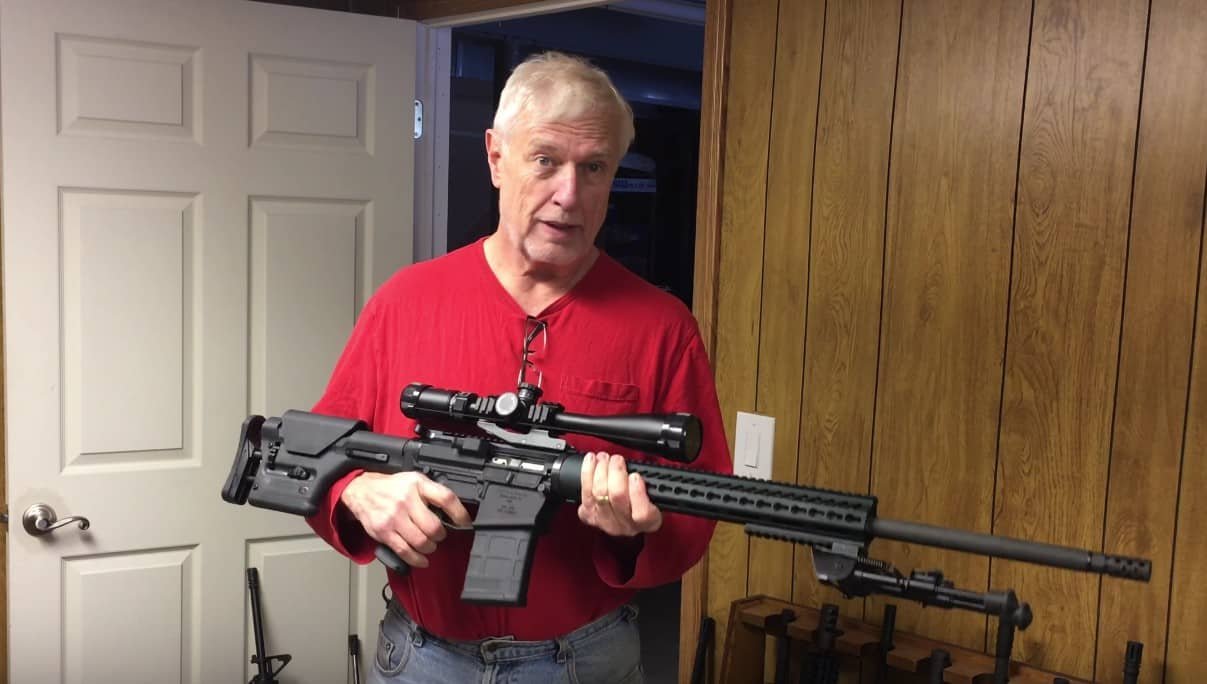 There are many weapons in inventory that are not listed including a good supply of curio and relic military weapons. We have a somewhat limited supply of optics and magazines so, for now, they are not available for sale except with a rifle or pistol purchase.
Since many people are now experiencing financial limits due to not being able to work we have introduced a new basic rifle at a lower price point but with all of the quality, you have come to expect from us.
We still have our regular models available for the same price that they were before the current situation. Many sellers are trying to take advantage of the current shortage by raising their prices but we don't believe in price gouging. Of course, our suppliers have raised their prices and when our inventory needs to be replaced we will have to raise our prices to compensate. But for now, we are keeping them low. We don't encourage panic buying but are here to serve your needs.
For further information or to purchase any of these guns, please contact Mike Chester at Chet's Firearms of Howell, Michigan. chetarms@charter.net or phone 517-548-9558.  Ask for Mike. Prices do not include shipping to your local FFL.
All prices are plus reasonable shipping, all sales require normal license procedures and are limited by law in your area, please check.
Dealer is Chet Firearms of Howell, Michigan.  We have these weapons for immediate shipment and a few more, like a truckload.  You want it, we will build it for you, any caliber or may well have it for immediate shipment.
Call Mike at 517 548 9558
---
DISCLOSURE:  Chet's Firearms is a private company.  VT promotes Chet's Firearms and Adamas personnel design weapons offered by Chet's, a federally licensed dealer and manufacturer.  VT has NO financial interest in Chet's Firearms and is NOT an owner, partner, or affiliate with Chet's Firearms.  All legal responsibilities for gun sales is that of Chet's Firearms and NOT VT or VT Network  
---
Quality basic rifle .223/5.56
This is our new model "basic" rifle. The functional parts are the same high quality that we use on our premium rifles. The differences are that it has a basic Mil-spec adjustable stock and pistol grip. No optic is included at this price. Our basic model is a step above most basic rifles in that we include a 10 inch slimline keymod front rail instead of the plastic handguard most offer.
Loadout:
16-inch Phosphate coated or parkerized barrel compatible with .223 and 5.56 ammo
Standard mil-spec adjustable stock and pistol grip
10-inch slimline keymod rail
Muzzle brake
30 or 10 round magazine (depend on your local laws)
Optic not included in base price (add a 3-9X40 Barksa scope for $60 or fold-able open sights for $35)
This rifle is also available in other calibers at a slight premium. Call Mike for details.
$499
---
California / New York Compatible Rifle
California and New York have enacted cosmetic laws that ban so-called "assault rifles."
Any rifle with any appearance item from a list of "features" makes it illegal to purchase. We designed and built a "featureless" rifle that has none of the evil parts. Functionally it is identical to our regular AR rifles, it just looks different.
At first glance, it looks a bit odd but it is actually very pleasant to shoot. We only have one in stock and these special stocks are now in short supply so we don't know when we will be able to build another one.
Loadout:
16-inch phosphate coated barrel, target crowned without threads (one of the banned features)
Special "featureless" stock with a curved hand grip instead of a pistol grip. (another banned item)
10 round magazine (CA and NY limit)
3-9X40 Barksa Scope included
12-inch slimline keymod rail
$729
---
6.5 Grendel Precision 20 inch Target Rifle
The 6.5 Grendel is the round that the military should be using as it has much more power and accuracy at distance. The bullet is still traveling at supersonic speeds at 1000 yards.
This rifle features a high-end ELD Defense match grade target barrel. It maintains accuracy at well past 1000 yards. ELD is a British company that has made barrels for the UK competition rifle team for many years. They have recently entered the US market and offered manufacturers reasonable prices to get us to try their products. We have found their quality to be excellent. Now that we are using them the introductory prices have ended. This is the last barrel we bought at the lower price so in the future this rifle will cost more.
The photo shows the rifle equipped with a Zeiss scope which is currently out of stock so we are offering it with a Hi-Lux Leatherwood scope in 4-16X44. This is a quality "piece of glass." You also have the option for an additional $25 of upgrading to the Hi-Lux Leatherwood scope in 6-24X44.
Loadout:
20 Inch Stainless steel ELD match grade target barrel
15 inch Ultra-slimline keymod rail
Custom Stainless muzzle brake
MOE stock
Custom pistol grip
Harris style bipod
25 round Magazine
$849
---
.308 Carbine
Our line of custom .308s are still awaiting approval and so we cannot offer them for sale at this time. We do, however, have one that was built by Palmetto State Armory that we can sell. We took their rifle and replaced the stock with a MOE and added a custom pistol grip. We put on a detachable carry handle with built-in dual aperture sights that co-witness with the front sight post. We added a removable rail with a 3-9X40 Barksa scope on top of the handle. This can be easily removed or replaced using the single thumbscrew that locks it in place.


Loadout:
Palmetto State Armory .308 carbine rifle
MOE stock
Custom pistol grip
Removable carry handle with dual aperture sights (co-witnesses with front sight post)
Removable top rail for carry handle
3-9X40 Barksa scope
20 round magazine
$829
---
.300 AAC (Blackout) Rifle
Loadout:
16-inch phosphate coated chrome molly barrel
12-inch Slimline rail with removable rail sections
"Punisher" muzzle brake (Maybe slightly different than one pictured)
Full Auto rated bolt carrier
ACS stock (this stock is sold out, but the same rifle is available with a MOE stock at the same price)
UTG Rail mounted Dragon Claw style bipod
Custom pistol grip
Leapers/UTG 3-9×32 "Bug Buster" scope with red/green illuminated reticle
30 round or 10 round magazine (depending on your local laws)
$799
---
.450 Bushmaster Rifle
The .450 Bushmaster round was developed specifically as a deer hunting round though it can also be a quite effective anti-personnel round.
Several states, including Michigan, have different zones during deer hunting season. Those nearer to cities only allow the use of shotguns or rifles using non-tapered rounds. The intent of the non-tapered round was to use a pistol cartridge in a rifle for a limited range and power. Rounds such as the .357 magnum, .44 magnum or the .45 Long Colt are used.
Any rifle that uses a cartridge has a larger compartment for powder and is necked down to propel a smaller caliber bullet at high velocity is not allowed. Bushmaster designed a round to get around this limitation and called it the .450 Bushmaster. You can think of it as basically a .45 very long Colt. It is a non-tapered cartridge so it is legal to use in these restricted areas but has power similar to the high powered hunting rifles.


Loadout:
16 Inch Phosphate coated barrel
12 inch slimline keymod rail
Custom "tanker" style muzzle brake
Omega Tactical custom adjustable stock with thick butt pad
Custom pistol grip
8 round magazine specifically designed for the .450 (a standard .223 magazine can be used in single stack configuration but is much more prone to jam.)
Optic not included in price but we have a few available.
$749
---
.458 SOCCOM "Shoulder Cannon"
The .458 SOCCOM was designed by the military to be a handheld rifle used primarily by the Navy and Coast Guard to shoot holes in pirate ships and drug runner's boats. It fires a large heavy bullet at high velocity. A typical example is a 350-grain bullet going 1800+ feet per second. This could take down an elephant, though that would be wrong.
Loadout:
16 inch phosphate coated barrel
Custom muzzle brake
Omega Tactical adjustable stock with thick butt pad
Extra heavy duty buffer spring to reduce recoil
15 inch rounded keymod rail with slant nose front
Uses standard .223 30 round magazine in single stack mode (Holds 11 .458 rounds)
$749
---
Collectible Rifles
SKS Rifle
We have one Chinese made SKS rifle (It appears to be a Norinco, but it does not have brand markings) It has not been touched and is still coated in cosmolene. It is a battle used and has some trench art on the stock. It is chambered in 7.62X39 (same as the AK-47)
We gave it a cursory examination and it appears to be in relatively good condition but it has been used in battle so it has some scars. The cosmolene prevents a closer inspection and I didn't take any photos. We are therefore offering it in as-in condition.
The price is $349

.
We also have a new modern custom foldable stock that accepts removable magazines and one magazine. These are available if desired at an extra cost of $100. Contact Mike for the details.
---
Finnish Mosin Nagant
This is a very rare collectible rifle in "hand select" condition. The Finns copied the Russian Mosin Nagant but shortened the barrel slightly and installed a much-improved trigger system.
They made only a tiny fraction of the number made by the Russians and few were imported to the US. It is still in cosmolene and is in above average condition. It appears to have been used very little or not at all. It is chambered in 7.62X54R as is the original Russian model. These are quite rare and this may be your only chance to get one.
Price is $499
---
These are just a few of our available offerings. We have many assembled rifles in stock for immediate shipping as well as parts to custom build on to your specifications.
Call Mike at 517-548-9558 to ask any questions or to place an order.
Ask for Mike We accept cashier's checks, Money orders, Visa, MasterCard, and Discover. There is a 3% surcharge for credit card use as that is what we are charged and we just pass it along.
The following photos are of some of our previous builds. Some of these are not currently available. 
ATTENTION READERS
We See The World From All Sides and Want YOU To Be Fully Informed
In fact, intentional disinformation is a disgraceful scourge in media today. So to assuage any possible errant incorrect information posted herein, we strongly encourage you to seek corroboration from other non-VT sources before forming an educated opinion.
About VT
-
Policies & Disclosures
-
Comment Policy
Due to the nature of uncensored content posted by VT's fully independent international writers, VT cannot guarantee absolute validity. All content is owned by the author exclusively. Expressed opinions are NOT necessarily the views of VT, other authors, affiliates, advertisers, sponsors, partners, or technicians. Some content may be satirical in nature. All images are the full responsibility of the article author and NOT VT.