…by Sami Jadallah
Never in my 58 years of living in America, I felt so sad that I to want to cry. As I watched the news and read the stories coming from home and watch the number of deaths rising every day and on occasions watching the president recommending people drink chlorine and expose themselves to the sun as a cure, it does make you cry.
I want to cry for the tens of millions of workers, wage earners living on a minimum wage, and working two jobs to survive left out of the big corporate bailout. With Secretary Steven Mnuchin suggesting $1200 should last a family ten weeks.
I am sure he pays that for one dinner at Ruth Christi, a corporation that got $20 million in bailout when last year it earned $20 million in profits.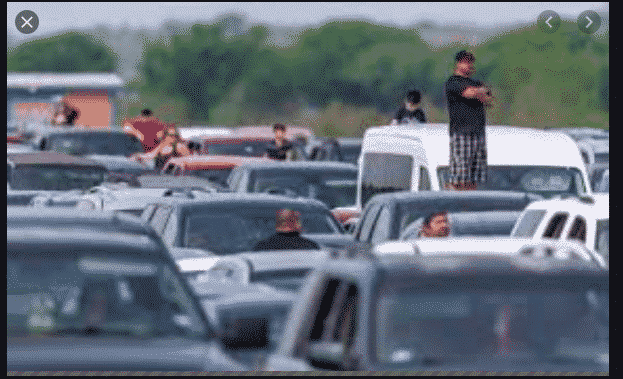 Maybe the Democrats should have their say so insisting on a monthly subsidy of $2,000 per family until this whole thing blows away. It is only a few billions they could have asked for, but they too chose to give away $6 Trillion incorporate social welfare.
I want to cry for the tens of millions of small family-owned businesses owning a little Vietnamese, or Chines, or Indians, or Falafel or a hamburger place where the entire family work over 15 hours' day to cover their monthly expenses without the need to go on welfare or food assistance.
The millions of service employees in grocery stores and delivery services who to are cheated out by the likes of Amazon when one-day stock appreciations could pay for the healthcare and paid sick leaves to all of Amazon's employees for a year.
I want to cry as I watched thousands and thousands of cars lining up the streets of every American town and city waiting for hours to pick up a food basket for their families.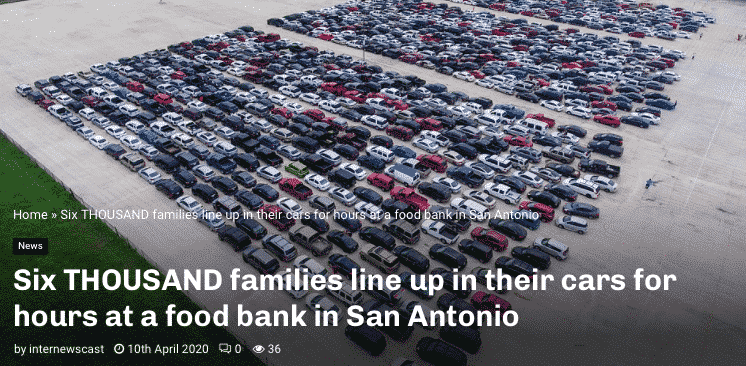 And as I look at it, we are the most potent (military nation) in the history of the world with our ships and aircraft carriers and soldier are all over the globe, ruling the seas. Yet we look back on our own Homefront to see an army of millions of unemployed, lost their jobs with no health care, no sick leaves, and no paid lay off.
Tens of millions of families are only days away from being evicted by the big landlord like Jared Kushner and Secretary Mnuchin. These two wealthy New York Jews, during the last financial crisis, picked up tens of thousands of rental units on the cheap as a special favor from their banker's buddies. How is it possible that the wealthiest country in the world allowed millions of its citizens, hard-working citizens, to be a few weeks if not days away from starvations and evictions from homes.
I do not blame the corrupt "bought" political institutions and political parties. Still, I do blame the very citizens who have lived for decades on the margins by not taking the few minutes to cast their votes and vote out the entire members of both House and Senate and reclaim Congress for the people and away from big donors and big corporate cheaters.
It is not so surprising to see the Senate full of financial crooks who cheated the government out of billions in fraudulent billing of Medicare. And to view members of the Senate shedding tens of millions of stocks based on private briefing and confidential information of what is coming with this Coronavirus.
One needs and must cry to see that when discovered, we did not have the most basic medical supplies and gears and have to wait for China to send up what is needed for our medical staff to care for the hundreds of thousands of patients. It is such a shame to see nurses using garbage bags as medical gears while we are waiting for shipments to arrive from China.
Our reckless, self-serving Congress wasted two years investigating "Russian" intervention in the presidential election. But did not spend one day or one week to look at our This November, there are no more excuses.
It is time for those tens of millions who became unemployed overnight, living on the handout, and in total poverty humiliated by Mitch McConnell and his Republican colleges to rise to the occasions and vote all the bastards out of office.
This November it is time to give Congress a lesson of a lifetime, vote them all out the office, and make sure that Mitch McConnell (Ali Baba) and his gangs never return to public office. This guy who channeled over $180 billion to his state, now wants the rules to go bankrupt in favor of bailing out greedy, corrupt Wall Street.
The question is will our people do it this November?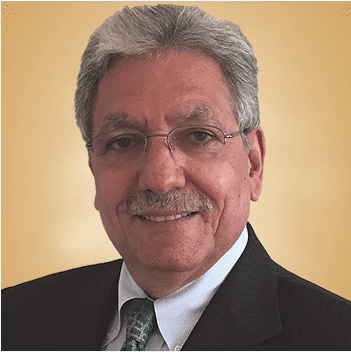 Sami Jamil Jadallah is a US Army Veteran (66-68) is a graduate of Indiana University and holder of a BA, MPA ( School of Public and Environmental Affairs and Jurist Doctor and is an international legal and business professional with more than 40 years in the construction business (KSA), Management Consulting and Business Development (Swiss), Hospitality, Aviation and Conservation (Morocco). Was the first to establish an internationally recognized conservation (Houbara) foundation in Morocco and North Africa. Currently Sami is managing a conservation and wildlife foundation with 100 employees in Morocco. Sami is a recipient of the "Leadership Award" from the US Sixth Army NCO Academy and recognized student leadership while at Indiana University. Sami was a co-founder of the United Palestinian Appeal and served on its board for over 12 years. He lives in Fairfax, VA. Sami is an advocate of the OneState for All of its People as a solution to the Israeli/Zionist conflict with the Palestinians. Sami has 4 bothers who served in the US military 2 Marines and 2 Army.
ATTENTION READERS
We See The World From All Sides and Want YOU To Be Fully Informed
In fact, intentional disinformation is a disgraceful scourge in media today. So to assuage any possible errant incorrect information posted herein, we strongly encourage you to seek corroboration from other non-VT sources before forming an educated opinion.
About VT
-
Policies & Disclosures
-
Comment Policy
Due to the nature of uncensored content posted by VT's fully independent international writers, VT cannot guarantee absolute validity. All content is owned by the author exclusively. Expressed opinions are NOT necessarily the views of VT, other authors, affiliates, advertisers, sponsors, partners, or technicians. Some content may be satirical in nature. All images are the full responsibility of the article author and NOT VT.