Note and update:
I don't know Stephen Greer but I am familiar with MJ efforts to separate goat and sheep and to who has alien contact and who hasn't.  They are tasked with controlling or reining in.
Some are so convincing, or so I am told, that they can't figure it out.  The fear, or so I am told, is that the wrong humans will influence the wrong aliens to fuck us all in the ass.
Introduction by the Senior Editor
In 1979, I was invited to apply for a special US government program related to UFO research.  I believed I was applying to join Project Blue Book, a USAF effort to debunk using childish stories and denialism, observations and experiences of those who encountered real extra-terrestrial life.
I had just spent 2 weeks sitting in my office, playing with my inbox and outbox and looking for cockroaches with my new nightvision googles.  I was going stir crazy and looked forward to bullying farmers and padding travel expenses driving around Iowa and dumbfuck Oklahoma.
I was wrong, it wasn't Project Blue Book at all…In the few times I have spoken openly, once on Coast to Coast with George Noory, I seem to have broken a vow of some kind as though I were a Trump relative.
What is the truth?  I know what I have seen.  I know what I have been told.  I am not one to believe, I don't do 'belief.'  What might one reasonably surmise?
What is kept from us is incomprehensible.
~
Rebel Gene, Secret Space Program and the Hidden War
[ Editor's note: In 2012, Kerry Cassidy wrote on her website that Gordon Duff had written about mysterious events in the Pacific ocean off the coast of California. Before that, I had not heard of VT and reading Kerry's comment was a stroke of luck that led me to discover VT, as I view VT as being one of the last pillars of classical journalism.
In another stroke of serendipity, I emailed editor Jim Dean who lived in Atlanta and three years later, after much talking and social meeting, I moved from New Mexico and we had a small group of MOWW friends over for our wedding on the 4th of July. This is our 5th anniversary. In some small way, I thank Kerry for starting a chain of events.
Rebel Gene reflects Kerry's solidly optimistic outlook about humanity's future and is a fast and entertaining read. I found myself reading a chapter and musing about it for days as it brought to mind the many Project Camelot interviews, then going back for another page turner feast after a period… Erica P. Wissinger, Mrs. JD ]
Rebel Gene
Kerry Cassidy wrote,
This book is the story of my journey down the rabbit hole to discover the truth behind the Secret Space Program, ETs, UFOs and conspiracies of all kinds. To research this book, I interviewed about 1000 individuals worldwide from high level military (both retired and current), intelligence agents from the United States and other countries, law enforcement, physicists, scientists of many kinds, former employees of NSA, NASA, CIA, NRO, and aerospace corporations, abductees, contactees, self-proclaimed super soldiers (enhanced physically and/or mentally and psychically), and the list goes on.
Some have gone on the record and been filmed in person and via Youtube and others have stayed in deep black and are known as secret sources. This book is a distillation of the information provided in those interviews combined with my own experiences and investigations as an investigative journalist and interviewer. It is an exploration into the nature of consciousness and the future of humanity.
Excerpt, page 340,
"William Tompkins: Design of bases undersea and underground, command-and-control centers, spacecraft and motherships, witnessed Battle of Los Angeles firsthand. Testified that we bult spaceships kilometers long that could travel four times speed of light. Worked for Hughes Aircraft Company, NASA, Jet Propulsion Laboratory, Caltech, RAND Corporation, Douglas Aircraft Company, Lockheed Martin Skunk Works, Northrup, and TRW Inc.
Claimed among other things that various alien species have been dominating our planet and fighting wars over control of our planet for millennia. Reptilians and Nordics have been fighting for control over our Secret Space Program since the beginning and assisting us as well. Alien and Human DUMBs.
"Solar Warden patrols the solar system and we monitor incoming craft, likely including asteroids, planetoids and Dyson spheres."
See also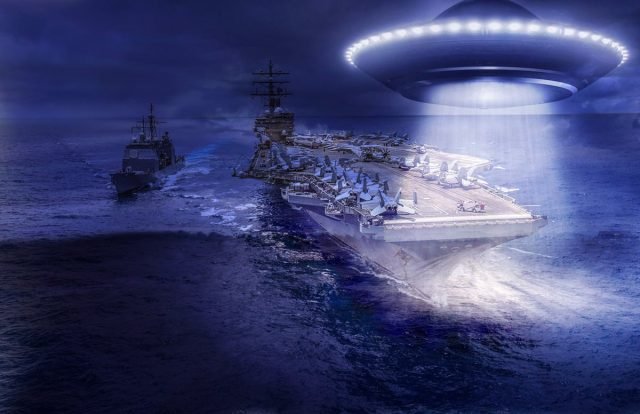 ATTENTION READERS
We See The World From All Sides and Want YOU To Be Fully Informed
In fact, intentional disinformation is a disgraceful scourge in media today. So to assuage any possible errant incorrect information posted herein, we strongly encourage you to seek corroboration from other non-VT sources before forming an educated opinion.
About VT
-
Policies & Disclosures
-
Comment Policy
Due to the nature of uncensored content posted by VT's fully independent international writers, VT cannot guarantee absolute validity. All content is owned by the author exclusively. Expressed opinions are NOT necessarily the views of VT, other authors, affiliates, advertisers, sponsors, partners, or technicians. Some content may be satirical in nature. All images are the full responsibility of the article author and NOT VT.