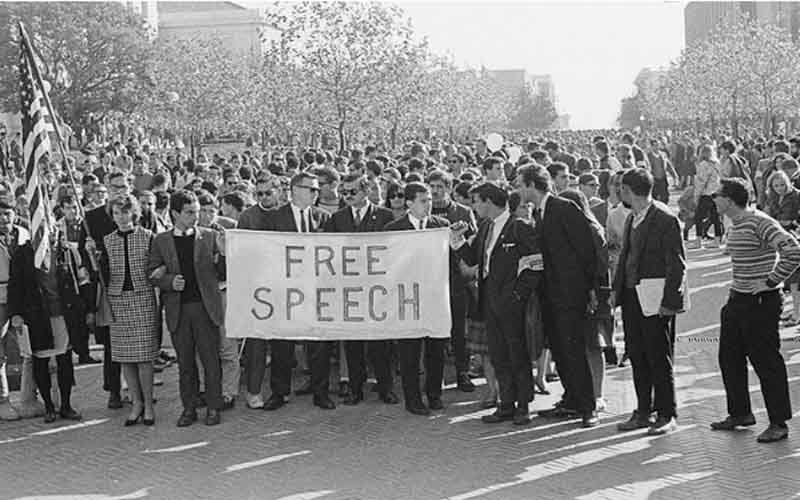 Freedom of speech is one of those phrases everyone knows, and it's part of the constitution. It's so important to Americans that many almost idolize the phrase, and that's because it's a luxury other countries don't have. Still, it should be pointed out that freedom of speech isn't exactly free. The following are six times when what you say could get you in trouble with the law.
1. Obscenity
The law does not protect a person if that person decides to use obscene language. The problem is figuring out what is obscene. For the most part, it is language that would be considered sexual in nature. Freedom of speech doesn't mean you can use obscene language whenever you want.
Figuring this all out takes some time. The law says if an average person in modern times finds the language obscene, then the likelihood of it being obscene is high. If the work depicts or describes something sexual but does so in a way that's offensive, then the work is likely obscene. The law applies to broadcasting, but it hasn't touched the internet just yet though social media platforms can censor content if it violates their terms.
2. Bold Face Lies
Mostly, lies are protected by the freedom of speech law, but there are exceptions, which is a little strange. A lot folks can't believe that lies aren't always protected.
For example, you can be prosecuted and sent to jail if you are caught lying when you are under oath in court. There's even a fancy word that describes this act, which is perjury. A person could also get in trouble for misleading investigators. People have also faced jail time for lying in advertisements or making stuff up about others. This is libel when it's published or slander when it's spoken.
3. Speech Can't be Violent
Free speech doesn't mean you can make remarks you know will lead to a fight or a potential injury. You also can't threaten violence to a specific person. Now, this does not mean a person can't make a sarcastic remark or something that's an obvious exaggeration, but that's only within the right context. If a person does believe the violent remarks, then that statement is not protected by freedom of speech.
4. Student's Speech is Not Protected
Another type of speech that isn't totally protected is the speech of a student. When a student is in school, that student cannot say every thing that pops into his or her head. Students can thank the 1986 case between Bethel School District v Fraser for that.
With this case, the law said it was okay for a school to suspend a student because that student was making obscene remarks in school where that kind of language is unacceptable. Now, there are some folks who are hoping to change the law so that students are a little more free, but that hasn't happened yet. Still, it's a good idea to keep an eye on this to see if students are given a little more freedom in school.
5. Rudeness Towards Friends or Colleagues
It should be pointed out that when you are on someone else's property, including their home, you don't have the right to say whatever pops into your head either. As a guest or an employee, you can't say whatever you want.
Guests or employees have to observe the speech requirements in the private setting. Sometimes, it's difficult to understand this, but freedom of speech protects people when they are anywhere but private property. An owner has the right to dictate what he or she finds acceptable or not. An owner can decide when he or she feels like your speech has damaged his or her reputation or whatever else he or she might feel.
6. Being Politically Expressive
You can be politically expressive to a certain extent. If authorities feel you are placing others in danger, then your speech is going to be redirected in a sense. The authorities will create a Free Speech Zone where you can continue to express yourself. This is done to keep other protesters safe and to avoid letting the situation get out of hand.
Freedom of speech is a beautiful thing that has to be protected, but limitations aren't bad if they are meant to protect others or yourself. This law is a lot more complex than some know.
ATTENTION READERS
We See The World From All Sides and Want YOU To Be Fully Informed
In fact, intentional disinformation is a disgraceful scourge in media today. So to assuage any possible errant incorrect information posted herein, we strongly encourage you to seek corroboration from other non-VT sources before forming an educated opinion.
About VT
-
Policies & Disclosures
-
Comment Policy
Due to the nature of uncensored content posted by VT's fully independent international writers, VT cannot guarantee absolute validity. All content is owned by the author exclusively. Expressed opinions are NOT necessarily the views of VT, other authors, affiliates, advertisers, sponsors, partners, or technicians. Some content may be satirical in nature. All images are the full responsibility of the article author and NOT VT.