For nineteen dollars you can get this 366-page book hot off the press: America's Betrayal Confirmed. You can get it cheaper at Kindle ($10.99) — but trust me, you don't want it in any format other than the physical book.
I like the physical book so much that I am limiting my review here mainly to the beauty of the physical book. Not beauty as in pretty cover or nice font. Beauty as in ways of finding whatever piece of information about 9-11 you need – fast.
Elias Davidsson, whose previous comprehensive work on 9-11 was published only in German, is also the author of a book about the London Tube attack, and a very important 2013 book on the phone calls that were allegedly made from the alleged flights that day. The title of that book is Hijacking America's Mind on 9-11. What a profound observation by a European!
That book will still stand as the reliable source of the text of those phone calls, along with Elias' analysis of whether they are plausible. He learned of them from records that came out during the trial of Zacharias Moussaoui — the FBI had to cough up what it had in its files.
As I recall, the two big kickers in Hijacking were that Yes, a call was placed by Barbara Olson, but it lasted zero (!) seconds. And Ed Ballinger of United Airlines was able to learn that two of the flights were not located where the official story says they were.
Ballinger, the dispatcher for United Airlines' 16 daily flights from the East coast to the West coast, gave amazing sworn testimony to the 9-11 Commission.  He said he sent a message to all his pilots when he heard there was trouble that morning. He thus got "receipts" showing which RGS (remote ground station) had forwarded each call.
In the case of UA93, the "Let's roll" flight, the receiving RGS was not one near Shanksville, PA, but near Cleveland, Ohio. As for Flight UA175, which supposedly smashed into the South Tower, Ballinger found that the remote ground station that forwarded his message to that plane was not near New York City but near Champaign, Illinois.
Bet you have never heard that astonishing evidence from any source – including the 9-11 Commission Report.
Now to the Physical Book
America's Betrayal Confirmed is a 2020 publication by an Icelandic press: Toost. (Well, you didn't think it was going to published in the US, did you?)
The Table of Contents is laid out in a delicious way, with the names of some chapters presented as questions. For example:
How was public fear amplified on and after 9-11?
How were victims' families induced to ask no questions?
Was the fire alarm system in WTC-7 disabled?
Then when you do open to a chapter – and you can open them in any order – you find subheadings that cannot be missed; they are in a big, bold font.  Typically, a subtopic occupies less than a page.  Hmm, a driver could keep this book on his car's dashboard and read a subtopic at each red light. (Nah, kidding, don't do that.)
I'll give just two samples:
"The puzzling nonchalance of three veteran flight attendants [page 157]
Betty Ong and Madeline Sweeney (AA11) spent 27 and minutes respectively on the phone relaying information about murderous events allegedly occurring aboard their plane.458 Presuming that both were veteran, conscientious and compassionate flight attendants, it is inconceivable that had their colleagues been really attacked and stabbed a few feet away, they would sit quietly and chat on the phone so long. The only explanation for their conduct is that they were not relating real events."
(Note: this is a coming out for Davidsson. In his past books he shied away from such a definitive remark as "The only explanation is….")
"Vodka metamorphosed into cranberry juice [page 85]
"As religious Muslims do not drink alcohol, the initial story of the Shuckum's spree [conflicted with] the official legend of fanatic Muslims. But on 16 September The Washington Post reported from Shuckum's that "Atta played video Trivial Pursuit and blackjack with great determination," –- another atypical occupation of religious Muslims197 Six days later, alcohol disappeared completely from the story.198  On 27 September another "newspaper of record," the Los Angeles Times, reported Shuckum's owner saying that "Atta sat quietly by himself and drank cranberry juice…. "199
Concise conclusions are conveniently provided for most of the chapters. Here is Chapter 8's Conclusion [page 140]:
The main findings of this chapter are:
"Photographic evidence of aircraft wreckage from the three alleged crash sites is sparse and inconclusive.
"At none of the three locations designated as aircraft crash sites did eyewitnesses observe wreckage that could plausibly come from a Boeing 757 or 767 aircraft.
"No bodies or blood were sighted at the UA93 crash site, but numerous paper documents belonging to UA93 passengers and crew members were reportedly found there."
And I forgot to say that the book has somewhat smaller dimensions than your standard 6×9 inches. Closer to 5.5×8.5 inches — fits nicely on the dashboard.  Oh, sorry.
The Back of the Book
You will find neat and helpful stuff, even after the text ends on page 200. For starters, there's a 5-page Bibliography from A to Z.  I mean from Ahmed, Nafeez Mosaddeq:The War on Truth and the Anatomy of Terrorism (Olive Branch Press, 2005), to Zwicker, Barrie: The Great Conspiracy: The 9/11 News Special You Never Saw (2004) [DVD]
 Then there is a 3-page list of Acronyms such as BPAT – Building Performance Assessment Team (would you have guessed that?) and CVR – cockpit voice recorder.
Just before the lovely Index, there are 45 pages of Endnotes. Elias Davidsson has never been abstemious with references, but really he deserves a Writer's Award for two features of this book's Endnotes:
First, he does not re-start the numbering of notes with each new chapter.  So you don't have to flip to the back of the book and go through the arduous labor of finding your desired "note 13" amidst many others numbered 13. He just runs the book's notes straight from 1 to 934. Thank you, Elias.
Second, the full 934 of them aren't displayed as one huge list. They are divided up to show the number and name of each chapter – e.g., Chapter 17: The Revolutionary Potential of 9/11 Truth. (Do you know how many publisher's break that rule and give us no names of chapters in the endnotes? Drives you mad.)
Is Elias Davidsson a Conspiracy Theorist?
Ah, this is a beautiful question. Certainly there are some sloppy, irresponsible conspiracy theorists in this world. (I'm guessing many of them are "on the payroll.") But what of the many sober scholars like Davidsson, Thierry Meyssan, David Ray Griffin, and (I blush) myself. Are we conspiracy theorists?
Personally, I am happy to embrace that title, although I often see excellent conspiracy theorists avoiding it. I think a good way of diminishing the clout of our detractors would be to take up the title and boast about it. Almost certainly that label when used pejoratively has caused many citizens to think the conspiracy theorists are a bit "mental" (a bit "teched" as we used to say in my neighborhood in Boston).
I hereby declare Elias Davidsson the Top Dog Conspiracy Theorist of the 9-11 Event.  How could you not love the ending of his book, America's Betrayal Confirmed:
"In the garb of combating terrorism, governments institute arbitrary rule, reduce government account- ability and justify the surveillance of their populations. Their final aim, as a service to the ruling minority, is to hollow out democracy, leaving only a façade.  Some governments ["not mentioning any names"] use the counterterrorism ideology to justify their foreign military interventions and threaten world peace.
"But truth has the tendency to seep through. The truth about 9/11 may be regarded as the Achilles heel of the ruling oligarchies, because they have no defense available. The quest for the truth on 9/11 can, therefore, help empower and unite all those who cherish freedom, social justice and peace to act for a system change." [Emphasis added]
(Having declared Elias to be the Top Dog, I must add that my respect for Kevin Ryan's book Another Nineteen, is also very high. Ryan names 19 people whom he suspects were in the game on September 11, 2001. One example – Paul Bremer, later governor of Iraq.)
Bio and a Disguised Panegyric
Elias Davidsson's previous career was in music — as a teacher, choir master, church organist, and as a composer and arranger. He alsodeveloped the Icelandic lithophone, an instrument composed of Icelandic vulcanic stones. You never know what conspiracy theorists get up to, in their off hours!
Davidsson is also a human rights warrior, especially against the persecution of Muslims. The website that he hosts, in four languages, is JusCogens.org. The phrase jus cogensrefers to the norms of international law that are accepted by all.
I met Elias in the "aughts," via a List Serve at the American Society for International Law. We have sparred ever since. I shall now spar, so as to prevent anyone deducing that this book review is but a panegyric for a friend. Disclosure: Elias wrote the Foreword to my 2016 book: Inquest: Siege in Sydney.
Main Point of Dislike — Chapter I: The Road to 9-11 (the decade 1990-2001)
The following are the subtopics of Elias's opening chapter which takes up (or, in my opinion, wastes) a full 20 pages:
(1) The loss of the Soviet threat
(2) Restating the rationale for U.S. global military supremacy
(3) Unique opportunities
(4) The benefits of an external threat
(5) Searching for a new adversary
(6) The ideal threat perception: Focused, durable, credible, useful
(7) Building up Osama bin Laden as a global threat
(8) The need for a traumatic event.
I believe the road to 9-11 began way before 1990. I don't think the loss of the Soviet threat is important. That is because I believe the entire Cold War was a hoax.  I also believe that there are no real national enmities (!). Rather, the One World Government has been in place for decades, or even centuries, though we citizens were not privileged to know of it.
Also, I don't see the Nineties as the time we were being conditioned to fear terrorists.  I recall that from the Seventies.Constantly, on "the News," we heard about IRA bombings in Ireland, and Arab hijackings in various places.
If there is one section of Davidsson's Chapter 1 that doesbelong there, it is Section (7) "Building up Osama bin Laden as a global threat." This book brings in plenty of new data on that. For instance, on page 41:
"In [regard to] the three years leading to 9/11, I found Osama bin Laden mentioned in more than 600 English-language news reports every month on the average. According to one study, CBS and NBC News published significantly more stories mentioning Bin Laden in 2000 than those mentioning Britain's Prime Minister Tony Blair and Germany's Prime Minister Gerhard Schröder.
"Shortly after 9/11, Osama bin Laden was mentioned more often in American media than the U.S. President himself.  Yet, after 9/11 the U.S. leadership lost interest in the man."
Wouldn't you know it.
Another strike against the lengthy Introduction is that readers will want to get into the meat of the matter. All the remaining chapters are factual and snappy, so why bog down now?
As for the way the 17 chapters hang together, I think the author did well to bring in, in a comfortable way, all sorts of answers to questions people may have. There were many vignettes that I had not previously heard. For example, from page 288:
"According to Jeremy Glick's (UA93) wife, in her testimony to the FBI on 11 September 2001, he reported to her that one hijacker had urged passengers to call their loved ones. Such advice by real hijackers would have been self-defeating [causing a] risk of earlier interception by the Air Force. This advice was, however, consistent with the scenario of a hijacking drill in which participants are urged to act as "hijacked passengers". … Mrs. Glick never repeated it in subsequent interviews. In 2004, she even told the staff of the 9/11 Commission that her husband had never said that, only that the hijackers did not mind passengers making phone calls."
Also, there are remarks from European expert that American would not likely have heard. For example, from page 131:
"We are told that somehow, approximately 600 pounds of bodily remains was collected from the [Shanksville] crash site, where 44 people allegedly died. Of these remains, 200 pounds were said to be linked to specific individuals.369 This represents approximately 3.1 percent of the body weight of the 44 passengers.370 German criminal pathologist Prof. Wolfgang Eisenmenger says that he "cannot imagine such a consequence" from a plane crash.371"
A final negative criticism from me is that I wish Davidsson had provided a menu showing which of his many sections show where a specific law was being breached by the Nine-Eleveners. He is well equipped to handle the subject of war crimes and never misses a chance to do so in articles such as about Libya or Israel.
The marvelous thing about America's Betrayal Confirmed is that it will arm any reader with all that is needed to calmly inform relatives and friends of how diligently they have been (excuse me) screwed.
I haven't yet told you the subtitle of Davidsson's book. It is "9/11: Purpose, Cover-Up, Impunity."  Hooray!
Buy two copies today, one for your dashboard, and one for your town's library. It's for sale at abc911.exposed and elsewhere.
Mary W Maxwell is the author of The Soul of Boston and the Marathon Bombing (2020)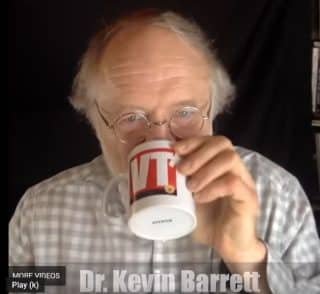 Dr. Kevin Barrett, a Ph.D. Arabist-Islamologist is one of America's best-known critics of the War on Terror.
He is the host of TRUTH JIHAD RADIO; a hard-driving weekly radio show funded by listener subscriptions at Substack and the weekly news roundup FALSE FLAG WEEKLY NEWS (FFWN).
He also has appeared many times on Fox, CNN, PBS, and other broadcast outlets, and has inspired feature stories and op-eds in the New York Times, the Christian Science Monitor, the Chicago Tribune, and other leading publications.
Dr. Barrett has taught at colleges and universities in San Francisco, Paris, and Wisconsin; where he ran for Congress in 2008. He currently works as a nonprofit organizer, author, and talk radio host.
ATTENTION READERS
We See The World From All Sides and Want YOU To Be Fully Informed
In fact, intentional disinformation is a disgraceful scourge in media today. So to assuage any possible errant incorrect information posted herein, we strongly encourage you to seek corroboration from other non-VT sources before forming an educated opinion.
About VT
-
Policies & Disclosures
-
Comment Policy
Due to the nature of uncensored content posted by VT's fully independent international writers, VT cannot guarantee absolute validity. All content is owned by the author exclusively. Expressed opinions are NOT necessarily the views of VT, other authors, affiliates, advertisers, sponsors, partners, or technicians. Some content may be satirical in nature. All images are the full responsibility of the article author and NOT VT.