by Fabio Giuseppe Carlo Carisio for VT Mediterranean
Versione originale in Italiano
It's a video of the horrors. It lasts for a few seconds but it is enough to shock the hardened consciences for hours.
It is evidence that the complaint, filed by the UN by Russia in December 2018 against the White Helmets self-styled "rescuers" for the illegal organ trafficking managed in Syria, was founded.
But this video was seen by very few people because the website of Sana (Syrian Arab News Agency), the media supported by the government of Bashar Al Assad, which released it in Europe is reported as "unsafe" by the network and it is necessary force "advanced" information to be able to access it.
«The Syrian Army uncovered a hideout that had been used by militants working as organ traders in the village of al-Ghadfah in southern Idlib. According to Syria's state-run news agency SANA, government forces found human organs, including hearts, livers and heads in the hideout. The organs were preserved in jars with chloroform. The jars carried the names of the victims. Personal IDs of the victims, men and women, were also found in the hideout».
Turkish papers: 21 Erdogan's jihadist militias supported by Cia, Pentagon and armed with TOW missiles
The discovery of the horrors' shop was reported only by the South Front military specialist site in a more complete report on the dramatic Syrian situation where the bombings and attacks by the ISIS and Al Qaeda jihadists have taken place every day since Turkey of Sultan Receo Tayyip Erdogan invaded the Kurdish-administered Rojava with the Peace Spring operation of 9 October 2019 and Russian President Vladimir Putin, an ally of Damascus, has entered into truces hitherto proven ineffective. The scoop was later picked up by VT.
https://veteranstoday.com/2020/07/30/syrian-army-uncovers-organ-trading-hub-of-turkish-backed-militants-in-southern-idlib/
«The hideout included a room designated for religious studies with radical ideological publications. This indicates that the site had belonged to one of the multiple militant groups that still operate in Greater Idlib thanks to the Turkish opposition to counter-terrorism operations there» added South Front again in reference to the extremist Muslims of Sunni-Salafist confession.
Al-Ghadfah is located in the vicinity of the city of Maarat al-Numan and for a long time it has been controlled by Turkey's main partner in Idlib – Hayat Tahrir al-Sham. The town was liberated by the Syrian Army and its allies in January 2020.
14 Thousand Jihadist Troops in Libya for Turkey Blitz alongside US Weapons' Lobby, NATO's Deep State & NWO
It is certainly not the first time that the illegal and shameful trade in human organs (especially children because they are the healthiest and therefore profitable on the black market) is discovered in Syria in an area where the HTS organization can do what it wants thanks coverage guaranteed by Turkey, a NATO ally, as highlighted in various investigations of the jihadist mercenaries sent to Libya.
RUSSIA'S COMPLAINT IN DECEMBER 2018
The alarm on the terrible phenomenon was launched on 20 December 2018 at the United Nations but has been completely ignored by the many international agencies that write dossiers with one hand to show they want to fight the ideology of Jihadism but with the other they set aside the complaints even if are detailed.
«The 'White Helmets' are not a rescue group but an extension of jihadist militants, and should be designated a terrorist organization, Russia's envoy to the UN argued at the presentation of evidence into the group's wrongdoing» Gospa News reported a year and a half ago citing an article in Russia Today in which Moscow diplomacy asked that this organization be included among the terrorist ones.
«Praised in the West as humanitarian rescue volunteers, in reality the 'White Helmets' work with Islamist militants in Syria, harvest organs from the victims they pretend to be "rescuing," stage false chemical weapons and other attacks for cameras, and loot the bodies and homes of Syrians killed and injured in the war, according to Maxim Grigoriev, director of the Russia-based Foundation for the Study of Democracy».
The Foundation is a member of the Global Counter-Terrorism Research Network established in 2013 by the UN's Counter-Terrorism Committee Executive Directorate. Its report is based on interviews with over 100 eyewitnesses, including 40 members of the White Helmets, 50 local residents and 15 former terrorist and militant fighters. More than 500 local residents were also surveyed in Aleppo and Deraa.
DOUMA: MASSACRO JIHADISTA CON ARMI CHIMICHE SU 35 VITTIME LEGATE
But on the official website of the Counter-Terrorism Committee Executive Directorate (CTED) that manages this network there is no trace of investigations on organ trafficking or on White Helmets.
Russia's UN envoy, Vassily Nebenzia, said the evidence shows that the group, known as the Syrian Civil Defense, is dangerous. In East Ghouta alone, between 100 and 150 members of the White Helmets were also members of terrorist and militant groups, including the famous Al Nusra Front, Syrian rib of Al Qaeda, later merged into Hayat Tahrir al-Sham.
Syria: 76 leaders ISIS among Turkish mercenaries, also killers of Us ranger Kassig and activist Hevrin. Priest murdered
They engaged in building trenches, tunnels and fortifications for the militants, openly boasting about their membership on social media, but denying it whenever they were interviewed by Western reporters.
« "Facebook accounts of members of the White Helmets are full of propagandist materials of terrorist groups, including [Islamic State] and al-Qaeda, praising Osama bin Laden and other individuals listed by the UN as terrorists – Grigoriev said – adding that the so-called rescuers also posted "hundreds of photos with weapons in their hands"».
TESTIMONIES ABOUT ORGAN TRAFFIC
The group was founded in 2014 by James Le Mesurier, a former British Army officer in which he worked as an MI6 agent before becoming a mercenary in the field of international intelligence, and was therefore considered a creation of His Majesty's 007 in support of Syrian anti-Assad rebels.
Thousand Erdogan's ISIS Jihadists in Italy from Libya. Haftar Spokesman's Warning on Turkish Migrant's Traffic. Interpol on Alert
As explained in a previous article on the thousand jihadists who arrived in Italy in recent weeks, Le Mesurier was mysteriously found dead in Istanbul last November, a few weeks after the start of the operations with which Ankara began to recruit jihadists from various terrorist groups / among us ISIS and Al Qaeda) in the Turkish National Syrian Army funded and armed against the Kurds who administer Rojava and for the defense of the occupation of Afrin where abuses against the Kurdish population for ethnic replacement are on the agenda.
«A number of Western countries, such as the UK and Canada, have proudly announced they would be accepting White Helmets as refugees, after several hundred members of the group were evacuated from a jihadist-held enclave in southern Syria ahead of the advancing government troops» Russia Today wrote reporting Grigoriev's complaints. Syrian Civil Defense was indeed funded by US and UK governments.
5 MILIONI USA AI CASCHI BIANCHI: "COMPLICI DI JIHADISTI E LADRI D'ORGANI"
«Many local residents interviewed for the research spoke about people "rescued" by the White Helmets ending up dead, with their internal organs missing. One of the witnesses interviewed was a former member of Ahrar al-Sham, who testified that his commander Shadi Kadik, also known as Abu Adel Al-Halabi (of Aleppo), acknowledged the organ harvesting» according to RT.
Erdogan's war crimes: the truce broken by Turks with 18 dead. White phosphorus against children
The total number of cases involving organ theft is "at least several hundred" in Aleppo alone, Grigoriev testified. Instead of rescuing civilians and children, the White Helmets looted homes damaged in the fighting and bodies of the dead, while forcing the children out of schools and kindergartens to set up offices there
«At a rough estimate, out of 26 centers operating in Eastern Ghouta, ten were located in schools and one in a kindergarten» Grigoriev cited from the testimony of a Syrian journalist in the area.
CBS INQUIRY ON THE BLACK MARKET IN TURKEY
The phenomenon of the clandestine network of organ traffickers returned to current events in May 2020 thanks to the reportage of an American TV.
«A documentary winner of an international competition has brought to light a phenomenon that regards and sees millions of Syrian refugees in Turkey as potential victims: the practice of selling internal organs in order to obtain money with which to feed the family. American Cbs News correspondent Holly Williams and producer Haitham Moussa have made 'Selling Organs to Survive', a chapter in the Down to Earth documentary 2020 edition of the Webby Award for Social, News and Politics, an acknowledgment established in 1996» reported DIRE Italian agency in an article dated 22 May 2020.
Williams and Moussa's investigation began with a series of Facebook ads sponsoring the purchase of human kidneys and livers for refugees residing in Turkey on the border with Syria. Refugees who fled the war in Syria cannot return because of the insecurity and the state of devastation facing their country of origin.
«But finding a job in Turkey is not easy and doing the shopping, paying the rent and keeping the children going to school can become a business for hundreds of families. Hence the decision of the two journalists to leave for the Middle East. With hidden cameras, the two reporters managed to document the sale of "human materials" on the black market» we further read.
In Turkey, the sale of organs is prohibited by law, which allows it only in case of need and between blood relatives. Therefore, buyers provide refugees with false documents to report to the hospital and undergo operations.
In Libya 229 ISIS Fierce Leaders with 4700 Turkish-backed Jihadists. UN Investigates, Europe Sleeps
But despite these complaints and investigations, Sana's video on Idlib's hiding place with human organs in chloroform cans is visible to few because the site is called unsafe.
There is a suspicion that the media ended up in retaliation in the sights of the Global Internet Forum to Counter Terrorism (GIFCT), a non-governmental organization created in August 2017 by Facebook, Microsoft, Twitter and YouTube to reduce the spread of terrorism and violent extremism online together with NATO countries (Belgium, France, Germany, USA, UK) in alliance with Israel, the United Arab Emirates, India and Indonesia.
In the London workshop in December 2019, Tech Against Terrorism and GIFCT worked to have Law Enforcement officers from across the Five Eye countries, come to debrief the workshop:it practically began a collaboration with the intelligence of the 5 Anglo-Saxon countries that financed and protected the White Helmets in their flanking activities of the anti-Assad Qaedist terrorists, now helped by Erdogan in Syria and Libya.
Fabio Giuseppe Carlo Carisio
© COPYRIGHT GOSPA NEWS for VETERANS TODAY only
no reproduction without authorization – Versione originale in Italiano
---
MAIN SOURCES
GOSPA NEWS – JIHADISTS REPORTS
VETERANS TODAY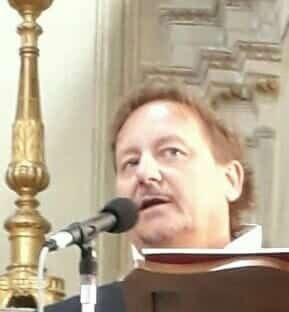 Fabio is Director and Editor of Gospa News; a Christian Information Journal.
Fabio Giuseppe Carlo Carisio, born on 24/2/1967 in Borgosesia, started working as a reporter when he was only 19 years old in the alpine area of Valsesia, Piedmont, his birth region in Italy. After studying literature and history at the Catholic University of the Sacred Heart in Milan, he became director of the local newspaper Notizia Oggi Vercelli and specialized in judicial reporting.
For about 15 years he is a correspondent from Northern Italy for the Italian newspapers Libero and Il Giornale, also writing important revelations on the Ustica massacre, a report on Freemasonry and organized crime.
With independent investigations, he collaborates with Carabinieri and Guardia di Finanza in important investigations that conclude with the arrest of Camorra entrepreneurs or corrupt politicians.
In July 2018 he found the counter-information web media Gospa News focused on geopolitics, terrorism, Middle East, and military intelligence.
His articles were published on many international media and website as SouthFront, Reseau International, Sputnik Italia, United Nation Association Westminster, Global Research, Kolozeg and more…
His investigations was quoted also by The Gateway Pundit, Tasnim and others
He worked for many years for the magazine Art & Wine as an art critic and curator.
ATTENTION READERS
We See The World From All Sides and Want YOU To Be Fully Informed
In fact, intentional disinformation is a disgraceful scourge in media today. So to assuage any possible errant incorrect information posted herein, we strongly encourage you to seek corroboration from other non-VT sources before forming an educated opinion.
About VT
-
Policies & Disclosures
-
Comment Policy
Due to the nature of uncensored content posted by VT's fully independent international writers, VT cannot guarantee absolute validity. All content is owned by the author exclusively. Expressed opinions are NOT necessarily the views of VT, other authors, affiliates, advertisers, sponsors, partners, or technicians. Some content may be satirical in nature. All images are the full responsibility of the article author and NOT VT.