by Fabio Giuseppe Carlo Carisio for VT Mediterranean
Versione originale in Italiano
It was the evening of September 17, 2018. The Russian crew of a Moscow reconnaissance plane was exterminated by friendly fire. The Syrian anti-aircraft, in fact, hit an Ilyushin Il-20 reconnaissance aircraft with a missile: the terrible eror was caused by the rain of rockets launched by the fighter-bombers of the Israel Defense Forces (IDF) who use the tactic of hiding behind other aircraft, even civilians, with the risk of causing very serious tragedies touched on several occasions.
ANCORA GUERRA IN SIRIA: Abattuto aereo russo, strage di soldati
This is perhaps the most terrible episode that has occurred in recent years in Syria when the Zionist Prime Minister Benjamin Netanyahu, strong of the alliance with Washington but also with the Kremlin thanks to which he did not suffer reprisals for the incident, began to hunt down the Lebanese Hezbollah and the Iranian Pasdaran Al Quds Forces who have been instrumental in helping President Bashar Al Assad defeat the Islamic State of Caliph Al Baghdadi, suspected of being a secret agent of both the American Central Intelligence Agency and the Mossad, the ruthless counter-espionage of Tel Aviv.
A few months later, a retired IDF officer confessed that at least 2,000 bombs had been dropped in a single year against the already battered country with the excuse of the presence of the Lebanese and Iranian Shiite militias such as Assad and therefore considered enemies by the radical Sunni Salafis Wahabites of Saudi Arabia, historical allies of Israel who also look sideways at the important Maronite Christian component of Syria. For this reason, in December 2018 they also bombed the country on Christmas Eve.
The other day, the Tel Aviv air force hit a Syrian missile factory, thus violating its moral commitment to attack only the positions of Hezbollah and Pasdaran (the Islamic Guards of the Tehran Revolution). Sputnik International reported it in the article that we report in full below.
Now the Syrian Observatory of Human Rights (SOHR), which has become much more objective after Turkey's invasion of Rojava (the Syrian north-east) which has taken power away from the frontal rescuers White Helmets allies of Al Qaeda and controlled by the British intelligence did a tremendous job of documenting all Israeli attacks in detail: 79 in two years with 509 victims including Iranian, Lebanese and Syrian militiamen but also unarmed civilians.
But casualties toll might had been more high if Syrian Arab Army hadn't the Russian anti missiles sophisticated systems. S-300 and somewhere S-400.
Human Organs' Traffic in Syria ignored by UN: Sana and CBS videos on White Helmets, Al Qaeda & Turkey Crimes
An investigation that breaks the veil on the silence with which the UN, NATO and Western countries that should be "civilized" tolerate a creeping war, in fact the continuation of the one that in 1967 led to the occupation of the Golan Heights that no resolution of the United Nations still managed to bring back in Damascus property.
After alleged Nukes against Beirut, Israeli Phosphorus Bombs Fell on Lebanon Borders
In recent days, however, Israel has again made itself extremely dangerous against Lebanon, weakened by American sanctions but also politically by the fall of the government between Shiites, Christians and Sunnis following the terrible explosion in the port of Beirut that intelligence and military sources believe may have been caused by small nuclear devices, as the ammonium nitrate stored in the exploded deposit itself is inert if not ignited.
"Beirut Massacre for a Missile!". Lebanon President and Italian Military Expert said. "Thermal rings the proof"
A former parliamentarian from Kessnet in Jerusalem supported this thesis, also hoping that it was Israeli and complaining that they did not make it public.
This alleged deadly attack, which cost the lives of about 200 people, was followed by the launch of white phosphorus bombs, banned by many nations but not by the USA and especially by Israel which produced them in quantity thanks to Elbit (as demonstrated in our investigation into the Weapons Lobby). Hezbollah again accused the IDF of being responsible for these attacks. But Tel Aviv has limited itself to admitting security concerns at the border.
So let's see the Sputnik report and above alla the SOHR investigation.
Fabio Giuseppe Carlo Carisio
© COPYRIGHT GOSPA NEWS
no reproduction without authorization
LOBBY ARMI – 3: TYCOON SIONISTA DEI DRONI SPIA-KILLER PREMIATO DAI MASSONI USA E DALLA REGINA UK
Beirut: Deep State "Killed" Shia-Christian Govt. Ex Zionist MP: "Blast as Nuclear Bomb. I hope it was Israel"
---
Alleged Israeli Airstrike Near Aleppo
Reportedly Damaged Syrian Missile Production Facility
The attack was blamed on Israel by Syrian state media, but the IDF has refused to comment on the accusation. Tel Aviv is suspected of having carried out hundreds of airstrikes in Syria over the last decade, but it has officially confirmed conducting only a handful of them.
The airstrike, which took place in the suburbs of the Syrian city of Aleppo early on 11 September, targeted the country's Al-Safirah missile production plant, ImageSat International, a company specialising in analysis of satellite imagery, reported. Comparing two images of the facility, ImageSat noted that one building was damaged in the attack, while another one, purportedly containing explosive materials used in the production of missiles, was completely destroyed. Both buildings played an important role in the plant's operations, the company claimed.
---
Israeli military operations in Syria in 32 months
80 attacks hit 270 targets and kill nearly 500 combatants
of Iranian and regime forces
Israel continues to violate Syria's sovereignty, invoking the large military presence of Iranian forces and proxy militias in Syrian territory as an excuse, especially under the rule of the regime's president "Bashar Al-Assad". It is worth noting that Israeli strikes started to escalate greatly since 2018, as Israel vowed to block Iran's entrenchment in Syria and force it out of the region.
According to Syrian Observatory statistics, Israel carried out 79 attacks on Syria between January 2018 and September 2020, destroying nearly 250 targets, including buildings, warehouses, headquarters, centres, posts and vehicles.
The attacks also left some 509 people dead (12 civilians and 497 combatants), and they are as follows:
12 civilians, including three women and three children
63 regime soldiers
35 regime-backed militiamen
228 militiamen of the Lebanese Hezbollah and Iranian-backed militias
171 members of the Iranian forces and Iranian Revolutionary Guards Corps (IRGC).
2018: Escalation starts
Although the Israeli strikes on Syria started years earlier, they have noticeably escalated since early 2018. The Syrian Observatory documented at least 26 Israeli attacks in 2018, targeting positions of Iranian and regime forces and loyal militias of Syrian and non-Syrian nationalities. These attacks can be categorised according to the targeted provinces as follows:
Damascus and Rif Dimashq: 12 strikes
Homs: five strikes
Al-Quneitra: four strikes
Aleppo: two strikes
Deir Ezzor: one strike
Latakia: one strike
Tartus: one strike
Israel's strikes hit positions, weapons warehouses, ammunition depots, headquarters, radar systems and air-defence batteries in the following areas
(1) Al-Qutayfah, (2) the area of the scientific research center in Jamraya, (3) Al-Dimas, (4) Damascus-Beirut highway, (5) Al-Keswah, (6) Al-Dumayr military airbase, (7) Muadamiyat al-Sham, (8) Jaramanah, (9) the perimeter of Damascus international airport, (10) Deir Al-Ashaayer, (11) Al-Mazzah military airbase, (12) Jabal Al-Mane', and other areas in Damascus and Rif Dimashq.
(14) T4 airbase and its outskirts, (15) Al-Bayyarat area, (16) Al-Dab'aa military airbase, (17) Al-Koum area, (18) Al-Baath area, (19) Hudr, (20) Khan Arnabah, and (21) Jaba in Al-Quneitra.
(22) The 47th Brigade in the southern countryside of Hama.
(23) "Defence Factories" in Misyaf, and (24) Al-Nayrab military airbase in Aleppo.
(25) Al-Herri area in Deir Ezzor.
(26) The outskirts of Banyas city, and (27) the Technical Institution in the outskirts of Latakia.
In 2018, the Syrian Observatory documented the death of at least 179 persons in the Israeli strikes on Syria, mostly of Iranian forces and Iranian-backed militias of Syrian and non-Syrian nationalities.
THE ZIONIST GANGSTER NETANYAHU ATTACKS SYRIA FOR TRIGGING HELL
2019: Escalation continues
In 2019, Israel continued its attacks on positions of Iranian and regime forces and their proxies in Syria, as the Syrian Observatory documented at least 23 attacks which hit the following provinces:
Damascus and Rif Dimashq: 10 strikes
Al-Quneitra: seven strikes
Deir Ezzor: two strikes
Aleppo: one strikes
Homs: one strike
Hama: one strike
Daraa: one strike
Al-Suwaidaa: one strike
These strikes hit positions, weapons warehouses, ammunition depots, headquarters, radar systems and air-defence batteries in the following areas:
(1) Damascus international airport and its perimeter, (2) Al-Keswah, (3) Jamraya, (4) the barren mountains of Qara, (5) the barren mountains of Felita, (6) Sahnaya, (7) Sayeda Zeinab, (8) Al-Mazzah villat, (9) Sa'sa', (10) Al-Mazzah military airbase, (11) Jadidat Artouz, (12) Qudsiyyah, (13) Beir Saber, and (14) Aqraba in Damascus and Rif Dimashq.
(15) Al-Tha'la military airbase in Al-Suwaidaa.
(16) Jbata Al-Khashab, (17) the devastated Al-Quneitra, (18) Al-Koum, (19) Tal Al-Sha'ar, (20) Nabaa Al-Sakhr, and (21) Tal barriqah in Al-Quneitra.
(22) The area between the Industrial City and Sheikh Najjar in Aleppo
(23) The school of accountancy, (24) Al-Zawi village, and (25) Talae' Camp in Misyaf.
(26) T4 military airbase in Homs.
(27) Tal Al-Hara in Daraa.
(28) Al-Herri area, (29) Imam Ali Centre, (30) Al-Hezam Al-Akhdar area, (31) the Industrial area, (32) Al-Abbas village near Al-Bokamal city, (33) the border crossing with Iraq, and other areas in Al-Bokamal in the eastern countryside of Deir Ezzor.
SOHR activists documented the death of at least 157 persons in the Israeli strikes on Syria in 2019, mostly of Iranian forces and Iranian-backed militias of Syrian and non-Syrian nationalities.
Devil-Bibi just confirmed PM in Israel Killed in Syria with Missiles more than Covid-19
Although 2020 still has some four months to conclude, Israel has showed unprecedented determination in the past nine months to counter the Iranian influence and expansion in Syria by dramatically stepping up its operations. Since early 2020, the Syrian Observatory has documented at least 30 attacks which hit the following provinces:
Deir Ezzor: 11 strikes
Homs: seven strikes
Damascus and Rif Dimashq: six strikes
Daraa: three strikes
Hama: two strike
Al-Quneitra: two strike
Aleppo: one strike
These strikes hit positions, weapons warehouses, ammunition depots, headquarters, radar systems and air-defence batteries in the following areas:
(1) Al-Keswah, (2) the 75th Brigade nearby Al-Muqaylabiyyah, (3) Damascus international airport and its perimeter, (4) Jadid Yabous on the Syria-Lebanon border, (5) Sahnaya, and (6) the 91st Brigade in Damscus and Rif Dimashq.
(7) The Agricultural airport in Izraa, (8) Ma'rabaa, (9) Tal Ahmar, (10) Namer Battalion, (11) Qurfa Battlion, and (12) Tal Mahajjah in Daraa.
(13) T4 military airbase, (14) Al-Dab'aa military airbase, (15) al-Shayrat military airbase, (16) Palmyra desert, (17) Al-Hassan Ibn Al-Haytham camp on the road between Homs and Palmyra, and (18) the road between Al-Sukhnah and Deir Ezzor.
(19) Kudna, and (20) Al-Qahtaniyah in Al-Quneitra.
(21) The "Defence Factories" in Sfirah in Aleppo.
(22) Al-Quriyyah, (23) Al-Saliiyyah, (24) Al-Mayadeen, (25) M'eizileh base, (26) Rahba Citadel, (27) Al-Abbas, (28) Al-Sayyal desert, (29) Al-Thallathat area in Al-Bokamal countryside.
(30) The "Defence Factories" in Masyaf countryside, and (31) the "onion and potato" factories.
In 2020, the Syrian Observatory documented the death of at least 161 persons in the Israeli strikes on Syria, mostly of Iranian forces and Iranian-backed militias of Syrian and non-Syrian nationalities.
Israeli keeps executing raids and strikes under the pretext that the "Iranian presence in Syria poses a strategic threat to Israel's national security", while these attacks also coincide with Israeli-Russian-American consensus on "eliminating" Iranian presence in the region.
Moreover, Russia neither expresses objection to the Israeli attacks on Syrian territory nor intercepts such Israeli attacks and missiles, which clearly indicates to Russia's tacit willingness to change the balance of power throughout Syria by eliminating Iranian forces and militias, especially in Al-Suwaidaa and Daraa provinces through strengthening the presence of its affiliated "5th Corps".
Russia also seeks to practice the policy of "interim domination" by taking over the Iranian strongholds in the southern countryside of Aleppo and redeploying its troops in the surrounding areas of Idlib.
In the meantime, the agreement on security and military cooperation between Tehran and Damascus on July 8, 2020 has granted Israel extra excuses to step up its operations in Syria, especially after Iran equipped Syria with advanced weapons and air-defence systems, most prominent of which was "Khordad 3"
The Syrian Observatory for Human Rights is used to hearing the Syrian regime's empty mantra that it always reserves the right to respond to the Israeli attacks. However, regime forces do not hesitate when it comes to shelling opposition positions or bombarding residential areas inside Syria. The Iranians also dare not launch a large-scale military operation against Israel, as they know well that they will be in a big trouble facing the might of Israel's military, so the Iranians seem satisfied with letting its proxies do its bidding by firing only a few rockets from time to time on the occupied Syrian Golan, using the Iranian and Hezbollah-backed movement "Syrian Resistance to Liberate Golan".
At a time when the Syrian regime intercepts and downs Israeli missiles only under a Russian green light, Israel can hit Iranian targets -with the purpose of undermining the Iranian military presence in Syria- only with Russia's full consent.
On the other hand, Washington justifies Israel's stance that "Tel Aviv practices its legal rights to defend its security and interests against the Iranian direct threat", not to mention the US desire to get Syria free of Iranian forces and militias.
by Syrian Observatory fro Human Rights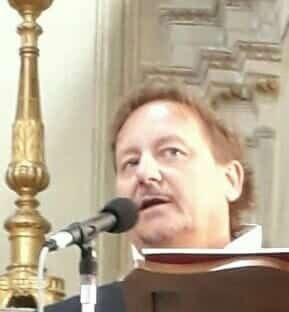 Fabio is Director and Editor of Gospa News; a Christian Information Journal.
Fabio Giuseppe Carlo Carisio, born on 24/2/1967 in Borgosesia, started working as a reporter when he was only 19 years old in the alpine area of Valsesia, Piedmont, his birth region in Italy. After studying literature and history at the Catholic University of the Sacred Heart in Milan, he became director of the local newspaper Notizia Oggi Vercelli and specialized in judicial reporting.
For about 15 years he is a correspondent from Northern Italy for the Italian newspapers Libero and Il Giornale, also writing important revelations on the Ustica massacre, a report on Freemasonry and organized crime.
With independent investigations, he collaborates with Carabinieri and Guardia di Finanza in important investigations that conclude with the arrest of Camorra entrepreneurs or corrupt politicians.
In July 2018 he found the counter-information web media Gospa News focused on geopolitics, terrorism, Middle East, and military intelligence.
His articles were published on many international media and website as SouthFront, Reseau International, Sputnik Italia, United Nation Association Westminster, Global Research, Kolozeg and more…
His investigations was quoted also by The Gateway Pundit, Tasnim and others
He worked for many years for the magazine Art & Wine as an art critic and curator.
ATTENTION READERS
We See The World From All Sides and Want YOU To Be Fully Informed
In fact, intentional disinformation is a disgraceful scourge in media today. So to assuage any possible errant incorrect information posted herein, we strongly encourage you to seek corroboration from other non-VT sources before forming an educated opinion.
About VT
-
Policies & Disclosures
-
Comment Policy
Due to the nature of uncensored content posted by VT's fully independent international writers, VT cannot guarantee absolute validity. All content is owned by the author exclusively. Expressed opinions are NOT necessarily the views of VT, other authors, affiliates, advertisers, sponsors, partners, or technicians. Some content may be satirical in nature. All images are the full responsibility of the article author and NOT VT.