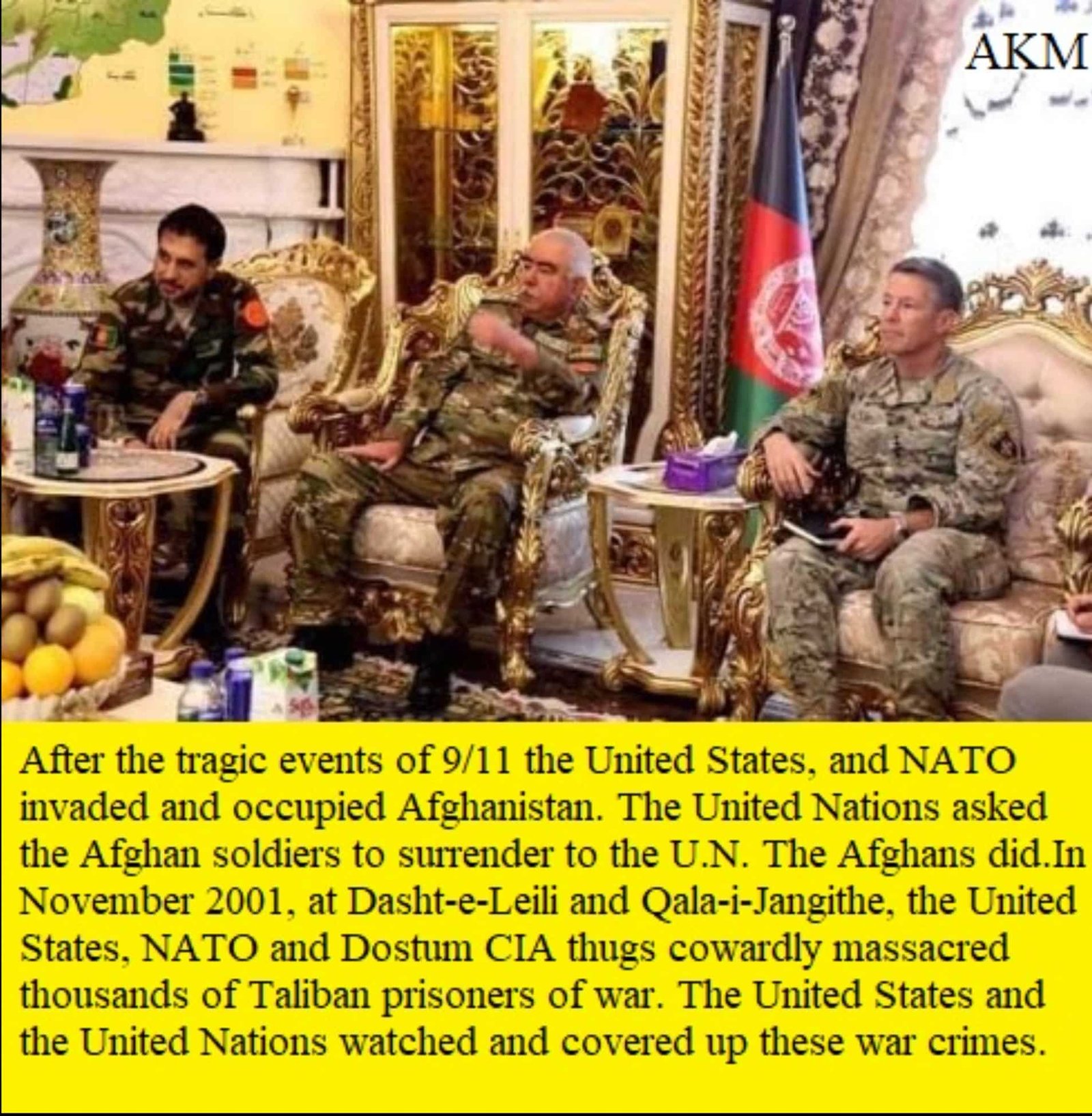 Rep. Stephen F. Lynch, the Chairman of the Subcommittee on National Security,
2157 Rayburn House Office Building
Washington, D.C. 20515
RE: "Intra -Afghan Talks" in Qatar Are "Intra-war lords/war profiteers intelligence agents and the aforementioned groups' offspring Talks".
Dear Representative Lynch:
Pursuant to the agreement executed on February 29, 2020 by the United States and the Taliban, a key requisite was an "Intra -Afghan" meeting for peace. However, the meeting presently being held in Qatar is not an "Intra-Afghan" meeting. Conversely, it appears that these talks are dominated by documented war criminals, war profiteer intelligence agents and the aforementioned group's offspring.
Once again, absent from both sides of the table are Afghan intellectuals, Afghan villagers including women and others from the Afghan majority, who have not profited from the past 40 years of war.
Foreign intelligence, such as Pakistan's ISI, India's RAW, the United States' CIA, Great Britain's MI-6 and Israel's Mossad have controlled who is invited to participate in these talks. Unfortunately, it appears that these talks are just a farcical show put on during a U.S. election year.
By having the talks solely dominated by those participants, some who caused and many who profited from the decades of war, it appears that there is not a genuine intent for peace but only the continued greed and ethnic divide and conquer policy at play.
The past forty years have shown that the ethnic divide and conquer policy does not work as Afghans will not accept foreign or proxy rule.
As evidenced by the composition of the Qatar talks, it is apparent that war profiteers are pushing for the continued ethnic divide and conquer policy, as foreign interests and neighbors use Afghans for their own proxy wars.
The U.S. and international community is repeating the same mistake from the 2001 Bonn conference, by promoting war criminals, warlords, war profiteers and drug barons. For example, notorious, communist warlord and documented human rights violator Rashid Dostum is represented at the talks by his son, Batur Dostum (See Footnote 1). Warlord/war criminal/drug trafficker, Atta Noor, also is represented by his son, Khalid Noor,
At these talks. Fawzia Koofi, who comes from a family of documented drug traffickers and have also allegedly been involved in the sex trafficking of Afghan children, has been invited to represent her family.
Habiba Sarabi, an Afghan woman, who is a war profiteer, was invited. She is a gatekeeper for the Hazara warlord Karim Khalili, who in the 1990s committed war crimes against the Afghan women such as pounding nails in their heads.
Ahmad Nader Naderi, who is a CIA agent associated with Karim Agha Khan, is a participant. He has been alleged to be laundering money.
This is a small sample set of current participants, who clearly have their own personal and foreign interests at the forefront vis-à-vis Afghan peace.
These participants do not represent "an inclusive negotiating team of Afghans" as Zalmay Khalizad referenced at a recent U.S. Congressional hearing. Afghan villagers, the majority, especially Afghan women, are not represented at these Qatar talks. These talks are once again "exclusive" of the Afghan villagers.
The participants at the Qatar talks are not yearning for peace and unity; rather they yearn for a continued war and ethic division where they corruptly reap the power and excessive profits of war. They are representing the interests of themselves and their families, which interests are not aligned with those of the Afghan majority, the villagers.
There can be no peace in Afghanistan until the foreign troops leave Afghanistan. There can be no peace and freedom in Afghanistan as long as foreigners and neighbors are interfering in the sovereignty of Afghanistan. These participants and their families at the Qatar talks cannot bring the desired peace; these participants are the cause of the war and suffering of the Afghan people over the past four decades. The solution for peace in Afghanistan and the region is straightforward. Independent, educated Afghans both within and outside of Afghanistan whom have not benefited from the 40 years of violence must be included in Intra-Afghan talks as they are well positioned to act on the behalf of the common Afghan and act as a bridge between the various factions for peace in order to jump start the rehabilitation of the country.
I have worked for peace for four decades. I want true peace. But I do not see these Qatar talks, with the present participants, as a way to peace. It is just a farcical puppet show with the same performers.
Sincerely,
Kadir A. Mohmand
1. Abdul Rashid Dostum is a documented war criminal. He was the subject of articles in the Time magazine and Newsweek. As reported in the Time on November 19, 2001, and in Newsweek, on November 5, 2001, Dostum and his group raped many Afghan women and children, "…Dostum's marauders chopped off breasts and tied the toes of women behind their heads.." Instead of prosecuting this criminal, my U.S. government ignores his war crimes, supports and keeps him on the payroll. The United States government needs to follow the rule of law and international law. Instead it is covering up these war crimes and helping him commit new war crimes against the Afghan/Pashtun like recently in Faryab Province. In addition, the Afghan majority have not forgotten about the war crimes committed by Dostum against the Pashtun tribesmen in November 2001 at Dasht-e-Leili. Physicians for Human Rights and the New York Times have also extensively covered Abdul Rashid Dostum's crimes:
https://phr.org/issues/investigating-deaths-and-mass-atrocities/assessments-and-documentation-of-mass-crimes/assessments-in-afghanistan/assessments-in-afghanistan-dasht-e-leili-photos/
https://www.nytimes.com/2018/07/22/world/asia/afghanistan-general-abdul-rashid-dostum-rape
https://www.youtube.com/watch?v=0vzoKuiMrVc
3https://www.c-span.org/video/?476064-1/house-hearing-us-policy-afghanistan
Abdul Kadir Mohmand was born in Kabul, Afghanistan. He currently resides at Kalamazoo, Michigan. He graduated from Kabul High School. On an UNESCO scholarship, Mr. Mohmand studied at Sofia University, Bulgaria from 1976 until 1978 when his studies were interrupted by the Communist seizure of power in Afghanistan. The new Afghan Communist government ordered the Bulgarian government to return him to Afghanistan because he was anti-communist. Mr. Mohmand requested political asylum. With the help of the United Nations and the U.S. Embassy, he arrived to Italy and then the United States in 1979.
Mr. Mohmand returned to his studies and earned his B.S. in 1983 from Western Michigan University. He found employment in various positions in the engineering business. For many years, he worked for BFI and was country operations manager for BFI Italia. Currently, Mr. Mohmand owns a shopping center and develops commercial properties.
During the 1980s, Mr. Mohmand was the Representative of the Afghan Mujahideen for North America. During the 1980s, Mr. Mohmand returned to Afghanistan to fight as a freedom fighter against the Soviets and Afghan communists. Through an arrangement with Borgess Hospital in Kalamazoo, Michigan, Mr. Mohmand would bring back wounded Afghan children and Mujahideen for medical treatment at Borgess and recuperation in his home in Kalamazoo. He formed and was president of a nonprofit, Aid for Afghanistan.
In the 1980s, Mr. Mohmand also worked with the Committee for a Free Afghanistan in Washington D.C to bring wounded Afghans to the United States for medical treatment.
For the past four decades Mr. Mohmand has dedicated his life to working to achieve true peace and stability in Afghanistan.
A few years ago, Mr. Mohmand organized educated Afghans intellectuals across the world who drafted a comprehensive plan for peace. Presently, he has united many different Afghan peace organizations under one umbrella. The goal of this network is to unite Afghans to bring true peace in and the independence of Afghanistan. This network wants to be the bridge between the Afghan freedom fighters and the silent Afghan majority, and the Western World in any peace negotiations.
Mr. Mohmand wants true peace and stability in Afghanistan. As a veteran of war, Mr. Mohmand hates war.
ATTENTION READERS
We See The World From All Sides and Want YOU To Be Fully Informed
In fact, intentional disinformation is a disgraceful scourge in media today. So to assuage any possible errant incorrect information posted herein, we strongly encourage you to seek corroboration from other non-VT sources before forming an educated opinion.
About VT
-
Policies & Disclosures
-
Comment Policy
Due to the nature of uncensored content posted by VT's fully independent international writers, VT cannot guarantee absolute validity. All content is owned by the author exclusively. Expressed opinions are NOT necessarily the views of VT, other authors, affiliates, advertisers, sponsors, partners, or technicians. Some content may be satirical in nature. All images are the full responsibility of the article author and NOT VT.