This report by Hala Nouhad Nasreddine for Middle East Monitor is a detailed investigation that connects money laundering and suspicious transactions revealed by the dossier called FinCEN Files, and revealed by Buzzfeed. These are operations that would have helped to fund criminal groups, oligarchs and shady characters, drug trafficking cartels and even terrorist organizations, such as ISIS.
…by Fabio Giuseppe Carlo Carisio for VT Mediterranean
The report written by Hala Nouhad Nasreddine for Middle East Monitor is a truly disturbing one. It is a detailed investigation that connects the financial scandal on money laundering and the money transaction for very suspicious transactions revealed by the documents of the dossier called FinCEN Files and revealed by Buzzfeed.
These are operations that would have helped to fund criminal groups, oligarchs and shady characters, drug trafficking cartels and even terrorist organizations, such as ISIS, for example.
The institutions targeted, according to a large body of internal documents of banks and authorities that have remained under the cover of secrecy, include brands such as JP Morgan and Bank of New York Mellon, as well as Deutsche Bank, HSBC and Standard Chartered.
The hidden "treasure" that they would have moved with their operations would amount to two thousand billion between 1999 and 2017. The questionable customers are distributed in 170 countries, with strong tables of dates and precise figures, testifying to the widespread diffusion of the phenomenon.
Above all, the transactions targeted would have continued despite crackdowns by the US authorities, including fines and reform orders, and repeated commitments to act made by financial players. Indeed, these transactions would have generated significant profits for the banks in question.
Throwing the disturbing new light on the maze of dark finance was the International Consortium of Investigative Journalists, which mobilized 400 journalists from 110 newspapers and 88 countries with the mission of examining banks and money laundering and which had already brought to the fore the so-called Panama Papers, denouncing corruption in the world of offshore finance.
The new investigation lasted 16 months and is based on original documents obtained by Buzzfeed, who shared them with the news consortium. The ICIJ added that it then leveraged access to 17,600 other documents received through moles, insiders and courts, or delivered upon formal requests in compliance with freedom of information laws. Hundreds of interviews with victims and experts contributed to outline the picture.
At the heart of the revelations in the FinCEN Files are over 2,100 suspicious activity reports or SARs (suspicious activity reports), which away from the spotlight are filed by the banks and financial institutions themselves at the Department of Tesoro and its Financial Crimes Enforcement Network division – FinCEN. The division has the task of investigating money laundering and fighting it.
The SARs reports are significant because they reflect the concerns of compliance offices and officials within banks about the nature, origin and destination of funds, even if they do not in themselves constitute evidence of wrongdoing. The discovery that they are often sent to the authorities with severe delays with respect to the operations carried out and the transit of capital is also significant, thus reducing their effectiveness from the beginning. Moreover, the 2,100 reports now filtered and analyzed are the tip of the iceberg of the problem, equal to 0.02% of the more than 12 million documents on potential suspicious activities filed with the government by the institutions between 2011 and 2017.
The United Nations estimates that more than 2.4 trillion of illegal funds are actually laundered every year. The special ranking of suspect funds managed and transited by banks and prepared by ICIJ sees Deutsche Bank in the lead with 1,300 billion. JP Morgan, the leading US bank by assets, follows with 514 billion. The latter would have transferred a billion on behalf of individuals and companies linked to scandals and thefts in Malaysia, in particular the crack of the 1MDB sovereign wealth fund.
Operations targeted by JP Morgan would also have carried out in Venezuela, subject to American sanctions that are strangling the economy despite the majority of the country being in favor of Nicolas Maduro, the legitimately elected president not recognized by Washington who since 2002 when he ruled Hugo Chavez, through the Central Intelligence Agency, seeks to sabotage the government of the Bolivarian Socialist (but Christian) Republic.
«From the findings of Buzzfeed, alongside Bank of America, Citigroup and American Express he would also have helped transactions of Viktor Khrapunov, former mayor of the main city of Kazakhstan pursued by an Interpol arrest warrant. HSBC is scalded by operations with Dubai's Al Zarooni Exchange, a business accused of working alongside the Taliban. And from a scam in Hong Kong called WCM777 as per transactions with ambiguous Russian characters. There is no shortage of revelations on operations connected to a hot crisis theater such as North Korea» wrote Marco Valsania in the Italian newspaper Il Sole 24Ore.
In the West, attention has focused on transactions towards Far East, Caracas and Moscow but in the Middle East, the investigation by Hala Nouhad Nasreddine revealed something far more shocking: the involvement of Deutsche Bank in the transitions that fueled the Islamic State of Caliph Al Baghdadi, eliminated in an operation by the special forces of the Pentagon according to the White House, still alive but hidden because he was an agent of the Mossad (Israeli counter-intelligence) and of the CIA, according to the Kremlin.
The suspected involvement of the German bank does not surprise those who like Gospa News have carried out multiple investigations demonstrating how the CIA played a crucial role in the management of Al Baghdadi but also in the supply of weapons, such as the deadly TOW anti-tank missiles, to allied jihadist militias with ISIS in the attempted revolution against the government of Bashar Al Assad in Syria, which failed due to the intervention of Russia.
Al Baghdadi mistery (update). Pentagon's farce: changes idea and releases an useless video. Disappeared a child body
Not surprising even by virtue of the close relations between Berlin and Ankara, given that Turkey is the number one suspect in the movement of Foreign Terrorist Fighters from Europe to Syria and Iraq and vice versa from the Middle East to Europe, both during the reign of the Islamic State thanks to the Turkish secret services MIT, both after the defeat of Daesh through the use of jihadist mercenaries of Al Qaeda and Isis in Libya as demonstrated in multiple reports.
Below the sensational and disturbing revelations of Middle East Monitor.
Fabio Giuseppe Carlo Carisio
© COPYRIGHT GOSPA NEWS
no reproduction without authorization

---
MAIN SOURCES
GOSPA NEWS – JIHADISTS REPORTS
---
Deutsche Bank: Suspected of facilitating funds to Daesh in Iraq
posted in Middle East Monitor on September 20, 2020 
The Islamic State's infamous rule over vast areas of Iraq during 2014 and 2016 not only led to a humanitarian crisis, but also left the country's economy depleted. Its expansion in Iraq, marked by its control over vast areas of the country, most notably capturing the city of Mosul in June 2014, also allowed the organisation to seize over 121 bank branches according to the Central Bank, in what was described as one of the largest bank robberies the world has ever seen. Across its operations, the Islamic State (Daesh) stole a total of approximately $830 million.
Despite this, some banks, including Deutsche Bank and specifically its US branches, continued to allow money transfers to be sent to Iraq despite the group's control over large parts of the country.
Leaked banking documents obtained by BuzzFeed News and shared with ICIJ, ARIJ and other media partners as part of the FinCEN Files investigation, reveal suspicious money transfers of at least $4 billion flagged by Deutsche Bank's US branches and Bank of America, to a number of Iraqi banks between 15 June 2014 and 30 June 2015.
Turkish papers: 21 Erdogan's jihadist militias supported by Cia, Pentagon and armed with TOW missiles
From 2 to 13 February 2015, The Bank of America flagged 524 bank transfers moving from US bank accounts to various Iraqi bank branches for over $16.8 million, and from 18 to 20 May of the same year, The Bank of America flagged 244 bank transfers that ranged from $46.54 to as much as $28 million at a time, for a total of approximately $41.4 million.
The bank filed the two suspicious activity reports (SARs) "as part of a special project by The Bank of America to identify wire transfers that are originating from, and being sent to, these financial institutions located in Iraq."
The SAR filed in June indicates that 109 of the bank transfers were sent from seven Iraq-based banks to The Bank of America clients and totalled over $900,000, while 54 outbound wire transfers were sent for more than $7 million. "81 wires totalling $33,409,836.12 were conducted via correspondent bank relationships that involved numerous financial institutions on a global level," The Bank of America reported.
Similarly, Deutsche Bank Trust Company Americas filed their SARs to FinCEN "in conjunction with ongoing law enforcement collaboration," the exact nature of which is unclear. Their first report of the 15 SARs filed in January 2015, monitored 3,844 transactions made between 15 June 2014 to 15 December 2014 worth over $2.3 billion involving 13 Iraqi banks.
No client information or details on the beneficiaries were included in any of the bank's reports.
Deutsche Bank: Funding armed groups in Iraq?
Although the SARs did not specify which bank branches were involved, the transactions were sent and received during the height of the Islamic State's rule and its control over several Iraqi bank branches. Many of the banks in northern Iraq were in areas of IS influence, and such transfers could be the proceeds of the illicit oil and gas trade that the organisation largely relied on in its areas of control.
According to a report by the Central Bank prepared by its financial consultant, Dr Waleed Eidy Abdul Nabi, in October 2017, the bank took various precautionary measures, including the following, to protect the banking and financial sector during the Islamic State's rule:
1 . Stopping the activity of bank branches and non-banking financial institutions located in the governorates (Mosul, Salahuddin, Diyala, Anbar) and prohibiting their transfer or supply of foreign currency based on Banking Control decree No. 9/2/185 of 3/7/2014.
2 . Halting the subscription of banks and non-banking financial institutions in the electronic clearing system and the payment system in general, located in the governorates (Nineveh, Kirkuk, Salahuddin, Diyala, and Anbar).
3 . Preparing a unified monthly report on the activity of the branches under the Islamic State's control, to be submitted to the governor in order to prevent money acquired by IS from entering the Iraqi banking and financial system.
Top secret files: "ISIS sends terrorists to Europe with the help of Turkish intelligence". Under Nato's nose
Despite the Central Bank's precautionary measures taken to stop the activity of bank branches in Mosul on 7 July 2014, the chief executive of Iraq's United Bank for Investment, Alaa Karam Allah, stated in an interview with The Financial Times on 17 July 2014, that the bank in Mosul was functioning normally: "[The bank] did not close and work has not stopped for a day. None of our workers have been assaulted, and the building is untouched."
The Financial Action Task Force, a Paris-based intergovernmental organization to combat money laundering and terrorist financing, published a report on IS funding sources from February 2015 that identifies sources in relation to their importance as follows:
1 Illegal returns through land occupation, such as bank robbery, extortion, control of oil fields and refineries, theft of economic assets, and illegal taxes on goods and cash that cross lands under the organisation's control.
2 Kidnapping in exchange for a ransom
3 Donations
4 Material support, such as that associated with Foreign Terrorist Fighters
5 Fundraising through "modern communication networks", that is, social networking sites
The Islamic State's assets were estimated to be $2.2 billion by the end of 2015, which included oil and gas reserves, cash, minerals, and land, according to the Center for Analysis of Terrorism. Additionally, the data stated that the organisation's illegal oil trade was a primary source of funding for the organisation.
14 Thousand Jihadist Troops in Libya for Turkey Blitz alongside US Weapons' Lobby, NATO's Deep State & NWO
In the face of the Islamic State's enhanced financial conditions, Iraq's financial state deteriorated due to the decline in oil prices. Its budget deficit increased from 6% of GDP in 2014 to 15% of GDP in 2015. Additionally, the Central Bank of Iraq's foreign currency reserves decreased from $67 billion in 2014 to $51 billion in 2015, according to an IMF report.
Given that Deutsche Bank and the privately-owned Iraqi Elaf Islamic Bank have been previously found to be involved in banking transactions with Iran in contravention of US sanctions, another plausible scenario on the recipients of the transfers mentioned in the SARs is that these remittances may have reached Iranian-affiliated groups in Iraq. In fact, this corresponds with the sanctions imposed on Deutsche Bank by the New York State Department of Financial Services for transacting with sanctioned Iranian entities.
The major question remains: why were these huge money transfers permitted despite the suspicions and measures to counter violent extremism and the related sanctions in the US and Iraq?
Distribution of the suspicious transfers
In May 2019, Deutsche Bank revealed a software defect that prevented it from reporting some suspicious transactions to the concerned authorities for nearly a decade. As a result, thousands of suspicious banking transactions took place without proper accountability or oversight, including the aforementioned transfers from 2014-2015.
On suspicious transfers, Washington DC-based attorney and Certified Anti-Money Laundering Specialist (CAMS), Ross Delston told ARIJ that "these transfers go on all the time, and no one knows what percentage of transfers are in fact caught."
"The bank is required to monitor transactions, and it's up to them to stop it, to block it and or to report it. They could block it without reporting it, they could turn it away without reporting it. It's not automatic. It's up to each bank to decide what to do, and not every bank is diligent," he added.
According to the leaked SARs, the Trade Bank of Iraq was involved in the largest share of the transfers; $3.6 billion flagged from June 2014 to June 2015. Deutsche Bank did not report on any client information, nor exactly who sent or received the money.
It should be noted that the Iraqi Trade Bank, a publicly-owned bank, is the main institution used by Baghdad for trade and finance. Yet a judicial warrant was issued to arrest the bank's latest two directors, Hamdiya Al-Jaf and Faisal Wissam Al-Haimus (current president and CEO), on various charges including corruption and mismanagement.
ISIS Foreign Terrorist Fighters detected by Interpol in Mediterranean Sea
The second largest bank involved in these transfers was the Ashur International Bank for Investment, a private subsidiary of the Elaf Islamic Bank, and the Mosul Development and Investment Bank. In May 2015, the bank received one round dollar transaction in the amount of exactly $15,250,000.00. Yet, again, Deutsche Bank does not offer any information on the senders or recipients of the money transfers. The state's Rafidain Bank has 13.28% of Ashur's shares.
From July 31, 2012 to May 17, 2013, the US Treasury Department imposed sanctions on the Elaf Bank, on the basis of its knowledge and facilitation of transactions, and the provision of large financial services, to the Iranian Bank for Export Development (EDBI). Elaf Bank, and 10 of its subsidiaries, were monitored by Deutsche Bank as per their reports.
As for the Iraqi Islamic Bank for Investment and Development, the private bank was involved in approximately $43.3 million worth of remittances, while the Bank of Baghdad, also a private bank, was involved in over $5.5 million during the same period. These are in addition to a number of other Iraqi banks mentioned in the reports.
ISIS TERRORIST WITH UE MIGRANT CARD: Budapest blames Bruxelles
Most of the mentioned banks have branches in Iraq's main cities including Baghdad, Mosul, Kirkuk and Erbil. But as mentioned, the SARs do not specify which branches were involved in these transfers.
"It is thus possible that the suspicious transactions did not involve transacting for the IS. Domestic Iraqi banks could, however, easily lift the cloud hanging over these transactions by disclosing to authorities who the parties to the transactions were. In this way it can be determined whether these parties had links to extremism" says Henrich Böhmke, a forensic investigator specialising in state capture.
Rafidain Bank, the Iraqi Islamic Bank, Ashur International Bank for Investment, the Trade Bank of Iraq and Elaf Bank did not respond to requests for comment.
However, It was widely reported that after IS' takeover of Mosul in June 2014, the group looted more than $400 million (500 billion Iraqi Dinars) in cash from the city's financial institutions.
"For IS to survive, a portion of that money had to enter the legitimate banking system again to pay external parties for weapons, goods and services. The same channels would likely be used to receive money from sympathisers, clients and debtors," Böhmke adds.
A Central Bank of Iraq report for 2014, published in July 2017, showed the 121 bank branches controlled by IS, including 84 public bank branches and 37 that were private.
According to the report, the organisation stole around $830 million from bank branches that fell under its control in the form of $101 million, and 856.5 billion Iraqi Dinars ($727.6 million), over half of which (over $415 million), were taken from the Trade Bank of Iraq, according to the American magazine Newsweek.
Deutsche Bank's Interests in Iraq (read more)

FULL POST BY NASREDDINE CONTINUES HERE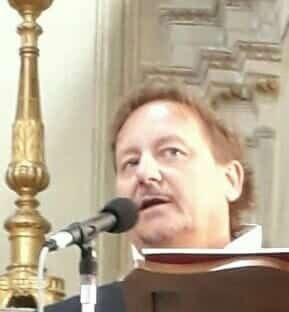 Fabio is Director and Editor of Gospa News; a Christian Information Journal.
Fabio Giuseppe Carlo Carisio, born on 24/2/1967 in Borgosesia, started working as a reporter when he was only 19 years old in the alpine area of Valsesia, Piedmont, his birth region in Italy. After studying literature and history at the Catholic University of the Sacred Heart in Milan, he became director of the local newspaper Notizia Oggi Vercelli and specialized in judicial reporting.
For about 15 years he is a correspondent from Northern Italy for the Italian newspapers Libero and Il Giornale, also writing important revelations on the Ustica massacre, a report on Freemasonry and organized crime.
With independent investigations, he collaborates with Carabinieri and Guardia di Finanza in important investigations that conclude with the arrest of Camorra entrepreneurs or corrupt politicians.
In July 2018 he found the counter-information web media Gospa News focused on geopolitics, terrorism, Middle East, and military intelligence.
His articles were published on many international media and website as SouthFront, Reseau International, Sputnik Italia, United Nation Association Westminster, Global Research, Kolozeg and more…
His investigations was quoted also by The Gateway Pundit, Tasnim and others
He worked for many years for the magazine Art & Wine as an art critic and curator.
ATTENTION READERS
We See The World From All Sides and Want YOU To Be Fully Informed
In fact, intentional disinformation is a disgraceful scourge in media today. So to assuage any possible errant incorrect information posted herein, we strongly encourage you to seek corroboration from other non-VT sources before forming an educated opinion.
About VT
-
Policies & Disclosures
-
Comment Policy
Due to the nature of uncensored content posted by VT's fully independent international writers, VT cannot guarantee absolute validity. All content is owned by the author exclusively. Expressed opinions are NOT necessarily the views of VT, other authors, affiliates, advertisers, sponsors, partners, or technicians. Some content may be satirical in nature. All images are the full responsibility of the article author and NOT VT.