by Fabio Giuseppe Carlo Carisio for VT Italy
We have dedicated ample space to the explanation of the approximate reliability of the rhino-pharyngeal PCR swabs, credited to 60% for a sum of variables including the amplification of the cycle that can track dead viruses or even other types of microbes other than SARS-Cov -2 thus creating the "false positives" among the asymptomatic which are always around 95% of the tested.
An intelligent reader reported the curious data published on the official website of the World Health Organization that seasonal flu seems to have disappeared from the face of the earth.
Italy-US Academic Virologist: "Stop to Pandemic's Terrorism. Covid-19 less Lethal. Lockdowns may destroy Economy"
The mystery is enormous given that some Regions such as Lazio of governor Nicola Zingaretti, Democratic Party secretary, have tried to impose the anti-flu vaccine considering it also useful in the prevention of Covid-19 although a Pentagon study conducted on interference between viruses has demonstrated that precisely that drug risks increasing the possibility of contracting a Coronavirus infection by 36% (the reference is to a generic strain as the research published before the appearance of SARS-Cov-2).
Flu Vaccine Mandatory in Italy's "Dem-Gates Region". But Raises Covid Risk according Us Military Research
Now a scientific journalist on the Russia Today network tries to venture hypotheses up to the most disturbing: "Much more likely in my opinion is that the flu has been confused for Covid in the vast majority of cases". A theory that could also be supported by the erroneous diagnosis deriving from swabs and serological tests which, as we will see in a future report, in Lombardy, one of the most infected regions of Italy, are partly managed by the laboratories of a multinational entry of the Big Pharma Cartel of Vaccines …
---
by Peter Andrews first posted on Russia Today
Irish science journalist and writer based in London. He has a background in the life sciences, and graduated from the University of Glasgow with a degree in genetics.
There has been a 98% plummet in flu infections this year, dispelling fears of a Covid and flu 'twin-demic' about which many had warned. Experts say we can thank masks and social distancing. But does this really add up?
Although there is no mass testing for flu as there is for Covid, the WHO says that surveillance of data from around the world shows flu rates collapsing everywhere. Australia essentially 'skipped' their flu season this year, with not a single case reported since July (their peak). In fact, flu has more or less vanished throughout the Southern Hemisphere, and early indicators suggest it will follow suit north of the equator. What can explain this unprecedented decline?
Where did it go?
To my mind there are three possibilities. The first is that it only seems like the flu has disappeared because doctors and scientists have been wrongly classing other respiratory diseases as Covid. Please note that the boffins are already treating this suggestion as something akin to flat-Earth theory.
The second is that Covid has 'crowded out' the flu. It does seem to be the case that you cannot be sick with two viruses at once. A recent study from Yale University found that of 13,000 patients admitted to in a major hospital with respiratory diseases, practically no one ever had both a cold and the flu at the same time. In fact, lung tissue that had been previously exposed to the cold virus was immune to the flu virus.
But the scientists say that this solution doesn't add up: no more than a fifth of the population has been exposed to Covid, and so everyone else should be fertile ground for the flu. But if they are wrong, and Covid is actually far more widespread than the scientists think, 'virus crowding' could be contributing to flu's downfall. (The question is why Covid would have won this battle so completely, for there to be essentially zero flu cases and millions of Covid ones – surely the flu would have gotten to some people before Covid did?)
The third possibility is the scientists' explanation. Before I give it, please note that either of the first two possibilities, if correct, would render ridiculous the entire response to Covid, not least because it would mean Covid is far less dangerous than has been widely asserted.
The verdict is in
The scientific establishment is quickly forming ranks behind the theory that the flu has gone away because of Covid restrictions – especially masks, social distancing and lockdowns. They "overwhelmingly agree" that this is so; their certainty is remarkable at this early stage.
But why would these measures have worked so unintentionally well for flu, which has been with us for millennia, but Covid cases are still skyrocketing? Do masks let one particle through and stop another?
The proponents of this theory have an explanation. They claim that people with Covid are more contagious than those with flu. It has a longer 'incubation period' than flu does, and its 'R rate' is three times higher than that of flu. But even if all of these estimates were right, there is still the unanswered question of why flu would have been eradicated so completely.
Magic masks
In my opinion, this hand-waving explanation might just be the most awesome act of cognitive dissonance of this entire saga. Experts are claiming, with a straight face, that a laxly enforced hodgepodge of restrictions, which varies wildly between countries and regions, has overnight eradicated an ancient scourge of humanity from the face of the Earth. And in the next breath, they warn that the incidence of another identically transmitted virus is through the roof.
Much more likely in my opinion is that the flu has been confused for Covid in the vast majority of cases. Is it really so hard to believe that flu sufferers could have been confused for Covid cases? After all, we know that lung cancer patients were. In any case, and irrespective of the explanation, one wonders if the flu's disappearing act means that the largest-ever flu vaccine rollout slated for this winter will be cancelled. Somehow, I think not.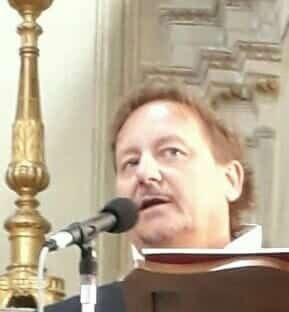 Fabio is Director and Editor of Gospa News; a Christian Information Journal.
Fabio Giuseppe Carlo Carisio, born on 24/2/1967 in Borgosesia, started working as a reporter when he was only 19 years old in the alpine area of Valsesia, Piedmont, his birth region in Italy. After studying literature and history at the Catholic University of the Sacred Heart in Milan, he became director of the local newspaper Notizia Oggi Vercelli and specialized in judicial reporting.
For about 15 years he is a correspondent from Northern Italy for the Italian newspapers Libero and Il Giornale, also writing important revelations on the Ustica massacre, a report on Freemasonry and organized crime.
With independent investigations, he collaborates with Carabinieri and Guardia di Finanza in important investigations that conclude with the arrest of Camorra entrepreneurs or corrupt politicians.
In July 2018 he found the counter-information web media Gospa News focused on geopolitics, terrorism, Middle East, and military intelligence.
His articles were published on many international media and website as SouthFront, Reseau International, Sputnik Italia, United Nation Association Westminster, Global Research, Kolozeg and more…
His investigations was quoted also by The Gateway Pundit, Tasnim and others
He worked for many years for the magazine Art & Wine as an art critic and curator.
ATTENTION READERS
We See The World From All Sides and Want YOU To Be Fully Informed
In fact, intentional disinformation is a disgraceful scourge in media today. So to assuage any possible errant incorrect information posted herein, we strongly encourage you to seek corroboration from other non-VT sources before forming an educated opinion.
About VT
-
Policies & Disclosures
-
Comment Policy
Due to the nature of uncensored content posted by VT's fully independent international writers, VT cannot guarantee absolute validity. All content is owned by the author exclusively. Expressed opinions are NOT necessarily the views of VT, other authors, affiliates, advertisers, sponsors, partners, or technicians. Some content may be satirical in nature. All images are the full responsibility of the article author and NOT VT.