by Fabio Giuseppe Carlo Carisio 
Versione originale in Italiano
In Russia, even the most important companies are directly or indirectly controlled by the state. As were the highways managed by Anas in Italy when the bridges did not collapse or the Alfa Romeo owned by IRI before they were given away by left-wing Romano Prodi & Co. to entrepreneur friends Benetton and Agnelli.
In Russia there is no interest in speculating on the weapons market because the most important defense corporations are owned by the state in a political logic that has been able to preserve the "good" of socialism, a centralized and efficient management, and throw the " bad ", the Marxist-Leninist Communist ideological exaltation that with the excuse of protecting the people had established the oligarchic military dictatorship of the Supreme Soviet just as in China even today the power of life and death is in fact in the hands of the Chinese Communist Party.
While in Beijing the hero doctor who first reported the epidemic from Covid-19, Li Wenliang, was first arrested and then killed by the virus in mysterious circumstances such as the director of the Wuhan hospital, from Moscow, from the very first moment of the international emergency, a monumental teaching on the value of freedom and altruism has arrived.
UkraineGate: islamic reporter funded by Obama-Biden and Soros in 2014 coup, now at the top of weapon's industry
Regardless that Italy was among the European countries that had supported sanctions against Russia for the "democratic" annexation of Crimea with a popular plebiscite after the bloody coup of George Soros, CIA and NATO in Ukraine to steal the pro-Russian Donbass rich in gas and oil, Russian President Vladimir Putin, as a good Orthodox Christian, knew how to forgive.
And he sent a hundred military doctors from the Russian army to Italy, experts in NBCR emergencies (Nuclear Bacteriological Chemistry Radiology) to clean up the nursing homes in Lombardy when the viral load of SARS-COV-2, probably fresh from the laboratory, was tragically lethal also for the colossal mistakes committed by the World Health Organization and the Minister of Health Roberto Speranza in relation to therapies.
CoronaVirus – 8. Exclusive: "Russian Mission for Cleaning Italy and World from a Bio-Weapon"
He did the same with his friend-foe Donald Trump, sending $ 100 million in medical aid. Obviously, he did similar initiatives for the allied countries of Syria and Venezuela that Moscow has adopted in order to protect them from the greed of Westerners and the United States, who have not scruples in triggering a civil war in Damascus by financing and arming jihadist Islamic terrorists and to target with cybernetic and electromagnetic sabotage Caracas.
The only objective of these actions capable of carrying out direct or indirect massacres (due to hunger and medical shortages) was in both cases the oil from the subsoil, regularly stolen in Syria for years with the complicity of Turkey in a perfect shady deal covered by NATO as the action of ISIS and Ak Qaeda mercenaries in Libya.
14 Thousand Jihadist Troops in Libya for Turkey Blitz alongside US Weapons' Lobby, NATO's Deep State & NWO
In light of his altruistic humanitarian response in the face of the pandemic, Putin has really earned the title of Tsar because he has a steady wrist, animated by the common sense of a father who, for example, does not persecute gays but does not leave them the task of educating or confusing the children, he added the demonstration of having a noble soul. So much virtue, certainly enlightened by his overt faith in the Risen Jesus Christ, was also offered to his Russian fellow citizens in the fight against Covid-19.
Russia was the first country in the world to develop a 92% effective vaccine, Sputnik V, perhaps also thanks to viral samples collected in Italy while the hospitals of the Mediteranean peninsula had been banned from autopsies by the Minister of Health: some doctors they did at risk of retaliation and discovered thrombi and massive pulmonary embolisms and thus discovering the need to use heparin associated with anti-inflammatory drugs such as cortisone and hydroxychlorichine suspiciously not recommended by the WHO …
COVID-19: Putin's Vaccine challenges Big Pharma Lobby. Why it's frightening for WHO
Now it turns out instead, as reported by the Russia Today network (full article below), that half of Moscow's population has already achieved herd immunity thanks to the mild but peremptory restrictive measures imposed by the government that are not killing the economy such as in Italy and in some European countries: in Belgium, even the police have already been authorized to raid homes for checks on compliance with the ban on gatherings on the occasion of holidays.
Here is the example of a nation, the largest in the world as a territorial extension, which knows how to offer its people an incisive and timely response but above all subordinated to the irreplaceable and fundamental value of freedom of choice even in care in the face of a health emergency. very serious.
WUHAN-GATES – 23. From Cambridge Big Pharma's Cartel controls Swabs, Vaccines and Clinical Trials. Disturbing Conflicts of Interest from Italy to the UK
This could happen because Russia does not need to indulge the dirty financial speculations of Big Pharma that corrupt politicians and doctors in all parts of the world thanks to the leadership of the pandemist par excellence Bill Gates who bought the right to place a former NGO administrator as well as leader of a communist-Islamic guerrilla party in Ethiopia at the WHO general direction.
Moscow found the vaccine and made it available to all citizens who want to use it to feel more protected. But it has not imposed the obligation on anyone well aware, as claimed by authoritative doctors, that Covid-19 can be prevented, combated and treated with multiple therapeutic methods including the hyper-immune serum tested in Italy and copied from American universities that allowed Trump to include it in federal health protocols.
WUHAN-GATES – 24. WHO & Pandemic in Gates-China's Puppet Hands: Dr. Tedros Leader of TPLF, Islamic-Communist Rebels blamed of Last Massacre in Ethiopia by Amnesty
Putin, without doing anything more than the good of Russia and its inhabitants, has at the same time done something monumental in this period of health dictatorship, especially in Italy and Europe. He reminded us of the sacrosanct value of freedom by demonstrating that a former communist country that converted to the doctrine of the free man par excellence, Christianity, is able to protect civil rights better than the Western democratic republics of Christian and liberal tradition who converted to Freemasonry and the New World Order.
Fabio Giuseppe Carlo Carisio
© COPYRIGHT GOSPA NEWS
no reproduction without authorization – Versione originale in Italiano

---
MAIN SOURCES
GOSPA NEWS – WUHAN.GATES REPORTS
GOSPA NEWS – CORONA VIRUS DOSSIER
GOSPA NEWS – OSINT INVESTIGATIONS
---
Herd Immunity in 50 percent of Muscovites
by Russia Today
While most of Europe's large cities are now under strict lockdown to prevent Covid's spread, the biggest of them all, Moscow, is an exception. Instead of shutting down bars, shops and restaurants, a lighter touch has been applied.
On Thursday, the city's mayor indicated that the strategy – a mixture of appealing to personal responsibility and ordering relatively small-scale restrictions, while also beefing up hospital capacity – seems to be working. Sergey Sobyanin told national TV that about 50 percent of Muscovites are now immune to Covid-19 infection.
"The current option for slowing down the epidemic is the restrictive measures that we are taking, and the second is population immunity, which all scientists and specialists talk about," he explained, in an interview on 'Rossiya-24.'
WUHAN-GATES – 26. SARS-2 Bio-Weapon & Gold Vaccines. From CIA-WHO Tests funded by Gates to EU Summit with Pfizer, Biden's sponsor, before Pandemic!
Research conducted in Moscow shows that about 50 percent of the population has an immune response to coronavirus: cellular immunity, antibodies, etc.
"[This] suggests that theoretically 50 percent of the population is already more or less protected from coronavirus, but no one guarantees that a second disease will not follow," Sobyanin added.
At the same time, the mayor repeated that there are no plans to introduce a stricter lockdown in the city in the near future. The current measures, which have been extended until January 15, are far less restrictive that those imposed in comparable European cities, such as Paris and London.
For instance, while nightclubs are closed, pubs can open until 11pm. Indoor concerts are restricted to 25 percent of the venue's capacity, and outdoor football games are allowed to admit a limited number of spectators.
In October, the virus was the leading cause of death in 2,235 people in the Russian capital, health authorities revealed, also on Thursday. That was over 300 percent more than in September, when 543 deceased were listed as having Covid-19 as the main cause of death.
While the official city population is just under 13 million, there are around 20 million people in the wider Moscow metro area. A total of approximately 13,700 deaths were recorded in the city in October, up around 3,000 on 2019.Over the past day, more than 6,000 new coronavirus cases were detected in Moscow, with 1,700 people hospitalized.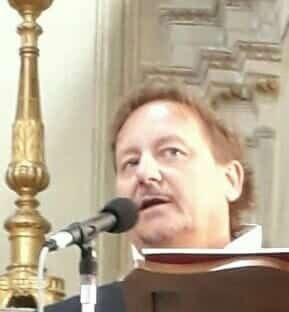 Fabio is Director and Editor of Gospa News; a Christian Information Journal.
Fabio Giuseppe Carlo Carisio, born on 24/2/1967 in Borgosesia, started working as a reporter when he was only 19 years old in the alpine area of Valsesia, Piedmont, his birth region in Italy. After studying literature and history at the Catholic University of the Sacred Heart in Milan, he became director of the local newspaper Notizia Oggi Vercelli and specialized in judicial reporting.
For about 15 years he is a correspondent from Northern Italy for the Italian newspapers Libero and Il Giornale, also writing important revelations on the Ustica massacre, a report on Freemasonry and organized crime.
With independent investigations, he collaborates with Carabinieri and Guardia di Finanza in important investigations that conclude with the arrest of Camorra entrepreneurs or corrupt politicians.
In July 2018 he found the counter-information web media Gospa News focused on geopolitics, terrorism, Middle East, and military intelligence.
His articles were published on many international media and website as SouthFront, Reseau International, Sputnik Italia, United Nation Association Westminster, Global Research, Kolozeg and more…
His investigations was quoted also by The Gateway Pundit, Tasnim and others
He worked for many years for the magazine Art & Wine as an art critic and curator.
ATTENTION READERS
We See The World From All Sides and Want YOU To Be Fully Informed
In fact, intentional disinformation is a disgraceful scourge in media today. So to assuage any possible errant incorrect information posted herein, we strongly encourage you to seek corroboration from other non-VT sources before forming an educated opinion.
About VT
-
Policies & Disclosures
-
Comment Policy
Due to the nature of uncensored content posted by VT's fully independent international writers, VT cannot guarantee absolute validity. All content is owned by the author exclusively. Expressed opinions are NOT necessarily the views of VT, other authors, affiliates, advertisers, sponsors, partners, or technicians. Some content may be satirical in nature. All images are the full responsibility of the article author and NOT VT.