Thinking of bulletproof vests often spurs images of special forces in duty, action movie heroes, or high-profile VIPs. Historically, they date several centuries back, when metal armor became too heavy and cumbersome for soldiers to wear in battle. Anti-ballistic body garments notably experienced a great boom during the World Wars with the development of modern warfare and military equipment. Nowadays, while anyone can freely acquire a bulletproof vest, there are a few things to consider before purchasing one. 
Here are some useful facts you should know about bulletproof vests.
Purpose
As its name suggests, a bulletproof vest (or ballistic vest) is a type of protective body armor used to shield the upper body, specifically the torso. They help absorb the impact of firearm shots, explosive fragments, or stabs, and can significantly reduce (sometimes stop) the likeliness of the weapon from penetrating through the skin. Rather than protect the wearer from all types of dangers, these vests are designed to target specific threats and firearm calibers.
Typical Uses
Many scenarios require wearing a ballistic vest, although not many being for civilian applications. The first and most obvious one is for armed forces soldiers fighting to protect themselves on perilous warfronts. Domestically, it isn't rare to see policemen and women or special task force members wearing ballistic vests on duty to respond to active shooting scenes or terrorist threats. High-profile individuals, such as politicians or CEOs, are often mandated by protocol to wear such protective equipment when the occasion calls for it. In some cases it may be even better to use a Bulletproof Helmet as well for further protection.
What They're Made Of
Bulletproof vests are engineered with several layers of high-grade protective materials for optimal mobility, wearability, and of course, performance. Kevlar, Spectra Shield, ceramic, and polyethylene are some commonly found materials in bulletproof vests manufacturing. They are primarily designed for function and not for comfort, and may include nylon panels for additional protection. As of late, knock-off vests are being produced and flooding the market, usually from Asia, with less than optimal standards and inadequate materials. So, checking the country of origin should not be overlooked.
Effectiveness
Speaking of which, it's important to know that no commercial or military-grade vest is guaranteed 100% bulletproof. Their degrees of effectiveness varies greatly depending on factors such as the materials used, build quality, fabrication standards, type of threat, and more. While a level 1 or 2 vest will likely not be able to stop a 0.45 S&W round, much less an explosive grenade, a level 4 ceramic plates bulletproof vest offers the highest level of industry-certified protection. Some research will point you towards useful resources on the effectiveness of ballistic vests and complementary information.
Morphological Adaptability
Size is of the essence. Typically, a quality ballistic vest will accommodate up to 10% of changes in the wearer's body weight. For instance, if you weigh 180lbs, you'll be able to use your vest if your weight drops to 162lbs or goes up to 198lbs. Below or above this threshold, the armor will feel either too loose or too tight, which can hinder its practicality and effectiveness. So, if you plan on acquiring one of your own, pick a strategic time and stick to a drastic regimen to avoid having to get a more fitting one in the future.
Maintenance
Bulletproof vests must be stored in a closet, away from direct sunlight and dust which can damage the armor's protective fibers and inner coats. These vests are not everyday clothing items that you can simply throw in the washer, dry, and then iron out if they get out of shape. As such, treating your vest as a valuable investment and keeping it safely in a closet is bound to maximize its longevity over the years.
Lifespan
A standard ballistic vest will last anywhere between 3 to 5 years, depending on the quality of its construction and other factors. However, experts highly advise against wearing a vest that's undergone damages or been shot at, since its integrity will have been compromised. In that case, you'll likely need to purchase a brand-new one.
Are They Waterproof?
It's either bulletproof or waterproof, but never both. Bulletproof vests are not designed to be worn in water-prone environments, such as lakes or oceans, and aren't suitable to wear under the rain. Exposing them to severe moisture can cause irreversible damages and render the vest completely ineffective against certain threats.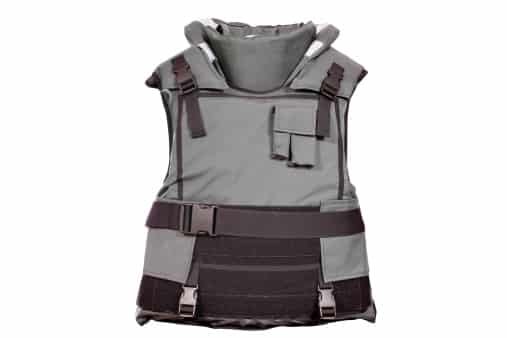 To wrap up, it's fair to say that the invention of the bulletproof vest isn't anecdotal. These body armors are used by policemen, VIPs, or shooting enthusiasts to provide necessary protection and maximize safety. If you plan on acquiring one, keep documenting yourself and visit your local armory to make the most fitting and satisfying purchase.
ATTENTION READERS
We See The World From All Sides and Want YOU To Be Fully Informed
In fact, intentional disinformation is a disgraceful scourge in media today. So to assuage any possible errant incorrect information posted herein, we strongly encourage you to seek corroboration from other non-VT sources before forming an educated opinion.
About VT
-
Policies & Disclosures
-
Comment Policy
Due to the nature of uncensored content posted by VT's fully independent international writers, VT cannot guarantee absolute validity. All content is owned by the author exclusively. Expressed opinions are NOT necessarily the views of VT, other authors, affiliates, advertisers, sponsors, partners, or technicians. Some content may be satirical in nature. All images are the full responsibility of the article author and NOT VT.