VT:  When I agreed to go on network to discuss UFO issues, after years of retirement from (name withheld for reasons of personal safety) I received a bit of a startle soon afterward.
"Please don't do that again…"
The questions:
Is there a secret space program?
Do aliens have bases under the Pacific Ocean?
Are the Chinese allied with an alien race?
How many alien races plague earth?
Is Men in Black real?
…
Hovering 'Craft' Swarming US Navy Vessels Possibly 'Coming from Underwater Base'
A stunning 18-second clip allegedly from July 2019 of "spherical" unidentified craft swarming a US Navy destroyer, the USS Russell, at night had earlier been sent anonymously to filmmaker Jeremy Corbell. The footage was supposedly part of a classified briefing led by the Pentagon into Unidentified Aerial Phenomena (UAP).
Documentary filmmaker Jeremy Corbell claims that some of the mysterious so-called Unidentified Flying Objects (UFOs) captured in grainy images and shown ostensibly swarming US Navy vessels over the years could be coming from the Earth's oceans.
May 1st 2020 a classified briefing was generated about the UFO / UAP presence via the Office of Naval Intelligence. I was able to obtain information regarding these & other UAP related briefings – as well as – unclassified slides & some intriguing military captured UAP footage. pic.twitter.com/F6V9h64Qfs

— Jeremy Corbell (@JeremyCorbell) April 8, 2021
Furthermore, the possibility that many of the objects are manifestations of "transmedium" vehicles, which are able to operate both in the air and underwater, has been discussed between US Navy officials, he claimed in an interview for the Daily Star.
"They can move from one medium [air] to the next [sea] with ease," said the filmmaker, adding:
"As you would have an embassy in a foreign land, it is possible that there's a congregation or a station or a location underwater, where UFOs could be transiting from once they're here, wherever they come from. That is a possibility that UFOs are transiting from a localised place underneath the water."
The Los Angeles-based mixed media artist believes this theory of such a potential underwater base might be true in relation to the now-famous "tic-tac UFOs" and other enigmatic "craft" captured on footage "swarming" US Navy vessels over the years.
The filmmaker, who in 2015 launched his investigative film series titled, "Extraordinary Beliefs presented by Jeremy Kenyon Lockyer Corbell", made it into the headlines after releasing the now-famous "pyramid UFO" video, ostensibly taken by the crew of the USS Russell off San Diego in July 2019.
Furthermore, he made public images of an object seemingly hovering above the USS Omaha before "descending into the water" in the same month.
Corbell published the images, confirmed by the Pentagon as genuine, on his website extraordinarybeliefs.com.
The footage echoes similarly authentic videos of encounters by USS Nimitz fighter jets in 2004, as well as sightings of unidentified craft in 2015.
Referred to as the "Pentagon UFO videos", the visuals are recordings of cockpit instrumentation displays from United States Navy fighter jets based aboard the aircraft carriers USS Nimitz and USS Theodore Roosevelt in 2004, 2014 and 2015, which were leaked to the public.
The three grainy, black and white videos created a furore in the media in 2017.
In September 2019, a Pentagon spokesperson confirmed that the videos were made by naval aviators and were "part of a larger issue of an increased number of training range incursions by unidentified aerial phenomena in recent years."
Subsequently, the US Department of Defence formally released the videos in 2020.
Seemingly feeding into Jeremy Corbell's current claims is the fact that all of the leaked UFO videos confirmed as genuine by the Pentagon have occurred over the sea.
The filmmaker refers to the USS Nimitz encounter, where Commander David Fravor, a fighter pilot from the strike group, first witnessed the so-called "tic-tac" shaped object hovering above an "ocean disturbance", or "boiling water" on 14 November 2004.
"There was an object under the water and it appeared to be cross shaped. And it was right under the water where the tic-tac UFOs were descending to, and they were dropping in from above 80,000 feet, all the way down to sea level in less than a second without a sonic boom," said Corbell.
He cites witnesses of the encounter as apparently describing the "craft" descending and "docking".
"They were docking somehow informationally maybe with whatever was happening in the water or under the water," points out the artist.
According to him, other explanations have also been offered by officials in an attempt to figure out where they are coming from, such as "another planet".
"That's one of the options that's definitely on the table. But importantly, there was this implication that there might be a base or location like an embassy that they could go and maybe fuel up their starships… who knows I'm speculating jokingly, I have no idea," concluded Corbell.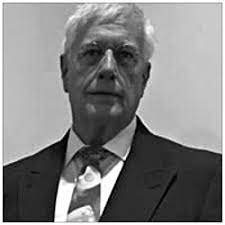 Gordon Duff posted articles on VT from 2008 to 2022. He is a Marine combat veteran of the Vietnam War. A disabled veteran, he worked on veterans and POW issues for decades.
Gordon is an accredited diplomat and is generally accepted as one of the top global intelligence specialists. He manages the world's largest private intelligence organization and regularly consults with governments challenged by security issues.
Duff has traveled extensively, is published around the world, and is a regular guest on TV and radio in more than "several" countries. He is also a trained chef, wine enthusiast, avid motorcyclist, and gunsmith specializing in historical weapons and restoration. Business experience and interests are in energy and defense technology.
ATTENTION READERS
We See The World From All Sides and Want YOU To Be Fully Informed
In fact, intentional disinformation is a disgraceful scourge in media today. So to assuage any possible errant incorrect information posted herein, we strongly encourage you to seek corroboration from other non-VT sources before forming an educated opinion.
About VT
-
Policies & Disclosures
-
Comment Policy
Due to the nature of uncensored content posted by VT's fully independent international writers, VT cannot guarantee absolute validity. All content is owned by the author exclusively. Expressed opinions are NOT necessarily the views of VT, other authors, affiliates, advertisers, sponsors, partners, or technicians. Some content may be satirical in nature. All images are the full responsibility of the article author and NOT VT.