Watch False Flag Weekly News and check out all the links HERE
Former Mideast-based US diplomat "J. Mike" Springmann and I opened this week's False Flag Weekly News with a modest proposal: Let's trade America's most-watched TV commentator Tucker Carlson to Iran…and bring Iran's top talk show host, Nader Talebzadeh (currently under Zionist Treasury Department sanctions) to America. As I pointed out:
This trade would be beneficial for both sides. The Iranians would get much-need comic relief – after decades of war and sanctions and unfair treatment they could use a good laugh. And Tucker could make fun of Iranian liberals, the spoiled brats in North Tehran who wish they were in Los Angeles. Iranian liberals are even more obnoxious than American ones. Tucker could have a lot of fun with them.  Meanwhile, the USA would get the world's greatest TV host, Nader Talebzadeh. Cognitive psychologists estimate that just putting Nader on American TV one night per week would raise the collective IQ of American television by more than a dozen points! So this would be a win-win for everyone…
As the Milwaukee Bucks showed when they traded for Jrue Holiday, smart trades can take you to the next level. So let's trade for Nader, no matter how many millions of dollars and #1 draft choices we have to give up, along with Tucker, to get him!
Another modest proposal: Instead of spending the taxpayers' money on a COVID-19 Commission headed by 9/11 coverup czar Philip Zelikow and a 1/6 Commission tasked with crucifying Q Shaman and/or Donald Trump, both modeled on the 9/11 and Warren Commissions, how about consolidating all past and future investigations into a single BULLSHIT COMMISSION. The Bullshit Commission can just put out one big bullshit report that goes blah-blah-blah-blah-blah-blah-blah and doesn't actually address any relevant specifics of anything…pretty much like the 9/11 Commission. In fact, with only minor editing, the 9/11 Commission Report can become the basis for the new Bullshit Report which will be dragged out whenever the Deep State feels the need to murder a president, or murder thousands of Americans in a false flag, or unleash a pandemic, or whatever. Anyone who does not believe the Bullshit will be labeled a "conspiracy theorist" and a threat to public health, and will be forcibly vaccinated with real, literal bullshit, from the rear end of a real bull—which as people in India know, will cure them of every ailment known to man, including congenital skepticism.
After considering these and other burning issues, we finished the show with some rare good news:
AUTHORITIES ARE MAKING INROADS IN EFFORTS TO COPE WITH A DANGEROUS NEW THREAT: RIGHT-WING CANINE EXTREMISM.  THE TERRIFYING PROBLEM OF NAZI DOGS RAISING THEIR PAWS AND BARKING OUT "SIG HEIL! WOOF!" IS NOW TERRORIZING GOOD LAW-ABIDING MASK-WEARING EXPERIMENTAL GENE THERAPY ACCEPTING AMERICANS EVERYWHERE!   NOW DHS SAYS IT HAS STYMIED A PLOT TO BREAK INTO THE WASHINGTON DC DOG POUND AND UNLEASH A RIGHT-WING EXREMIST PACK OF RABID DROOLING YAPPING INSURRECTIONIST MUTTS TO STORM THE CAPITOL!!! (Muse the cat says "me-YOW! that's really terrifying!") NOW THE PROBLEM HAS EVEN SPREAD TO THE UK, WHERE MAD DOGS AND ENGLISHMEN ARE BEING IMPRISONED FOR ENGAGING IN RIGHT-WING-EXTREMIST CANINE ACTIVITY. ANYONE WISHING TO REPORT SUSPECTED CANINE EXTREMISM IS URGED TO CALL THE CAMPAIGN AGAINST CANINE ANTISEMITISM AT +44 (0)330 822 0321 .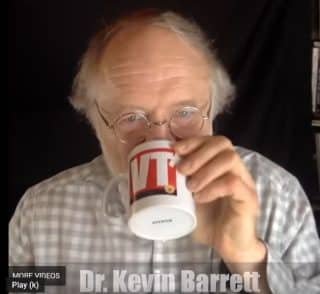 Dr. Kevin Barrett, a Ph.D. Arabist-Islamologist is one of America's best-known critics of the War on Terror.
He is the host of TRUTH JIHAD RADIO; a hard-driving weekly radio show funded by listener subscriptions at Substack and the weekly news roundup FALSE FLAG WEEKLY NEWS (FFWN).
He also has appeared many times on Fox, CNN, PBS, and other broadcast outlets, and has inspired feature stories and op-eds in the New York Times, the Christian Science Monitor, the Chicago Tribune, and other leading publications.
Dr. Barrett has taught at colleges and universities in San Francisco, Paris, and Wisconsin; where he ran for Congress in 2008. He currently works as a nonprofit organizer, author, and talk radio host.
ATTENTION READERS
We See The World From All Sides and Want YOU To Be Fully Informed
In fact, intentional disinformation is a disgraceful scourge in media today. So to assuage any possible errant incorrect information posted herein, we strongly encourage you to seek corroboration from other non-VT sources before forming an educated opinion.
About VT
-
Policies & Disclosures
-
Comment Policy
Due to the nature of uncensored content posted by VT's fully independent international writers, VT cannot guarantee absolute validity. All content is owned by the author exclusively. Expressed opinions are NOT necessarily the views of VT, other authors, affiliates, advertisers, sponsors, partners, or technicians. Some content may be satirical in nature. All images are the full responsibility of the article author and NOT VT.