by Fabio Giuseppe Carlo Carisio
«There had been a warning, but not much that could be done, as the mass of those outside the gates hoping to get on a flight were an open target for suicide bombers, especially at night. Afghan/Taliban security would not have had bomb sniffing dogs, and I have seen online no capacity to be checking carry on baggage with people outside the gate.
Even if ISIS did not have an attack in motion, the reports of the US anticipating such would have stimulated one. ISIS would not want pass up the publicity it would get from announcing "we are alive and well and hard to spot when blending into the crowd"».
This very lucid analysis was published on VT by managing editor Jim W. Dean, who comes from an old military family dating back to the American Revolution.
Thirteen U.S. troops were killed and 18 were injured on Thursday when ISIS militants set off two bombs outside Kabul's main airport, the Pentagon said, where thousands of people have been gathering in recent days amid a massive evacuation effort by the U.S. and NATO allies.
In the suicide attack claimed by the Islamic State, as released by Rita Katz's anti-terrorism site SITE, about 113 people were killed in total, mostly Afghan civilians including some children, and another 140 were injured.
The 'Amaq, ISIS news agency, report states the fighter's name is "Abdul Rahman al-Logari," and that he was able to get within five meters of American troops who were processing the documents of allied contractors and translators.
The 'Amaq report states the fighter's name is "Abdul Rahman al-Logari," and that he was able to get within five meters of American troops who were processing the documents of allied contractors and translators.https://t.co/BuIJ9io8xu

— Rita Katz (@Rita_Katz) August 26, 2021
«The attacks from ISIS's affiliate in Afghanistan were the deadliest U.S. casualty event there since 2011, and they come as the U.S. is just days away from a complete withdrawal from a country now controlled by the Taliban» reported Politico.
Multiple U.S. troops were killed and others wounded when two explosions shook the area outside Hamid Karzai International Airport in Kabul in rapid succession this morning, where the United States and NATO allies had been evacuating thousands of people from the city, two U.S. officials told POLITICO.
"We can confirm that the explosion at the Abbey Gate was the result of a complex attack that resulted in a number of US & civilian casualties," tweeted Pentagon spokesperson John Kirby, referring to the entrance to the airport, where four sources tell POLITICO that U.S. personnel until recently welcomed American citizens to board evacuation flights.
Exodus of Islamic Terrorism under Cia's Nose! "Isis and Al Qaeda among Afghan Migrants". Putin's alarm confirmed by US flight to Qatar
Kirby also confirmed a second explosion at or near the Baron Hotel, roughly 300 meters from the site of the first detonation. British troops had been using the hotel as a base for evacuating UK personnel.
"This [attack] is a nightmare," said Stacia George, director of the Carter Center's Conflict Resolution Program, who has worked to get vulnerable people out of Afghanistan.
"It took incredible courage and strength to get to those gates which are the door to the last reliable way to safety. Although this is happening, people will still keep trying to go back once or if the gates open again because what other choice do they have?"
Videos from the scene viewed by POLITICO showed dozens of bodies strewn across a sewage canal and the surrounding banks outside Kabul's main airport, which President Joe Biden has warned was vulnerable to terror attacks in recent days.
CIA, Mossad & Talibans in Jihadist's New Empire to Use Afghanistan against Iran and Russia
In remarks at the White House later Thursday, Biden said he has ordered his top military officials to attack the terror group's assets. "We will respond with precision at our time at a place that we choose and the moment of our choosing," Biden said. "Here's what you need to know: These ISIS terrorists will not win."
The news comes just hours after defense officials began warning about an increased terrorist threat from the Islamic State's branch in Afghanistan, known as ISIS-K. Defense officials briefed lawmakers on Tuesday about the new threat targeting airport gates and military and commercial aircraft evacuating people from Kabul, POLITICO first reported.
ISIS has moved fighters and materials for the bombs from Nangarhar and Kunar provinces to areas around the airport, a U.S. official said. On Thursday morning, that U.S. official added that an IED attack to breach the outer perimeter wall of the airport might come within six hours. Afterward, ISIS fighters would shoot into the crowd with machine guns and rocket-propelled grenades "in hopes of reaching processing centers" at the airport, the official said.
In the last day, the Taliban spokesperson, Zabihullah Mujahid, had denied that an airport attack had been imminent, telling The Associated Press about the warnings: "It's not correct."
TALIBANS VS ISIS FIGHTERS
«The Taliban have fought against Islamic State militants in Afghanistan and remain at odds with the rival terrorist group. But IS-K fighters were likely freed from prisons along with thousands of other inmates—along with former al-Qaeda fighters—during the Taliban's rapid advance through Afghanistan. Extremists may have seized heavy weapons and equipment abandoned by Afghan troops, although CENTCOM commander General Kenneth McKenzie suggested that it does not appear that IS-K has MANPAD (man portable air defense systems) capabilities that would pose a serious threat to aircraft. IS-K fighters have a history of waging attacks against soft targets similar to the crowds seen outside Kabul's airport» write The Soufan Center, focused on geopolitics and counter-terrorism.
«There is growing concern that the latest attacks may just be an opening salvo to a lengthy terrorist campaign perpetrated by IS-K against any Western troops remaining in Afghanistan, as well as against the Taliban and its allies, al-Qaeda, and the Haqqani network. There is also a possibility that further IS-K violence will legitimize the Taliban's narrative and role as the de facto government of Afghanistan as foreign governments partner with them and share intelligence and capacities in order to address further IS-K attacks. The escalation in violence on all sides would plunge Afghanistan directly back into civil war and increase the likelihood that foreign fighters and jihadist terrorists from throughout the region and beyond could seek to descend upon Afghanistan to join these various groups. If that happens, it remains possible that al-Qaeda or IS-K could look to further develop their external operations planning capabilities and attempt to conduct attacks beyond Afghanistan's borders» adds TSC.
But there is a disturbing question that weighs on the terrible story. How is it possible that the few and poorly organized ISIS terrorists in Afghanistan, mainly concentrated in the province of Khorasan, managed to organize such a deadly and complex attack in record time. And further… Among them is there perhaps some throat cutter of the Islamic State freed from Syria and transported by the US to Northern Afghanistan in 2019 as reported by the director of the FSB, the Russian counter-intelligence?
Beirut: ex CIA 007: "Alleged IsraelI Attack". Christian Party secretary Killed. 100 more deaths. Italian marines injured.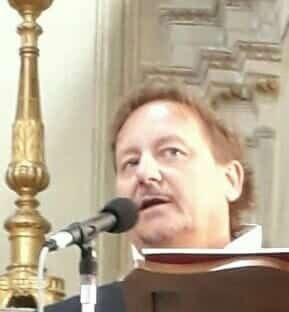 Fabio is Director and Editor of Gospa News; a Christian Information Journal.
Fabio Giuseppe Carlo Carisio, born on 24/2/1967 in Borgosesia, started working as a reporter when he was only 19 years old in the alpine area of Valsesia, Piedmont, his birth region in Italy. After studying literature and history at the Catholic University of the Sacred Heart in Milan, he became director of the local newspaper Notizia Oggi Vercelli and specialized in judicial reporting.
For about 15 years he is a correspondent from Northern Italy for the Italian newspapers Libero and Il Giornale, also writing important revelations on the Ustica massacre, a report on Freemasonry and organized crime.
With independent investigations, he collaborates with Carabinieri and Guardia di Finanza in important investigations that conclude with the arrest of Camorra entrepreneurs or corrupt politicians.
In July 2018 he found the counter-information web media Gospa News focused on geopolitics, terrorism, Middle East, and military intelligence.
His articles were published on many international media and website as SouthFront, Reseau International, Sputnik Italia, United Nation Association Westminster, Global Research, Kolozeg and more…
His investigations was quoted also by The Gateway Pundit, Tasnim and others
He worked for many years for the magazine Art & Wine as an art critic and curator.
ATTENTION READERS
We See The World From All Sides and Want YOU To Be Fully Informed
In fact, intentional disinformation is a disgraceful scourge in media today. So to assuage any possible errant incorrect information posted herein, we strongly encourage you to seek corroboration from other non-VT sources before forming an educated opinion.
About VT
-
Policies & Disclosures
-
Comment Policy
Due to the nature of uncensored content posted by VT's fully independent international writers, VT cannot guarantee absolute validity. All content is owned by the author exclusively. Expressed opinions are NOT necessarily the views of VT, other authors, affiliates, advertisers, sponsors, partners, or technicians. Some content may be satirical in nature. All images are the full responsibility of the article author and NOT VT.