by Fabio Giuseppe Carlo Carisio for VT Europe
Versione originale in Italiano
The sudden pneumonia in the summer season of the President of the European Parliament David Sassoli (Deputy of Italian Democratic Party) has triggered an avalanche of suspicions that we think appropriate to analyze in the light of pharmacovigilance data on adverse vaccine reactions, which have detected more than 2 thousand deaths from respiratory diseases (1,414 only after Pfizer), and of the scientific studies that had raised the alarm on the risks of autoimmune diseases in particular for the lungs, the most targeted by the deadly Spike protein of SARS-COV-2.
As is well known to the readers of Gospa News after the multiple investigations of the WuhanGates cycle, authoritative experts in virology and intelligence believe that this virus was built in the laboratory with HIV / AIDS marks to make it highly lethal and therefore usable as a bacteriological weapon.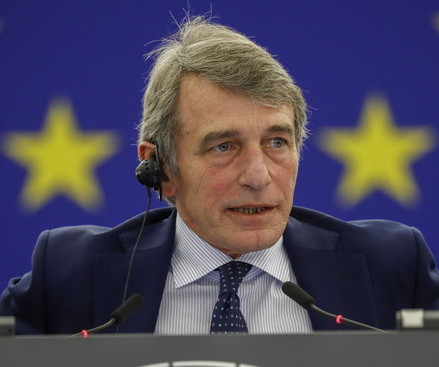 "On Wednesday 15 September, the President of the European Parliament David Sassoli was taken to the Hôpital Civil in Strasbourg. After the necessary medical examinations, he was diagnosed with pneumonia and was immediately treated. He is in good condition". So his spokesman Roberto Cuillo. According to what is learned Sassoli is still hospitalized. The president of the European Parliament is vaccinated against Covid-19 (with Pfizer) and in recent days he had tested negative for the swab. All the appointments in the diary are currently canceled.
WUHAN.GATES – 41. "SARS-2 IS A BIO-WEAPON". Complaint to the Hague Court with Montagnier Expertise. US Intelligence "split" between Natural or Laboratory Virus
THE ALLEGED CASE OF COVID MASKING
The social network went crazy insinuating that it was not a simple pneumonia but a "masked" case of Covid-19 in order not to reveal the much disputed ineffectiveness of the doses of Pfizer gene therapies that led various countries including the US and Italy to administer the third for the most vulnerable people and prompted Israel to consider the beginning of the fourth.
At the moment the official sources refer to a negative swab for Sassoli and therefore these allegations cannot be considered founded, even if the value of the PCR molecular swabs has been questioned by the American CDC (Centers of Disease Control and Prevention) which ordered the forthcoming withdrawal of the authorization for the emergency use of Real-Time tests as they are considered unreliable and even unable to distinguish the SARS-Cov-2 virus from the flu viruses of the large Coronavirus family.
Breaking! US CDC Retires PCR Test due to It may not be able to Distinguish Covid from Influenza Viruses. Distorted Pandemic History!
The health concerns of the European deputy of the Democratic Party come within hours of the mourning that has struck the world of Piedmontese culture. In fact, on Friday 17 September Piero Ghia, 74, president of the Asti d 'Appeal Award, died of contracting Covid, even though he had undergone the double vaccination. He had been hospitalized since 10 September in intensive care.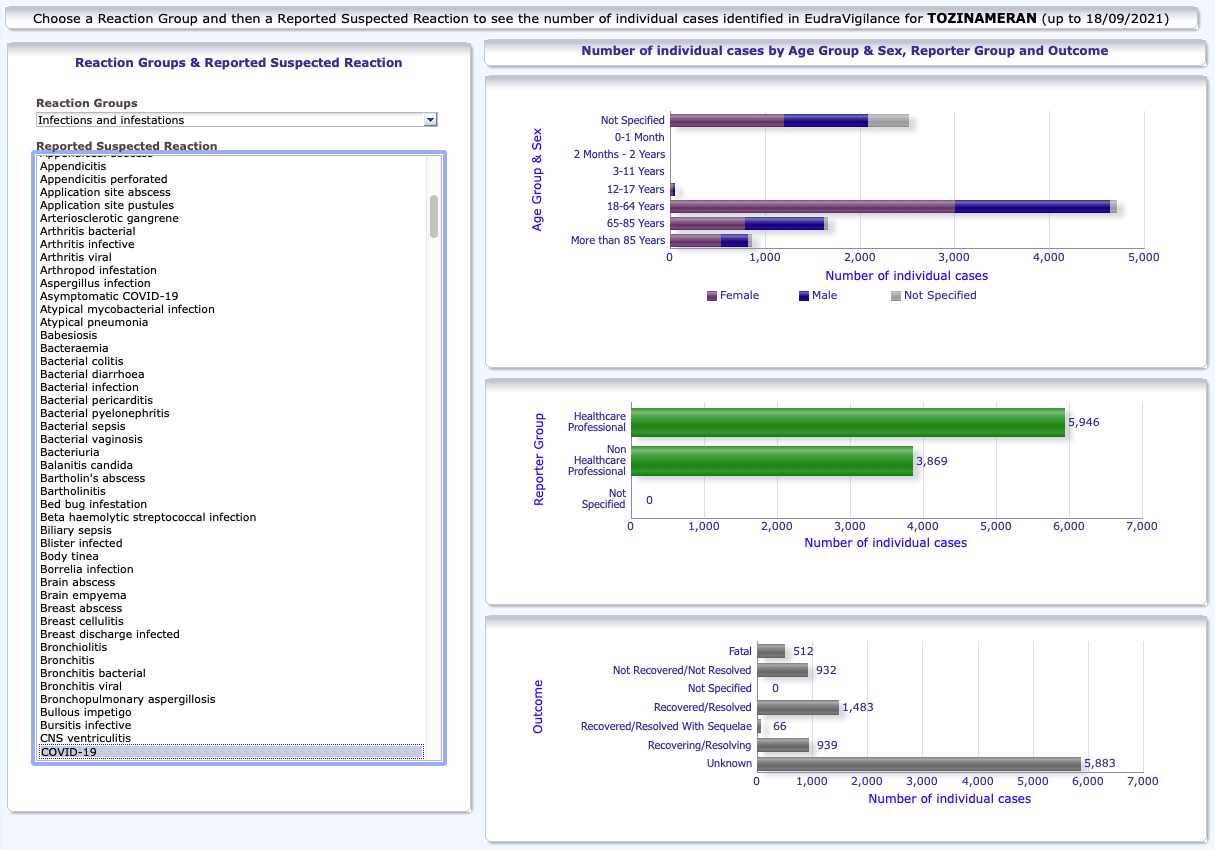 Its fate is unfortunately similar to that of 676 people who died after the Pfizer vaccine (512 for Covid and 164 for Covid pneumonia) among those vaccinated in recent months in the European Union. To these are added 5,955 cases reported to the pharmacovigilance database of the EMA (European Medicines Agency) for having contracted Sars-Cov-2 symptomatically after the gene antiCovid with Comirnaty messenger RNA and whose course is unknown in EudraVigilance platform.
We cite by way of example the data on the Pfizer-Biontech GMO "serum" because they are the most relevant even if fatal outcomes were recorded even after Moderna, AstraZeneca and Jannsen as already highlighted in previous reports.
MASSACRE FROM RESPIRATORY DISEASES AFTER VACCINES
"Three years ago I reported to the undersecretary of the Minister of Health a study by the National Institute of Health, which showed that the incidence of severe pneumonia increased by 50% in those vaccinated with the flu. The study also reported 12% more mortality in vaccinated people, due to the enhancement of the disease ».
A few months ago, Dr. Loretta Bolgan, a graduate in pharmaceutical chemistry and technology with a doctorate in pharmaceutical sciences and a research fellow at Massachussets General Hospital, stated a few months ago, about whom we have often spoken in investigations on the risks of Covid variants created by vaccine-resistance.
Covid-19, Epsilon Californian Mutation Resists to Vaccines. Delta's Massacre in Russia! As Sars-2 Bio-Weapons…
"It may also be a coincidence, but various cities in which they anticipated the flu shot two months later became red zones. I brought the evidence three years ago, I reported the danger of potentiation of the disease and they did not consider it. Indeed, after two months they started with the vaccination campaign without taking this serious risk into account. As for the flu vaccine, also for the Covid vaccine, besides the known and potential risks, we do not know how long its action lasts ", added the expert in an interview with on-line newspaper Affari Italiani.
Well, the data on suspected adverse reactions from gene vaccines seem to confirm what she hypothesized and also reported in two academic studies (one Chinese and one American) in relation to autoimmune problems and in particular to pulmonary immunopathology.
Of the approximately 23,000 deaths recorded by the EudraVigilance platform for European Medicine Agency since the start of the vaccination campaign, at least 10% are attributed to respiratory diseases. Those connected to classic pneumonia are a low number but in the types of reports there are various items afferent to various lung diseases that make a quick precise calculation impossible.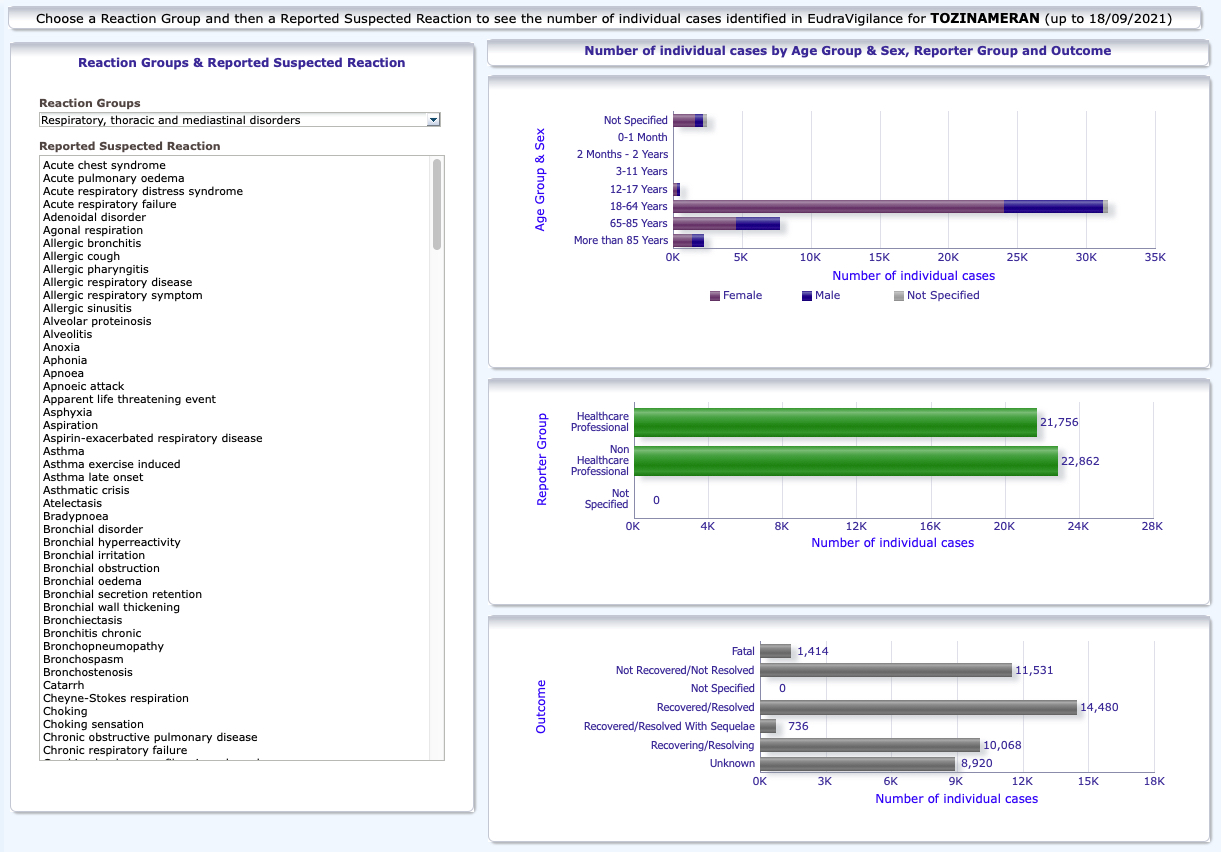 Out of 47,149 suspected adverse reactions from vaccines for respiratory diseases reported for Pfizer as many as 1,414 were fatal, about 14,000 were cured, 10,000 are recovering, but 11,531 have not yet been cured, 736 people have reported respiratory consequences after the recovery and as many as 8,920 are of unknown outcome: a number so high that it could magnify that of deaths.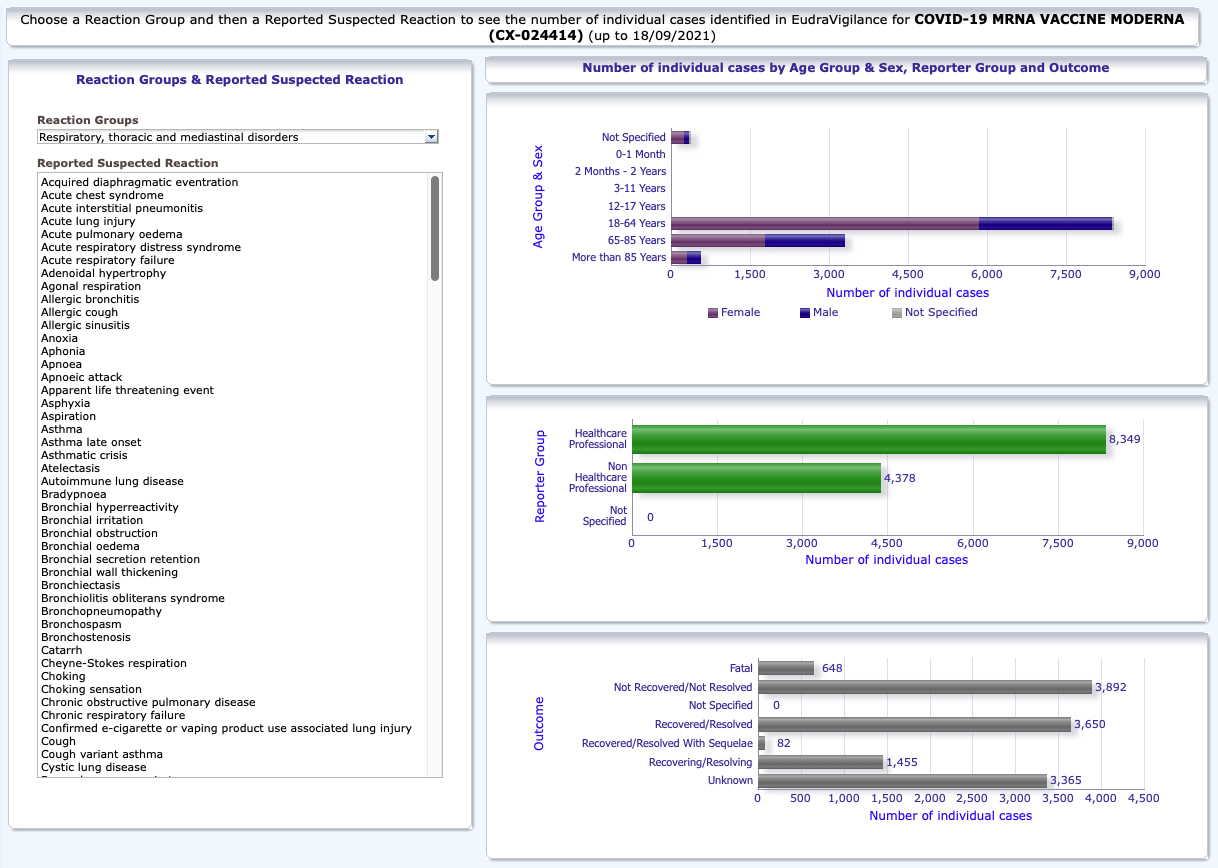 In the case of the analogue Moderna gene vaccine (less used than the other in the European Union) the EudraVigilance platform as of September 18 had collected 13,092 reports of suspected adverse reactions from vaccines for respiratory diseases of which 648 fatal, 3,650 were cured, 1,455 were in the recovery phase, but 3,892 have not yet been cured, 82 people have reported consequences to the respiratory system after recovery and as many as 3,365 are of unknown outcome: a number so high that it could magnify that of deaths. Just as cases of mysterious deaths continue to occur among newly vaccinated adolescents suspected of a correlation.
THE ALARM ON VACCINE PULMONARY IMMUNOPATHOLOGY
Gospa News was one of the first web media in the world to report a sensational scientific research published in October 2020 by six scientists from two Chinese universities in relation to the unknown risk of pulmonary immunopathology deriving from messenger RNA-based vaccines never tested before in the history of pharmacology.
Exclusive – "With Covid Vaccines Risks of Pulmonary's Serious Injuries". Shocking Research on Nature Journal, ignored by Scientific Community, Big Pharma and Media
«In this review, we provide an overview of the experimental and clinical data obtained from recent SARS-CoV-2 vaccines trials, and highlight certain potential safety issues that require consideration when developing vaccines».
This wrote researchers Yetian Dong, Tong Dai, Yujun Wei, Long Zhang, Min Zheng and Fangfang Zhou from various prestigious research centers (School of Medicine, Zhejiang University, Hangzhou; Life Sciences Institute and Innovation Center for Cell Signaling Network, Institutes of Biology and Medical Science, Soochow University – Suzhou, and Anhui Anlong Gene Technology Co., Ltd, Hefei) who have developed colossal work based on 144 previous scientific research from the past 15 years including that of Tseng, CT et al. with the immediately disturbing title "Immunization with SARS coronavirus vaccines leads to pulmonary immunopathology in the challenge with the SARS virus".
«Recent studies on cytokine changes in patients infected with SARS-CoV-2 also observed increased secretion of Th2 cytokines, which might contribute to the lung immunopathology. Thus, controlling the T-cell response must be considered when designing vaccines against SARS-CoV-2» added Chinese scientists.
A thesis confirmed by another American study conducted by researcher Alana F. Ogata of the Department of Pathology and the Division of Infectious Diseases of the Brigham and Women's Hospital in Boston (Massachussets, USA), of the Wyss Institute for Biologically Inspired Engineering of the Harvard University of same city at Harvard Medical School.
Boston's Research (even funded by Gates) reveals Unknown-Dangerous Risks in M-RNA Vaccine already Explained by Chinese Study
«We hypothesize that the cellular immune responses triggered by T-cell activation, which would occur days after the vaccination, lead to direct killing of cells 9 presenting spike protein and an additional release of spike into the blood stream . The mechanisms underlying release of free S1 and the subsequent detection of the intact spike protein remain unclear and require further studies» reads in Ogata's study.
Translated from strictly scientific to journalistic language, it has an unequivocal sense: the way in which messenger RNA vaccines interact with the S protein of SArs-Cov-2 in relation to T cells is unknown.
The same cells were considered the "critical point" of the vaccines of the Chinese study which, in autumn 2020, invited Big Pharma to be cautious and to carry out more research on the issue, but was in fact hidden from the international scientific community that squared around the antidotes against Covid-19 now in an advanced phase of clinical trials. In short, as claimed by Montagnier himself and other experts, the entire world population has become an involuntary human guinea pig for these vaccines whose functioning is unknown.
THE KING'S COLLEGE LONDON STUDY ON LUNG DAMAGE
A study, published in Lancet and BioMedicine and carried out by a group of Italian researchers from King's College London, University of Trieste and the Center for Genetic Engineering and Biotechnology (Icgeb) of Trieste – first signed by Rossana Bussani -, shows the characteristics that distinguish pneumonia from Covid-19 and could be responsible for the difficulty that several patients experience in returning to normal.
"VACCINARE IN PANDEMIA E' ARMA DI DISTRUZIONE DI MASSA" SOS Varianti del Biologo Trinca e del Virologo Montagnier
As reported on November 4, 2020 by the Italian newspaper Gazzettino, the team, led by Mauro Giacca, analyzed the lungs of 41 patients who died from Covid-19 from February to April. Autopsy findings showed extensive lung damage in most cases, with several patients showing replacement of the lung's respiratory tissue with scar and fibrous tissue.
Two – the researchers explain – are the other unexpected and specific aspects of the lungs of patients with Covid-19. The first is represented by a large presence of thrombi in large and small arteries and pulmonary veins, found in almost 90% of patients and caused by abnormal activation of the coagulation system in the lungs. The second finding was the presence of a series of abnormal cells, very large and with many nuclei, infected with the virus even after 30-40 days of hospitalization.
These cells arise from the ability of the virus's Spike protein to stimulate the fusion of infected cells with neighboring cells. "We are very stimulated by these observations – says Giacca – because the persistence of the virus for very long times after infection and the presence of these fused cells, syncytia, can explain why the virus causes so much inflammation and thrombosis".
"Covid-19: Spike-Toxin Inoculated through Vaccines". Scary Alert by Canadian Immunologist
The danger of the Spike, and therefore of its inoculation through vaccines, was also reported by the Canadian immunologist Bimar Bridle, associate professor of the University of Guelph (Ontario, Canada), who defined it as a real toxin for the human body. confirming the importance of Dr. Ogata's research.
For Serena Zacchigna (University of Trieste and Icgeb) these observations indicate that "Covid-19 is not only a disease caused by the death of cells infected by the virus, as for other pneumonia, but also by the persistence of these abnormal infected cells in the lungs". (read more)
THE WHOLE ARTICLE CONTINUES HERE
ead more… on Pentagon's underskin microchip for Covid
© COPYRIGHT GOSPA NEWS
no reproduction without authorization
---
MAIN SOURCES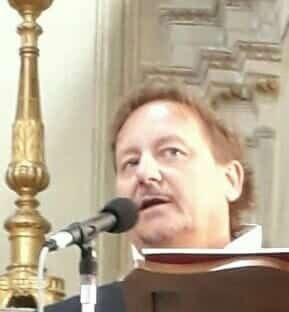 Fabio is Director and Editor of Gospa News; a Christian Information Journal.
Fabio Giuseppe Carlo Carisio, born on 24/2/1967 in Borgosesia, started working as a reporter when he was only 19 years old in the alpine area of Valsesia, Piedmont, his birth region in Italy. After studying literature and history at the Catholic University of the Sacred Heart in Milan, he became director of the local newspaper Notizia Oggi Vercelli and specialized in judicial reporting.
For about 15 years he is a correspondent from Northern Italy for the Italian newspapers Libero and Il Giornale, also writing important revelations on the Ustica massacre, a report on Freemasonry and organized crime.
With independent investigations, he collaborates with Carabinieri and Guardia di Finanza in important investigations that conclude with the arrest of Camorra entrepreneurs or corrupt politicians.
In July 2018 he found the counter-information web media Gospa News focused on geopolitics, terrorism, Middle East, and military intelligence.
His articles were published on many international media and website as SouthFront, Reseau International, Sputnik Italia, United Nation Association Westminster, Global Research, Kolozeg and more…
His investigations was quoted also by The Gateway Pundit, Tasnim and others
He worked for many years for the magazine Art & Wine as an art critic and curator.
ATTENTION READERS
We See The World From All Sides and Want YOU To Be Fully Informed
In fact, intentional disinformation is a disgraceful scourge in media today. So to assuage any possible errant incorrect information posted herein, we strongly encourage you to seek corroboration from other non-VT sources before forming an educated opinion.
About VT
-
Policies & Disclosures
-
Comment Policy
Due to the nature of uncensored content posted by VT's fully independent international writers, VT cannot guarantee absolute validity. All content is owned by the author exclusively. Expressed opinions are NOT necessarily the views of VT, other authors, affiliates, advertisers, sponsors, partners, or technicians. Some content may be satirical in nature. All images are the full responsibility of the article author and NOT VT.