by  Fabio Giuseppe Carlo Carisio for VT Italy
Versione originale in Italiano
In the end, the Italian Minister of the Interior sent the police armored vehicles with water hydrants and the cops with helmets, batons, shields and tear gas to send away the approximately 5 thousand demonstrators who had occupied part of the port for days international of Trieste.
The image of some workers kneeling to pray the Holy Rosary in front of police in riot gear is certainly destined to go around the world …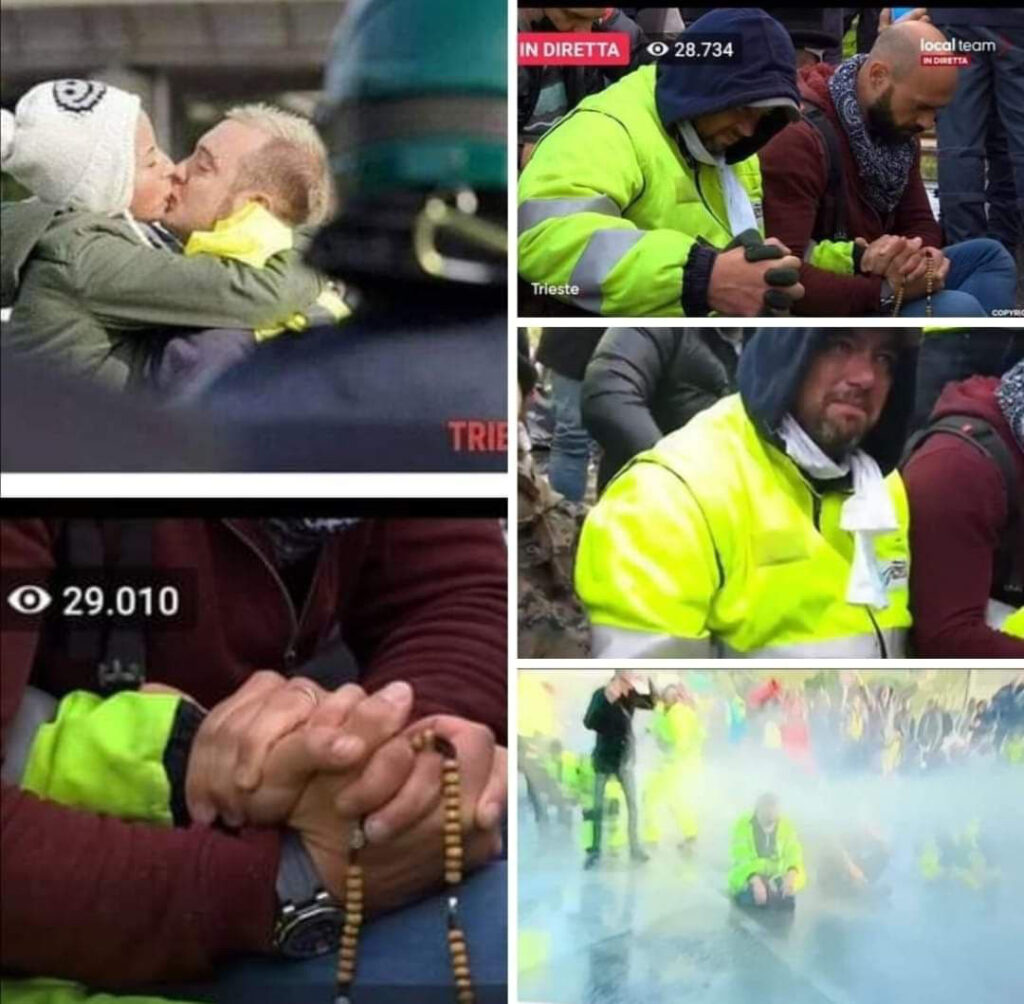 The peaceful protest, which began in the city on 11 October in view of the adoption of the compulsory Green Pass to enter both public and private workplaces, came to a head on October 15 when the certificate began to be requested from workers. A clear strategy to promote to promote the vaccines of the Big Pharma Moderna and Pfizer, controlled by Bill Gates and sponsor of the American president Joseph Biden, in an international alliance between the Democratic Parties of Italy and the US.
Chaos Green Pass in Italy: Assault on the Union's Headquarters by a Far-right Extremist former MI6 Agent. Police Official suspended for Protests
The Coordination of Port Workers of Trieste (Clpt) led by spokesman Stefano Puzzer (who later resigned and became leader of all the demonstrators) last Friday occupied gate 4 allowing those who wanted to go to work but considerably slowing down the traffic of goods in the most important Italian port and in one of the top ten of the whole of Europe by virtue of its intermodal network.
The dockers occupied a part of the port in a unauthorized strike.
There have been days of negotiations that have not led to any results. It should in fact be remembered that in Italy the Green Pass is issued to those who are vaccinated with at least one dose, to those who have recovered in the last six months or to those who have obtained a negative swab.
WUHAN-GATES – 32. Bill III, Vaccines' Global Emperor. Crowned by Big Pharma's Cartel within Gates Foundation's Deal
Precisely against the claim of a negative tampon, free in France, Austria and Scandinavian countries, but costing 15 euros in Italy, it was not accepted by the workers of the port, eager not to get vaccinated. To have the Green Pass and be able to work, in fact, they would have had to spend around 200-300 euros per month to be deducted from a salary that is certainly not high.
The Government, to reassure the workers, offered them free tampons, but the employees of the various private companies in the port did not accept the proposal as it was considered "a discrimination within an already discriminatory measure" in front of all the other Italian workers.
NO GREEN PASS: PRESIDIO AL PORTO VECCHIO DI TRIESTE IN ATTESA DEL MINISTRO. Dopo lo Sgombero della Polizia del Varco 4
And so the heroes of the fight against the Green Pass have become on Italian social networks, a measure contested by at least 30% of the Italian population just as the American military disputes the mandatory of vaccines.
This is why when on Monday morning the Minister of the Interior Luciana Lamorgese, taking a decision as a South American dictator, made the police armored vehicles intervene against the workers flanked by mothers with children throughout Italy, indignation grew. Many people, men and women of all ages, in Trieste started singing the national anthem in front of the policemen with the final phrases "We are ready to die, we are ready to die. Italy called! "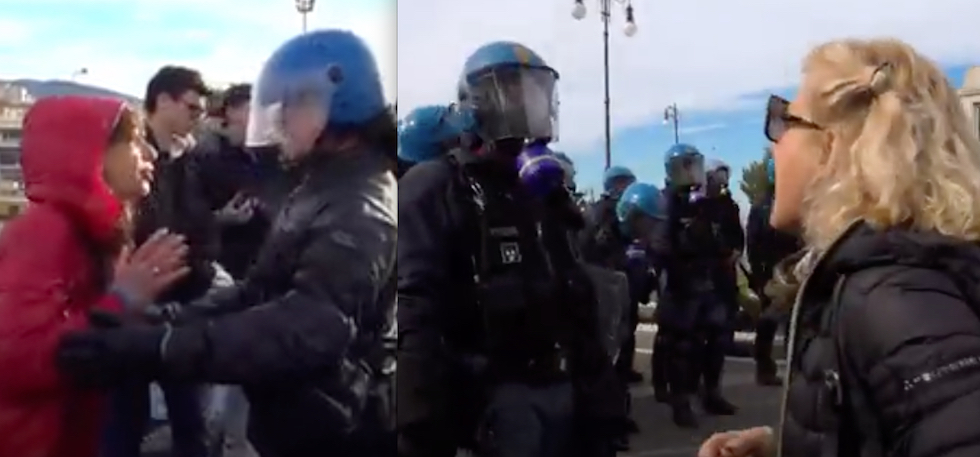 Gate 4 was cleared but about 10 thousand people moved to the large Piazza Unità d'Italia in Trieste and in the evening they agreed to move to the Old POrt for a garrison that will last in the coming days while waiting to speak with a government minister.
Their request is clear: withdrawal of the compulsory vaccination for health and school workers, and withdrawal of the obligation of Green Pass to go to work in public and private places.
Their removal by force by the police (only one person slightly injured according to the first reports) aroused the reaction of colleagues in the ports of Genoa and Ravenna, blocked for a few hours. But above all, it brought rivers of people to the streets in Milan, Bologna and Verona. Many people song
NWO's Plot against Italy (XFile 6). Mandatory Vaccines for Health Workers Dictated by Minister close to Soros
Now the government of Prime Minister Mario Draghi, supported by the Democratic Party that has adhered to the global immunization plan of Bill Gates and the Barack Obama administration since 2014 until 2021 to Joseph Biden one sponsored by Pfizer, faces a nightmare scenario: canceling all obligations or having to face street protests that are becoming more and more hard.
More Details on Italian Version with simultaneous Machine Translation
Fabio Giuseppe Carlo Carisio
© COPYRIGHT GOSPA NEWS
no reproduction without authorization
follow Gospa News on Telegram
---
MAIN SOURCES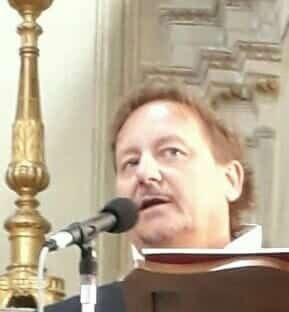 Fabio is Director and Editor of Gospa News; a Christian Information Journal.
Fabio Giuseppe Carlo Carisio, born on 24/2/1967 in Borgosesia, started working as a reporter when he was only 19 years old in the alpine area of Valsesia, Piedmont, his birth region in Italy. After studying literature and history at the Catholic University of the Sacred Heart in Milan, he became director of the local newspaper Notizia Oggi Vercelli and specialized in judicial reporting.
For about 15 years he is a correspondent from Northern Italy for the Italian newspapers Libero and Il Giornale, also writing important revelations on the Ustica massacre, a report on Freemasonry and organized crime.
With independent investigations, he collaborates with Carabinieri and Guardia di Finanza in important investigations that conclude with the arrest of Camorra entrepreneurs or corrupt politicians.
In July 2018 he found the counter-information web media Gospa News focused on geopolitics, terrorism, Middle East, and military intelligence.
His articles were published on many international media and website as SouthFront, Reseau International, Sputnik Italia, United Nation Association Westminster, Global Research, Kolozeg and more…
His investigations was quoted also by The Gateway Pundit, Tasnim and others
He worked for many years for the magazine Art & Wine as an art critic and curator.
ATTENTION READERS
We See The World From All Sides and Want YOU To Be Fully Informed
In fact, intentional disinformation is a disgraceful scourge in media today. So to assuage any possible errant incorrect information posted herein, we strongly encourage you to seek corroboration from other non-VT sources before forming an educated opinion.
About VT
-
Policies & Disclosures
-
Comment Policy
Due to the nature of uncensored content posted by VT's fully independent international writers, VT cannot guarantee absolute validity. All content is owned by the author exclusively. Expressed opinions are NOT necessarily the views of VT, other authors, affiliates, advertisers, sponsors, partners, or technicians. Some content may be satirical in nature. All images are the full responsibility of the article author and NOT VT.