by Fabio Giuseppe Carlo Carisio for VT Europe
Published on February, 9, at 8,42 PM EST
While the French newspapers continue to surprisingly ignore the news of the death of professor Luc Montagnier and the Italian ones report it in dubious terms as a true mystery, France Soir has relaunched another Tweet stigmatizing the silence of the media and politicians on the disappearance of Montagnier.
QUANDO MONTAGNIER RICONOBBE I MIRACOLI DI LOURDES. "Molti Scienziati Rifiutano ciò che non Capiscono"
"Faced with the appalling silence of the media and the political class after the death of Professor Montagnier, the Nobel Prize for Medicine @france_soir and @ BonsensOrg are calling for a day of national mourning in memory of this great French scientist of international fame".
Devant le silence consternant des médias et de la classe politique suite à la disparition du Pr Montagnier, prix Nobel de médecine @france_soir et @BonsensOrg demandent un jour de deuil national à la mémoire de ce grand scientifique français de renommée internationale.

— FranceSoir (@france_soir) February 9, 2022
Difficult to understand how but they killed another one! It is the only shocked comment we can add to the sudden death of Luc Montagnier, winner of the Nobel Prize for Medicine in 2008 for the discovery of that HIV which he found traces in SARS-Cov-2 confirming the research that 9 biological Indians were forced to retract.
The death of him, initially disseminated by various media in the midst of a flurry of denials, was confirmed by France Soir who had also given space to the French virologist's accusations about the artificial origin of the Covid-19 pandemic virus.
WUHAN-GATES – 3. "COVID-19 Created in Lab with HIV". Medicine Nobel confirms Indian Research disclosed by Gospa News
"At the age of 89 (August 18, 1932 – February 8, 2022), Professor Luc Montagnier died at the American hospital in Neuilly-sur-Seine. Doctor Gérard Guillaume, one of his most faithful collaborators, tells us that he left in peace, surrounded by his children" writes France Soir referring to the hospital in the municipality of Hauts-de-Seine, a region bordering the city of Paris .
He was emeritus director of the "Center national de la recherche scientifique" and of the Viral Oncology Unit of the Pasteur Institute in Paris where in 1983, together with Françoise Barré-Sinoussi, he discovered the HIV virus. The scientific achievement earned the two the Nobel Prize for Medicine in 2008.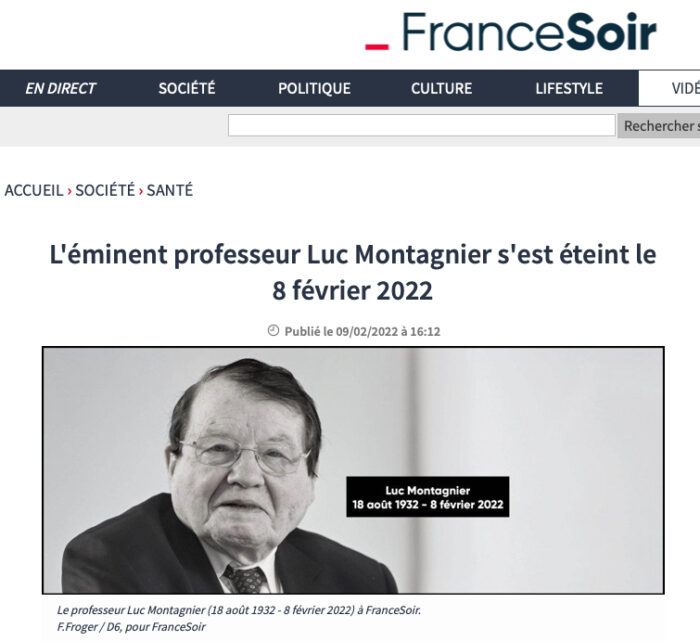 His death took place on Tuesday 8 February, on the same day as the funeral of the Italian biologist Franco Trinca struck down by a very violent and suspicious form of Covid-19 despite being in excellent health and used to take care of himself with a thousand precautions.
Trinca had often taken up the complaints of the internationally renowned French scientist who, having worked in the field of vaccines, had denounced the dangers of gene serums based on messenger RNA above all for the risk of creating degenerative brain diseases from prions, as highlighted in our latest investigation.
Italian Biologist NO VAX Killed by a Very Lethal and Suspect Covid. After Contacts with Prosecutors on Therapies Ignored by Govt
"He was a biologist and virologist, but also and above all a man of remarkable intelligence, who lived for science. In addition to being named Nobel Prize in Medicine in 2008 for the discovery of the HIV virus, during his life he worked alongside the largest scientific institutes in the world. Research director emeritus at CNRS, professor at Institut Pasteur, director of the Center for Molecular and Cellular Biology at Queens College of the City University of New York, director of a research institute at Jiao-tong University in Shanghai. He has supported the Academy of Sciences and the National Academy of Medicine for many years through his search for him. For this he has received countless prizes and awards" adds France Soir.
Despite his advanced age and despite all the criticisms suffered in the autumn of his life, especially from the scientific community, Luc Montagnier has always fought for free science. "We were lucky enough to be able to welcome him several times at France Soir and we would like to do him all the honors that are due to him" concluded France Soir.
WUHAN.GATES – 41. "SARS-2 IS A BIO-WEAPON". Complaint to the Hague Court with Montagnier Expertise. US Intelligence "split" between Natural or Laboratory Virus
Precisely for this reason, there was no problem in publicly supporting the thesis of the SARS-Cov-2 virus of artificial origin, later confirmed by the French bio-engineer Pierre Bricage in another research and recently by the American colonel Lawrence Sellin, already in force in the military Biological Laboratories of Fort Detrick (Maryland) which revealed in detail the project rejected by DARPA (the Defense Advanced Research Projects Agency of the Pentagon) because it was too dangerous. We will see in WuhanGates 47 where was continued.
WUHAN-GATES – 8. "SARS-2: Virus GMO built with HIV". Bio-engineer, ex NATO Lecturer, destroyed Natural Origin Theory
"Vaccinating in a pandemic is a weapon of mass destruction," declared Montagnier echoing fellow Belgian virologist Geert Vanden Bossche who worked itch for Bill Gates' Gavi Alliance except to leave for a fight over one of the vaccines for global immunization.
WUHAN-GATES – 46. "SARS-COV-2 Designed Bioweapon. Toxic structure May be Replicated in Vaccines". US Army Ret. Colonel said
As already highlighted in a previous WuhanGates 34 investigation those virologists who come too close to the SARS truth mysteriously die from sudden diseases often justifiable by age. The inexplicable suicide of Giuseppe De Donnowas not, deprived of the possibility of making a protocol of his treatment on hyper-immune plasma due to an intervention by Big Pharma always close to Gates.
"Mass Vaccination during a Pandemic can Promote Variants more Infectious". Montagnier, Vanden Bossche (ex Expert of Gates' NGO) and Trinca said
Montagnier's accusations about the dangerousness of experimental gene sera reached a climax during a very recent appearance in the parliament of the Lussumbergo for a conference of a No Vax association.
In this circumstance he explained in detail the danger of the internal mechanism of the spike that could allow some elements of the vaccine to transform into prions, triggering a neurodegenerative disease of Creutzfeldt-Jakob (from which also derives the mad cow syndrome) and other diseases connected to these infectious protein nanoparticles (acronym Prion in English) which are rather particular infectious agents: they do not contain DNA or RNA and are completely different from viruses and bacteria.
VACCINI: ALLARME PRIONI "MUCCA PAZZA". Montagnier "21 Morti dopo Dosi mRNA". 5 Studi su Spike-SARS2 e Degenerazione Cerebrale
The news has aroused such disbelief among millions and millions of his fans that despite the cover of France Soir in large letters after three hours there are still those who are not convinced that his death really happened. It is the first time in my journalistic career that I hope to have to deny a news I have just written…
Fabio Giuseppe Carlo Carisio
© COPYRIGHT GOSPA NEWS
prohibition of reproduction without authorization 
follow Gospa News on Telegram
---
MAIN SOURCES
GOSPA NEWS – WUHAN-GATES DOSSIER
GOSPA NEWS – CORONA VIRUS REPORTS
WUHAN.GATES – 34. COVID IS A SCIENTIST's KILLER… Who Discovered SARS Viruses Died!
Covid: Found Hung Italian MD of Plasma-Therapy: supported by Tom Hanks but Stolen by Gates' Big Pharma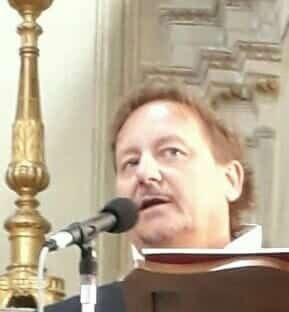 Fabio is Director and Editor of Gospa News; a Christian Information Journal.
Fabio Giuseppe Carlo Carisio, born on 24/2/1967 in Borgosesia, started working as a reporter when he was only 19 years old in the alpine area of Valsesia, Piedmont, his birth region in Italy. After studying literature and history at the Catholic University of the Sacred Heart in Milan, he became director of the local newspaper Notizia Oggi Vercelli and specialized in judicial reporting.
For about 15 years he is a correspondent from Northern Italy for the Italian newspapers Libero and Il Giornale, also writing important revelations on the Ustica massacre, a report on Freemasonry and organized crime.
With independent investigations, he collaborates with Carabinieri and Guardia di Finanza in important investigations that conclude with the arrest of Camorra entrepreneurs or corrupt politicians.
In July 2018 he found the counter-information web media Gospa News focused on geopolitics, terrorism, Middle East, and military intelligence.
His articles were published on many international media and website as SouthFront, Reseau International, Sputnik Italia, United Nation Association Westminster, Global Research, Kolozeg and more…
His investigations was quoted also by The Gateway Pundit, Tasnim and others
He worked for many years for the magazine Art & Wine as an art critic and curator.
ATTENTION READERS
We See The World From All Sides and Want YOU To Be Fully Informed
In fact, intentional disinformation is a disgraceful scourge in media today. So to assuage any possible errant incorrect information posted herein, we strongly encourage you to seek corroboration from other non-VT sources before forming an educated opinion.
About VT
-
Policies & Disclosures
-
Comment Policy
Due to the nature of uncensored content posted by VT's fully independent international writers, VT cannot guarantee absolute validity. All content is owned by the author exclusively. Expressed opinions are NOT necessarily the views of VT, other authors, affiliates, advertisers, sponsors, partners, or technicians. Some content may be satirical in nature. All images are the full responsibility of the article author and NOT VT.