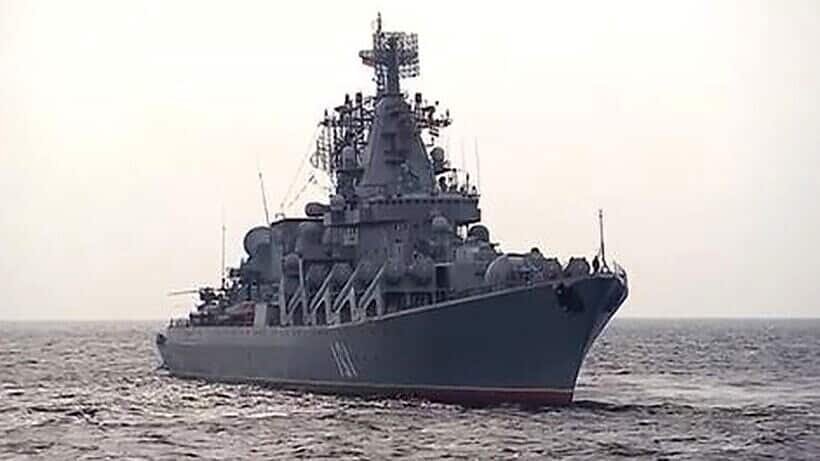 The Shrimp is back, refreshed from his vacation! As expected there's still a war to report on. This one isn't going to end any time soon, although I'm expecting it to be shorter than the Crimean War (1853-1856). Russia's change of command, with General Aleksandr Dvornikov being put in overall command, could be as significant as Churchill's replacement of General Auchinleck by General Montgomery in August 1942.
Russia's prosecution of the war to date has been marked, I am sorry to say, by a lack of coordination between different arms, poor tactical intelligence, a confused strategy and a failure to learn the lessons of the Iraq War over the need to give greater protection to main battle tanks engaged in urban warfare.
Ground conditions in northern Ukraine are clearly not favoring large-scale armored warfare. I make no apology for my continued reference to the importance of ground conditions since first predicting a Russian move against Ukraine in November 2020. Russian armor is now largely confined to roads, leading to the same problems XXX Corps encountered in 1944 in their drive on Arnhem. If possible you should try and avoid queuing tanks on a main road!
General Dvornikov
A graduate of the Frunze Military Academy and former regimental commander in the famous Taman Guards Division, Aleksandr Dvornikov is a serious military commander. I ignore the 'Butcher of Syria' nonsense. The MSM are almost incapable of objective comment on anything to do with President Putin, Russia or the Russian military.
It seems like the strategy of pulling back the forces besieging Kiev and refocusing on the Donbas has come from General Dvornikov. I suspect that the siege of Kiev will resume once ground conditions have firmed up.
The siege of Mariupol seems finally to be drawing to a close. The port had held out for much longer than I expected, but then I didn't know about that bioweapons lab beneath the steel works! Mariupol has assumed far greater strategic significance than most commentators realised.
It may have started out as a small war but it's turning into a medium-sized one. If the assault on Kiev really is not going to be resumed until the ground firms up then the war is going to go into the summer. It's turning into a war of attrition, which the Ukrainians will lose.
The 'Auk'
I should not be thought of as saying by the way that Field Marshal Sir Claude Auchinleck was a poor soldier. Very far from it – he was a fine commander and did excellent work in the First Battle of El Alamein, where our community partner Rommel was stopped, and in the China-Burma-India Theater. He was admittedly more used to commanding Indian troops and probably did not choose subordinates well, but he was a great general nonetheless.
Silly war crimes allegations
There's no need to take the latest crop of war crimes allegations seriously. Russian forces had withdrawn from Bucha by 31st March. My analysis is that the unarmed civilians in question were massacred by members of the notorious, neo-Nazi Azov Battalion, possibly dressed in Russian uniforms and posing as Russians.
The Kramatorsk railroad station incident is easily explained. It looks as though the Ukrainians deliberately intercepted a couple of Russian missiles with a view to having them crash on to the station and kill fleeing civilians. It's possible that the missiles landed on the station complex unintentionally, having been intercepted, but with the evil Ukies, no offense intended, looking for every opportunity to kill their own civilians and blame it on the Russians it would be a surprising coincidence.
The alleged chemical weapons attack looks like a straightforward set-up, Syria style. I have no doubt that chemicals were used, but they will have been supplied by either the Germans or the Ukrainians. They won't have been anywhere near Russia.
As I have pointed out before if the MSM want fewer civilian deaths they need to stop falling for every allegation the Ukies put out. It only encourages them to murder more!
It is a moot point as to whether these various atrocities were personally sanctioned by President Zelensky. If any of them were then he should be given a fair trial and shot, no offense intended.
Who sank the Moskva?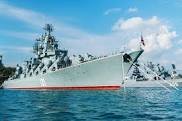 Sadly the Russian guided missile cruiser RFS Moskva sank on Thursday. It seems that her air defenses were distracted by one or more drones and that she was hit by two Ukrainian Neptune anti-ship missiles, at least one of which struck her own deck-mounted anti-ship missiles. Thankfully most of her crew seem to have survived.
Originally the lead ship of the Slava class (she was later renamed), she was an aged but powerful unit whose loss will have been a severe blow to the Russian Navy. The Ukies and NATO have been planning this war for some time. President Putin is right with respect – Kiev was clearly planning an offensive in the Donbas.
The development of vehicle mounted anti-ship missiles was clearly an attempt to counter Russia's overwhelming superiority in the Black Sea. The Neptune only became fully operational last year, a factor which may have affected the timing of the planned Ukrainian strike against the Donbas.
The GRU are right with respect to query the extent to which Ukraine received international assistance in the development of the Neptune, an upgrade of an earlier Russian missile. Western operatives may even have assisted in the attack on the Moskva in the way that French naval personnel fired the Exocet which struck HMS Glamorgan in the Falklands War 40 years ago.
French election wrap
As predicted, putting the matter as neutrally as I can, the pro-German scumbag Emmanuel Macron and that nice lady Marine Le Pen are going through to the second round of the French presidential election on April 24th. There are a number of variables, making predicting the winner difficult.
First and foremost the election may not be fair. If the Germans can tamper with a US election to get a tame president elected they can tamper with a French election. The next variable is how the vote for the third placed candidate, left-wing nutter, no offense intended, Jean-Luc Melanchon, will split.
He's asked his supporters not to vote for Marine, but, intriguingly, hasn't endorsed Macron. The third big variable is whether Macron can find some campaigning skills between now and the 24th. Like many installed politicians he's good at crawling, no offense intended, but not so good at running.
I suspect that Melanchon's vote will split roughly three ways – about a third won't vote at all, about a third will vote for Macron and about a third will vote for Marine. It's too close to call.
Marine is gaining on Macron in the polls. The polls themselves probably have a 5% bias against her, and she loves cats. She could win. The smart  money is probably on the dumb candidate, that is to say Macron, but watch this space!
This week's movie review: Operation Mincemeat (2021, dir. John Madden)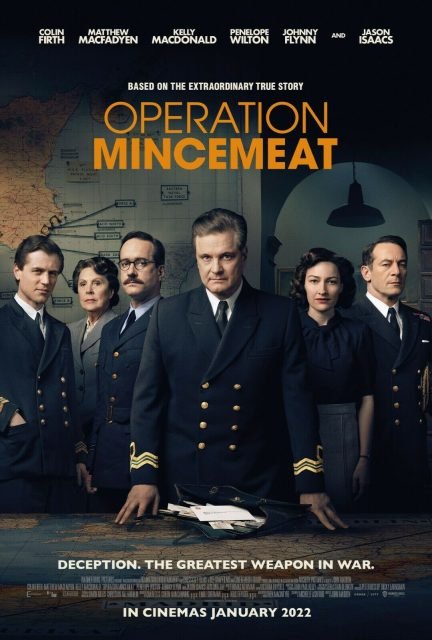 Released to theaters in the UK on Good Friday this outstanding movie is based on Ben Macintyre's popular 2010 history of the most famous deception operation of World War II, which involved floating a corpse off the coast of Spain with fake secret documents suggesting that the Allies were going to invade Greece and Sardinia, not Sicily. The idea originally came from the brilliant naval intelligence officer Ian Fleming, of 007 fame.
The story originally appeared on the silver screen in the 1956 black and white movie The Man Who Never Was, starring Clifton Webb as Lt-Cdr Ewen Montagu KC, the brilliant barrister turned intelligence officer who masterminded the operation. Montagu even appeared in the film himself, uncredited, as an Air Vice Marshal.
There is no way that a modern cast could be assembled matching that of the 1956 movie, which included Laurence Naismith, William Russell, Moultrie Kelsall, Cyril Cusack, Andre Morell, Sir Michael Hordern, Allan Cuthbertson and Miles Malleson. However Operation Mincemeat features a strong cast, led by Colin Firth, who plays Ewen Montagu.
The production standards are way higher than the 1956 movie. A huge effort has been made to recreate wartime London, with lots of pre-war cars. (Not many new cars in wartime Britain, of course.) There are some genuinely funny moments, and some moving ones as well.
The special effects, mainly involving the corpse, are very well done. I particularly liked the autopsy scene in Spain! Coming soon in the States on Netflix this is a movie well worth watching.
However it does not tell the whole story. How could it? The entire operation was betrayed from the beginning by the Abwehr's Frank Foley, who was on the XX Committee, which sanctioned the scheme, and was closely involved. At least two high-ranking German agents, Dwight D. 'von' Eisenhower and Lord Louis Mountbatten, helped provide the deception material.
Admiral Canaris wasn't fooled for a minute. Hitler was, but then he was easier to fool. No fewer than 17 German divisions were moved to Greece and the Balkans and the liberation of Sicily proceeded smoothly. Canaris's assets in Britain and America were too valuable to lose, so he sacrificed Sicily to protect them. Since he maneuvered Eisenhower into the White House and Mountbatten into the post of Chief of the Defence Staff it's difficult to fault his judgment. I'd hate to have played him at chess!
Happy Easter!
Happy Easter everybody! Please keep the Paypal donations coming! They dried up after I announced I was going on vacation. Maybe I should have explained that it was largely paid for by a kind gentleman friend!
Thank you for chipping in to keep my work going.
---
Naturally I am going to burden all y'all with a holiday snap – this is me out dolphin watching, and yes a couple of nice dolphins duly put in an appearance.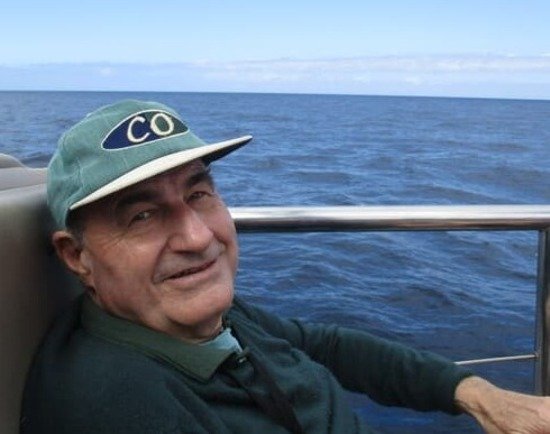 ---
.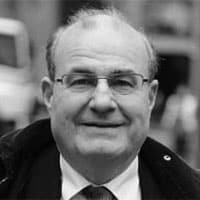 Michael Shrimpton was a barrister from his call to the Bar in London in 1983 until being disbarred in 2019 over a fraudulently obtained conviction. He is a specialist in National Security and Constitutional Law, Strategic Intelligence and Counter-terrorism. He is a former Adjunct Professor of Intelligence Studies at the American Military University.
Read Articles from Michael Shrimpton;
ATTENTION READERS
We See The World From All Sides and Want YOU To Be Fully Informed
In fact, intentional disinformation is a disgraceful scourge in media today. So to assuage any possible errant incorrect information posted herein, we strongly encourage you to seek corroboration from other non-VT sources before forming an educated opinion.
About VT
-
Policies & Disclosures
-
Comment Policy
Due to the nature of uncensored content posted by VT's fully independent international writers, VT cannot guarantee absolute validity. All content is owned by the author exclusively. Expressed opinions are NOT necessarily the views of VT, other authors, affiliates, advertisers, sponsors, partners, or technicians. Some content may be satirical in nature. All images are the full responsibility of the article author and NOT VT.