On October 17, Japanese Prime Minister Fumio Kishida ordered an investigation into the Unification Church, a religious sect that has come under increasing scrutiny since the assassination of former Prime Minister Shinzo Abe.In the past, the group had been accused of defrauding members and seeking to establish ties with right-wing politicians to influence public policy. Since Abe's assassination, numerous politicians in the ruling Liberal Democratic Party (LDP) have been found to have previously undisclosed ties with the organization.
The shocking July assassination was apparently motivated by the killer's personal grudge against the Unification Church rather than political grievances with Abe. The assailant, who had reportedly planned to assassinate the church's current leader, instead chose to target Abe because of his connection to the group and alleged activities promoting it.
Abe had been a leader within the LDP and was one of Japan's most influential political leaders in the modern era, enacting an ambitious set of economic policies, significantly expanding Japan's role on the international stage, and re-energizing the U.S.-Japan security alliance in the face of an increasingly assertive China during his time as Prime Minister. His tragic killing, however, called into question long-standing ties between the LDP and the Unification Church, threatening his personal legacy and his former party's political credibility.
As US and EU make the Global Economy Scream, Provincializing Euro-America in the Asian 21st Century
The Unification Church, officially known as The Family Federation for World Peace and Unification, was founded in 1950s South Korea by committed anti-communist Reverend Sun Myung Moon, expanding to Japan shortly thereafter. The Unification Church's status as a religious organization provides it with tax exemptions for donations and sales of religious paraphernalia, both of which constitute major sources of revenue for the group. For decades, the group, considered a cult by critics, has faced accusations of employing predatory recruitment techniques, including brainwashing, and has been accused of coercing its adherents into making financially ruinous donations to the organization.
The religious sect has also made concerted efforts to develop relationships with conservative political parties worldwide, including the U.S., where it maintains a presence and has inspired the formation of far-right offshoot groups. Earlier this month, nearly half of the LDP's 379 sitting lawmakers reported having direct or indirect ties to the group in an internal party survey. Although the influence seems to be concentrated in the LDP, the opposition party has also disclosed that a handful of its members had some form of interaction with the group. Some politicians reportedly received donations from the group, while others received organizational support during their campaigns.
Gates, Most Dangerous Man on the Earth. After Funding Virus and Vaccines Will Play with Nuclear in Japan
The church wields immense vote-gathering power, with a readily deployed force of volunteers onto the campaign trail – a valuable and strategic asset in a country where campaigns rely heavily on volunteers due to campaign finance laws. Despite PM Kishida's claims that these relationships did not influence legislative processes, accusations are now circulating that the sect did influence select lawmakers. Some have accused the group of persuading political leaders to agree on policies that the church desired to promote in exchange for political endorsement and support in past elections. The policies ranged from amending the country's pacifist constitution and bolstering security capabilities, to issues around sexuality and same-sex marriage.
Relations between the powerful LDP party, which has dominated politics in post-war Japan, and the Unification Church are now threatening the party's popularity. Following recent revelations, Prime Minister Kishida's approval ratings have plummeted to 27.4%, their lowest level since he assumed office one year ago. The popular outcry stems from the fact that a small, controversial religious group has such widespread ties with members of the ruling party. Moreover, this summer, there was a backlash against the idea of granting former Prime Minister Abe a state funeral due in part to concerns over his connection to the Unification Church.
Asia's new 'Donors': the Paris Club and Dollar Debt Colonialism. Wither Reform of the International Development Architecture?
Also this summer, following media reports of the political influence allegedly wielded by the Unification Church, the phrase "After all, the Unification Church and the LDP are one and the same," was trending on Japanese Twitter. Although PM Kishida's call for LDP lawmakers to cut all ties with the Unification Church was popular, many remain skeptical that the party will be able to do so. The decision to initiate an investigation was, in part, a reaction to this popular backlash and the mounting evidence suggesting a nexus between the ruling party and the fringe religious group.
The investigation announced last week will hinge on whether the group has violated the law by "conducting activities significantly damaging public welfare," such as financially preying on its members. Freedom of religious expression is protected under the Japanese constitution, so the results of the investigation will be reviewed by Japan's judiciary. However, the probe could result in the Unification Church losing its tax-exempt status as a religious organization. Poll numbers collected before PM Kishida's announcement showed that 73% of those surveyed viewed the government response to the scandal negatively. Thus, the probe may be an important step in reaffirming public confidence in the ruling government.
"Many Side Effects Risks". Japan Health Ministry Shoots Down Mandatory COVID Jabs
Public trust in authorities and institutions is low in many parts of the world following the Covid-19 pandemic and the subsequent economic uncertainty. The LDP's recent controversy has further eroded popular support for the government as it seeks to kickstart Japan's so-far lethargic economic recovery from the pandemic. The United States GDP returned to pre-pandemic levels a full year ahead of Japan. Heavily linked to the U.S. and Chinese markets, Japan's economy may be poised to follow its major trading partners into another economic slowdown. The ongoing controversy surrounding PM Kishida's government will leave him little margin for error as he seeks to steer Japan away from economic stagnation.
Originally published by The Soufan Center
---
ABOUT TSC
The Soufan Center (TSC) is an independent non-profit organization offering research, analysis, and strategic dialogue on global security challenges and foreign policy issues, with a particular focus on counterterrorism, violent extremism, armed conflict, and the rule of law. Our work is underpinned by a recognition that human rights and human security perspectives are critical to developing credible, effective, and sustainable solutions. TSC fills a niche role by producing objective and innovative reports and analyses, and fostering dynamic dialogue and exchanges, to effectively equip governments, international organizations, the private sector, and civil society with key resources to inform policies and practice.
THIS IS A HEARTH After PFIZER Covid Vaccines! Fatal Strange Blood Clots revealed by the Autopsy of Japanese Researchers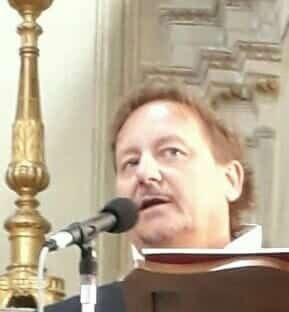 Fabio is Director and Editor of Gospa News; a Christian Information Journal.
Fabio Giuseppe Carlo Carisio, born on 24/2/1967 in Borgosesia, started working as a reporter when he was only 19 years old in the alpine area of Valsesia, Piedmont, his birth region in Italy. After studying literature and history at the Catholic University of the Sacred Heart in Milan, he became director of the local newspaper Notizia Oggi Vercelli and specialized in judicial reporting.
For about 15 years he is a correspondent from Northern Italy for the Italian newspapers Libero and Il Giornale, also writing important revelations on the Ustica massacre, a report on Freemasonry and organized crime.
With independent investigations, he collaborates with Carabinieri and Guardia di Finanza in important investigations that conclude with the arrest of Camorra entrepreneurs or corrupt politicians.
In July 2018 he found the counter-information web media Gospa News focused on geopolitics, terrorism, Middle East, and military intelligence.
His articles were published on many international media and website as SouthFront, Reseau International, Sputnik Italia, United Nation Association Westminster, Global Research, Kolozeg and more…
His investigations was quoted also by The Gateway Pundit, Tasnim and others
He worked for many years for the magazine Art & Wine as an art critic and curator.
ATTENTION READERS
We See The World From All Sides and Want YOU To Be Fully Informed
In fact, intentional disinformation is a disgraceful scourge in media today. So to assuage any possible errant incorrect information posted herein, we strongly encourage you to seek corroboration from other non-VT sources before forming an educated opinion.
About VT
-
Policies & Disclosures
-
Comment Policy
Due to the nature of uncensored content posted by VT's fully independent international writers, VT cannot guarantee absolute validity. All content is owned by the author exclusively. Expressed opinions are NOT necessarily the views of VT, other authors, affiliates, advertisers, sponsors, partners, or technicians. Some content may be satirical in nature. All images are the full responsibility of the article author and NOT VT.