by Fabio Giuseppe Carlo Carisio for VT Europe
«Increasingly lethal military aid to Ukraine from NATO powers is "deeply immoral" and will only extend Kiev's bloody conflict with Russia, causing more casualties and heightening the risk of nuclear war in a pointless pursuit of absurd goals, Croatian President Zoran Milanovic has claimed» Russia Today wrote.
"I am against sending any lethal weapons there," Milanovic told reporters at a briefing in Petrinja, south of Zagreb. "It's only prolonging the war. What's the goal? Carving up Russia? Regime change? They're talking about partitioning Russia. This is madness."
Zoran Milanović (born 30 October 1966) is a Croatian politician serving as President of Croatia since 19 February 2020. Prior to assuming the presidency, he was prime minister from 2011 to 2016 and president of the Social Democratic Party from 2007 to 2016.
War Correspondents' Appeal for Peace in Ukraine and vs Weapons' Race. On Mediaset Berlusconi's Christmas Gift to Putin
Milanovic made his comments after the governments of Germany and the US last week announced that they had decided to send battle tanks to Ukraine. Moscow has warned that such aid creates a greater risk of escalation, especially if Western weapons are used to strike Russian cities or try to seize Russian territory. Nevertheless, Washington and its top NATO allies have pledged to continue arming Ukraine for as long as it takes to win the conflict – however Kiev defines victory.
NATO Leopard for the Ukraine War Escalation. "Only very Experts can Manage its Power". Analysis by former Italian Tank Commander
Ukrainian President Vladimir Zelensky has vowed to retake all lost territories, including Crimea, which became part of Russia following the overthrow of Kiev's elected government in 2014. Milanovic argued that Crimea "will never be Ukraine" – a point on which even Germany's generals agree.
"This is deeply immoral, what we're doing, the collective West," the Croatian president said. "German tanks will just unite the Russians, and China. My goal is to distance ourselves [Croatia] from it, to not be circus dogs. Any kind of participation in this is deadly dangerous."
Russian Orthodox Church's Patriarch issues Apocalyptic Warning. Musk against "Relentless Escalation" in Ukraine
Milanovic said efforts to provoke conflict with Russia had been ongoing since 2014, "and a war broke out." He warned that NATO leaders shouldn't assume that they can treat Russia like Serbia, which the Western bloc bombed in 1999 amid violence in Kosovo. The breakaway province later declared its independence from Serbia.
Dangerous "Situation in Kosovo resembles Ukraine Donbass Crisis" before the Conflict. Russian Envoy said on RT
"Please understand Russia is not the same as Serbia," Milanovic said. "That's a painful fact, and dangerous. We annexed Kosovo, us and the international community. It was taken from Serbia. Did we not do it? Did we not recognize Kosovo? Oh it's not an annexation, it's a seizure? Whatever. This isn't about Kosovo, but about the concept."
"BRUSSELS IS TERRORISING HUNGARY"
A few days ago the Croatian President Zoran Milanović travelled to Budapest at the invitation of Hungarian President Katalin Novák. He was received by his Hungarian counterpart at the Sándor Palace on January, 20, 2023.
Orban Leads the Rebellion on EU sanctions against Russia. Hungary Gains from new Deal with Gazprom. Visa Ban's Agree Failed
As reported by Saily News Hungary, «According to the politician, although they have different political views, this does not change the fact that the two countries have been good neighbours for a long time. "We disagree on some ideological issues, but it turned out that I was one of the few people who dared to go there," said Zoran Milanović"».
"Hungarian politics is different, but these democrats are terrorising them terribly", the Croatian president said, referring to Brussels.
Ukraine's allies have drifted into war but Hungary won't, Orban says
In an interview with Hungarian state radio, Viktor Orban said Germany's decision on Wednesday to send 14 Leopard 2 tanks to Ukraine was emblematic of the increasing role Western countries are playing in the war, now in its 12th month.
«Rather than arming Ukraine, the West should pursue "a ceasefire and peace talks," Orban said, without giving details of what he imagined such negotiations would mean for Ukraine's future territorial integrity" CBC reported on January, 27, 2023.
Russia will Destroy US Abrams and German Leopard Tanks if Kiev gets them. Moscow Ambassador in Washington said
"It started with the Germans saying they were willing to send helmets, because they wouldn't send lethal tools into the war since that would mean participation in it. This is where we started," Orban said. "Now, we're at battle tanks, and they're already talking about planes."
Orban, who has refused to send weapons to neighbouring Ukraine and has held up some European Union efforts to provide aid packages to Kyiv, has consistently argued against EU sanctions on Moscow and portrayed countries that assist Ukraine as being "on the side of war.
Fabio Giuseppe Carlo Carisio
© COPYRIGHT GOSPA NEWS
prohibition of reproduction without authorization 
follow Gospa News on Telegram
RUSSIA TODAY – Ukraine will never retake Crimea – EU state's president
DAILY NEWS HUNGARY – CROATIAN PRESIDENT: "BRUSSELS IS TERRORISING HUNGARY"
CBC NEWS – Ukraine's allies have drifted into war but Hungary won't, Orban says
Ukrainians NeoNazi's Chief Zelensky Armed by Biden for the StarWars: US Patriot vs Russian Missiles Sarmat & Zyrcon
Nobel Peace Prize 2022 to Kiev NGO Created by Soros & US for Ukrainian Coup. Funded also by EU Commission which Bought Arms for Zelensky
Russian Company offers $70,000 Reward for Destroying NATO Tanks in Ukraine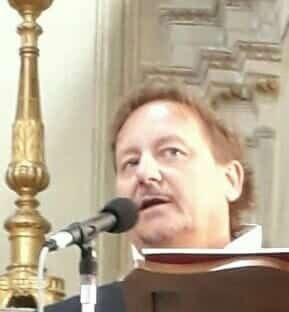 Fabio is Director and Editor of Gospa News; a Christian Information Journal.
Fabio Giuseppe Carlo Carisio, born on 24/2/1967 in Borgosesia, started working as a reporter when he was only 19 years old in the alpine area of Valsesia, Piedmont, his birth region in Italy. After studying literature and history at the Catholic University of the Sacred Heart in Milan, he became director of the local newspaper Notizia Oggi Vercelli and specialized in judicial reporting.
For about 15 years he is a correspondent from Northern Italy for the Italian newspapers Libero and Il Giornale, also writing important revelations on the Ustica massacre, a report on Freemasonry and organized crime.
With independent investigations, he collaborates with Carabinieri and Guardia di Finanza in important investigations that conclude with the arrest of Camorra entrepreneurs or corrupt politicians.
In July 2018 he found the counter-information web media Gospa News focused on geopolitics, terrorism, Middle East, and military intelligence.
His articles were published on many international media and website as SouthFront, Reseau International, Sputnik Italia, United Nation Association Westminster, Global Research, Kolozeg and more…
His investigations was quoted also by The Gateway Pundit, Tasnim and others
He worked for many years for the magazine Art & Wine as an art critic and curator.
ATTENTION READERS
We See The World From All Sides and Want YOU To Be Fully Informed
In fact, intentional disinformation is a disgraceful scourge in media today. So to assuage any possible errant incorrect information posted herein, we strongly encourage you to seek corroboration from other non-VT sources before forming an educated opinion.
About VT
-
Policies & Disclosures
-
Comment Policy
Due to the nature of uncensored content posted by VT's fully independent international writers, VT cannot guarantee absolute validity. All content is owned by the author exclusively. Expressed opinions are NOT necessarily the views of VT, other authors, affiliates, advertisers, sponsors, partners, or technicians. Some content may be satirical in nature. All images are the full responsibility of the article author and NOT VT.