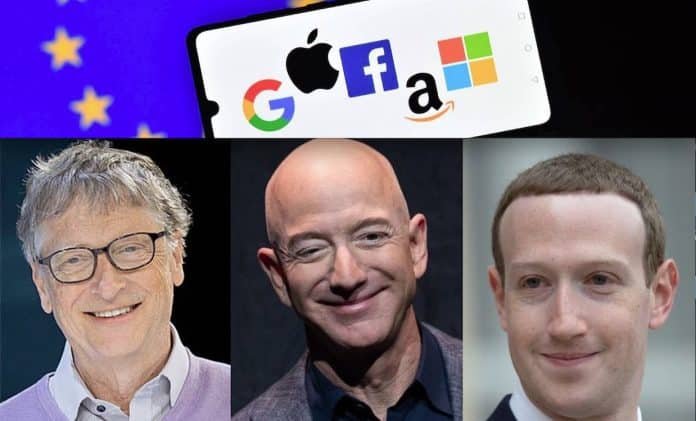 All links to Gospa News articles have been added aftermath for relevance to the topics covered
All articles in Italian linked into this post can be read in English thanks to the available simultaneous translation
---
Spamming the regulator
Inquiry original published by Corporate Europe Observatory
Big Tech monopolies are defending their interests in the shaping and implementation of the EU's competition policy with the help of so-called 'economic consultancies'. While firms like Charles River Associates are unknown to the public, and their 'economic expertise' is presented as neutral, their behind-the-scenes impact on behalf of their Big Tech clients is considerable, in particular when it comes to EU merger control.
Big Tech is the biggest lobby sector in the EU by spending, ahead of pharma, fossil fuels, finance, or chemicals. And a significant part of that powerful lobbying firepower in Brussels is wielded by Google, Amazon, Meta (formerly Facebook), Apple, and Microsoft (known as 'GAFAM'). Together, GAFAM spends more than €26.5 million on influencing the EU institutions. And that's not all: Big Tech also wields considerable lobbying power in member states' capitals. For example, GAFAM spends €9.3 million defending its interests in Berlin, according to the German transparency register.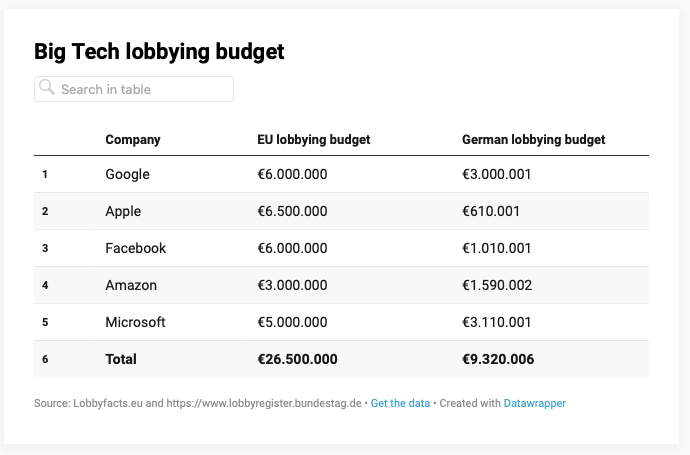 Big Tech's political clout has grown alongside its ever-increasing market power, creating the risk that it has grown "too big to regulate". Digital giants have used their economic power and monopoly position to systematically violate laws and their enforcement, impose unfair conditions on users and small businesses, and lobby for favourable legislation legitimizing their often unethical – and in some cases illegal –business models.
Big Tech companies such as Meta have effectively run a "copy-acquire-kill" strategy with its competitors, resulting in ever-more market concentration. Meanwhile regulators have barely intervened to block any of these mergers. According to the former Chief Economist at DG Competition GAFAM has acquired more than a 1,000 firms in the last 20 years. Of the mergers examined, the European Commission has not even blocked one.
Pentagon's TOP Secrets in the Bezos-Gates' Claws. DoD picks Amazon, Microsoft, Google and Oracle to replace JEDI Cloud
Big Tech's monopoly power
Big Tech has almost become synonomous with monopoly power. Just a few companies have taken over large parts of the internet in markets as varied as online advertisements, e-commerce, social networks, online apps, navigation, video sharing, search, e-mail and the cloud. Tech corporations have used mergers and acqusitions to "gain market power, acquire data, and snuff out any threats from would-be competitors."
For example, Amazonhas used its market power to 'self-preference' its products and use third party seller data to copy popular products. Simalarly, Google Search market share is close to 90 percent. It's ranking algorithm determines the information billions of people see.
THE HUGE & SHADY ZUCKERBERG PLOT: Facebook has Ex-CIA Agents Censoring You
The NGO American Economic Liberties Project has documented 616 mergers and acquisitions by Amazon, Apple, Meta and Google over the years. Google alone has bought up 270 companies since 2001 or 13 mergers and acquisitions a year. A report by the US competition authority FTC shows that this is even an underestimation documenting 627 transactions in the period 2010-2019.
QATARGATE: ARRESTATO SECONDO EURODEPUTATO PD DELLA SOROS LIST. Subito ai Domiciliari Cozzolino nonostante le Accuse del Pentito Panzeri
Big Tech mergers and acquisitions
However, with the recently approved Digital Markets Act (DMA) Big Tech market power has come under public and regulatory scrutiny in Europe. But key questions which will decide the effectiveness of the regulation are still in the air, and these are a target for continued lobbying from Big Tech and its allies.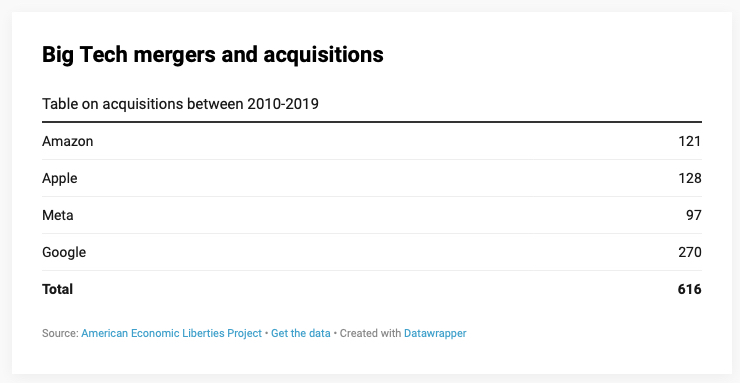 The Silicon Valley tech monopolies' are making heavy use of so-called economic consultancies, whose activities take place below the radar of public scrutiny. These consultancies, such as Compass Lexecon, Charles River Associates, Oxera, and RBB Economics, offer their clients analysis of economic issues, generally for use in public policy debates, legal and regulatory proceedings, and strategic decision-making. Hence these specialised consultancies play an important role in the field of EU competition policy, and are acting as a real vector for Big Tech influence. They represent their clients in front of the courts and provide reports for submission to DG Competition when it comes to mergers. They also write studies funded by clients to influence legislation and organise key debates and events in the EU's capital on competition policy in general. They thus work to shape how competition policy enforcement looks in practice.
VACCINI COVID: PURE COCA-COLA NELLA "GRANDE ABBUFFATA". In CdA PFIZER Manager di Gates, Schwab (WEF), Facebook, Reuters, Goldman e Adobe
More spotlight on the lobbying role of economic consultancies is urgently needed. Even though at least some of the wider influencing activities listed in this article should be registered, they don't appear in the EU's Transparency Register, they don't respond to requests, and the reports they provide to DG Competition in the interest of their clients are not disclosed to the public. Even the titles of these reports are unknown. We need a paradigm change that ensures more transparency, both on the influencing activities of economic consultancies and for the way EU competition policyis done in general (read the letter here send by 18 civil society organisations to Commissioner Vestager).
A closed 'expert' community
Big Tech has in particular relied on specialised economic consultancies to provide them with favourable economic arguments and studies to legitimise mergers to regulators, and 'prove' they are not harming consumers, or that their business behaviour is not abusive. In other words, they provide the arguments in the guise of 'neutral expertise', for why Big Tech monopoly power is allowed to grow further.
As the Directorate-General for Competition is required to take all submissions into account when looking into a merger case, these consultancies and their clients have obtained a semi-official position guaranteeing privileged access.
WEAPONS LOBBY – 7. NATO-GATES International Military Intrigue in Turin. To Develop AI and Aerospace Technologies In DIANA Project
While these firms like to present themselves as neutral intermediaries who deliver valuable policy input to the EU's anti-trust policy, they have a vested interest in acting on behalf of their clients. These firms not only engage in traditional lobbying activities (see below), but they also 'spam the regulator' with economic studies, have a strong foothold in EU expert groups, and appear to be on the lookout to hire former employees from DG Competition or other EU member states competition authorities.
Economic consultancies: a growing presence in the EU
The field of competition economics is dominated by a few consultancies: Compass Lexecon, CRAI, Oxera, and RBB Economics. The footprint of these firms has been steadily growing: with a combined turnover of at least €34.6 million in 2021 (up from €27.9 million euros in 2018), and 59 people working on EU policies, these firms have a substantial presence in the EU bubble.1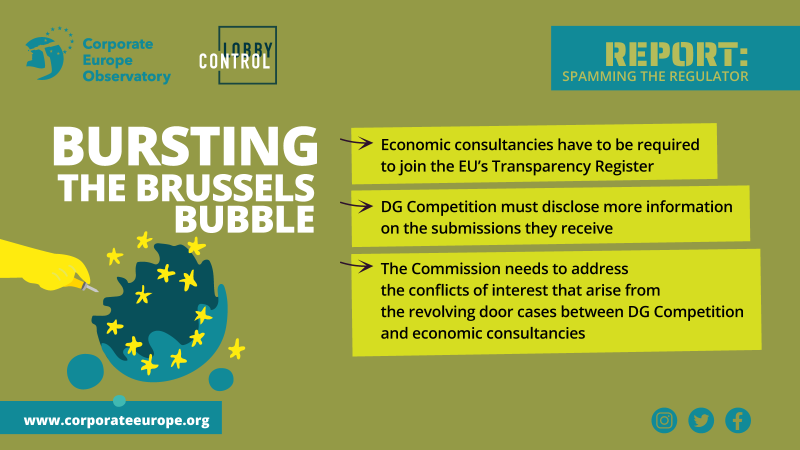 Despite their growing presence and their role both in advocacy, there is no information on economic consultancies available in the EU Transparency Register. The only firm that is potentially covered is Compass Lexecon as a subsidiary of FTI Consulting. FTI Consulting is the third largest lobby actor in the EU according to lobby expenses.
Compass Lexecon is a subsidiary of the lobbying firm FTI Consulting. According to their website, Compass Lexecon has worked for "84% of the current Fortune 100 companies". Their presence in Brussels has been increasing. While they employed 15.4 people (full-time equivalent) in 2018, they now employ 27.2 FTE staff members. Their turnover has gone up from €13 million in 2018 to €15.5 million in 2021.
Big Tech cases Compass Lexecon has been handling include the Google/Fitbit merger, the IBM/Red Hat merger, Microsoft-Yahoo, the Uber court cases against EU member states, Apple and Irish state aid, Amazon/MGM, and Qualcomm.
Charles River Associates International (CRAI) is an American consultancy with a total revenue of €535 million in 2021. CRAI is largely owned by investment funds including BlackRock, Vanguard Group, Dimensional Fund Advisors, and FMR LLC. The turnover of itsBrussels office has gone up from €2.6 million in 2018 to €4.4 million in 2021.
Zionist Lobby – 1. Singer (Elliott) & Fink (BlackRock) within Gates-Soros in Covid Big Pharma's Business(GSK & Gilead)
Its Big Tech cases include Google (French antitrust probe), Apple (French antitrust case), the Microsoft/Github merger, the Microsoft/LinkedIn merger, and Microsoft/Nuance merger
Oxera is based in the UK with subsidiaries in France, Germany, Italy, the Netherlands, and Belgium. Their total turnover is €45.3 million with a total of 176 employees. €19.2 million of their turnover is realized outside of the UK, but unfortunately there are no numbers available for their Brussels office.
Big Tech cases include Google Shopping (an abuse of dominance case), and Microsoft.
RBB Economics is based in the UK with offices in eight other countries. It has a turnover of €68 million, with 60 percent realized in the European Union. Their presence in Brussels has grown in the last years from 10.6 full-time employees in 2018 to 14.7 in 2021. Their turnover has also increased, from €12.3 million in 2018 to €14.7 million in 2021.
Big Tech cases include Oracle/Sun Microsystems, Google/DoubleClick, Google (abuse of dominant position case), ADM/Intel, and Amazon/The Book Depository, Google (abuse of dominance case).
1These numbers exclude Oxera as there are no numbers on its Brussels presence available.
---
All links to Gospa News articles have been added aftermath for relevance to the topics covered
TOMMASO VALLETTI
Tommaso Valletti is Professor of Economics at Imperial College Business School, and also Professor of Economics at the University of Rome "Tor Vergata" (on leave). He has previously taught at the London School of Economics, Telecom ParisTech/Ecole Polytechnique, and Turin. Tommaso has a magna cum laude degree in engineering and a flute diploma from Turin, and holds a MSc and a PhD in economics from the London School of Economics.
Tommaso is currently the Head of the Department of Economics & Public Policy at Imperial College Business School. He is a Non-Executive Director to the board of the Financial Conduct Authority. He is the Director of the Centre for Economic Policy Research (CEPR) Research and Policy Network on Competition Policy. He was the Chief Competition Economist of the European Commission (Directorate General for Competition) between 2016 and 2019.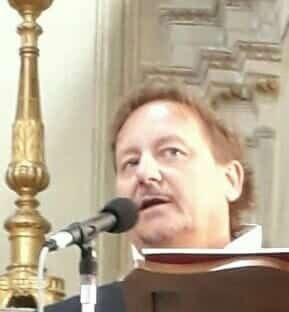 Fabio is Director and Editor of Gospa News; a Christian Information Journal.
Fabio Giuseppe Carlo Carisio, born on 24/2/1967 in Borgosesia, started working as a reporter when he was only 19 years old in the alpine area of Valsesia, Piedmont, his birth region in Italy. After studying literature and history at the Catholic University of the Sacred Heart in Milan, he became director of the local newspaper Notizia Oggi Vercelli and specialized in judicial reporting.
For about 15 years he is a correspondent from Northern Italy for the Italian newspapers Libero and Il Giornale, also writing important revelations on the Ustica massacre, a report on Freemasonry and organized crime.
With independent investigations, he collaborates with Carabinieri and Guardia di Finanza in important investigations that conclude with the arrest of Camorra entrepreneurs or corrupt politicians.
In July 2018 he found the counter-information web media Gospa News focused on geopolitics, terrorism, Middle East, and military intelligence.
His articles were published on many international media and website as SouthFront, Reseau International, Sputnik Italia, United Nation Association Westminster, Global Research, Kolozeg and more…
His investigations was quoted also by The Gateway Pundit, Tasnim and others
He worked for many years for the magazine Art & Wine as an art critic and curator.
ATTENTION READERS
We See The World From All Sides and Want YOU To Be Fully Informed
In fact, intentional disinformation is a disgraceful scourge in media today. So to assuage any possible errant incorrect information posted herein, we strongly encourage you to seek corroboration from other non-VT sources before forming an educated opinion.
About VT
-
Policies & Disclosures
-
Comment Policy
Due to the nature of uncensored content posted by VT's fully independent international writers, VT cannot guarantee absolute validity. All content is owned by the author exclusively. Expressed opinions are NOT necessarily the views of VT, other authors, affiliates, advertisers, sponsors, partners, or technicians. Some content may be satirical in nature. All images are the full responsibility of the article author and NOT VT.