Scalia's sad end, according to Jones and Drudge
… by Gordon Duff, Senior Editor
Justice Scalia was found dead at a "ranch" in Texas where he was a "guest." When the Washington Post asked the host, John Poindexter, about Scalia's "free ride," Poindexter pointed out that nobody pays at his ranch; all are "free guests." What Poindexter is evasive about is what goes on there, what services are also given and who is invited.
An examination of Scalia's history as a continual "free guest" is telling. This is a man who never picked up a bill and, as with his hunting trip with Dick Cheney during the lawsuit against Cheney and his energy task force, Scalia didn't care if his fellow "guests" had cases before the court. Let's look at this man, who I see as a strong contender for "worst person that ever lived."
The worst thing to happen to the United States since the Federal Reserve Act of 1913 was the Citizens United decision of the Supreme Court, pushed through by corporate "hitman" Scalia. He put the mob in charge of Washington and lived on the fatted calf for his efforts. From Salon:
Antonin Scalia was one of the most profoundly dishonest men in the history of American public life. He made Richard Nixon seem almost quaint by comparison. But that's not the impression being broadcast to the world today.
Scalia's death has let forth an elite love fest of such remarkable intensity, you'd think he was war criminal Henry Kissinger.
Maybe if you weren't an elite lawyer, or media commentator, but rather someone to had suffer as a result of his bigoted cruelty? Maybe then you'd see things a bit differently, if you were someone close to Leonel Herrera, or Anthony Davis. Who are those men, you say? Two men facing execution with credible claims of actual innocence, that's who.
If the law does not protect the innocent, then it's hard to conceive what the law is for. Yet, Scalia—so deeply devoted to the rule of law — repeatedly held that it did not.
In his 1993 concurrence in Herrera v. Collins he wrote:
There is no basis in text, tradition, or even in contemporary practice (if that were enough), for finding in the Constitution a right to demand judicial consideration of newly discovered evidence of innocence brought forward after conviction.
Sixteen years later, in the case of Anthony Davis, after seven key eyewitnesses recanted their testimony, some fingering a man who testified against Davis, Scalia wrote:

This Court has never held that the Constitution forbids the execution of a convicted defendant who has had a full and fair trial but is later able to convince a habeas court that he is "actually" innocent.

So you're innocent? So what? That was Scalia's "judicial philosophy" in a nutshell. He was the giant of the conservative legal world for three decades—its Ronald Reagan—and that's precisely what he stood for. That's what the conservative legal world stands for.
Who really owned Scalia is the Koch Brothers, who have feted him and his silent friend, Clarence Thomas. Other than his cavalier attitude about killing innocent people, something Scalia laughed about continually, finding executions of the innocent not just acceptable but actually amusing.
You see, Scalia was a bit of a Scrooge. We know why he died, his heart was four sizes too small.
Scalia hated women, part of his upbringing in a dysfunctional family but he also hated people of color and, as he became more and more powerful and insulated, his raging hatred against America and all but the rich and powerful became impossible to miss.
Scalia dies, not from a knife in the back or a pillow over is face but by his own words and deeds, a monster.
____________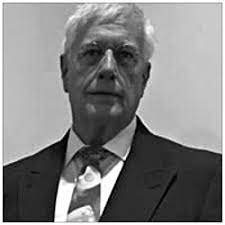 Gordon Duff posted articles on VT from 2008 to 2022. He is a Marine combat veteran of the Vietnam War. A disabled veteran, he worked on veterans and POW issues for decades.
Gordon is an accredited diplomat and is generally accepted as one of the top global intelligence specialists. He manages the world's largest private intelligence organization and regularly consults with governments challenged by security issues.
Duff has traveled extensively, is published around the world, and is a regular guest on TV and radio in more than "several" countries. He is also a trained chef, wine enthusiast, avid motorcyclist, and gunsmith specializing in historical weapons and restoration. Business experience and interests are in energy and defense technology.
ATTENTION READERS
We See The World From All Sides and Want YOU To Be Fully Informed
In fact, intentional disinformation is a disgraceful scourge in media today. So to assuage any possible errant incorrect information posted herein, we strongly encourage you to seek corroboration from other non-VT sources before forming an educated opinion.
About VT
-
Policies & Disclosures
-
Comment Policy
Due to the nature of uncensored content posted by VT's fully independent international writers, VT cannot guarantee absolute validity. All content is owned by the author exclusively. Expressed opinions are NOT necessarily the views of VT, other authors, affiliates, advertisers, sponsors, partners, or technicians. Some content may be satirical in nature. All images are the full responsibility of the article author and NOT VT.