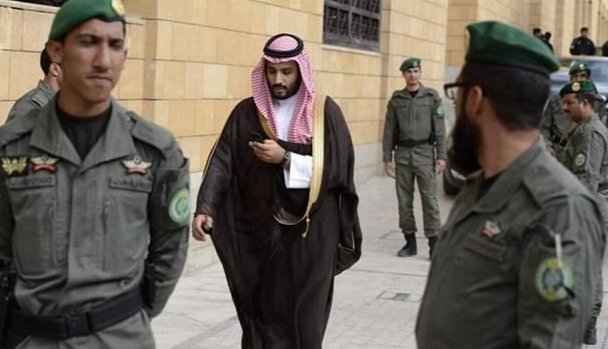 Muhammad Ali Carter for VT
Back in December 2015 Saudi defence minister Prince Mohammed Bin Salman declared the creation of a new coalition of mainly Muslim countries to confront and combat terrorism plaguing the Islamic world[1]. What a good idea, Finally a Muslim Arab country taking a lead in the war against terrorism. That was the general reaction from much of the media as Former US assistant secretary of defence Lawrence Korb put it in an interview with Al Jazeera.
"Yes I think this sends a very crucial signal that the Muslim world particularly the Sunni Muslim world, is now united against this Sunni is united against this Sunni led group ISIS"[2]
 Finally the Arabs who have been viewed as doing very minimal in confronting and condemning Muslim terrorism has finally joined hands and declared a united war effort to confront and defeat Islamic extremism across the world. But since the declaration in December what exactly has this Coalition against terrorism actually achieved?
I'm sorry to say that the media hasn't really followed up on the coalitions list of achievements because quite frankly there are not many (if any) to glorify, Mr Lawrence Korb's opinion that the 'Sunni Muslims are finally going to fight Sunni Terrorism' is also proven to be not the case as more Saudi and its allies seem to be targeting Shia Muslim groups around the world that are linked to Iran as a priority rather than the more immediate and obvious threat from Sunni ideological terrorist groups such as Boko Haram, Al Shabab and ISIS.
Attacks and Crackdowns against Shia Muslim Movements
The Gulfs recent campaign targeting Lebanon's shia led group Hezbollah is just one example of many that the coalition against terrorism sectarian agenda, The horrific crackdown against the unarmed Shiite 'Islamic Movement in Nigeria' led by the now imprisoned Shiekh Zakzaky[3] is a largely ignored incident in which the Nigerian Army with the support of the government launched a huge and brutal takedown of the largest Shia Muslim led organisation which the Army claims was a terrorists group which killed hundreds of unarmed Shia civilians. Nigerian President Muhammadu Buhari who very recently announced he has formally joined Saudis coalition[4] seems to have been much more forceful in taking down the fast growing Shia Islamic movement (which is friendly with Iran) but much less successful in the push to take out Boko Haram the biggest and most successful terrorist group arguably in all Africa.
I however have been watching and waiting for the grand plan of the anti terror coalition to formulate and so far can see that its actions have not only failed to provide any decent results in combating any real international terrorism, rather have been more successful in aiding Saudi Arabia's sectarian foreign policy against Shia Muslim expansionism. I have witnessed in some cases the coalition actually whether intended to or not helped thrive and protect extremist Sunni jihad terror groups in different conflicts.
A Poorly Organised Sectarian Coalition
The coalition which is led by Saudi Arabia includes 34 mainly Muslim countries most of whom are countries which are overall weak, divided and unable to offer much more then symbolic support such as Lebanon, Bangladesh and Bahrain but the biggest and most relevant members after Saudi Arabia are Qatar, Turkey, Egypt and Pakistan who along with Lebanon actually never officially agreed to join[5], and learned of their purported membership after Saudi Crown Prince Salman announced the list. Awkward start which has not been redeemed as Malaysia and China have both distanced themselves from any possible involvement, turning their noses up straight away at the idea of join the Saudi led coalition.[6]
The objectives of this coalition as announced by Saudis Crown Prince Mohammed bin Salman during a press conference in Riyadh is to fight the
"Disease which affected the Islamic world first before the international community as a whole,"
The crown prince continued by saying
"There are a number of countries that suffer from terrorism, for example Daesh (ISIS) in Syria & Iraq, Terrorism in Sinai, Yemen, Libya, Mali, Nigeria, Pakistan and Afghanistan which requires a strong effort to fight"[7].
OK sounds good as all these countries have a very genuine and crippling terrorism problem but since December what has Saudi and its comrades actually achieved?
Both Syria and Iraq was excluded by Saudi in its grand coalition of terror fighting buddies yet these 2 countries are arguably the most affected by terrorism in the past 5 years and are both fighting on the front lines against ISIS. You would think this would be the best place to start since this is where ISIS is biggest and baddest but for Saudi to not include Syria is understandable since Saudi is a staunch enemy of its current leader Assad who is also long-time ally of Shia led Iran. Iran and Saudi Arabia are the biggest regional rivals involved in a deep cold war standoff with no sign of end in sight.
Saudi and some of its coalition allies such as Qatar and Turkey are present in Syria they have been long-time supporters of Syria's Sunni rebel fighters many of whom have been labelled terrorist groups by mother Russia who herself is active in bombing anti Assad rebel groups in Syria. This issue of terrorist rebels linked to Al Qaeda has been largely ignored as the main priority of the coalition has been to remove the secular Alawite ruler Assad from power who is a loyal Arab ally of Shia Iran and Shia Hezbollah. Alawite and Zaidi Muslims are considered an off shoot branch of Shia Islam meaning Alawite Assad in Syria and Zaidi Houthi rebels in Yemen are just another non Sunni minority which Saudi coalition doesn't want around which I will elaborate on.
Iraq on the other hand is not a country run by an anti-Saudi entity and is a democratic Arab country friendly with the US. Saudis decision to boycott Iraq in its coalition while Iraqis are actively fighting a face to face war against ISIS in Iraq is the first sign that something foul is afoot and the coalition may not be so genuine, most likely to do with the fact Iraq is majority run by Shiites which have good relations with Iran.
Turkey class western allies Kurds as Terrorists
Turkey is a very important player since they are a NATO member and have a huge military force capable of some serious military action against ISIS. However Turkey has spent virtually all its time in the young coalition attacking Kurds in Syria and Iraq as well as at home. Turkey considers almost all Kurdish political and military groups terrorist groups but the west and other anti-terror coalition members do not which raises issues already. The Kurds have received support from both the US & Russia, which Turkey has denounced[8] but the west sees the Kurds as heroes fighting ISIS hence why the rest of the world has sympathised with them but the rise of the Kurds is a threat to Turkey which fears a future scenario of a Kurdish statelet which would empower anti Turkish Kurds all throughout Turkey.  To help confront both Assad and the Kurds at the same time Saudi & Turkey has been willing to throw full support behind groups which even the western powers have admitted are terrorist groups[9]. Jaish al-Fatah which is a coalition of anti Assad Islamist jihadist groups which includes Ahrar al-Sham, Jund al-Aqsa & Al-Nusra front (Al Qaeda affiliate in Syria) has received support from Turkey & Saudi Arabia while all these 3 groups are labelled as extremist terrorism groups by America, so far so bad for the so called 'alliance to fight against terrorism'.
Coalition Fighting Alongside Al Qaeda
OK so maybe this is just a 1 slip up, Syria is complicated after all and is sort of being dealt with by US & Russia, Let's see how well our anti-terror coalition is doing in elsewhere. Yemen is another country Saudi is neck deep involved in, there plan was to defeat the Zaidi Muslim Houthi led revolution which seized power and ousted pro Saudi president Hadi[10] in March 2015. Saudi has decided that the Houthis are enemies and must be defeated, a coalition of Muslim nations was thrown together and Saudi began a bombing campaign and ground assault to recapture Yemen from the Houthis. However almost a year on and still Houthis stand while recent reports have revealed that Saudi and its allied forces fighting in Yemen have joined up with Al Qaeda jihadists which pose a threat not just to Yemen non-jihadist population but also the rest of the world as Al Qaeda in Yemen has been the most successful branch. The US has been drone striking Al Qaeda in Yemen for years but now it seems Saudis coalition is fighting alongside A Qaeda[11] which has been responsible for a series of terror attacks and assignations of Saudi liberated areas of South Yemen for Months. Oh and by the way ISIS has also opened its own branch in Yemen since the war began which has been totally ignored.
Despite this Saudi has kept up its bombing campaign which has been condemned by human rights groups and the UN for its shockingly high number of civilian casualties.
 "During February, a total of at least 168 civilians were killed and 193 injured, around two-thirds of them by (Saudi) Coalition airstrikes,"
The spokesperson for the UN High Commissioner for Human Rights, Rupert Colville, told journalists in Geneva.[12]
I have given just a few examples of a clear gross failure by the so called anti-terror coalition to actually fight legitimate terrorist targets. It's not just who is being shot at that counts, recently in Pakistan thousands turned out for a funeral glorifying the death of Mumtaz Qadri a convicted terrorists who murdered a governor for 'blaspheming'[13].  This was a disgusting show of sympathy for an extremist by pro Saudi Wahhabi's in Pakistan yet no condemnation by Saudi Arabia or any of its coalition allies. Very little has equally been done in Nigeria, Libya or Somalia all plagued by terror groups all following the same religious extremist Sunni Wahhabi ideology which is a state recognised ideology of Saudi Arabia, yet no mention of that at any of Crown Prince Salman's rare press statements. It has only been a few months since this coalition was whipped together but so far lots has been done to defend Saudis sectarian foreign policy against Shia expansionism but almost nothing achieved in fighting actual world recognised global terrorist groups. Al-Shabab, Boko Haram, ISIS, AL Qaeda all still standing and look as if they will continue to stand and reek terror for many years.
Muhammad Ali Carter a Journalist, News editor and TV anchor for working with Ahlulbayt TV based in London Specializing in Middle East and Muslim Affairs, culture and politics
Reference
[1] Reuters in Dubai (Monday 14 December 2015 23.18 GMT) Saudi Arabia announces 34-state military alliance to fight terrorism, Available at:http://www.theguardian.com/world/2015/dec/14/saudi-arabia-announces-military-alliance-terrorism
[2] Al Jazeera Middle East (15 Dec 2015 19:21 GMT |) Saudi Arabia forms Muslim 'anti-terrorism' coalition, Available at: http://www.aljazeera.com/news/2015/12/saudi-arabia-forms-muslim-anti-terrorism-coalition-151215035914865.html 
[3] BY CONOR GAFFEY ( 3/1/16 AT 10:56 AM) SHIITES CRITICIZE NIGERIA OVER SHEIKH ZAKZAKY DETENTION, Available at: http://europe.newsweek.com/nigeria-shia-sheikh-zakzaky-detention-431925?rm=eu
[4] Idris Akinbajo (March 6, 2016) Buhari drags Nigeria into Saudi-led Islamic coalition against terrorism, Available at:http://www.premiumtimesng.com/news/headlines/199616-buhari-drags-nigeria-into-saudi-led-islamic-coalition-against-terrorism.html
[5] Rebecca Flood (Friday 18 December 2015) Two countries had no idea they were in Saudi Arabia's Muslim coalition to fight terrorism, Available       at:http://www.independent.co.uk/news/world/middle-east/saudi-arabia-announces-34-strong-coalition-of-muslim-nations-to-fight-terrorism-but-two-countries-a6779186.html
[6] Press TV (Tue Feb 16, 2016 8:17AM) Malaysia says not involved in Saudi 'anti-terror coalition', Available at: http://www.presstv.ir/Detail/2016/02/16/450592/Malaysia-Kuala-Lumpur-Datuk-Seri-Hishammuddin-Hussein-Saudi-Arabia
[7] Reuters in Dubai (Monday 14 December 2015 23.18 GMT) Saudi Arabia announces 34-state military alliance to fight terrorism, Available at:http://www.theguardian.com/world/2015/dec/14/saudi-arabia-announces-military-alliance-terrorism
[8] BBC (10 February 2016) Turkey's Erdogan denounces US support for Syrian Kurds,Available at: http://www.bbc.co.uk/news/world-middle-east-35541003
[9] Kim Sengupta (Tuesday 12 May 2015) Turkey and Saudi Arabia alarm the West by backing Islamist extremists the Americans had bombed in Syria, Available at:http://www.independent.co.uk/news/world/middle-east/syria-crisis-turkey-and-saudi-arabia-shock-western-countries-by-supporting-anti-assad-jihadists-10242747.html
[10] BBC news (25 March 2015) Yemen crisis: President Hadi flees as Houthi rebels advance, Available at: http://www.bbc.co.uk/news/world-middle-east-32048604
[11] BBC News Middle East (22 February 2016) Yemen conflict: Al-Qaeda joins coalition battle for Taiz, Available at: http://www.bbc.co.uk/news/world-middle-east-35630194
[12] UN News Centre (4 March 2016 ) Civilians bear brunt of Yemen's unrest, UN human rights office warns, Available at: http://www.un.org/apps/news/story.asp?NewsID=53367#.Vt3yX_mLSM_
[13] Mazjid Naawaz (03.07.16 5:01 AM ET) Obscene Praise for the Pakistani Muslim Who Murdered a 'Blasphemer', Available at:http://www.thedailybeast.com/articles/2016/03/07/obscene-praise-for-the-pakistani-muslim-who-murdered-a-blasphemer.html
ATTENTION READERS
We See The World From All Sides and Want YOU To Be Fully Informed
In fact, intentional disinformation is a disgraceful scourge in media today. So to assuage any possible errant incorrect information posted herein, we strongly encourage you to seek corroboration from other non-VT sources before forming an educated opinion.
About VT
-
Policies & Disclosures
-
Comment Policy
Due to the nature of uncensored content posted by VT's fully independent international writers, VT cannot guarantee absolute validity. All content is owned by the author exclusively. Expressed opinions are NOT necessarily the views of VT, other authors, affiliates, advertisers, sponsors, partners, or technicians. Some content may be satirical in nature. All images are the full responsibility of the article author and NOT VT.