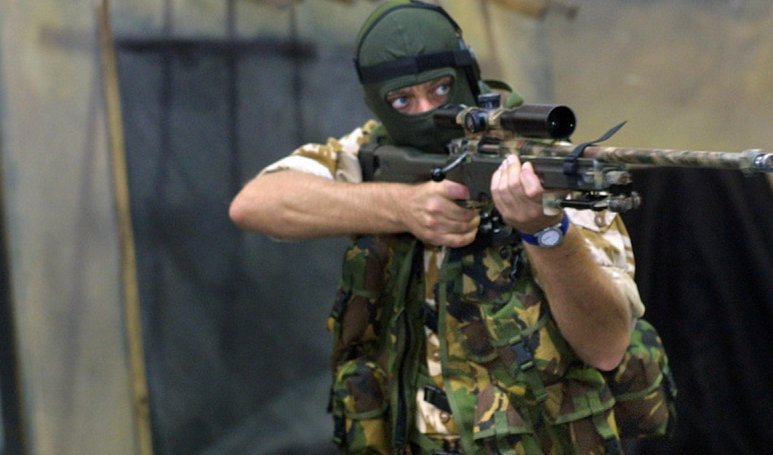 By exploiting a legal loophole Britain dodged its human rights obligations and deployed secret soldiers into Yemen's vicious civil war, investigators claim.
Embedded with British foreign intelligence agency MI6, undercover troops from the Special Reconnaissance Regiment (SRR) operated in support of the Yemeni regime and US foreign policy goals before the 2014/15 revolution.
Journalists working for Vice News have uncovered how the secret unit helped prepare local troops for raids, arrest operations and drone strikes as well as helping to compile "kill lists."
The British Foreign Office claims it suspended counter-terrorism "capacity" after the collapse of the old regime, but Ali al-Ahmadi – former head of Yemen's secret police – told Vice journalists that British intelligence activity is ongoing amid the Saudi-led war.
Dodging the law?
The clandestine operation appears to have exploited a legal loophole to circumvent the military's human rights obligations after it emerged UK and US Rules of Engagement (ROE) for drones sharply diverge.
A series of US drone strikes in eastern Yemen – including one that killed a prominent local anti-jihadist preacher and four other men in 2012 – led to British intelligence sharing with the US being halted and then recalibrated.
Soldiers from the unit were relocated from their covert base to the Sheraton Hotel in the capital Sana'a and banned from accompanying Yemeni forces or even carrying weapons.
However, these rules do not apply to MI6 or soldiers seconded to it because the intelligence agency operates under the auspices of the Foreign Office rather than the Ministry of Defence (MoD).
An anonymous British official told Vice: "Once they are seconded, the MoD loses any control over what they get up to."
This practice, the investigators claim, allows the MoD to maintain its obligations under the European Convention on Human Rights while still using British military personnel to continue providing intelligence used in assassinations.
British Army's 'disappearing' hitmen
The original circumstances of UK troop deployment in 2006 are shrouded in mystery but the investigating team suggests that a group of conventional troops – Royal Marines – arrived alongside a special forces counter-terrorism unit tasked with supporting Yemen's Central Security Forces (CSF) and other controversial internal security units.
The CSF, which had been accused by Human Rights Watch of using child soldiers and of carrying out arbitrary detentions, was run by then-Yemeni President Saleh's nephew, Colonel Yahya Saleh. He described the UK soldiers as extremely secretive.
"They stipulated that we couldn't take their photos, or mention their names; even when we were honoring the American trainers the British avoided having their names mentioned," he told the investigators.
Other UK servicemen who lived in close proximity to the special forces teams described how they kept spare rooms for military "visitors" who would sometimes appear "to do a hit, they would come in, do their thing, and then disappear again."
These clandestine forays are alleged to have been in support of "kill or capture" missions against the local branch of Al-Qaeda.
When in Rome…
Mystery also surrounds the behavior or identity of a Lawrence of Arabia-like embassy defense attaché – a role usually filled by a high ranking officer – who went "totally native" to win over the locals.
"The defense attaché of the British embassy was much more active than the American. He was meeting with everybody," Khalid Ahmed al-Radhi, a contractor working with US forces, told Vice.
A former colleague describes the attaché as going "totally native. He was chewing khat [a stimulant plant] three or four days a week. But the Yemenis loved him for it."
Another UK source described the fused military/intelligence operation as "pretty sh*t-hot."
'Avoiding accountability'
The MoD told the reporters it does not comment on special forces operations, but Tory MP David Davis was critical of the idea that UK-sourced intelligence was being used to compile drone "kill lists."
"Killing people from a clear sky who are guilty of nothing is a very fast way of signing up a lot of people to our enemies," he said.
Jennifer Gibson, a lawyer from the human rights group Reprieve said it is now "beyond dispute" that the UK is working with the US "to create the very kill list that drives those strikes."
She branded as "disturbing" the UK's use of the "US model of outsourcing the military to the intelligence agencies in order to hide their involvement and avoid any accountability."
'Dark arts'
The SRR was founded in 2005 and is the only UK special forces unit to accept women. It is a global version of the now-defunct 14 Intelligence Company, which once operated against Republican paramilitaries in Northern Ireland.
They are trained in what the military informally calls the "dark arts" of surveillance methods and man-hunting – a fusion of military and espionage techniques.
The then newly-formed SRR was tracking Brazilian migrant Jean Charles de Menezes when he was pinned into a train seat by armed police and shot 11 times at point-blank range in Stockwell Underground Station in the tense weeks after the 2005 London bombings.
___________
ATTENTION READERS
We See The World From All Sides and Want YOU To Be Fully Informed
In fact, intentional disinformation is a disgraceful scourge in media today. So to assuage any possible errant incorrect information posted herein, we strongly encourage you to seek corroboration from other non-VT sources before forming an educated opinion.
About VT
-
Policies & Disclosures
-
Comment Policy
Due to the nature of uncensored content posted by VT's fully independent international writers, VT cannot guarantee absolute validity. All content is owned by the author exclusively. Expressed opinions are NOT necessarily the views of VT, other authors, affiliates, advertisers, sponsors, partners, or technicians. Some content may be satirical in nature. All images are the full responsibility of the article author and NOT VT.