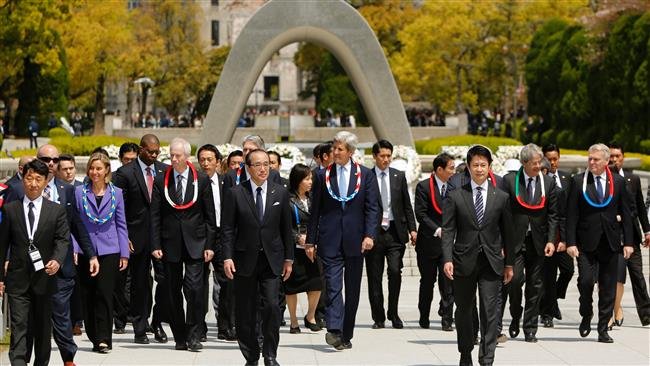 … from  Press TV, Tehran
[ Editor's Note: If only if this were true, we could all get excited, but it is not. It is a bad joke really — a geopolitical psyops to steer the global nuclear threat onto others, while giving themselves a pass. It was a cheap shot to mention Syria and Ukraine in this context, tainting them with the crazy North Koreans. Shame, shame.
Japan did not take the opportunity to declare its substantial weapons grade stockpile nor admit that it has weapons, but in a "disassembled" state. The G-7 made no call for Israel to open up its nuclear program for inspection, nor India's, nor Pakistan's.
Germany was not called upon to disclose that, in return for helping Israel with its nuclear program starting with Dimona, it has been getting some nuclear weapons in return, paid for in their barter dealing by building the Dolphin submarines for Israel and then discounting the price.
While Kerry was asked about giving an apology for Hiroshima, no one asked if the Japanese Prime Minister was going to apologize for not ending the war sooner, or for Japan's plans to use biological weapons on the US to turn the tide of the war, never to reveal they were one month away from their first deployable nuclear bomb.
This was why they had the Japanese soldiers fighting to the last man in the island campaign, to buy time to use those weapons on the US, made from four reprocessing plants in Manchuria, by using more advanced technology than America had. This was all grabbed by the Allies' Soviets, when they came into Japan at the end of the war.
I will not get into the history of Japanese atrocities during WWII, nor their victim count. But I would like to see Western leaders at least ask for equal time when the Japanese pull out their victim routine. Frankly, I am sick of it. I am all for having a dual remembrance day, but if truth be told, we could add another to it, called "Japanese Atrocities Day".
Japan's WWII nukes were to be delivered by special long range submarines, to be detonated in US port cities. This is all still classified, even after all of this time. They don't want us to know that they will always lie to us, for any reason they choose, if they so desire… Jim W. Dean ]
____________
– First published  …  April 11, 2016 –
Foreign ministers from the Group of Seven (G7) industrialized countries at a meeting in Japan have called for a world without nukes.
"We reaffirm our commitment to seeking a safer world for all and to creating the conditions for a world without nuclear weapons in a way that promotes international stability," the group said in their final declaration at a Hiroshima meeting in Japan on Monday
The top diplomats cited deteriorating security conditions in Syria, Ukraine and particularly the Korean Peninsula as key challenges to achieving the goal.
"This task is made more complex by the deteriorating security environment in a number of regions, such as Syria and Ukraine, and, in particular by North Korea's repeated provocations," it added. 
Meanwhile, Japanese Foreign Minister Fumio Kishida expressed hope that the meeting in Hiroshima will revive the momentum for efforts towards nuclear disarmament.
Yasuhisa Kawamura, the Japanese Foreign Ministry press secretary, said the Hiroshima declaration aims to revitalize the effort to eliminate nuclear weapons.
The declaration comes as some of the G7 member states including the US and Britain possess huge nuclear stockpiles. Nuclear weapons states have refused to destroy or reduce their stocks of nuclear weapons despite repeated promises to do so. Some of the advanced economies are spending billions of dollars to upgrade their deadly weapons.
On Sunday, a US official said there will be no formal apology from US Secretary of State John Kerry, when he travels to the Japanese city of Hiroshima.
"If you are asking whether the secretary of state came to Hiroshima to apologize, the answer is no," a senior US official told reporters late on Sunday, adding, "If you are asking whether the secretary and I think all Americans and all Japanese are filled with sorrow at the tragedies that befell so many of our countrymen, the answer is yes."  
Kerry also visited the site of an American nuclear bomb attack in the Japanese city of Hiroshima. The trip marks the first-ever visit to the city by a senior US official.
This came after foreign ministers from the G7 said in a statement that they strongly oppose provocation in the East and South China Seas, where China is locked in territorial disputes with nations including the Philippines, Vietnam and Japan. "We express our strong opposition to any intimidating coercive or provocative unilateral actions that could alter the status quo and increase tensions."
Washington and China's rivals have been accusing Beijing of attempting to take advantage of the situation and gradually assert control on the South and East China Sea.
Beijing, however, rejects the allegations and accuses Washington of meddling in the regional issues and deliberately stirring up tensions in the region.  Beijing says it is determined to safeguard its sovereignty and territorial integrity in the China Sea. Beijing insists Washington must stay out of the row.
____________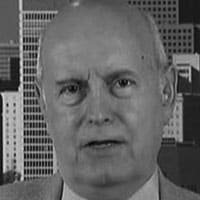 Jim W. Dean is VT Editor Emeritus.  He was an active editor on VT from 2010-2022.  He was involved in operations, development, and writing, plus an active schedule of TV and radio interviews.  He now writes and posts periodically for VT.
ATTENTION READERS
We See The World From All Sides and Want YOU To Be Fully Informed
In fact, intentional disinformation is a disgraceful scourge in media today. So to assuage any possible errant incorrect information posted herein, we strongly encourage you to seek corroboration from other non-VT sources before forming an educated opinion.
About VT
-
Policies & Disclosures
-
Comment Policy
Due to the nature of uncensored content posted by VT's fully independent international writers, VT cannot guarantee absolute validity. All content is owned by the author exclusively. Expressed opinions are NOT necessarily the views of VT, other authors, affiliates, advertisers, sponsors, partners, or technicians. Some content may be satirical in nature. All images are the full responsibility of the article author and NOT VT.