I do not wish to cause the Donald undue anxiety, but I am backing him for President! I gather someone has been kind enough to give him a copy of Spyhunter, which I hope he will enjoy. This is of course your election, but since your president has seen fit to butt in on our referendum, I don't see why we Limeys shouldn't express a view about your presidential election!
For the avoidance of doubt I have backed Trumpy from the beginning. The rest of the pack were either RINOs (Republicans In Name Only – we have CINOs, or Conservatives in Name Only, like David Cameron) or ineligible for the office of POTUS.
I am still baffled as to how Canadian-born Senator Cruz would have been eligible to take the oath of office had he been elected. The same goes for Governor Rubio. At least Ted Cruz is eligible to be a US senator, not something which could have been said of then-Senator Obama.
Cruz's father
There is reporting linking Rafael Cruz y Diaz to the Fair Play for Cuba Committee and Lee Harvey Oswald. There is also reporting linking him to the notorious Zapata Corporation, and reporting linking a Zapata facility in the Gulf of Mexico to the exfiltration of at least two of the shooter teams.
In my judgment Donald Trump was right to raise the issue. I respectfully agree with Roger Stone, a nice man apparently, who thinks that this was the issue which triggered Cruz's withdrawal from the race, scuppering the German (DVD) plan to prise Trumpy's delegates away from him in a second ballot, and impose a pro-German, pro-Red China centrist candidate. It should never be forgotten that Prussian and in turn German Intelligence has exercised a baleful influence over the Republican Party since their man Booth assassinated Lincoln.
In any primary race there will always be at least one German-backed candidate, who will never have any problem raising cash. At least one other candidate will usually be being blackmailed. The Germans don't do democracy, one of the reasons they hate Trump. They cannot abide the idea of a president working in the interests of America, hence the assassination attempts on Ronald Reagan and George W. Bush. If you haven't heard about the attempts on George W., don't worry. I have, and more to the point I heard about them before they happened, which is one reason none of them succeeded.
Trumpy's Comments on the EU
In contrast with Obama, whose crass interference in the EU referendum raised hackles in Britain, Trumpy's comments were classy and correct. He clearly left the issue to the British people, but equally clearly signalled that he was pro-British and pro-democracy.
His comments didn't surprise me. There is far more to this guy than meets the eye. He's not only smart, he knows what he doesn't know. He's surrounded himself with a very well-informed team of political experts, who have helped him blow away the opposition. He listens.
Forget the crude criticisms of him as egotistical. He has intellectual self-confidence and a powerful personality, but he's able to laugh at himself and take advice. True egotists have problems doing both those things.
My prediction is that when he wins Trumpy will appoint a strong Cabinet, with some across the aisle appointments, and an A-Team of advisers. I suspect the Trump Transition Team will look really good.
I also predict he will beat Hillary. She will be the Democratic nominee, as the Democratic Party is non-eponymous. The so-called super-delegates will back the establishment candidate every time. Those of you who know and respect Andy Martin – and if you ever worked for the Agency you may well have come across him – will be paying attention, as I do, to his commentary on the campaign. He was actually a formal Republican candidate for president, and might be on the short-list for CIA Director.
Andy has spotted Hillary's Achilles Heel. Gun control. The good lady wants to take away your guns and make it easier for Islamic terrorists and crazies to shoot you. Andy think it's one of the reasons why Bernie Sanders is doing so well. He comes from Vermont, which has some of the most sensible gun laws in America, by which I mean it has very few gun laws, and, guess what, very few gun crimes either.
My prediction?  A clear win by Trump, not far short of a landslide, with only the littoral states going for Hillary. That's assuming she's not indicted by the grand jury of course, but the FBI and Attorney-General will make sure that doesn't happen.
I also predict that Donald Trump will be a good president and very possibly a great one.
The Canadian Forest Fires
My sympathies for the poor folk caught up in these huge fires. Losing your home to a fire can be a searing experience, no pun intended.
My concern is with the cause of the fires. Well over a decade ago I picked up that al Qaeda cells were starting forest fires in the West as an act of economic sabotage. I was shouted at in online forums at the time, by people who used their mouths instead of their brains. Proof came in 2011 as part of the intelligence yield from the raid on the bin Laden family compound in Pakistan.
The Canadian fires look suspicious. In determining whether a large fire is an act of terrorism or not I look for five factors:
(1)  A population of Islamic radicals – these are fairly low-level acts of terrorism and would not normally justify the insertion of cells from abroad.
(2)   Multiple ignition points.
(3)   Accelerants at the ignition points – it's not as easy to set fire to a forest as you might imagine, although please don't try it at home.
(4)    Suitable meteorological conditions, both before and after the fire. No point starting a forest fire if the forecast is for rain, and
(5)    Location – is the fire threatening a large urban center or a strategic facility?
The Canadian fire comes in on points (1), (2), (4) and (5). Notice how close it is to a major oil producing area. Canada has been importing Islamic radicals for years and the new Liberal government is stepping up the process.
I don't know about (3) and I doubt the RCMP will be allowed to mount a serious investigation. Hopefully there will be some helpful satellite imagery, which might show vehicles fleeing the scene just after ignition times. After the bin Laden safe-house haul the Intelligence Community should be paying close attention to this fire.
On the subject of fires, I notice that the Canadians have been struggling to get enough water-bombers in the air. It's a shame that all but one of the mighty Martin Mars flying boats at Sproat Lake have been retired. I saw them there once, in 1996, and was astonished by their size. The Mars is one big-assed flying-boat (I am bilingual and speak American!).
Years ago I called for Western nations vulnerable to fires to pool their water-bombing resources. Almost by definition water-bombers tend to be large, long-ranged aircraft. The Canadians shouldn't be left to fight this fire on their own.
I am reminded by a nice Canadian reader that April 9 was Vimy Ridge Day, commemorating the great Canadian-led victory over the dastardly Hun in the Battle of Vimy Ridge in 1917. Some rather lovely and very haunting music, The Warrior's Lament, was written by Canadian composer Sierra Noble for a past Vimy Ridge Day, which you can access through:   https://www.youtube.com/watch?v=SkIU71qUvsU
Captain Eric 'Winkle' Brown CBE DSC AFC RN 1919-2016
I mourn the recent passing of this great aviator. I am proud to say that I met him, twice, on the first occasion when I had the privilege of giving a little speech in his honor at the RAF Club in Piccadilly. On the second occasion, I handed him a pre-publication copy of my book Spyhunter.
Winkle held several world records, including the one for the highest number of individual aircraft types flown – 487! He also held the record for the highest number of carrier deck landings, over 2,000.  He was the first pilot to land a twin-engined aircraft (a De Havilland Sea Mosquito) on an aircraft carrier (HMS Indefatigable). Not content with that, he was also the first pilot to land a jet on a carrier – a De Havilland Sea Vampire, on HMS Ocean, in 1945.
He was the only man I've ever known who flew both the Me 262 jet fighter and the Me163 rocket fighter. He told me that he liked the 262 and found it a delight to fly, provided both engines kept going! It was a pig to land asymmetrically, apparently, indeed in Eric's view it was so dangerous to try and land on one engine that service pilots should simply abandon the aircraft. The 163 he described as fast, in a straight line.
He loved aviation and was one of the finest pilots who ever caressed a joystick.
He was more than just a pilot, however. Winkle had a long association with British Naval Intelligence. It started before the war. He didn't meet the Luftwaffe's Ernst Udet just for social reasons.
I have a very shrewd suspicion that the 'bad weather' which forced Winkle to 'divert' to RAF Cranfield in a Grumman Martlet (as the Royal Navy then called the F4F Wildcat) the night before Gerry Sayer took Britain's first jet aircraft, the lovely little Gloster E28/39, up on her maiden flight, was not actually that bad. Naval Intelligence wasn't just tasked with spying on the Jerries, the Eyeties and the French – they also had to spy on the RAF!
He was a delightful man, with sparking wit and high intelligence. I honor his service to our country, the Allied cause and to aviation.
No space for a review this week, but next week I'll be reviewing the brilliant new TV crime series Bosch.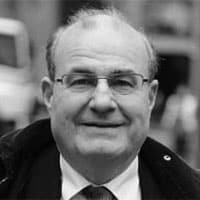 Michael Shrimpton was a barrister from his call to the Bar in London in 1983 until being disbarred in 2019 over a fraudulently obtained conviction. He is a specialist in National Security and Constitutional Law, Strategic Intelligence and Counter-terrorism. He is a former Adjunct Professor of Intelligence Studies at the American Military University.
Read Articles from Michael Shrimpton;
ATTENTION READERS
We See The World From All Sides and Want YOU To Be Fully Informed
In fact, intentional disinformation is a disgraceful scourge in media today. So to assuage any possible errant incorrect information posted herein, we strongly encourage you to seek corroboration from other non-VT sources before forming an educated opinion.
About VT
-
Policies & Disclosures
-
Comment Policy
Due to the nature of uncensored content posted by VT's fully independent international writers, VT cannot guarantee absolute validity. All content is owned by the author exclusively. Expressed opinions are NOT necessarily the views of VT, other authors, affiliates, advertisers, sponsors, partners, or technicians. Some content may be satirical in nature. All images are the full responsibility of the article author and NOT VT.