Kosovo, a predominantly Muslim land severed from Serbia by US and NATO military intervention, was turned into a hotbed of radical Islamism and a fertile recruiting ground for terrorists thanks to money pumped into it by Gulf kingdoms, the New York Times reported.
Among all European nations Kosovo holds the grim record of having the biggest per capita rate of people joining the terrorist group Islamic State (IS, formerly ISIS/ISIL) in Syria. In a land of 1.8 million, 314 Kosovars were identified by the police over the past two years as IS recruits.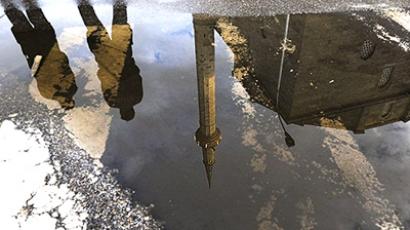 Local authorities and moderate imams blame the problem on a network of extremist clerics backed by money coming from Saudi Arabia, Qatar, Kuwait and other Arab nations. Funded through a shady network of private donations, mercurial charities and Islamic scholarship programs, they spread the brand of Islam called Wahhabism, a hardline sect to which Saudi Arabia adheres.
"The first thing the Wahhabis do is to take members of our congregation, who understand Islam in the traditional Kosovo way that we had for generations, and try to draw them away from this understanding," Idriz Bilalli, an imam of the central mosque in Podujevo, told NYT. "Once they get them away from the traditional congregation, then they start bombarding them with radical thoughts and ideas."
"The main goal of their activity is to create conflict between people," he added. "This first creates division, and then hatred, and then it can come to what happened in Arab countries, where war starts because of these conflicting ideas."
Wahhabism tenets include the supremacy of Sharia law, the idea of violent jihad and takfirism, which encourages killing of Muslims considered heretics for not following its interpretation of Islam. Kosovo, which declared independence from Serbia in 2008, states that it is a secular country in its constitution. Kosovars are predominantly Albanian Muslims who adhere to the moderate Hanafi school of Islam inherited from the five centuries of Ottoman rule.
Saudi charities and preachers flooded Kosovo after the Balkan wars, offering money to build mosques and help the poor in exchange for following stricter everyday norms such as wearing head scarves.
"They came in the name of aid," Enver Rexhepi, a moderate imam in Gjilan, said of the Arab charities in an interview with the newspaper. "But they came with a background of different intentions, and that's where the Islamic religion started splitting here."
"I spent 10 years in Arab countries and specialized in sectarianism within Islam," he added. "It's very important to stop Arab sectarianism from being introduced to Kosovo."
For some moderates like Rexhepi opposing the spread of Wahhabism meant trouble. In 2004, he clashed with young radical preacher Zekirja Qazimi over an Albanian flag displayed in Rexhepi's mosque. The flag features a double-headed eagle. Wahhabism considers depictions of living things idolatrous, so Qazimi tore the flag down. Rexhepi put it back.
Within days Rexhepi was abducted and savagely beaten by masked men in the woods above Gjilan, he told NYT. He believes Qazimi was behind the attack, but the police investigation went nowhere.
In 2014, after two young Kosovars blew themselves up in Iraq and Turkey, Kosovo authorities launched an investigation into their radicalization. This month Qazimi was sentenced to 10 years for inciting hatred and recruiting for a terrorist organization, an accusation that dozens of other clerics and charity workers faced. The broad investigation in Kosovo resulted in 67 people charged, 14 imams arrested and 19 Muslim organization shut down by the police.
Investigators say Saudi sponsors invest millions of dollars in spreading Wahhabism in the Balkans. Al Waqf al Islami, one of the organizations shut down, pumped in € 10 million from 2000 through 2012. Of this money, more than € 1 million went into mosque building. Some € 1.5 million vanished through unspecified cash withdrawals that the police could not trace. Only seven percent of the organization's budget went to caring for orphans, the charity's stated mission.
Kosovo Central Bank figures show grants from Saudi Arabia averaging €100,000 a year for the past five years. The funding from Riyadh has been slowly reducing lately, with Kuwait, Qatar and the United Arab Emirates stepping in, the report said.
The radicalization in Kosovo didn't come as a surprise to local authorities, the newspaper said. As early as 2004, then-Prime Minister Bajram Rexhepi tried to ban extremist sects. But he said the draft law was spoken against by European officials, who said it would violate religious freedoms.
"It was not in their interest, they did not want to irritate some Islamic countries," he said. "They simply did not do anything."
Now the Wahhabi agenda is shared by some to Kosovar officials, Interior Minister Skender Hyseni told the NYT.
"I told them they were doing a great disservice to their country," he said in an interview. "Kosovo is by definition, by Constitution, a secular society. There has always been historically an unspoken interreligious tolerance among Albanians here, and we want to make sure that we keep it that way."
Kosovo, originally a predominantly Serbian land that preserves a strong spiritual significance for Serbs to this day, has undergone dramatic demographical changes over the past centuries. By the late 1940s it was split in virtually equal parts between Serbs and Albanians, and the proportion continued to change.
In 1990s, the Balkans went through a period of brutal ethnic wars, and Kosovo saw its share of bloodshed. NATO used its military superiority to crush Serbian forces and ensure Kosovo's independence from Belgrade. Former US President Bill Clinton and his wife, US senator and presidential hopeful Hillary Clinton, are praised in Kosovo for their support of the Albanian cause.
ATTENTION READERS
We See The World From All Sides and Want YOU To Be Fully Informed
In fact, intentional disinformation is a disgraceful scourge in media today. So to assuage any possible errant incorrect information posted herein, we strongly encourage you to seek corroboration from other non-VT sources before forming an educated opinion.
About VT
-
Policies & Disclosures
-
Comment Policy
Due to the nature of uncensored content posted by VT's fully independent international writers, VT cannot guarantee absolute validity. All content is owned by the author exclusively. Expressed opinions are NOT necessarily the views of VT, other authors, affiliates, advertisers, sponsors, partners, or technicians. Some content may be satirical in nature. All images are the full responsibility of the article author and NOT VT.