Firstly, my heartfelt sympathies go out to the friends and relatives of the five police officers brutally murdered in Dallas, TX. Notice I did not say "murdered by Micah Johnson". Not for one moment am I buying into the lone-gunman theory.
Two things are noticeable about the Mainstream Media's pitifully uninformed coverage of this outrage:
(1)  Mention of other shooters was only permitted in the 24 hours following the murders, and
(2)  The location allowed the MSM to recycle the utterly discredited theory that President John F. Kennedy was assassinated by Lee Harvey Oswald.
Twelve trained law officers and two civilians seems an awful lot for one gunman, who has to reload. Dallas Police Chief David Brown, a sympathetic figure, was careful on Friday not to rule out other suspects. Then we see the dead hand of the FBI taking over the 'investigation' and shutting down all mention of other shooters.
Mayor Rawlings also seems to have joined in the clamp-down on the investigation. With respect he appears as out of his depth as Mayor Cabell was back in '63.
I think we can safely rule out a lone gunman. As with the JFK assassination it looks like crossfire from three different directions.
THE JFK ASSASSINATION
The ideas that Lee Harvey Oswald shot President Kennedy and acted alone are for incompetents, mental defectives, the disinterested and those willing to act as accomplices after the fact only. No serious individual should still be pushing this nonsense more than 52 years after the assassination, not after it has been disclosed that the president was shot from different directions using bullets of a different caliber.
I have more sympathy with those who argue that Oswald hit the president at least once, but that there were other shooters. Whilst inconsistent with the facts, such as the fact that the rifle alleged to be Oswald's had not been zeroed in, was fitted with cheap, Japanese sights not up to the task in hand, had not been fired that day in any event and was not fitted with an ammuniton clip, ruling out multiple shots, it is at least an argument that is usually made in good faith.
The very fact that the MSM are still willing to peddle the lie that Oswald shot the president undermines their reporting of this latest atrocity in Dallas.
WHERE ARE THE ATF?
Where are the ATF in all this? I thought they were supposed to be the lead federal agency for firearms offenses? What is shooting a police officer with a firearm if it is not a firearms offense?
Why are the feds involved anyway? Yes this was in part a hate crime, in that one of the shooters, Johnson, was a black racist, but surely the murder of a police officer in Texas is a capital offense contrary to the laws of the great State of Texas? Dallas PD ought to be the lead agency. They are not conflicted out – sorry, but if you are part of a conspiracy to murder police officers in Dallas you have bought into their jurisdiction.
WHICH AGENCY SET IT UP?
As with all mass-shootings in a democracy the first question is which Bad Guy intelligence agency set it up. It's not always the Krauts – the Virginia Tech massacre, e.g., was planned and carried out by North Korea's Reconnaissance General Bureau (RGB), albeit that agency works closely with the German DVD.
At this time it looks like the Dallas shootings were planned in Frankfurt by the Correa/COREA Group, part of the DVD. Mass murder is a German thing, as are lies and propaganda. The agency behind this outrage had to have enough pull to shut down any intelligent discussion of it in the MSM across the entire planet. Only the DVD can bully the media in this way. There isn't a media proprietor anywhere in the Western World with the guts to stand up to them.
The Correa/COREA Group are covert, and there is still some uncertainty over their name. I used to favour 'COREA', which has been used by a number of intelligence experts, but I have been persuaded by arguments that is set up by, and named after, a German agent named Correa.
CAVE-IN BY DALLAS PD
Sadly, Chief Brown appears to have caved into pressure from the boys downtown and the feds. This is a great shame. If police departments across America do not want their people shot in more mass-shootings they HAVE to take charge of the investigation when their officers are shot. The feds will just lie all day long. The FBI are still denying Abwehr involvement in the kidnap and murder of the Lindbergh Baby for heaven's sake, presumably on the specious ground that Germans do not murder babies. I have news for the Fibbies – if it suits their purposes, the Krauts will murder babies all day long. There were no crèches at Auschwitz.
In fairness (and I am nothing if not fair to the Krauts), I am not sure that Admiral Canaris in Berlin ordered the murder of Charles Lindbergh, Junior. Indeed, I imagine he was pretty upset when he heard about it, not because he was a kind-hearted man (he wasn't), but because he feared the possible political repercussions if he couldn't keep his agency's involvement in the kidnap a secret.
The Krauts do not reward loyalty. Poor Jo Cox found that out when she found herself confronted on the streets of her own constituency by a GO2 goon squad. She was pro-EU, but GO2 still whacked her in the hope of garnering a few votes for their side, just like the DVD whacked the pro-EU Anna Lindh in Sweden in 2003.
If Dallas PD thought that the Krauts would leave them alone because they owed favors over their role in the JFK cover-up they can think again. Working for the Germans must be a bit like that scene in one of the hilarious Up Pompeii movies, where the late, great Frankie Howerd is in a cell and a fellow prisoner asks if he would like gravy on his bread. All Frankie has to do is to pass his bread through a hole in the wall. Of course the hole closes as soon as the bread has been passed through. The Krauts don't give, they just take.
MOTIVE
Motive is not entirely clear at this time. German mass-shootings in the States are normally organised in support of the long-term strategic German aim of disarming the citizenry, under the guise of 'gun control'. Since US police officers are invariably armed that can't be the motive here.
However there is another long-term German ambition – federalization of US police forces. Dallas PD appear to have been dragging their heels on this. Having caved in on the investigation and agreed to let the other shooters get away scot-free, it looks as though the boys will cave on this as well.
Sadly, it's no good just offering grief counselling to the families, holding moving funerals then throwing away your officers' sacrifices. If the deaths of these good men are to mean anything then there has to be the first serious investigation into a mass-shooting in American history. Don't hold your breath, however. Looks to me like Dallas PD have run up the white flag, sadly. Anyone would think that Dallas was in Massachusetts, or France! Krauts wouldn't get away with it in Midland.
THE TORY LEADERSHIP BATTLE
Thankfully, word about the Michael Gove/Theresa May stitch-up reached MPs in time to ensure Gove's defeat. Great! Andrea Leadsom should win, BUT she had no real idea of the sheer nastiness of her opponent's supporters.
Theresa May, no offense intended, is an ambitious, hatchet-faced, machine politician. She's all out to win and the hell with party unity. If she wins she will go all out to reverse the Brexit vote, and dump as many EU migrants and German cars in the UK as she can.
Within 24 hours of the vote the pro-German Times newspaper, an enthusiastic supporter of Munich and Maastricht, had organised a stitch-up of Andrea, using the unpleasant, pro-EU (no offense intended) journalist Rachel Sylvester. Sylvester has never been slow to put the boot into a Eurosceptic and has long been a cheerleader for the EU's failing project. She hammered on an on in an interview about the Times's preferred candidate, Theresa May's, lack of children, with a lesbian sub-plot. Eventually she got a quote the Times could twist into an anti-Andrea headline.
It has been a steep learning curve for Andrea, but she will have learnt a valuable lesson about media integrity, or lack of it. It's an age-old problem with conservative politicians, which led to Ronald Reagan and Margaret Thatcher stumbling from one set-up and disaster to another. They constantly expect to see in others the good faith and integrity they possess themselves.
The EU was conceived by master political criminals and evil bureaucrats in the Third Reich. It has always been associated with lies and bad faith. Its supporters have mostly been political criminals themselves, like the late Sir Edward Heath. If you expect them to lie, cheat, steal and kill their way to their objective, you will not normally be disappointed.
CONGRATULATIONS TO ANDY MURRAY
Warmest congratulations to Andy Murray on winning his second Wimbledon Championship, in fine style too, in straight sets. In childhood Andy did something no tennis player in the Open Era has had to do, and should ever have to: he survived the shooting-up of his primary school, in Dunblane, by a German (GO2) asset. That makes his second great victory all the sweeter.
Well done too to the gallant loser, the Canadian Milos Raonic. He has a terrific serve, is a fine grass court player and will be back, I have no doubt. He is too good a player not to win Wimbledon one day.
MOVIE REVIEW: The Man from U.N.C.L.E  (2015), dir. Guy Ritchie
One word describes this latest offering from Guy Ritchie: stylish. It's not as much fun as the original TV series and movies, although made with a far bigger budget. There's no point expecting the actors playing Napoleon Solo and Illya Kuryakin to be as good as Robert Vaughn and David McCallum.
However, Henry Cavill and Armie Hammer come close. Elizabeth Debicki makes a 'good' baddie, and Hugh Grant does a passable Chief of MI6. I've only met a couple of bosses of MI6, but they have been suave and charming, with respect, like Hugh.
Even if it's in CGI, there's a pleasing appearance from HMS Ark Royal, and a real attempt to portray her and her aircraft as they would have been in the early 60s. I might have made a couple of changes had I been called in to advise (I'd have stuck in a De Havilland Sea Vixen, e.g.) but only a couple.
The scene where the German torturer, played superbly by Sylvester Groth, is fried in his own electric chair was well-received by the audience in the theater where I watched the movie, and I am sure by audiences all over Britain. Having taken so much rubbish from the murderous and callous Krauts over the years, it's difficult not to cheer when one of them gets their just desserts, even if it is only on the silver screen.
The original TV series was based on an idea from Ian Fleming, don't forget. He knew all about the DVD and GO2.  The idea of a bunch of ex-Nazis trying to steal a nuclear warhead isn't all that far-fetched.
Go see it – you'll enjoy it. Don't forget to cheer when the Kraut starts smoking, and I don't mean Dunhills.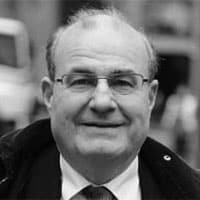 Michael Shrimpton was a barrister from his call to the Bar in London in 1983 until being disbarred in 2019 over a fraudulently obtained conviction. He is a specialist in National Security and Constitutional Law, Strategic Intelligence and Counter-terrorism. He is a former Adjunct Professor of Intelligence Studies at the American Military University.
Read Articles from Michael Shrimpton;
ATTENTION READERS
We See The World From All Sides and Want YOU To Be Fully Informed
In fact, intentional disinformation is a disgraceful scourge in media today. So to assuage any possible errant incorrect information posted herein, we strongly encourage you to seek corroboration from other non-VT sources before forming an educated opinion.
About VT
-
Policies & Disclosures
-
Comment Policy
Due to the nature of uncensored content posted by VT's fully independent international writers, VT cannot guarantee absolute validity. All content is owned by the author exclusively. Expressed opinions are NOT necessarily the views of VT, other authors, affiliates, advertisers, sponsors, partners, or technicians. Some content may be satirical in nature. All images are the full responsibility of the article author and NOT VT.