Once in a while, one come across great stories, moving stories of people making a big difference in the lives of many.

One such story is the exceptional work of the Marshall-Legacy Institute — and the commitments and dynamism of its long-time President and CEO Colonel (Ret) Perry F. Baltimore III.
I had the pleasure of having lunch and great conversation with Perry, a West Point graduate with lots of energy and commitment to do good in civilian life; and he does it with a battalion of "dogs".
You see, Marshall-Legacy Institute (marshall-legacy.org) is devoted to people whose countries are ravaged by wars, and to people who risk their lives or risk losing a limb due to the mines planted by warring factions. Mines are planted recklessly and criminally, where they can do the most harm: in the countryside where people have their fields.
MLI has been fully engaged in clearing mine fields in Nicaragua, in Bosnia, Lebanon, Iraq, Azerbaijan, Armenia, Afghanistan, Thailand, Iraq, Sri Lanka, and Eritrea.
Its dogs are highly trained and carefully selected, having specialized training to sniff and find mines. They ship these dogs overseas and train local handlers to safely use them to find mines. "MLI has never lost a dog to landmines or injuries."
Children in American primary, junior and high schools play a great and significant role in the success of the MLI "CHAMPS", Children Against Mine Program, through an educational partnership with US schools engaging the children in its efforts.
On the average, each school sponsors one dog, at a cost of $20,000. To date, hundreds of dogs have been sponsored by American children and deployed overseas.
However, MLI goes "Beyond Dogs" by providing prostheses and rehabilitation programs and care, especially for children, giving them a second lease on life and bringing smiles to their faces through vocational training.
Please allow me to share with you two such stories. One from Afghanistan and the other from Yemen as provided by Colonel (Ret.) Perry Baltimore.
_________
Safa – Landmine Survivor in Afghanistan
While visiting her grandparents' home near the Pakistan border in Laghman Province of Afghanistan, young Safa was picking vegetables with her sister for lunch when she stepped on a landmine. In that one instant, Safa's life changed forever.
Safa's family could not afford the intensive rehabilitation or prosthetic limb that she needed, so Safa was forced to use a makeshift crutch. Unable to run around and play with her friends, and feeling confused and scared by the entire experience, six-year-old Safa was left with little hope and without much of a reason to smile.
Luckily, MLI's CHAMPS (Children Against Mines Program) students in the Roshan School in Laghman, near Jalalabad, learned of Safa's tragedy and immediately began working to help her. The Roshan students shared the story about Safa with MLI's CHAMPS students at Grace Christian School in Greenwich, CT, where the schoolchildren began raising money to provide Safa with a new leg and the rehabilitative treatment she so desperately needed.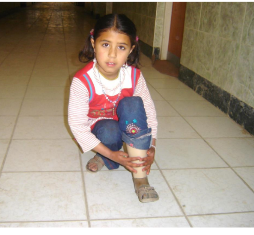 Within a few short months, the Connecticut children had raised enough money to provide Safa a new custom-fitted prosthetic leg, and the CHAMPS students at Roshan School began the difficult task of transporting Safa multiple times to and from the ICRC facility in Jalalabad, where she was fitted with a new leg was fitted and she received the medical care she needed.
The children and faculty at Grace Christian School went on to raise funds for the next four years, providing Safa with new prosthetic legs as she grew.
What is truly remarkable about this story, however, is that prior to the CHAMPS youth finding Safa, the patriarch in her family had never allowed the girls in the family to attend school. But he was so moved by the efforts of the children in Connecticut – who cared so much for Safa, a girl they would never meet – that he allowed Safa and her sisters to attend school for the first time!
Thanks to the combined efforts of these amazing youth, Safa has a functional prosthetic leg, is now attending the 4th grade in school, and has hope and a reason to smile!
_________
Mohammed Abdul Karim – Landmine Survivor in Yemen
Mohammed is the embodiment of resilience – a quality that allows some people to be knocked down by life's challenges, only to come back stronger than ever. His kindness, charm, and warmth win the hearts of all who meet him.
Six years ago, at just 10-years of age, Mohammed was playing near the mosque in his village outside Sana'a, when he found an object glistening in the sun.
Thinking it was a toy, he picked it up to play and began to run home to show his father and five brothers. As he neared his home, the landmine exploded, taking both of Mohammed's arms and the use of an eye. His father, hearing the explosion, went outside and immediately saw his son holding up his two stumps crying "Father, Father."
His father said, "I felt like I was insane, like crazy, I was crying and running to my son who has blood all over his body, his arms gone."
When Mohammed saw his father's distress, he reached out with his stumps and said, "I am okay, Father, don't worry, I am okay" in an effort to comfort his dad. His father later said, "He is so beautiful, so good, and he shows how strong he is."
Nearly three years later, MLI President Perry Baltimore met Mohammed at the Yemeni Association of Landmine Survivors (YALS) recreation center during a program visit in Sana'a. He saw this handsome young man with dimpled cheeks standing near a pool table with a cue stick under his stump. He challenged Mohammed to a game of pool, and the boy quickly demonstrated his mastery of the sport, quick wit, good nature and positive attitude.
MLI immediately committed to getting prosthetic arms for Mohammed. Within six weeks, MLI sent Mohammed and his father to Amman, Jordan to be fitted for a functional right arm and cosmetic left arm. Mohammed received his new limbs on February 1, 2011, when he was able to properly feed himself for the first time since his landmine accident.
Mohammed proudly returned to Sana'a to show his family, friends, and classmates his new arms. He soon became a student leader of the CHAMPS-Yemen mine-action team. MLI recognized Mohammed for his courage and inspirational leadership at its annual Clearing the Path Gala in Washington, DC, where Mohammed received MLI's 2012 Survivors' Award.
Mohammed remained in the US for over two months, and received state-of-the-art prosthetic arms at the Johns Hopkins Medical Center before returning home to Yemen to resume schooling. He is an excellent student and aspires to be an engineer!
I was so moved by the stories and the efforts of Perry that I want to share with you. Please extend our thanks and appreciation to Perry's Dogs and to all the wonderful children who made it all possible. Thank you Perry for the exceptional work and devotion.
_______________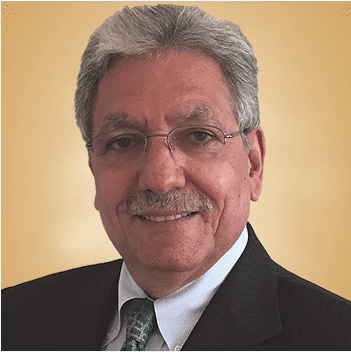 Sami Jamil Jadallah is a US Army Veteran (66-68) is a graduate of Indiana University and holder of a BA, MPA ( School of Public and Environmental Affairs and Jurist Doctor and is an international legal and business professional with more than 40 years in the construction business (KSA), Management Consulting and Business Development (Swiss), Hospitality, Aviation and Conservation (Morocco). Was the first to establish an internationally recognized conservation (Houbara) foundation in Morocco and North Africa. Currently Sami is managing a conservation and wildlife foundation with 100 employees in Morocco. Sami is a recipient of the "Leadership Award" from the US Sixth Army NCO Academy and recognized student leadership while at Indiana University. Sami was a co-founder of the United Palestinian Appeal and served on its board for over 12 years. He lives in Fairfax, VA. Sami is an advocate of the OneState for All of its People as a solution to the Israeli/Zionist conflict with the Palestinians. Sami has 4 bothers who served in the US military 2 Marines and 2 Army.
ATTENTION READERS
We See The World From All Sides and Want YOU To Be Fully Informed
In fact, intentional disinformation is a disgraceful scourge in media today. So to assuage any possible errant incorrect information posted herein, we strongly encourage you to seek corroboration from other non-VT sources before forming an educated opinion.
About VT
-
Policies & Disclosures
-
Comment Policy
Due to the nature of uncensored content posted by VT's fully independent international writers, VT cannot guarantee absolute validity. All content is owned by the author exclusively. Expressed opinions are NOT necessarily the views of VT, other authors, affiliates, advertisers, sponsors, partners, or technicians. Some content may be satirical in nature. All images are the full responsibility of the article author and NOT VT.