by F. William Engdahl,  … with New Eastern Outlook,  Moscow
–
[ Editor's Note: Mr. Engdahl brings us a top to bottom review of the energy wars behind much of the Mideast turmoil that we have been experiencing. VT has editorialized extensively that we see international crime as the main engine behind the current terror proxy wars and the New Cold War.
There are no national interests at stake because the multinationals that make all the money on controlling energy supplies, markets and transportation do not have their respective countries listed as beneficiaries, but their stockholders.
Some of these offshore deals avoid taxation by using subsidiaries that never touch the US, so there is no "trickle down" effect. The US military and government resources are put to work for private offshore companies' profits, which can flow directly into the pockets of the friendly politicians via Super PACS that allow unlimited funding to keep them in office, a legal form of bribery.
Any honest person running for office and not willing to jump into this game-of-snakes business finds himself at a serious disadvantage in funding a challenge to any incumbent, 90% of whom are re-elected, as new Congressmen have to start at the bottom of committee assignmentspriority.
That is done by seniority, so voters swap a more powerful rep for a new one, who gets training wheels to start until showing that they know how to play ball.
Pay close attention to the dates William has provided below, as they are key to following the dot connecting with what else was going on at the time, especially the gas pipeline war through northern Syria and Aleppo, where that battle continues on even during the current ceasefire, compliments of the US "good terrorist" factions… Jim W. Dean ]
____________

– First published  …  September 18,  2016 –
In a fundamental sense the entirety of the five-year-long war over Syria, as well as the entire Arab Spring from Libya to Egypt to Iraq has been about control of hydrocarbon resources – oil and natural gas – and of potential hydrocarbon pipelines to the promising markets of the European Union.
Dick Cheney's 2001 War on Terror was primarily about providing the excuse for a direct US military takeover of the vast oil fields of Iraq and other key Middle East countries.
Washington's War on Syria has been less a war for control of oil. Rather, it's about who controls whose natural gas flows via which pipelines through which borders to the vast EU gas market.
At this point it looks more and more as if Russia's geopolitical and geo-economic strategy is trumping (no Donald pun intended) Washington's very troubled game in the region. Turkey is apparently deciding to become a key ally in this Russian energy trump.
At the beginning of September Turkey's Minister of Energy, Berat Albayrak met the CEO of Gazprom Alexei Miller in Istanbul for talks about reviving Russia's mammoth Turkish Stream natural gas pipeline from Russia, under the Black Sea to and through Turkey to the border of EU member country, Greece.
The progress on the Russian-Turkish gas pipeline came to an abrupt halt as relations between Moscow and Istanbul broke following the Turkish downing of a Russian jet over Syrian territory.
Following the September 1 Istanbul talks, one week later Berat Albayrak's energy ministry issued the first permits for the start of the project. Gazprom issued the statement, "Accords were reached at the meeting to complete the issue of all required permits for initiation of the Turkish Stream project implementation as soon as possible.
Commercial negotiations on conditions of Russian gas supplies to Turkey will continue." Turkish Stream will involve construction of a gas pipeline from Russia to Turkey along the bottom of the Black Sea where 660 kilometers of pipeline will be laid in the old South Stream corridor, which was cancelled in December 2014, and 250 kilometers will be laid in a new corridor towards the European part of Turkey.
For the first time, in a further indication of Turkey's seriousness about the Russian gas pipeline deal, President Erdoğan has proposed Turkey make substantial financial concessions to Russia, including paying for half of the pipeline's construction.
It's worth noting that Beret Albayrak's father-in-law happens to be Recep Tayyip Erdoğan, the man the CIA and their Cemaat networks of Fethullah Gülen within the Turkish military tried this past July to topple in a failed coup d'etat, presumably precisely because Erdogan had decided to dump his pro-NATO Prime Minister, Ahmet Davutoğlu this May and attempt a rapprochement with Putin's Russia.
That 180 degree pivot away from NATO towards re-establishing ties with Russia was the trigger for the failed coup attempt against Erdoğan by networks loyal to Gülen and the CIA. At the center of Washington's alarm was reportedly their assessment that Erdoğan would make a revival of the Turkish Stream when he met with Putin in St. Petersburg on August 9.
Now the fact that the frozen Gazprom Turkish Stream project is not only back in discussion, but also advancing concretely under the direct eye of Erdoğan's son-in-law suggests that, despite appearances of cutting a deal with Washington on Syria and the Syrian Kurds after the August 24 emergency talks of US Vice President, Joe Biden, Erdoğan is very serious about developing strategic ties with Russia.
Biden, who plays the role in the Obama Administration similar to that which Dick Cheney played for George W. Bush, was rushed to Ankara in a frantic bid to keep Turkey in NATO, even at the expense of Washington's long-term Kurdistan separate state strategy.
Now Turkey, with the clear assent of Moscow, has apparently prevented a Kurd separate enclave on Turkey's border that threatened to link in the future with the Turkish Kurds. Clearly there is a god deal of behind-the-scene horse trading between Moscow and Ankara over strategic issues essential to both. Natural gas flows are at the center.
With the advance of the Turkish Stream project, Turkey and Russia are now positioned to trump repeated efforts of Washington and their NATO allies to force Russia and Gazprom out of the EU and open the door for US control of the huge EU natural gas market.
The first step in the US effort to break links between Russia and Western Europe was Washington's February, 2014 coup d' etat in Ukraine, referred to by Stratfor's George Friedman as the "most blatant coup in US history."
In an interview with Moscow's Kommersant paper that he perhaps today regrets, Friedman, then a Pentagon and CIA consultant, openly admitted that the geopolitical aim of the entire US-led Maidan Square Color Revolution was not at all to force "democracy" on Ukraine, but rather to block growing ties between Germany and Putin's Russia.
As Friedman noted, "the most dangerous potential alliance, from the perspective of the United States, was considered to be an alliance between Russia and Germany. This would be an alliance of German technology and capital with Russian natural and human resources." And gas pipeline wars are at the center of that US effort to block Russia economic links in the EU.
Pipeline War Phase One
In December 2014, some nine months after Washington's coup in Kiev, Vladimir Putin went to Ankara to meet with Erdoğan.
Following those Ankara talks, Putin announced cancellation of Russia's major South Stream gas pipeline project that would have brought Russian gas also under the Black Sea from Russia, avoiding the war-torn Ukraine, to land in Bulgaria, and from there sending Gazprom gas through most of South Eastern Europe and Italy. In his statement Putin cited the refusal of the Bulgarian government to go ahead.
Enormous pressure from Washington through Brussels' EU Commission had forced Bulgaria to back out. At that point it appeared that Washington had scored a major victory in the gas pipeline wars. It wasn't to be so easy.
Instead of South Stream, Russia's Putin announced at the December, 2014 meeting with Erdoğan, that the two would join forces to build what was called Turkish Stream. Using much of the planning and route of South Stream but landing instead of on the Bulgarian coast, on the Turkish Black Sea coast, the new gas pipeline would cross Turkey to the border of Greece.
There it would be responsibility of gas-deficient EU states to build their own pipelines to purchase the Russian gas via Turkey. Russia's President Putin proposed to develop the Turkish Stream pipeline initially as four parallel pipelines of 16bn m³/year each that would go across the Black Sea from Russia to a landfall at Kiyikoy, on the coast of Turkey's European province of Thrace. The project has now been reduced to a still considerable two lines carrying a total 31.5bn m³/yr.
The rupture of ties between Erdogan and Russia's Putin following the shooting in Syrian airspace of a Russian jet on November 24, 2015 appeared to leave Washington in the Catbird Seat in relation to control of EU natural gas flows. The only step remaining would be to be certain Washington and her allies also controlled the available non-Russian natural gas reserves that would feed the growing EU gas market.
Here we find the true agenda behind Washington's five-year-long war for regime change in Damascus, a war with terrorist groups such as ISIS or Al Nusra Front-Al Qaeda in Syria financed largely by money from Qatar.
The Syrian Gas Pipeline War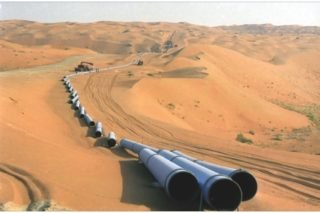 Russia's decision to enter the Syrian war on the call of Syrian President Bashar al Assad on September 30, 2015 is also strategically and geopolitically tied to the entire issue of the future supplies of European Union natural gas.
This is a carefully-obscured background to what is one of the longest and most bitter proxy wars in history. As some foolish US and UK geopolitical circles see it, who controls the future natural gas flows of the EU has ultimate control over the EU, at least to a major extent.
The 28 member countries of the European Union today are the world's largest natural gas import market. The domestic supply sources in the UK and Holland sectors of the North Sea are rapidly declining. Further, Norway's offshore natural gas reserves are in dramatic decline and the state has apparently decided to not invest in more costly production projects but to focus on renewable energy.
Only 35% of the European Union's gas demand is met by domestic production, with the rest imported mainly from Russia (40%), Norway (30%), Algeria (13%) and 8% from Qatar. By 2025, the EU is expected to be importing over 80% of its natural gas.
This control over the future EU natural gas market is where the "prize" as Dick Cheney called it in his now infamous 1999 London Institute of Petroleum speech, ultimately lies.
The only significant import sources of stable supplies of natural gas to meet EU demand over coming decades aside from Russia are Qatar and Iran, with US LNG from shale gas a far distant prospect at current low prices.
Qatar's 'Offer He Could (and did) Refuse'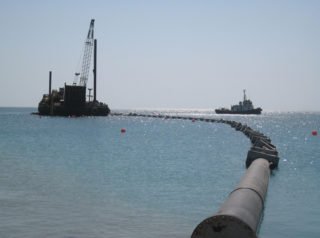 By 2009 it became clear to some geopolitical Washington strategists that Qatar could play a strategic role in pushing Russia out of the EU natural gas game and put a US-controlled supplier, Qatar, in the dominant role. In 2009 Qatar proposed to Assad a gas pipeline to the EU through Syria and Turkey. Instead he backed an Iran pipeline together with Iraq and Iran
In 2009 Qatar's Sheikh Hamad bin Khalifa went to Damascus to propose to Bashar al Assad construction of a new natural gas pipeline across Syria and into Turkey aimed at the huge EU gas market. Qatari natural gas came from its part of the world's largest gas field in the Qatari territorial waters of the Persian Gulf.
In July, 2011 Assad along with the leaders of Iran and Iraq announced they were planning an alternative to the Qatar-Syria-Turkey EU gas pipeline bringing natural gas from South Pars, the Iranian side of the same giant field as Qatar.
The new Iran-Iraq-Syria-Lebanon gas pipeline would be a direct competitor to not only the Qatar-Turkey pipeline but to Washington's ill-fated Nabucco gas pipeline intending to use Azeri gas fields controlled by US and UK oil majors.
In rejecting the Qatar offer in 2009 Bashar al Assad stated his reason was "to protect the interests of [his] Russian ally, which is Europe's top supplier of natural gas."
Instead, Assad pursued negotiations for an alternative $10 billion pipeline plan with Iran, across Iraq to Syria that would potentially allow Iran to supply gas to Europe from its South Pars field. In July 2012 Assad signed a Memorandum of Understanding with Iraq and Iran. That was the precise point when the US gave the green light to Saudi Arabia, Qatar and Turkey to back regime change in Damascus—mad pipeline geopolitics.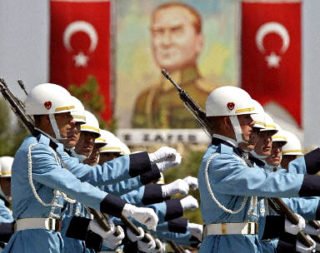 It remains to be seen of the latest Russia-Turkey accord on Turkish Stream includes definitive Turkish shift in backing anti-Assad terror groups inside Syria from across the Turkish border.
If so, it would deal a devastating defeat to not only Qatar and the hapless Saudi monarchy. It could potentially reopen the door for a Russia-backed Iran gas pipeline via Iraq and Syria and now Turkey to the EU.
Will that in turn make Moscow the winner on the global gas pipeline wars? Or will it merely be the trigger for a new round of Washington wars over energy pipelines at a time when the world is moving away from oil and gas?
The Turkish paper, Hurriyet in a review of the latest Russia-Turkey gas negotiations remarks, "Turkish-Russian relations are warming again following the plane crisis that stopped the world's largest energy investments." They warn that the US and the EU may try to do everything possible to block implementation of not just the Turkish Stream pipeline, but also construction by Russia of the Akkuyu Nuclear Power Plant in Turkey.
The newspaper says the West would likely do so through "support of terrorist organizations and warmongering. Isn't the statement 'We will bring peace and democracy to the Middle East' simply a guise for 'oil wars'?" they ask. It seems they know the answer.
F. William Engdahl is strategic risk consultant and lecturer, he holds a degree in politics from Princeton University and is a best-selling author on oil and geopolitics, exclusively for the online magazine "New Eastern Outlook."
____________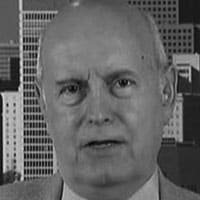 Jim W. Dean is VT Editor Emeritus.  He was an active editor on VT from 2010-2022.  He was involved in operations, development, and writing, plus an active schedule of TV and radio interviews.  He now writes and posts periodically for VT.
ATTENTION READERS
We See The World From All Sides and Want YOU To Be Fully Informed
In fact, intentional disinformation is a disgraceful scourge in media today. So to assuage any possible errant incorrect information posted herein, we strongly encourage you to seek corroboration from other non-VT sources before forming an educated opinion.
About VT
-
Policies & Disclosures
-
Comment Policy
Due to the nature of uncensored content posted by VT's fully independent international writers, VT cannot guarantee absolute validity. All content is owned by the author exclusively. Expressed opinions are NOT necessarily the views of VT, other authors, affiliates, advertisers, sponsors, partners, or technicians. Some content may be satirical in nature. All images are the full responsibility of the article author and NOT VT.