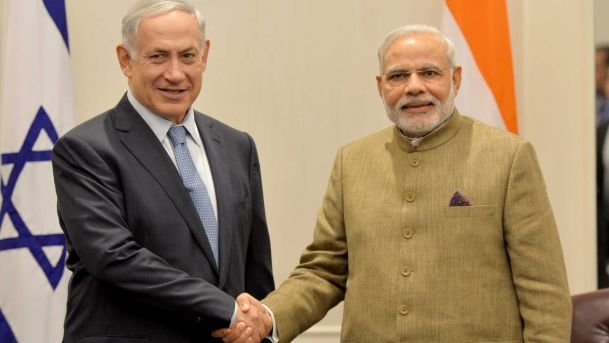 by Shabana Syed
The Uri Attacks did not as Prime Minister Modi predicted "isolate Pakistan" rather it highlighted the atrocious sufferings of the Kashmiri people under Indian rule. After the Uri incident,  Russian forces arrived in Pakistan to hold joint military drills, while Indonesia offered Pakistan defense equipment, Iran, China, the OIC, Turkey, and Nepal have all shown support for Pakistan's stance on Kashmir.
However the threats to 'isolate' Pakistan should not be taken lightly as this is what US and Israel have been trying to do especially after 9/11.
Now Israel's man is finally in charge of India, one of the first steps of 'isolation' would be to target Pakistan economically. Using the Uri attacks India has declared that it will be boycotting the upcoming SAARC meeting in Islamabad and Afghanistan, Bangladesh, and Bhutan have also declared they will be following India.
Modi's message to Pakistanis directly was "your rulers are misleading you over Kashmir" and "a day will come when the People of Pakistan will go against its own government to fight terrorism".
His message to the Pakistanis was an attempt to show the world that he was not a warmonger and tolerant. However, he cannot expect to be taken seriously with a bloody history behind him or disguise the fact that intolerance in India has reached sky-high under him and the Hindu fundamentalists.
Straight after the Uri attacks Pakistani actors like Fawad Khan and Mahira Khan, who is working in India were threatened with a 'beating' and told to leave the country in 48 hours while the same mob reached India's top Producer Karan Johar's house protesting about a film he made depicting Muslim characters.
Narendra Modi's boast to Pakistanis that 'India exports software while Pakistan exports terrorists' is comical as internationally he is known as the 'butcher of Gujurat' and was banned from traveling to the US for many years.
According to investigations Modi like 'Emperor Nero' in 2002 had sat back and watched Gujarat burn while the massacre of thousands of Muslims took place.
William Dalrymple in Narendra Modi: Man of the Masses writes how on 27th February a party of Hindu activists burned to death in a train due to a malfunctioning gas cylinder. Modi without evidence said it was a Pakistani Muslim conspiracy and "had the burned bodies of the Hindutva activists paraded around Ahmadabad while he made a series of incendiary speeches".
He also allowed the Hindu militants with axes and knives to attack the residence of Congress MP Ehsan Jafri and when Jafri rang Modi for help according to Jafri's widow "Modi taunted her husband and expressed surprise that he was still alive".
Dalrymple writes:
"Shortly afterward, at around 3 pm, Zakia Jafri watched in horror from her balcony as rioters marched her naked husband from their home and chopped off his fingers, hands, arms, and head, then tossed the body on an open pyre. All the while the police looked on without intervening, telling victims, "We have no orders to save you." An investigative magazine later caught several ringleaders on camera claiming that the chief minister had approved the attacks: "Modi had given us three days to do whatever we could," one of them boasted".
Arundhati Roy, an Indian author, and peace activist said in an interview in 2010 that a 150 million-strong Muslim minority has become a hostage to Islamophobia and terrorism. "While they're blamed for every terrorist act – nobody in India mentions the war going on in Occupied Kashmir for over six decades or the destruction of Babri mosque"
When Modi and Prime Minister Netanyahu met at the annual UN assembly, it was not so much a meeting of the minds, but rather a meeting of two butchers whose hands were soaked with the blood of innocents. At the meeting "Prime Minister Netanyahu raised the issue of the danger of a nuclear-armed Iran as well as the global threat posed by Islamic terrorism."
The latter issue is close to the heart of Modi who had used the threat of 'Islamic terrorism to rise to power and instigated the destruction of the 16th Century Babri mosque because according to Hindu mythology the mosque was built on their God Ram's birthplace.
In the same way, Netanyahu had used the issue of 'Islamic terrorism' to kill maim and ethically cleanse Palestinians and he also hoped that the way the Babri mosque was destroyed Masjid Al Aqsa in Jerusalem will also be destroyed as it is built according to Jewish texts where the Jewish Temple use to exist. Jews believe once the Jewish Temple is built their Messiah will come and make Jews rulers of the world.
Israel and Zionist neo-cons have been desperate to not only infiltrate India but get it fully on board in order to reshape the New World Order into balkanized states on ethnic and religious lines.
The map of a redrawn and divided region including Pakistan introduced in 2006 by US Lieutenant-Colonel Ralph Peters is sitting in the Pentagon, a place 'Israel Firsters' control.
During the New York meeting between Modi and Netanyahu Iran's nonexistence, according to IAEA, the nuclear program was one of the first topics discussed.
However, the destruction of Iran after Syria cannot take place until Pakistan is destabilized and its nuclear capabilities neutralized, something the CIA, Mossad, and RAW have been working on since Pakistan became a nuclear power.
India's former Foreign Minister Natwar Singh in his autobiography 'One Life is not Enough' says that CIA agents have "penetrated deep into every sphere of decision and policy-making" in the Indian government.
Israel's first prime minister, David Ben-Gurion stated in 1967 that the destruction of Pakistan is imperative:
"The world Zionist movement should not be neglectful of the dangers of Pakistan to it. And Pakistan now should be its first target, for this ideological state is a threat to our existence. …..Whereas the inhabitants of the Indian Peninsula are Hindus, whose hearts have been full of hatred towards Muslims. Therefore, India is the most important base for us to work from against Pakistan. It is essential that we exploit this base and strike and crush Pakistanis, enemies of Jews and Zionism, by all disguised and secret plans "
These disguised and secret plans involved Mossad and RAW, who in 2001 unleashed the codenamed 'Dragon Policy' aimed at causing chaos and destruction of Pakistan economically, militarily, and socially.  They also hoped for an all-out 'sectarian' chaos within Pakistan and for this they hired mercenaries, drug lords, and mafia figures. CIA/Mossad operative Raymond Davis was one such case who in 2011 was caught red-handed trying to hand over funds and arms to Al Qaeda-linked terror cells in Pakistan.
The 9/11 tragedy had provided both India and Israel with a perfect opportunity to jump on the bandwagon of the War on Terror and convince the world that Kashmiri and Palestinian freedom fighters are terrorists.
Today, India is Israel's closest partner collaborating not only economically but militarily and according to many this ongoing relationship is finally out from under the carpet.
As Indian President Pranab Mukherjee stated Israel has been there for India during many a crisis, referring to Israeli assistance during the Kargil crisis in 1999 as well as during the 1965 and 1971 wars with Pakistan.
Pranab forgot to mention the continual assistance of Israel on the issue of Kashmir and the fact that Mossad training camps are decked all along the Kashmir valley and the same torture practices are used that were used in Abu Ghraib prisons in Iraq which were highlighted by journalist Robert Fisk when he wrote 'Abu Ghraib torture trail leads to Israel'.
A Guardian newspaper report highlighted Indian army atrocities on the Kashmiri people which Modi would love the world to believe as lies:
According to interviews of detainees "The police started on our hands and fingers, breaking them with gun butts…. we were hung by our ankles and had chili rubbed in our wounds." Others claimed to have petrol funneled into their rectums. One group alleged in court that they were forced to sodomize each other, while a police cameraman filmed.
With an estimated 100,000 deaths of Kashmiris, the region is one of the most militarized places on earth, with more than half a million Indian troops deployed there.
According to many analysts if the Uri attack wasn't a false flag attack to divert attention away from India's horrific actions in Kashmir then it may be justifiably the Kashmiri mujahideen who see the Indian Army as occupiers who are brutalizing them.
Human Rights Lawyer Pervez Imroz argues that Pakistan has welcomed the UNHRC while India has denied the organization access to Kashmir to investigate the disappearance and torture of Kashmiris
One also wonders to what extent Mossad helped Modi rise to power. Apparently, Modi had already made a trip to Israel when he was Chief Minister of Gujurat in 2001 and during that trip had suggested that "as the possible next prime minister he could make history by journeying to the Jewish State".
Israel initially supported the economic growth of Gujarat under Modi by bringing in major investors and this resulted in pushing out small businesses, farmers, and fishermen.
According to many Indians Modi has made economic progress in the country, what is not being mentioned is that only the elite classes are benefitting. Most of India is still feudal, with most poor Indians living below the poverty line.
Dr. Vandana Shiva writes: "Today we are suffering a similar tragedy related to seeds, as Monsanto extracts super profits from our farmers in the form of illegal royalties as 'seed Lagaan, trapping them in debt, pushing them to suicide."
According to Tel Aviv's Institute for National Security Studies, Modi has been described as "very direct, very Israeli."
Apparently, Special squads from Mossad and MI5 had been dispatched to Turkey to the G20 summit last year to shield Prime Minister Modi, The Times of India reported.
Also, it appears that APCO Worldwide, a PR Company which is formed of ex-Mossad intelligence officials linked to the Whitehouse whose expertise is making sinners look like saints, has been handling Modi's election campaign.
Needless to say, APCO is part of the Rothschild who through their East India Company had colonized and plundered India for nearly 400 years and now it appears through Modi are back to do the same.
Modi was brought into power at the right time and the right place at a time when the two US Presidential election campaign candidates Hilary Clinton and Donald Trump, both backed by Zionist billionaires like George Soros and Haim Saban will start their term if elected, looking after the needs of Israel as they have already promised to the detriment of the rest of the world.
Netanyahu just recently flew to the states to meet Trump and Clinton, to affirm that if they come to power Jerusalem will be declared the undivided capital of Israel and of course the need to tackle Iran.
In the meantime, Modi will play cat-and-mouse games with Pakistan, keeping up the pressure to isolate and destabilize the country and weaken Russia China, and Asian countries' alliances formed through organizations like SAARC and the CPEC (China-Pakistan Economic Corridor.
It appears as the Pakistan Army is the only institution trying to save the country, as its Prime Minister Nawaz Sharif is ducking and diving as he has lucrative business deals with India plus there is the question of his sugar mill plant apparently also based in India.
The great General Hamid Gul (an editor at VT) who died last year had been sidelined by Pakistan's ruling parties and the western media because he spoke the truth. He was one of the very few who said outright that Israel and the US committed 9/11, and as a result, Washington pressurized by the  Jewish lobby tried to get Gul's name on the UN Security Council list of 'International Terrorists' a  move which was blocked by China. General Gul said:
"The Pakistani Taliban are being sponsored by the Indian intelligence (RAW) and Israeli Mossad, to carry out their attacks in Pakistan. Mossad is very active in Pakistan and they are providing all the guidance and technical support to Indian intelligence. So, Pakistan has to have its back covered – no country can fight on two fronts."
Ignoring the corruption inflicted on Pakistanis by its own governments, the Sharifs and the Zardari who are a rich clique, ordinary Pakistanis and many in the  Army have shown immense bravery and resilience against the ongoing subversive attacks implemented against the nation.
Also now as the Uri attacks have shown world's opinion about Pakistan being a terrorist state is changing. Countries like Russia, China, Iran, and many in the Asian block, have woken up to the hegemonic games played by US and Israel and today the tide is turning as resistance movements build up to take a stance.
ATTENTION READERS
We See The World From All Sides and Want YOU To Be Fully Informed
In fact, intentional disinformation is a disgraceful scourge in media today. So to assuage any possible errant incorrect information posted herein, we strongly encourage you to seek corroboration from other non-VT sources before forming an educated opinion.
About VT
-
Policies & Disclosures
-
Comment Policy
Due to the nature of uncensored content posted by VT's fully independent international writers, VT cannot guarantee absolute validity. All content is owned by the author exclusively. Expressed opinions are NOT necessarily the views of VT, other authors, affiliates, advertisers, sponsors, partners, or technicians. Some content may be satirical in nature. All images are the full responsibility of the article author and NOT VT.