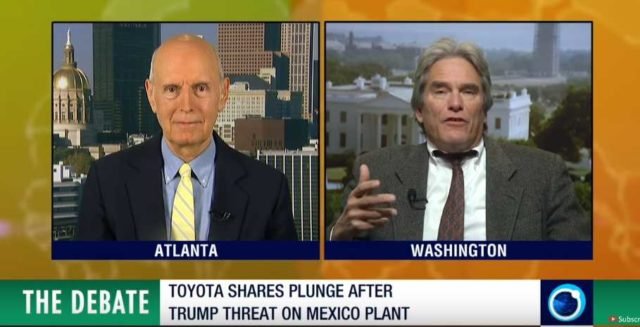 by  Jim W. Dean, VT Editor, … with Press TV, Tehran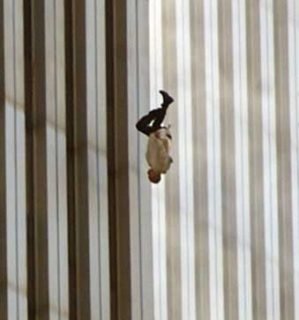 [ Note: I was happy to catch this Debate Show on the Trump policy focus, as we will be getting down to the nitty gritty on that soon, so it is time for commentators and analysts to get their bets down.
Michael Lane has been banging the drum on Trump's negotiating style of never revealing what his bottom line is early in a negotiation. Trump prefers to keep his opponent confused until final deal-making day, and Lane does a good job of keep this aspect in the public eye.
The proof of this is Trump's crashing Toyota's stock with the mention of import duties, nevermind that the WTO has rules that countries have agreed to abide by. So Trump was showing that, rules or no rules, he can create some big problems for them if he wants to, softening them up to make some concessions.
This may sound wonderful to some Americans, but it also opens up Pandora's box to the US getting this treatment in return, via the Trump "precedent", by which he seems to want to put his stamp on history. As I mention in the show, and only joking a little bit, I think he will bring his reality TV show theatrics and gamesmanship into the White House and have lots of fun.
Whether the rest of us will is another matter. When we look at the banksters and gangsters he has brought in with him, he has portrayed himself as the classic front man, riding in as the "protest" and "Mr. Everyman" candidate, only to leave his groupies at the altar.
It's going to be one hell of a ride with Trump, as it was with Obama and with Bush (43). Hopefully, the 9-11 people who are all still walking around free will not feel the need to make another demonstration. And if they begin to do so, we shall see if those who are tasked with stopping the false flags will stand down again, as they did with 9-11.
We published our Sandia Labs report on how the buildings were really brought down — not our opinion but their scientific evidence — and never got a follow up call from a single sworn defender of America thanking us and promising to follow up with it.
The 9-11 Dallas grand jury is still sitting on all of the testimony; if no prosecution is ever brought forward, then it looks like that was their deal.
They rounded up all the witnesses to key material, and they are under court order now, of course, to never speak about their testimony. Such things do not happen by accident. As Gordon so loves to say, welcome to how the world really works… JD ]
_____________
– First published  …  January 07,  2017 –
US President-elect Donald Trump's fiery rhetoric has sparked controversy about US relations with the world. He has called for building a wall along the border of Mexico, threatened to put pressure on China over issues of political and economic conflict and claimed to tear up the nuclear deal between Iran and six world powers.
But he has called for improving ties between Russia and the US. Press TV has asked two experts about the future shape of US policies under Trump.
Jim W. Dean, managing editor of the VT from Atlanta, says the US president-elect is not going to be free to do as far as he wants, because there are consequences and opponents for every measure that his administration intends to carry out.
Trump would face restrictions and considerations in the way of implementing his foreign policy in the face of Mexican migrants, Iran's nuclear deal, economic and political differences with China and trying to separate Russia from China, Dean told Press TV on Friday night.
According to the analyst, Trump's decision to tear up the nuclear agreement with Iran, known as the Joint Comprehensive Plan of Action (JCPOA) is not in line with the United States' interests and obligations.
The upcoming Trump administration has the possibility to impose new sanctions on Iran, which is contrary to the JCPOA, "but that is really going to hurt American foreign policy and the reputation," he said.
"He (Trump) is on dangerous waters here, because the US participated in this (nuclear negotiations) as part of a group and if he pulls out, it's really going to cast a long shadow about what the good is to get the US to sign an agreement," he noted.
The pullout of the United States from the nuclear deal "is really going to weaken the US in terms of its upper-hand and supposedly being the most responsible economic power in the world," he added.
Dean touched on the stances of the other signatories of the JCPOA, saying, "Even if Trump were to pull out, he's only pulling the US out."
"The other countries and particularly the EU, all the companies that are basically doing deals with Iran are not going to pull out," he added.
The US president-elect is threatening to go ahead with his plan to tear up nuclear deal, but he may not be able to do the job in a real-world situation, because it would be "overt blackmail," Dean said.
Referring to the United States' future policy toward Russia, Dean said that 2017 would be the year of ending sanctions against Russia.
Trump is willing to improve relations with the Russians, he said, adding the sanctions tactics did not bear any fruit and the European partners showed their growing opposition to the measures.
"Trump is probably trying to pull Putin away from China, because his main goal here is to try to split up … defensively between Russia, China and Iran, because that is something that would really really hurt the US in terms of doing its basically forward deployment," Dean said.
The analyst further pointed to the Trump administration's policy in dealing with China, saying Beijing is "a big target" for Trump. "He is going to be grabbing a lot of news headlines and he's going to show that he's standing up to the big growing power of China."
Dean said the Chinese have their hands full with military might and China is able to defend itself in regional area from all the US bases.
"And when it comes to economy, there are huge trade imbalances and Trump is going to make a very very big target there to get that trade imbalance down," he added.
Dean also referred to the US president-elect's policy toward Mexico, saying Trump is going to send a message to Mexico that they are not going to be able to use US sources to overcome their own economic woes.
The plan for building a wall on the Mexican border is a "starting point" for Trump and he is going to have "a lot of support" and "it could be hard for his opponents to tear down what he intends to do," he said.
Michael Lane, founder of the American Institute for Foreign Policy from Washington, said that Trump never wants you to know what his bottom line is.
"There are too many people who don't understand Donald Trump, take everything he says as legitimate or everything he says as what his bottom-line is instead of his opening position or opening negotiation stance," he noted.
Pointing to Trump's position on Iran's nuclear accord, Dean said the president-elect "is perfectly on safe legal ground renouncing it (JCPOA), tearing it up, keeping it, whatever he wants with it."
The analyst also said Trump is not going to reveal his stance toward China, but "he is trying to send the signal to the Chinese that they don't know where he is."
Pointing to the trade relationship between the US and China, Lane said America's trade balance with China is "awful" and Trump has called Beijing as a "currency manipulator."
_____________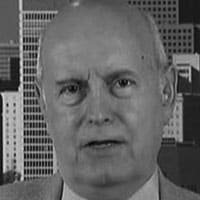 Jim W. Dean is VT Editor Emeritus.  He was an active editor on VT from 2010-2022.  He was involved in operations, development, and writing, plus an active schedule of TV and radio interviews.  He now writes and posts periodically for VT.
ATTENTION READERS
We See The World From All Sides and Want YOU To Be Fully Informed
In fact, intentional disinformation is a disgraceful scourge in media today. So to assuage any possible errant incorrect information posted herein, we strongly encourage you to seek corroboration from other non-VT sources before forming an educated opinion.
About VT
-
Policies & Disclosures
-
Comment Policy
Due to the nature of uncensored content posted by VT's fully independent international writers, VT cannot guarantee absolute validity. All content is owned by the author exclusively. Expressed opinions are NOT necessarily the views of VT, other authors, affiliates, advertisers, sponsors, partners, or technicians. Some content may be satirical in nature. All images are the full responsibility of the article author and NOT VT.