The Plot Against Britain…
By Gilad Atzmon
A few days ago in London, we witnessed a senior diplomat in the Israeli embassy caught on camera plotting to "take down" members of the British government including Foreign Office minister Sir Alan Duncan. We then learned that a senior official from the UK's National Union of Students, as part of a sting involving the Israeli embassy, was covertly filmed conspiring to oust the organisation's president Malia Bouattia.  Malia Bouattia is the first Muslim president of the NUS and some British Jewish institutes have been concerned by her overwhelming popularity.  It has also been revealed that the Israeli embassy has been plotting to undermine Labour leader Jeremy Corbyn and caught on video allocating funds towards that goal.
Are these events connected to each other, or is it mere coincidence that the Jewish state and Jewish organisations such as AIPAC, LFI,  JDL, and JVP are, time after time, caught red-handed, plotting and conspiring against other people's regimes and political institutions?
Must Watch: Al Jazeera's Investigations-The Lobby Ep 1:
[youtube ceCOhdgRBoc]
Embarrassingly enough, plotting against other people's political institutes is deeply rooted in Judaic teaching. In fact, the Book of Esther is a biblical prototype, teaching Jews how to infiltrate and subvert the Goyim's political affairs.  This Book of Esther* is a biblical story that is the basis of Purim, probably the most joyous Jewish festival.
The story is set in the third year of the rule of Ahasuerus in Persia and is usually identified with Xerxes I. It is a story of palace intrigue and of a brave and beautiful Jewish queen, Esther who, at the very last minute, manages to save the Jewish people of her time.
King Ahasuerus is married to Vashti, whom he repudiates after she rejects his request that she 'visit' him during a feast and it is Esther who is selected from all the candidates to be Ahasuerus's new wife. As the story progresses, Ahasuerus's prime minister Haman, without knowing that Esther is actually Jewish, plots to have the king kill all the Jews but Esther, together with her cousin Mordecai, saves the day for her people.
To read The Book Of Esther click here
At the risk of endangering her own safety, Esther warns Ahasuerus of Haman's murderous anti-Jewish plot and Haman and his sons are hanged on the fifty-cubit gallows he had originally built for cousin Mordecai and Mordecai takes Haman's place as prime minister. Unfortunately, Ahasuerus' edict decreeing the murder of the Jews cannot be rescinded, so he issues another edict, allowing the Jews to take up arms and kill their enemies. This they do and it is this  genocide that, ever since, is celebrated at Purim.
The Judaic moral of the story is clear: If Jews want to survive, they'd better infiltrate into the corridors of power. With Esther, Mordechai and Purim in mind, Shai Masot, LFI, AIPAC and the notion of 'Jewish power' look like the very embodiment of a deep biblical and cultural ideology.
However, there's a twist. Though the story is presented as an historic tale, the historicity of the Book of Esther is largely disputed by most modern bible scholars. It is largely the lack of clear corroboration of any of the details of the story of the Book of Esther with what is known from classical sources of Persian history that has led scholars to conclude that the story is mostly, or even totally fictional.
In other words, though the Judaic moral is clear, the attempted genocide is a fiction. It seems that by telling how Jews 'save' themselves by infiltrating their host nation's politics, the Book of Esther propels its readers into a collective Pre-Traumatic Stress Disorder (PRE-TSD) and makes a fantasy of destruction into an ideology of survival.
Interestingly, the Book of Esther is one of only two books of the Bible that do not directly mention God (the other is Song of Songs). In the Book of Esther, it is the Jews who believe in themselves, in their own power, in their uniqueness, in their sophistication, in their ability to conspire, in their ability to take over kingdoms, in their ability to save themselves and in their ability to'take down' Sir Alan Duncan, Jeremy Corbyn andNUS leader Malia Bouattia.  The only remaining question is how long will it take before the Brits and the British government grasp what they are up against.
* The following was written years ago and was published as a part of an extended article on http://www.counterpunch.org/2007/03/03/from-esther-to-aipac/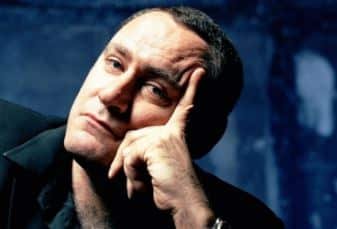 Gilad Atzmon is an Israeli-born British jazz saxophonist, novelist, political activist, and writer.
Atzmon's album Exile was BBC jazz album of the year in 2003. Playing over 100 dates a year, he has been called "surely the hardest-gigging man in British jazz." His albums, of which he has recorded nine to date, often explore the music of the Middle East and political themes. He has described himself as a "devoted political artist." He supports the Palestinian right of return and the one-state solution in the Israeli-Palestinian conflict.
His criticisms of Zionism, Jewish identity, and Judaism, as well as his controversial views on The Holocaust and Jewish history, have led to allegations of antisemitism from both Zionists and anti-Zionists. A profile in The Guardian in 2009 which described Atzmon as "one of London's finest saxophonists" stated: "It is Atzmon's blunt anti-Zionism rather than the music that has given him an international profile, particularly in the Arab world, where his essays are widely read."
His book The Wandering Who? is available at Amazon.com
ATTENTION READERS
We See The World From All Sides and Want YOU To Be Fully Informed
In fact, intentional disinformation is a disgraceful scourge in media today. So to assuage any possible errant incorrect information posted herein, we strongly encourage you to seek corroboration from other non-VT sources before forming an educated opinion.
About VT
-
Policies & Disclosures
-
Comment Policy
Due to the nature of uncensored content posted by VT's fully independent international writers, VT cannot guarantee absolute validity. All content is owned by the author exclusively. Expressed opinions are NOT necessarily the views of VT, other authors, affiliates, advertisers, sponsors, partners, or technicians. Some content may be satirical in nature. All images are the full responsibility of the article author and NOT VT.