… by Gilad Atzmon
"The Lobby", the Al-Jazeerah expose of the Israeli Embassy and the Jewish Lobby infiltration into British politics is a landmark in journalism. It seems that Qatari TV outsmarted Israeli intelligence in the UK and beyond.
In the program, an undercover journalist named 'Robin' managed to infiltrate into the corridors of the Jewish lobby in Britain, secured the trust of a senior Israeli intelligence officer and, most importantly, managed to reveal the depths of Israeli interference in British politics.
We learned how Israel and its lobby plot against Britain and the Brits. In the program, Shai Masot, an Israeli official was caught on camera conspiring to "bring down" a British minister.
We learned how our own treacherous MPs shamelessly serve a foreign power and foreign interests. In Episode 3 we witness British politicians and Israeli lobbyists such as MP Joan Ryan  caught on camera smearing a Labour voter as an 'anti-Semite', and practically conspiring against her own party. Ms Ryan does it all for the Jewish state, a state with a horrid record on human rights and war crimes.  I wonder what is it that motivates MP Ryan? Is it  greed, or is it just power seeking?
The Brits should certainly ask themselves how come it is left to a Qatari TV network  to reveal the shocking news about their democracy being taken over by a foreign Lobby. Should this not be the concern  for the BBC or the Guardian? And even after the Al-Jazeera expose, the British media remained silent and the question must be asked: would it have stayed as silent had Shai Masot been a Russian? Would it have stayed as silent if MP Joan Ryan was exposed as an Iranian lobbyist?
But Al-Jazeera fell into an all-too-common trap. Troubled by its own findings, it tried to soften them with the usual politically correct fluff.  Instead of concentrating on the British aspect of this saga and allowing the Brits to speak for themselves, Al-Jazeera allowed an Israeli – academic Ilan Pappe to speak for us. Similarly, Jackie Walker, certainly a victim of the Israeli campaign was also asked, "as a Jew" (as well as a Black person), to spell out for us her own identitarian philosophy.
All other commentators on the Israeli espionage operation came from recognised Palestinian solidarity perspectives. Despite the fact that the dirty dealings of the Israeli Embassy and the treason of members of the Israeli lobby groups in Britain is a clear offence against British sovereignty and the British people, only one Brit, journalist Peter Oborne, addressed the offence from a clear British perspective.
This is wrong. "The Lobby" exposed, above all, a gross interference with British sovereignty, a crude intrusion into the British democratic process and government.  Al-Jazeera failed because it turned this British national tragedy into an internal Jewish dispute.
For obvious reasons, Al Jazeera chose not to delve into the deep, cultural meaning of the Israeli operation. Israel is, above all, the Jewish state and, as I have mentioned many times before, plotting against other people's regimes is deeply embedded in Judaic teaching and Jewish culture.
It is in practice the message of The Book of Esther, which teach the Jews how toconspire against their rulers and, by proxy, to win over their enemies.  You can read The Book Of Esther for yourselves (it's pretty short and very entertaining): http://www.jewishvirtuallibrary.org/jsource/Bible/Esther.html
Shai Masot was no junior embassy employee as claimed. He was a senior intelligence officer operating from the safety and immunity of its embassy on behalf of the Jewish state. He was working alongside Israeli Ambassador Mark Regev and the two are seen together in the film, sitting side by side, addressing various Jewish lobby groups.
Shai Masot has been recalled and, I understand, is currently seeking other employment. Mark Regev should now be expelled and the matter must be investigated by MI5.
____________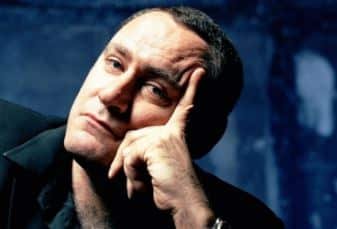 Gilad Atzmon is an Israeli-born British jazz saxophonist, novelist, political activist, and writer.
Atzmon's album Exile was BBC jazz album of the year in 2003. Playing over 100 dates a year, he has been called "surely the hardest-gigging man in British jazz." His albums, of which he has recorded nine to date, often explore the music of the Middle East and political themes. He has described himself as a "devoted political artist." He supports the Palestinian right of return and the one-state solution in the Israeli-Palestinian conflict.
His criticisms of Zionism, Jewish identity, and Judaism, as well as his controversial views on The Holocaust and Jewish history, have led to allegations of antisemitism from both Zionists and anti-Zionists. A profile in The Guardian in 2009 which described Atzmon as "one of London's finest saxophonists" stated: "It is Atzmon's blunt anti-Zionism rather than the music that has given him an international profile, particularly in the Arab world, where his essays are widely read."
His book The Wandering Who? is available at Amazon.com
ATTENTION READERS
We See The World From All Sides and Want YOU To Be Fully Informed
In fact, intentional disinformation is a disgraceful scourge in media today. So to assuage any possible errant incorrect information posted herein, we strongly encourage you to seek corroboration from other non-VT sources before forming an educated opinion.
About VT
-
Policies & Disclosures
-
Comment Policy
Due to the nature of uncensored content posted by VT's fully independent international writers, VT cannot guarantee absolute validity. All content is owned by the author exclusively. Expressed opinions are NOT necessarily the views of VT, other authors, affiliates, advertisers, sponsors, partners, or technicians. Some content may be satirical in nature. All images are the full responsibility of the article author and NOT VT.