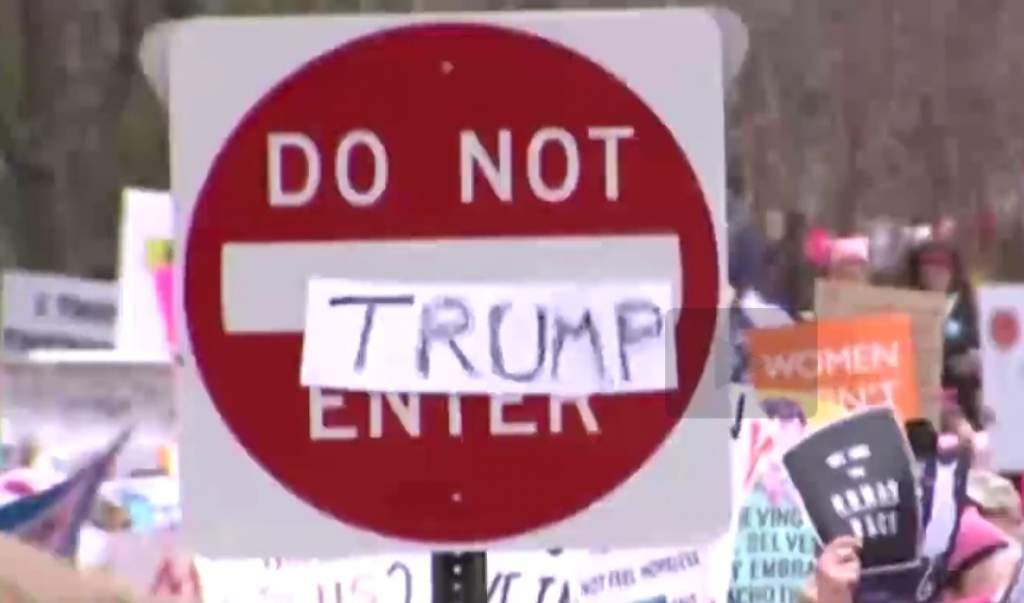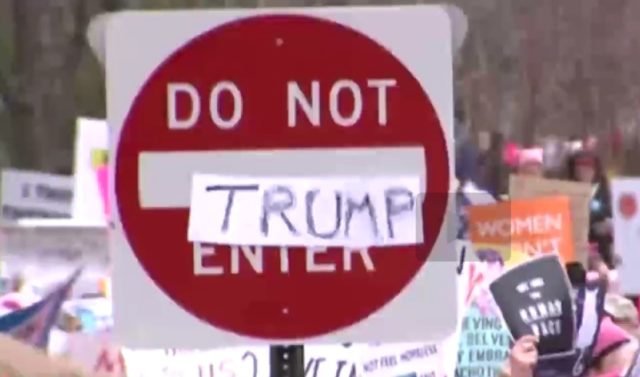 Hundreds of thousands of people from across the United States descend on Washington to voice their anger and anxiety over Donald Trump's presidency a day after he took the oath of office.
The Women's March on Washington, which organizers said attracted half a million people on Saturday, seeks to raise awareness of women's rights and other civil rights, that many Americans fear could be under threat by the new president.
The city's subway reported 275,000 travels by 11 am, compared to 193,000 trips made on inauguration day.
Trump angered many at home and abroad by repeatedly making disparaging remarks about women, Muslims and immigrants during his bombastic presidential campaign.
The Women's March, which began with a Facebook call by a Hawaiian grandmother in the aftermath of Trump's election victory in November, is predicted to become one of the largest political demonstrations ever seen in the US capital.
Organizers said demonstrators were going to Washington on their own, using buses and trains from distant locations.
"We will witness one of the largest and most significant demonstrations for social justice in America's 240-year history," said Crystal Hoyt, an associate dean at the University of Richmond.
"By stoking and exploiting fear, Trump mobilized deep-seated sexism, racism, and xenophobia to gain political traction," she added.
The march comes the day after Washington was rocked by violent protest against Trump, highlighting the depth of frustration in a deeply divided country unseen in decades.
While the march has been organized in response to Trump's presidency, some marchers said they did not mean to attack him personally.
"I wouldn't call it an anti-Trump march, I would call it a 'We are watching you, Trump' kind of march," said Ayesha Ahmed, who came from Chicago with the Muslim Women's Alliance, according to NBC News.
Many of the protesters said they had not been politically active in the past, but the divisive nature of the 2016 election awakened their civic duties.
Mary Hornig, a grandmother who came from Virginia with three family members, said she participated in the march "for the future. Now and the future."
She acknowledged that Trump might not listen to their message, but added, "I'm hoping some of the other Republicans might."
"We have put this man in the office who is a terrible role model, teaching people that bullies are acceptable and women are property," said protester Kelly Hansen, 32, who traveled to Washington from Boston.
"It's completely unacceptable," she added. "It's setting us back 50 years."
Donald Trump sworn in as US president
World leaders react to Trump's inauguration
US police arrest 200 anti-Trump protesters
'Trump will bring the world closer to war'
Brits protest against Trump inauguration
Trump defeated his Democrat rival, Hillary Clinton, on November 8 and took to the oval office on Friday.
Alongside with the Women's March on Washington, more than 600 "sister marches" have been planned around the United States. Some of the largest rallies were held in Boston, New York, Chicago and Los Angeles.
Law enforcement authorities will be on alert for any new flare-up of violence.
Anti-Trump protests sweep world 
Thousands of people are also marching through the British capital, London, to show solidarity with those who are gathering for the main march in Washington.
Demonstrators were marching from the US embassy in London's Grosvenor Square, to Trafalgar Square on Saturday.
Similar protests are also taking place across the UK in Belfast, Cardiff, Edinburgh, Lancaster, Leeds, Liverpool, Manchester, Bristol and Shipley.
At least 700 sister marches were planned around the world on Saturday. Women in more than 30 other countries took to the streets to march against Trump.
Rallies have already taken place in Paris, London, Berlin, Amsterdam, Mexico City, Bangkok, Delhi, Cape Town, Tokyo and other cities across the world in solidarity with Washington marchers.
#WomensMarch takes to the streets around the world
Live updates
Thousands of women are marching in cities around world to call for the protection of civil liberties and diverse cultures which organizers say have been threatened by the recent US presidential election.
The day of action centers around the Women's March which has been organised near US Capitol buildings, Washington, on Donald Trump's first full day in the White House.
So far, sister rallies have taken place in Japan, Australia while demonstrations are also happening in European cities like London, Paris, Barcelona, Dublin and Milan.
22 January 2017

00:21 GMT

"Penguins for Peace" march was even held by the women who are stationed at US research center in Antarctica.

00:17 GMT

More than half a million people attended the anti-Trump march in LA, according to police estimates. The city's Mayor, Eric Garcetti, thanked participants for a "show of unity, peace & strength."

21 January 2017

22:57 GMT

22:27 GMT

Thousands of protesters surround Trump Tower in NYC.

21:53 GMT

Around 10,000 people attended the march in Vancouver, according to the city's police estimates.

21:22 GMT

Between 135,000-150,000 people attended the march in Boston, according to estimates from the city Mayor's office, while organizers expected around 80,000. Boston's Mayor Marty Walsh said protesters can "always count on him as an ally."

20:33 GMT

The large crowds at the Women's March in Chicago forced organizers to cancel their initial plans to march downtown. Instead, they opted to extend the ongoing rally in Grant Park along Lake Michigan, by using overflow areas, as reported by AP.

20:20 GMT

The massive turnout at the Women's March in Washington, DC, prevented organizers from leading the main and formal march toward the White House, as the entire planned route was filled with hundreds of thousands of 'sister' protesters, AP reports, citing an unnamed DC official. The official said more than half a million people could have been protesting on the streets of Washington, DC.
Press TV is a 24-hour English language news and documentary network, affiliated with Islamic Republic of Iran Broadcasting (IRIB).
IRIB is state-owned but independent of the Iranian government in its management and is the only legal TV and radio broadcaster inside Iran. IRIB's head is appointed directly by the supreme leader, Ayatollah Ali Khamenei, and is considered to be close to the country's conservative political faction. Press TV is headquartered in Tehran with offices and bureaus around the world; including London, Beirut, Damascus, Kabul, and the Gaza Strip.
*All posts on behalf of PressTV are made by Jim W. Dean
ATTENTION READERS
We See The World From All Sides and Want YOU To Be Fully Informed
In fact, intentional disinformation is a disgraceful scourge in media today. So to assuage any possible errant incorrect information posted herein, we strongly encourage you to seek corroboration from other non-VT sources before forming an educated opinion.
About VT
-
Policies & Disclosures
-
Comment Policy
Due to the nature of uncensored content posted by VT's fully independent international writers, VT cannot guarantee absolute validity. All content is owned by the author exclusively. Expressed opinions are NOT necessarily the views of VT, other authors, affiliates, advertisers, sponsors, partners, or technicians. Some content may be satirical in nature. All images are the full responsibility of the article author and NOT VT.