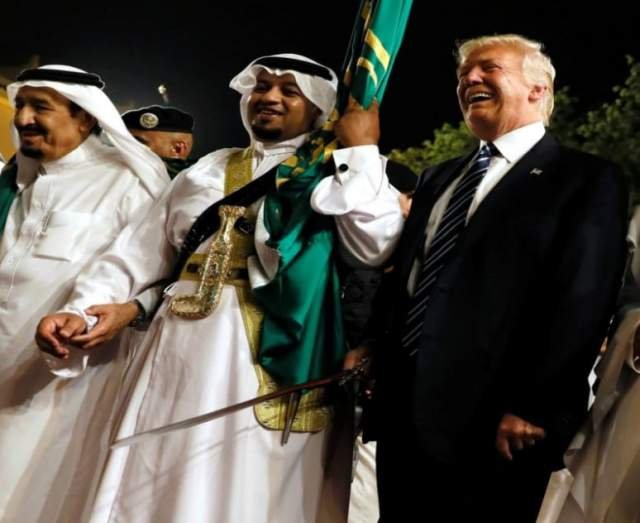 By Bg. Samson Simon Sharaf for VT
Editor's note:  The article below was submitted by Sharaf through Katherine Frisk of South Africa.  Sharaf is a retired Bg in the Paksitani Army and a well known television commentator in Pakistan.

The article will seem misleading at first, testing patience but is a delightful cornucopia of cleverness and insight.g
"Those who would give up essential Liberty, to purchase a little temporary Safety, deserve neither Liberty nor Safety." 
Benjamin Franklin
(This article must be read in conjunction with Nation: 15 April 2017, Islamic Military Alliance to Fight Terrorism and its cited references.)
Pakistanis with an unbent conscience need to thank US President Trump for assuming the leadership of the Muslim World through the House of Saud. This strategic tripod that USA and NATO resisted in 2015 is completed by Israel; exactly what KSA and Israel had wanted for a very long time. The history of Judea and Assyrians being foes and yet indirectly strengthening each other is being repeated.  This dominance will be at a cost of the Biblical Damascus, moderate Muslims and Christians of Middle East. What Trump did is not new. Rather, it is a continuation of the petro-dollar alliances of 1945 and 70s
So, the trumpet of a war declaration by three Abrahamic religions against infidels has been blown. The organizational structure of this alliance reflects its intentions. With the power of USA, petro dollars of the Kings and military precision of Israel, who needs Pakistan to lead the Islamic Military Alliance to Fight Terrorism (IMAFT)? As optics indicates, President Sisi stands much closer to Trump. The template of Saudi superiority in the Middle East has moved far beyond Pakistan's prowess and appeasement. Pakistan should heave a sigh of relief and find it opportune to make a graceful exit to concentrate on its own house.
For religious scholars representing different schools of thought in Judaism, Christianity and Islam, the battle lines are drawn. On one side is the Zionist-Saudi/Salafi-Neocon axis versus the Shiite Iran and its allies backed by the Russian Orthodox Christians. For biblical researchers, this means a fight between the House of Judea (Zionists) with the other tribes who spread to Iraq, Syria, Turkey, Europe and Russia. According to Katherine Frisk, after almost three decades the bipolarity between Communism and the Capitalist World is being replaced by religious divides within Judaism, Christianity and Islam. The Zionists, hard line Islamists and born again Christians versus Jews, moderate Sunnis, Shia and Orthodox Christians. With communism long dead, what else could drive USA against Russia? To Pakistanis, this unfamiliar argument may seem strange, but they need to read history and learn beyond short sighted policies.
It is now clear that contrary to what the Government of Pakistan and ISPR were trying to make Pakistanis believe, the military alliance is an anti Iran initiative. Trump blamed Iran, the only enemy, for exporting terrorism to Middle East. By distorting history and recorded facts, he played on the vulnerabilities of Arab Kingdoms to secure arm sales that would eventually run beyond 450 billion US dollars. This military imperialism is amusing. Not long ago Trump was blaming Hilary Clinton and Barrack Obama for destabilising Iraq, Libya, Syria and creating ISIS in connivance with Israel and Saudi Arabia. Having switched sides, he goes home with a cheque of 110 billion while another 350 billion will be spent in the next 10 years. Inadvertently or consciously, he has moved into a camp Obama administration resisted. He indirectly declared Russia an enemy. He has also ripped apart the NATO template evident from the expressions of European leaders during his speech at Brussels yesterday. But the questions of association with Russians nag. This may not be enough to erase his stigmatized relationship; a wait and see?
There is a Persian saying of SHUTAR KEENA. A camel never forgets to take revenge. But history proves it to be just a phrasal verb. Zionists and all blends of Takfiris are like the Arabian sidewinder that hides in sands to strike. The history of Middle East from times immemorial has proved it. Revenge is name of the game.
As I wrote in the past, possessed with an overwhelming economic clout, a durable strategic partnership with USA and Europe, a long list of Muslim dependencies and as custodians of Mecca and Medina, the Kingdom of   Saudi Arabia in the past unsuccessfully tried to forge or influence similar alliances. In 2013 KSA pushed for a NATO like structure. This was followed in 2014 with a common naval and police structure (GCC-Pol). In 2015, this was advanced with Egyptian assistance to a common counter terror force. Egypt's President Sisi was keen to lead this force but KSA, Kuwait and Bahrain became suspicious of Egyptian designs. USA was in a thaw with Iran and non supportive of such an alliance. To impose caution, USA confronted Saudi Arabia with a highly classified dossier of terrorist activities. The most incriminating and irrefutable contents got leaked showing Saudi terrorist foot prints in Iraq, Syria, Lebanon, Yemen, Pakistan and Russia. Putin's intervention indicated that the Middle Eastern deconstruct policy was temporarily checked. By enlisting US support, Saudi Arabia has come up with a counter plan.
This is what was predicted in Nation: 11 April 2015, Garden of Eden, the Forbidden Fruit. "At the heart of this Great Game is a lesser strategy being followed on dotted lines by Sunni Arab monarchies for their own survival? The rivalry goes back centuries. Turkey and Iran are permanently imprinted historical predispositions on the Saudi Wahhabism.  The Shia Iranians will never forget 1802 when the first Saud dynasty attacked and destroyed the Shiite holy city of Karbala. This is reinforced by the latest Saudi positions in Libya, Egypt, Syria, Palestine, Iraq and Yemen. It was a joint Ottoman-Egyptian invasion in 1818 that brought the first Saudi kingdom to an end. Turks will neither forget that North Yemen inherited the Ottoman Empire nor the tragic destruction of the holy sites constructed by Turks in Mecca and Medina destroyed by the house of Saud. These countries will covertly support any group including Houthis that rise against Saudi interests. But at the end of the day it will be Persian-Turk and Saudi rivalries that shall provide space and cause for the Anglo-US Integrated Euro Asian Geo-Strategy. The danger is that it will create a Shia-Sunni divide in the entire Muslim world." How true it was. Now far worse has happened and USA, Israel and Russia have been drawn into the conflict. Eager to appease Saudis and Americans, the Government of Pakistan simplified the issue. Just wait till Turkey jumps in more actively.
But this strategic shake up will not end here. European Union will in due course weigh its options in NATO as a minion in greater US designs. They will question the logic of seeing Russia as an enemy. In due course, they will exercise choices.
The Roman Catholic Church is at odds with Trump policies. The genocide of Armenian Christians weighs heavy on its conscience. It cannot allow Christians in Middle East to be raped, tortured and beheaded by Daesh. Already, Pope Francis has become the biggest voice against President Trump's racial and religious policies. This will change perceptions particularly in Europe.
Pakistan's eagerness to join this alliance was due to ignorance and lack of insight in Arab politics.  It is based on a long prevailing mindset of deriving advantages out of alliances and invoking religious sentiments. The new Arab politics in least about religion; it is about survival and power.
It is time Pakistan washes its hands off this alliance and General Raheel Sharif packs his bags and returns home. Shukerya Nawaz Sharif, Shukerya Raheel Sharif, Shukerya Donald Trump!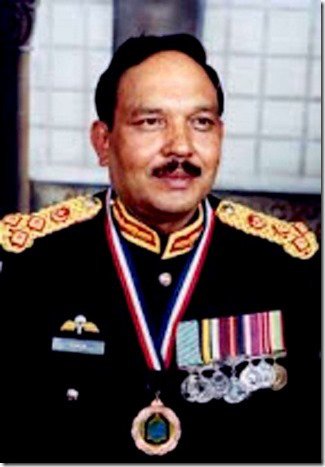 (Brigadier General) Samson Simon Sharaf
The writer is a political economist and a television anchorperson
ATTENTION READERS
We See The World From All Sides and Want YOU To Be Fully Informed
In fact, intentional disinformation is a disgraceful scourge in media today. So to assuage any possible errant incorrect information posted herein, we strongly encourage you to seek corroboration from other non-VT sources before forming an educated opinion.
About VT
-
Policies & Disclosures
-
Comment Policy
Due to the nature of uncensored content posted by VT's fully independent international writers, VT cannot guarantee absolute validity. All content is owned by the author exclusively. Expressed opinions are NOT necessarily the views of VT, other authors, affiliates, advertisers, sponsors, partners, or technicians. Some content may be satirical in nature. All images are the full responsibility of the article author and NOT VT.