'Not up to US to terminate it' v 'Courageous step' – world reacts to Trump Iran deal speech
… from Russia Today,  Moscow
[Editors' Notes:  There is a backstory here.  With Blackwater relegated to cleaning up enough messes to get Erik Prinz into the Senate next election, the nasty work has been left to others. America's military is in decline, missiles that don't work in Korea, the USS Ticonderoga dead in the water there, its AEGIS system down and the THAAD system in tatters.
The US missile defenses that were to secure Poland, and the Balkans a joke as well, now sitting under a Russian Iskander umbrella, totally "toast."
What America has left isn't American at all.  The War on Terror was never American nor was the invasion of Syria and the re-invasion of Iraq using ISIS.  This was all organized crime, on a massive scale, but something new and unimagined.
ISIS is a conglomeration of tech companies, no, we aren't kidding, Google and Facebook, a dozen more as well, operating under the moniker "Jigsaw," a regime change "pro-democracy" group that manipulates/rigs elections, controls the internet and is at the heart of "fake everything."
Their fingerprints?  Las Vegas?  Gas attacks in Syria?  The Charlie Hebdo attack in Paris?  When we follow the ratlines, these events and so many more, the "false flags" are leading us to something sinister, impossibly so it might seem.  Why would the tech giants, long ago taken over by the hedge fund fronts for the international banking cartel, want to poison humanity, control history and debase mankind?
Compared to "Google," an alien invasion would be a kindness. … Gordon Duff, Sr. Editor
*
Now for Jim Dean's Editor's Note: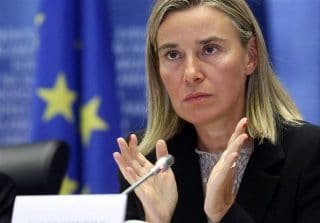 The melodrama is over. Trump milked the JCPOA announcement for all he could get for air time, and took a middle of the road path.
He tossed the ball to Congress and did not list the Republican Guard as a terrorist organization after it has killed more ISIS terrorists in Syria and Iraq and had more KIAs in its ranks than the entire US coalition. Welcome to America's fake war on terror.
The statesmanship star of the day was the EU's FM Federica Mogherini, slicing Trump's ploy to reincarnate the Iranian terror bogeyman to shreds. His legacy may now be that of "Chisler in Chief", which Americans do not deserve.
The EU, including even Britain, that has always backed the US 99% of the time, drew a line in the sand for the UN Security Council member who thinks it can be part of a unanimous vote, and then allow a new political administration to kill that vote for domestic political reasons, or to make Israel and Saudi Arabia happy.
The preceding day's media interviews related a much needed review of America's Trail of Tears of broken agreements, although the American Indians got no mention as the world's most abused treaty participants.
Left out of the history of that story is not only were their treaties ignored, but the trusts set up to hold natural resource funds for future Native generations all disappeared, along with the records, so no reconstruction of who stole it can be done. 
The EU had already shifted its attention to Congress in the days heading up to Trump's formal announcement. The battle will be fought there now. But not all is lost. Trump made a mistake in thinking Iran was a safe play for pummeling as a terrorist bogeyman, because the other UN members know that it is hoax, and also know that it is time to stand up to the sanctions bully.
With the rest of the UN Security Council solidly against Trump's attack on the JCPOA, we have the best chance so far to ignite a public discussion on who the "Terrorist in Chief" country on the planet really is, and to identify the network within it that has supported those activities. The lid on exposing this has serious cracks in it now.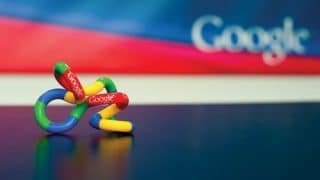 Google Jigsaw just widened those cracks with its silly attacks on VT being a Russian tool due to our efforts to influence Pentagon policy, presenting a scenario that is a classic example of fake news, which appears to be one of Google's main product lines.
Of course we want to influence Pentagon policy that we think it contrary to US interests, like engaging in State sponsored proxy terrorist, which we are certain has be done, along with a growing army of others who know.
Our core group here is from the Vietnam era, and we are not about to stand-by and quietly watch the Deep State take this country into another manufactured war if we can expose and prevent it. That's are job, the one we have giver ourselves to do. We are no one's proxy.
VT has double-barrel response in progress, which includes our continued reporting of the huge paramilitary force that Google has hidden inside its corporate structure…20,000 strong.
And we know what they have been doing, as you can't keep a secret about what a 20,000-strong gang of thugs is doing. This is an issue that an important segment or our nation's security organization leadership is unhappy about – political and governmental corruption on a scale that dwarfs all other security concerns.
The taxpayers have been getting fleeced by having their expensively trained Special Operations manpower flowing over into the ranks of the bad guys when they retire, where the pay is excellent for the extremely questionable work that they do.
VT had our own  Seth Ferris beaten up by one of these people when he was probing the perimeter of an area in Georgia, the Pankisi Gorge, where Chechen terrorists had been trained by a country that most Americans would be unhappy to learn. The fake national security smokescreen that these contractors mistakenly think gives them immunity from prosecution is melting as I type.
It is just a matter of time before this story breaks nationally, and Congress will rush to save itself from its own participation with a much needed investigation into the whole War of Terror contractor nightmare. It is a huge scandal, which makes the original al-Qaeda look like a cub scout den by comparison… Jim W. Dean ]
Jim's Editor's Notes are solely crowdfunded via PayPal – JimWDean@aol.com
This includes research, needed field trips, Heritage TV Legacy archiving, and more – Thanks for helping out
*
–  First published on RT …  October 13,  2017  –
US President Donald Trump's decision not to re-certify the Iran nuclear agreement has provoked a mixed reaction. The EU said it's not up to Trump to terminate the deal and the UN watchdog confirmed Tehran's compliance, but others praised the step as "resolute."
The 2015 Iran nuclear deal is not a "bilateral agreement," and it cannot be terminated by any single country, EU foreign policy chief Federica Mogherini said in response to Trump's announcement.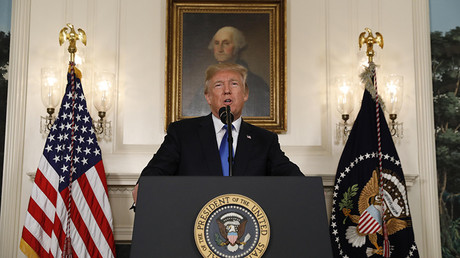 The deal "does not belong to any single country and it is not up to any single country to terminate it," she said. "We cannot afford as an international community, as Europe for sure, to dismantle a nuclear agreement that is working," Mogherini added.
The Russian Foreign Ministry slammed Trump's speech, saying that any use of "aggressive" rhetoric in international relations is "unacceptable" and "doomed to fail."
In its statement, the ministry stressed that any renewal of UN sanctions against Iran is "out of the question." It further denounced the actions of the US administration as "vestiges of the past" that "are at odds with the modern norms of civilized communication between countries."
Saudi Arabia, however, welcomed what it called "the resolute strategy announced by US President Donald Trump towards Iran and its aggressive approach." The kingdom claimed that Iran "exploited the economic benefits of lifting the sanctions" by speeding up the development of its missile program, as reported by Saudi state news agency SPA.
The UK, France and Germany said in a joint statement that the nuclear agreement is in their "shared national security interest." The three countries noted that they "stand committed" to the deal and "its full implementation by all sides."
The European states also urged the US administration and Congress "to consider the implications to the security of the US and its allies before taking any steps that might undermine" the agreement.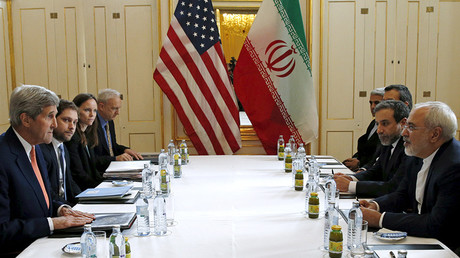 '
Immediate danger of war' if US quits Iran nuclear deal – German FM
Israeli Prime Minister Benjamin Netanyahu welcomed Trump's move by calling it a "courageous decision" and "an opportunity to fix this bad deal," the Jerusalem Post reports.
Netanyahu also urged "every responsible government and any person concerned with the peace and security of the world" to follow Israel's footsteps and support the US president's move.
At the same time, Israeli Intelligence Minister Israel Katz called Trump's move "very significant," adding that it might actually lead to a war with Iran. "Iran is the new North Korea. We see where things are going," he told Israel's Channel 2.
In contrast, French President Emmanuel Macron reassured his Iranian counterpart, Hassan Rouhani, that France is still committed to the deal.
The International Atomic Energy Agency (IAEA) once again confirmed that Tehran is fulfilling its obligations under the 2015 deal. "The nuclear-related commitments undertaken by Iran under the [deal] are being implemented," the IAEA director general, Yukiya Amano, said in a statement on Friday.
The head of the IAEA added that Iran has provided the organization's inspectors with "broader access to information and locations" on Iranian territory, and that "the IAEA has had access to all locations it needed to visit."
Earlier on Friday, Trump announced that he is deferring the matter to the US Congress, so that it could amend the agreement and "strengthen its enforcement."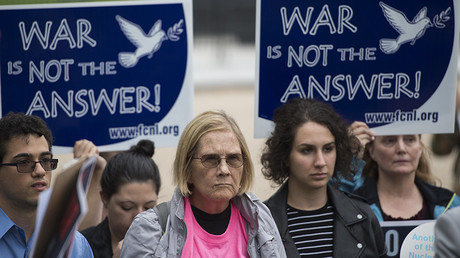 He once again claimed that Tehran had committed "multiple violations" of the deal, despite the IAEA's confirmation of Iran's compliance. The US also imposed a fresh set of sanctions against the Islamic Republic, unrelated to its nuclear program.
Even prior the US president's decision, some world powers had already warned against the consequences of a US decision to withdraw from the agreement.
"A termination of the Iran agreement would turn the Middle East into a region of hot crises" and would "send a devastating signal for nuclear disarmament," German Foreign Minister Sigmar Gabriel was cited as saying by Die Welt on Thursday.
"Some states could understand a failure of the Iran agreement as a signal to provide themselves with nuclear weapons as fast as possible," he added, apparently referring to North Korea.
On Friday, Beijing called on the US to maintain its commitment to the nuclear deal with Iran: "We believe this deal is important to ensuring the international nuclear nonproliferation regime and regional peace and stability. We hope all parties can continue to preserve and implement this deal," the Chinese Foreign Ministry said in a statement.
*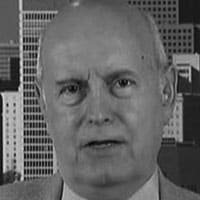 Jim W. Dean is VT Editor Emeritus.  He was an active editor on VT from 2010-2022.  He was involved in operations, development, and writing, plus an active schedule of TV and radio interviews.  He now writes and posts periodically for VT.
ATTENTION READERS
We See The World From All Sides and Want YOU To Be Fully Informed
In fact, intentional disinformation is a disgraceful scourge in media today. So to assuage any possible errant incorrect information posted herein, we strongly encourage you to seek corroboration from other non-VT sources before forming an educated opinion.
About VT
-
Policies & Disclosures
-
Comment Policy
Due to the nature of uncensored content posted by VT's fully independent international writers, VT cannot guarantee absolute validity. All content is owned by the author exclusively. Expressed opinions are NOT necessarily the views of VT, other authors, affiliates, advertisers, sponsors, partners, or technicians. Some content may be satirical in nature. All images are the full responsibility of the article author and NOT VT.