Sputnik/Moscow with Dr. Kevin Barrett
The Pentagon has denied assisting Daesh in Syria after the Russian Defense Ministry accused Washington of being "the main obstacle" to defeating the terrorist group in the war-torn country. Speaking to Sputnik, Middle East expert Dr. Kevin Barrett said that it's time to recognize that the US War on Terror is a "complete fraud."
A DoD spokesperson told Sputnik Wednesday that "any suggestion" that US and coalition forces were working with Daesh was "baseless and unhelpful" to the operation to defeat the terrorists. The comment came after Russian Ministry of Defense spokesman Maj. Gen. Igor Konashenkov said that the recent, coordinated Daesh attacks in Homs province were launched from areas within 50 km of the US military mission in the country, and that the terrorist group had somehow discovered the location of hidden Syrian forces, even though advanced reconnaissance capabilities were necessary to do so.
© SPUTNIK/ VITALY PODVITSKI
Konashenkov's sentiments were echoed by Foreign Minister Sergei Lavrov, who accused the Pentagon of staging "fatal provocations" against Russian and Syrian troops under the guise of 'accidental strikes', and added that the US was "inspiring" jihadists to attack strategic positions liberated by Syrian forces.The senior officials' remarks come amid growing consternation in Moscow that the US is carrying out a "duplicitous" policy in Syria, which the Russian military said was demonstrated recently with the help of aerial reconnaissance imageryshowing US troops operating freely in areas ostensibly controlled by Daesh.
Speaking to Radio Sputnik, Dr. Kevin Barrett, author, political commentator and Middle East expert, said that was high time for Russia to recognize that US support for Daesh is not a change in strategy, but in line with much broader and long-standing plans for the region.
"The Russian Foreign minister has reiterated what we've heard from Russia, which is a growing sense of outrage that the US has its specialists embedded with these various anti-government forces in Syria, including Daesh (ISIS)," Barrett said. "They're actually helping the terrorists attack Russian personnel. We had a Russian general, Valery Asapov, killed in one of these attacks that appears to have been aided by the US. This is a very, very dangerous escalation," the analyst stressed.
Barrett noted that "it seems that Russia, as it's generally done in these situations, is taking a kind of firm but patient line, by warning the US that this kind of action is going to lead to all kinds of unforeseeable consequences. Naturally, there's the right of states to defend themselves by retaliating in kind."
"But the larger issue here is: should Syria be stabilized and kept as a single country, or busted up? The US, so far, has wanted to break it up."
'War on Terror is a Complete Fraud'
Asked what it was that may have prompted the US to take this stance with regard to Daesh, the Middle East expert said that this wasn't any sort of real change in strategy for Washington.
"The fact is that the so-called War on Terror is a complete fraud, Barrett stressed. "The real role of these extremist Takfiri groups such as Daesh and al-Qaeda is not only to fight on behalf of the US…but also to serve as kind of a fake enemy. That's been used to justify US intervention around the world."
© AFP 2017/ US NAVY / MC2 JACOB G. SISCO
"As long as we understand what's really going on, which is that the War on Terror is a complete fraud… that these so-called terrorists that the US is pretending to fight against are actually a US creation – a big US ally, and that it's all being done in service to the empire, and to the expansionist faction in Israel, it all makes pretty good sense," the commentator added.
"Then you would expect them to be supporting Daesh in order to break up Syria, according to the Oded Yinon plan and the Ralph Peters 'blood borders' map. These are US and Israeli plans to break up Middle Eastern countries and Balkanize them along ethnic and sectarian lines in order to weaken them, allowing Washington and the Israelis to control the situation and to loot their resources."
Ultimately, Barrett emphasized that if peace is ever to come to the Middle East, the US will have to withdraw from the region, and end its covert and overt support for the destabilization and destruction of governments it doesn't like.
"I really wish that the US administration would back off on this whole attack on the Middle East. Basically, they need to declare victory and leave. The way they could do that would be to resolve to stop supporting these Takfiri extremist groups, to admit that they've lost this effort to destabilize these countries, and that it's time to move to a new era in which [Washington] will no longer destabilize countries and try to overthrow governments, but rather work with partners around the world for stability."
Strategy of Controlled Chaos
Russian military and political observer Vladimir Kozin echoed Barrett's frustration but added that, unfortunately, Washington isn't likely to change its strategy of fueling chaos in the region, since it benefits too much from doing so.
Speaking to Sputnik, the analyst stressed that without serious, financial, intelligence, military and advisory assistance from abroad, the terrorists in Syria would have been defeated a long time ago. According to Kozin, Washington's aim is "to recreate and strengthen a kind of terrorist 'Internationale', not on its own territory, but in countries which are in close proximity to Russia," a policy reminiscent of US policy against the Soviet Union in Afghanistan in the 1980s.
RUSSIAN DEFENSE MINISTRY
"Moreover," Kozin noted, "Washington would like to eliminate Bashar Assad's legitimate Syrian government since it does not suit them. That is why they're creating this military and terrorist chaos, to try to keep other powers tense, while simultaneously supplying arms and military equipment to their allies, who are ostensibly fighting the terrorists using every last ounce of strength."
"In other words, the US has extensive and far-reaching goals. Americans will not truly fight the terrorist organizations that they created, nurtured, and continue to support," Kozin concluded.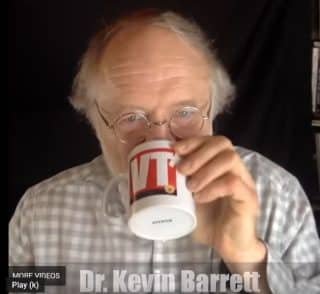 Dr. Kevin Barrett, a Ph.D. Arabist-Islamologist is one of America's best-known critics of the War on Terror.
He is the host of TRUTH JIHAD RADIO; a hard-driving weekly radio show funded by listener subscriptions at Substack and the weekly news roundup FALSE FLAG WEEKLY NEWS (FFWN).
He also has appeared many times on Fox, CNN, PBS, and other broadcast outlets, and has inspired feature stories and op-eds in the New York Times, the Christian Science Monitor, the Chicago Tribune, and other leading publications.
Dr. Barrett has taught at colleges and universities in San Francisco, Paris, and Wisconsin; where he ran for Congress in 2008. He currently works as a nonprofit organizer, author, and talk radio host.
ATTENTION READERS
We See The World From All Sides and Want YOU To Be Fully Informed
In fact, intentional disinformation is a disgraceful scourge in media today. So to assuage any possible errant incorrect information posted herein, we strongly encourage you to seek corroboration from other non-VT sources before forming an educated opinion.
About VT
-
Policies & Disclosures
-
Comment Policy
Due to the nature of uncensored content posted by VT's fully independent international writers, VT cannot guarantee absolute validity. All content is owned by the author exclusively. Expressed opinions are NOT necessarily the views of VT, other authors, affiliates, advertisers, sponsors, partners, or technicians. Some content may be satirical in nature. All images are the full responsibility of the article author and NOT VT.